专辑英文名: Golijov- Azul
专辑中文名: 大提琴协奏曲 - 蓝
古典类型: 协奏曲
资源格式: FLAC
发行时间: 2017年03月31日
简介: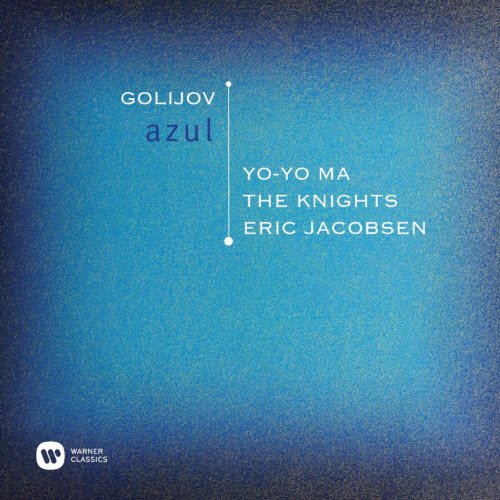 专辑介绍:

高利霍夫大提琴协奏曲《蓝》在2006年由马友友与波士顿交响乐团首演,这里则与布鲁克林的骑士室内乐团合作。该团总监、指挥艾瑞克‧雅各森,与共同创办乐团的哥哥柯林‧雅各森,都曾经以弦乐家身分参加马友友的「丝路合奏团」,同样热爱演奏现代曲目,积极与古典音乐领域以外的艺术家合作。

《蓝》的灵感来自智利作家聂鲁达的诗歌,以及高利霍夫某年在檀格坞音乐中心,躺在草地上凝视著天空聆听露天音乐会,还有2000年与儿子参观纽约天文馆的个人回忆。当时高利霍夫才从发生阿克萨群眾起义的以色列回到纽约,对於从太空拍摄,看似一片和平的地球照片特别觉得震惊。Azul是西班牙语中的「蓝色」。高利霍夫除了以这个字表示音乐的沉思风格,也取它在不同语言文化中,同样象徵「天蓝色」的意思。

《飞翔的鸟》由伊朗作曲家阿加伊与柯林‧雅各森合作,阿加伊把他对伊朗民间音乐的熟稔全部反应在这部作品里。德弗札克歌剧《鲁莎卡》取材自斯拉夫神话,著名的女高音咏嘆调〈月亮颂〉在这里改由马友友以大提琴表现。出自史托克豪森《黄道》的〈狮子宫〉虽然很短,但是古怪有趣而且让人难忘。最后《跑吧!兔子,跑吧》是阿特金森改编自歌手苏扬‧史蒂文以中国十二生肖创作的作品。

高利霍夫: 大提琴协奏曲 - 蓝
Golijov: Azul
作者 / 马友友/ 艾瑞克.雅各森/ 骑士室内乐团 Yo-Yo Ma/ The Knights/ Eric Jacobsen
出版社 / 华纳国际音乐股份有限公司
出版日期 / 2017/04/14
商品语言 / 无

Yo-Yo Ma 马友友、Eric Jacobsen、The Knights
商品版本:日版
商品类别:E-POP / STRINGS
商品编号: WPCS-13682
发行公司: WARNER
发行媒体:CD
发售日期:2017/06/21 已发行

§ 曲 目 §

1. 阿加伊、柯林‧雅各森:飞翔的鸟
2. 德弗札克:月亮颂(选自歌剧《鲁莎卡》,迪安纳─班乃特改编)
3-6 高利霍夫:大提琴协奏曲《蓝》
7. 史托克豪森:狮子宫(选自《黄道》,卡洛琳‧萧改编)
8-11 苏扬‧史蒂文:《跑吧!兔子,跑吧》组曲(阿特金森改编)


引用
Release Date March 31, 2017
Duration 58:37
Genre Classical
Styles Concerto
Recording Date Recording Location BRIC, Brooklyn, New York

Review: The Knights, 'Azul'
Yo-Yo Ma Joins The Adventurous Chamber Orchestra In Osvaldo Golijov's Masterwork

March 23, 201712:00 AM ET

TOM HUIZENGA

Note: NPR's First Listen audio comes down after the album is released. However, you can still listen with the Spotify or Apple Music playlist at the bottom of the page.

The Knights: Azul
Courtesy of the artist
Why Azul, one of the finest cello concertos so far this century, had to wait more than 10 years to appear on an album is confounding. It was written in 2006 for one of classical music's most beloved performers, Yo-Yo Ma, by one of today's most popular composers, Osvaldo Golijov. Such are the perennial mysteries of the classical music recording industry.

Thanks, then, to The Knights, the enterprising chamber orchestra from Brooklyn, and Warner Classics for finally presenting this magnificent score in an affecting collaboration with its dedicatee, surrounded by a diverse mix of works from Sufjan Stevens, Stockhausen (via Caroline Shaw), Dvorak and the orchestra's own Colin Jacobsen.

Azul (Blue in Spanish) is a perfect fit for Ma and he plays as if entranced. His never-ending thirst for global music clicks with the score's multi-cultural pedigree. Golijov was born in Argentina to Eastern European Jews and educated in Israel before moving to the United States. You never know when a snippet of tango, gypsy or klezmer music might break the surface. The lush score, in four movements, includes room for a little band within the orchestra consisting of a hyper-accordion (souped up with digital processing) played by its inventor Michael Ward-Bergeman, and a battery of exotic percussion dispatched by Cyro Baptista and Jamey Haddad.

Azul opens with undulating waves of low strings, laying a foundation for Ma's soaring cello. The music searches, reaching ever higher, whirling itself into ecstasy, and finally falls back to earth into a pool of percussion. The slow movement begins in serene meditation — a heartbeat pulse in the strings, birdsong percussion and sustained cello pitches — but it gradually blooms into a sweet thunder of brass and winds.

"Transit," the third movement, takes us places, starting somewhere in the land of Bach's Cello Suites (powered by expressive arpeggios), stopping off for a folk dance and ending with an eruption. Its aftermath leads seamlessly to "Yrushalem." The surging breaths from the beginning return, and Ma spins the melody into an aching song. The music rises to a brass-filled climax, ending in a pair of codas, titled "Pulsar" and "Shooting Stars." The first explodes with the force of a supernova, while the second traces the stardust as it quietly disperses across the galaxy.

Next to the rambunctious St. Mark Passion, Azul is Golijov's masterwork, and arguably should open the album. But The Knights program the recording like a concert, instead beginning with Ascending Bird, a Persian folk tune reworked to ecstatic effect by the orchestra's principal violinist Colin Jacobsen and Iranian musician Siamak Aghaei. Solos for Ma and Jacobsen mimic the Persian kamancheh until the melody itself breaks through and the orchestra takes flight in a chugging beat, rising to rapturous heights.

Ma also gets tapped for "Song to the Moon," the hit aria from Dvorak's opera Rusalka, in a straight ahead arrangement for cello and orchestra. Two other arrangements fill out the album. Pulitzer-winner Caroline Shaw's effervescent arrangement of music by Karlheinz Stockhausen continues the album's celestial theme. "Leo," one of Stockhausen's 12 quirky Tierkreis (Zodiac) pieces is retooled for violin, winds, brass and percussion, while Knights horn player Michael P. Atkinson creates a 15-minute suite for strings from Sufjan Stevens' Run Rabbit Run. Most of the music darts about leaving fragments of melody, but the third movement, "Year of Our Lord," reminds us what a superb sensualist Stevens can be. With its long, elastic lines and Barber's Adagio harmonies, the movement is safe harbor amid the frenzy, and stretches out slowly toward some kind of eternity.

Release Date: 03/31/2017
Label: Warner Classics Catalog #: 559989
Composer: Colin Jacobsen, Antonín Dvorák, Osvaldo Golijov, Karlheinz Stockhausen, ...
Performer: Yo-Yo Ma, Jamey Haddad, Michael Ward-Bergeman, Cyro Baptista
Conductor: Eric Jacobsen
Orchestra/Ensemble: The Knights
Number of Discs: 1

Azul, the Spanish word for 'blue', is the title of the contemplative cello concerto by Argentinian composer Osvaldo Golijov that forms the centrepiece of this celestially themed album. It is also a word that is rich in cultural resonance, deriving from the Arabic and Persian words for lapis lazuli, the lustrous semi-precious stone. The related French and English words, 'azur' and 'azure' are synonymous with the clear blue of sunny skies.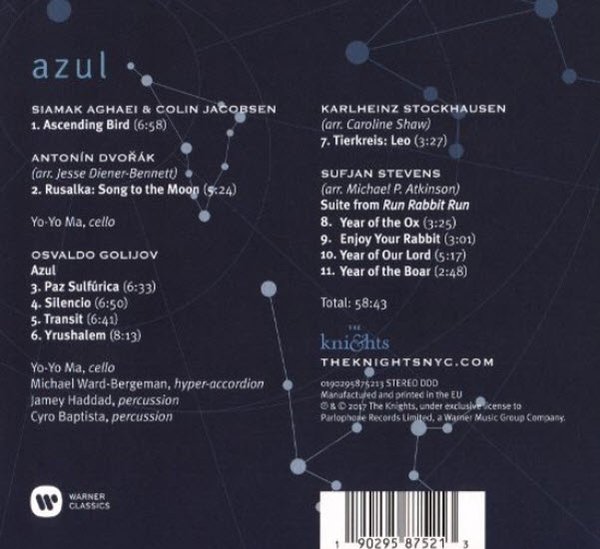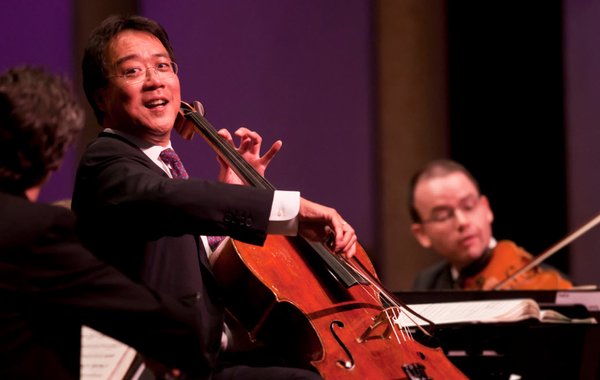 专辑曲目:
01. Eric Jacobsen & The Knights - Ascending Bird [00:06:58]
02. Yo-Yo Ma, Eric Jacobsen & The Knights - Rusalka, Op. 114, Act 1: Song to the Moon (Arr. Diner Bennett for Cello and Orchestra) [00:05:24]
03. Yo-Yo Ma, Eric Jacobsen, The Knights, Cyro Baptista, Jamey Haddad & Michael Ward Bergeman - Azul: I. Paz Sulfúrica [00:06:33]
04. Yo-Yo Ma, Eric Jacobsen, The Knights, Cyro Baptista, Jamey Haddad & Michael Ward Bergeman - Azul: II. Silencio [00:06:50]
05. Yo-Yo Ma, Eric Jacobsen, The Knights, Cyro Baptista, Jamey Haddad & Michael Ward Bergeman - Azul: III. Transit [00:06:41]
06. Yo-Yo Ma, Eric Jacobsen, The Knights, Cyro Baptista, Jamey Haddad & Michael Ward Bergeman - Azul: IV. Yrushalem [00:08:13]
07. Eric Jacobsen & The Knights - Tierkreis: Leo (Arr. Shaw for Ensemble) [00:03:27]
08. Eric Jacobsen & The Knights - Suite from Run Rabbit Run: I. Year of the Ox (Arr. Atkinson for Orchestra) [00:03:25]
09. Eric Jacobsen & The Knights - Suite from Run Rabbit Run: II. Enjoy Your Rabbit (Arr. Atkinson for Orchestra) [00:03:01]
10. Eric Jacobsen & The Knights - Suite from Run Rabbit Run: III. Year of Our Lord (Arr. Atkinson for Orchestra) [00:05:17]
11. Eric Jacobsen & The Knights - Suite from Run Rabbit Run: IV. Year of the Boar (Arr. Atkinson for Orchestra) [00:02:48]
这里是其它用户补充的资源(我也要补充):
暂无补充资源