专辑英文名: Famous Blue Raincoat
专辑中文名: 著名的蓝雨衣
别名: The Songs of Leonard Cohen
音乐风格: 流行
资源格式: FLAC
版本: [24 bits 192 KHz]
发行时间: 2007年08月07日
简介: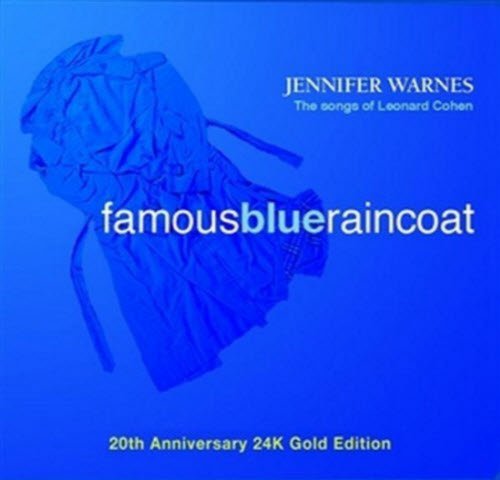 专辑介绍:

珍妮佛‧华恩丝:「著名的蓝雨衣」二十週年纪念版
珍妮佛‧华恩丝:「著名的蓝雨衣」二十週年纪念版 (美国原装进口)
Jennifer Warnes: Famous Blue Raincoat (20th Anniversary Edition)
SHOUT, 826663-10490
代理:Joy Audio

★ 八○年代发烧女声演唱经典重新母带处理,音质音效更精进,追加四首之前未收录的歌曲,演唱同样精彩,录音同等杰出!
★ 李奥纳.科恩:「珍妮佛‧华恩丝的歌声就像加州的天气一样,充满耀眼的阳光,但是背后却有著如地震一般撼动人心的力量。」
★ 入选 TAS 发烧唱片榜。唱片圣经:「流行音乐的录音经典作品。」
★ 音响论坛 234 期刘汉盛总编辑於「总编私房CD」特别推荐:「原版只有九首,纪念版则多了四首,其中有三首是在德州的录音室录制的,最后一首《Joan of Arc》是 1992 年在比利时的现场音乐会录音。这多出来的四首曲子录音效果都很好,尤其是第十一首的《Ballard of the Runaway Horse》更是精彩,内中搭配了弦乐群的演奏,那些弦乐既真实又优美。」

1947 年生於美国西雅图的珍妮佛‧华恩丝,是八0年代红极一时的女歌手。1979 年为电影「诺玛蕾」(Norma Rae)演唱的《It goes like it goes》,获得当年奥斯卡最佳电影歌曲奖。1982 年她和 Joe Cocker 为电影「军官与绅士」合唱《 Up Where We Belong 》以及 1987 年与 Bill Medley 为「热舞十七」合唱的《(I've had) the Time of My life》两首歌,不仅都拿下排行榜的冠军,更再度拿下奥斯卡最佳歌曲奖与葛莱美奖的最佳二重唱奖,华恩丝的演唱实力备受歌迷肯定。

这张 1987 年录制的专集「蓝雨衣」是珍妮佛‧华恩丝向八○年代集诗人、小说家、词曲作者与歌手等多重身分的李奥纳.科恩致敬的作品,动用了大编制的乐队,以丰富多样的编曲,将文学及音乐作了最完美的结合。里面的九首歌曲,可说是曲曲精彩:第一首《First we take Manhattan》里面有德州蓝调吉他大师 Stevie Ray Vaughan 流畅的吉他演奏助阵;第三首专辑的同名曲,萨克斯风的演奏性感迷人,华恩丝的歌声形体饱满真实,背后的贝斯更是清晰无比、软Q有劲;第四首由科恩和华恩丝合唱的《Joan of Arc》是一首壮丽的音乐史诗,气势磅礡,更是音响迷试机必听的曲子。

珍妮佛‧华恩丝的嗓音充满动人的光泽,感染力十足,对於情感的拿捏更是精确无比,正如李奥纳.科恩所说的:她是一位绝佳的「声音表演者」。二十年来,「蓝雨衣」的烧度未曾稍减,市面上的各种版本多如过江之鯽,音响迷早就是人手一张。现在由珍妮佛‧华恩丝本人亲自主导,请来母带处理大师 Bernie Grundman 将原始类比母带以最先进的录音技术重制,无疑是定於一尊的终极版本!

曲目:
1. First We Take Manhattan
2. Bird On A Wire
3. Famous Blue Raincoat
4. Joan Of Arc
5. Ain't No Cure For Love
6. Coming Back To You
7. Song Of Bernadette
8. A Singer Must Die
9. Came So Far For Beauty

之前未收录:
10. Night Comes On
11. Ballad of the Runaway Horse
12. If It Be Your Will
13. Joan of Arc (Live in Belgium)

Jennifer Warnes & Leonard Cohen: First We Take Manhattan
http://www.youtube.com/watch?v=DinvTZ85OtI


引用
Audio CD (August 7, 2007)
Collector's Edition edition
Number of Discs: 1
Format: Collector's Edition
Label: Shout Factory
ASIN: B000OPO6WY
Average Customer Review: 4.7 out of 5 stars
5.0 out of 5 starsRaincoat Remastered
By Great Faulkner's Ghost on August 11, 2007
Format: Audio CD Verified Purchase
This landmark 20-year-old collaboration between songwriter/poet Leonard Cohen and singer Jennifer Warnes is in my opinion the most successful album for either artist, both artistically and commercially. Warnes' pitch perfect, emotionally charged voice teases out every last nuance and dimension of Cohen's inspired lyrical and musical compositions. Even on Cohen's most highly charged songs, one is able to fully appreciate the sweet timbre of Warnes' voice, but at the same time the sensuality and beauty of her voice never obscures the sharp edged, painfully romantic, tragic, fatalistic themes that have marked Cohen's finest and most characteristic compositions, many of which are represented on this album.
Compared with the original CD release, the sound on this remastered version is better in almost every respect, with the possible exception of the first song "First We Take Manhattan," in which a slight, digital-sounding sibilance has been added to Warnes voice. The other cuts are just great, with the digital remastering adding a more authoritative bass note and greater ambience and spaciousness to the soundstage. .
If the overall improved sound isn't enough, this remastered album offers four additional performances of Cohen compositions that are not from the original studio album sessions, including a Warnes-only live version of Joan of Arc, which is riveting even though it doesn't offer the magical duet with Cohen featured on the original studio album. Each of the four additional cuts would have been worthy of inclusion on the original release of Famous Blue Raincoat, which is high praise indeed.
Total time: 41:37. Produced by C. Roscoe Beck and Jennifer Warnes.
The album was issued in 1986 by Cypress Records, California.
Ira Nadel tells the story (Life In Art, page 130):
"In late 1986, Cohen achieved a new dimension of fame when Jennifer Warnes released her cover album Famous Blue Raincoat. Cohen and Warnes had, of course, known each other for years. Singing on 1972 and 1979 tours, she had become one of his principal backup singers, adding a lilting voice to offset his gravely croak. When she decided to record her cover album, she chose arrangements that feature the upbeat sound of contemporary music and invited Cohen to sing on "Joan of Arc", which they recorded in March 1986 at The Complex in Los Angeles. To assist Warnes in producing the album, Cohen moved back to Los Angeles for four months and reworked several songs. He also aided in the making of the video for "First We Take Manhattan..."
Critical acclaim and commercial gain greeted the release of Famous Blue Raincoat, which thrust Cohen into musical spotlight again. The album reached number eight in England, and went gold in Canada. Worldwide, the album sold over 750.000 copies and was largely responsible for reintroducing Cohen to North American audiences."
Famous Blue Raincoat:
20th Anniversary Edition (2007)
This deluxe new reissue contains four previously unreleased songs and a 24-page booklet with rare photos from Warnes' personal collection. Digitally remastered from the original analog tapes. Released by Shout Factory (August 2007).
Jennifer Warnes Famous Blue Raincoat on Gold CD
On Famous Blue Raincoat: The Songs of Leonard Cohen, Jennifer Warnes rearranged and reinterpreted some ofLeonard Cohen's greatest songs for a unique album that remains the ultimate tribute to Cohen's music.
Famous Blue Raincoat: Twentieth Anniversary Edition has been re-mastered by Bernie Grundman from Jennifer's own analog master tapes. The Gold encoding layer is more smooth and flat than the standard compact disc's aluminum layer, offering more accurate playback and greater definition on all CD players. Famous Blue Raincoat 20th Anniversary Edition 24 Karat Gold edition includes four never before released tracks. Also features deluxe, hardcover book-style packaging with improved photographic elements and notes not included in the non-gold Famous Blue Raincoat 20th Anniversary edition CD release.
Jennifer Warnes Famous Blue Raincoat: The Songs of Leonard Cohen Gold:
1. First We Take Manhattan
2. Bird On A Wireim
3. Famous Blue Raincoat
4. Joan Of Ar
5. Ain't No Cure For Love
6. Coming Back To You
7. Song Of Bernadette
8. A Singer Must Die
9. Came So Far For Beauty
10. Night Comes On
Previously Unreleased Tracks:
11. Ballad Of The Runaway Horse
12. If It Be Your Will
13. Joan Of Arc (Live)
14. A Singer Must Die (Demo)
https://roxydischouse.com/shop/cd/jennifer-...old-cd/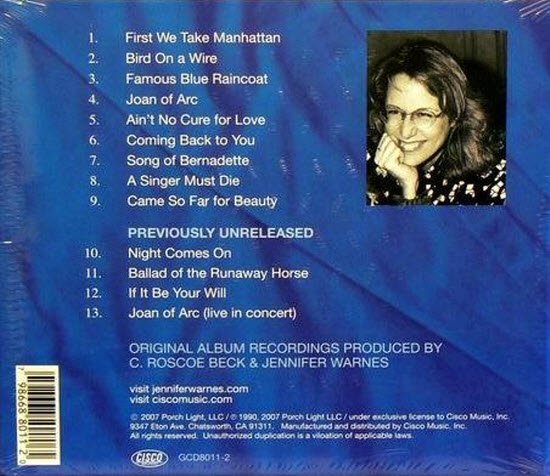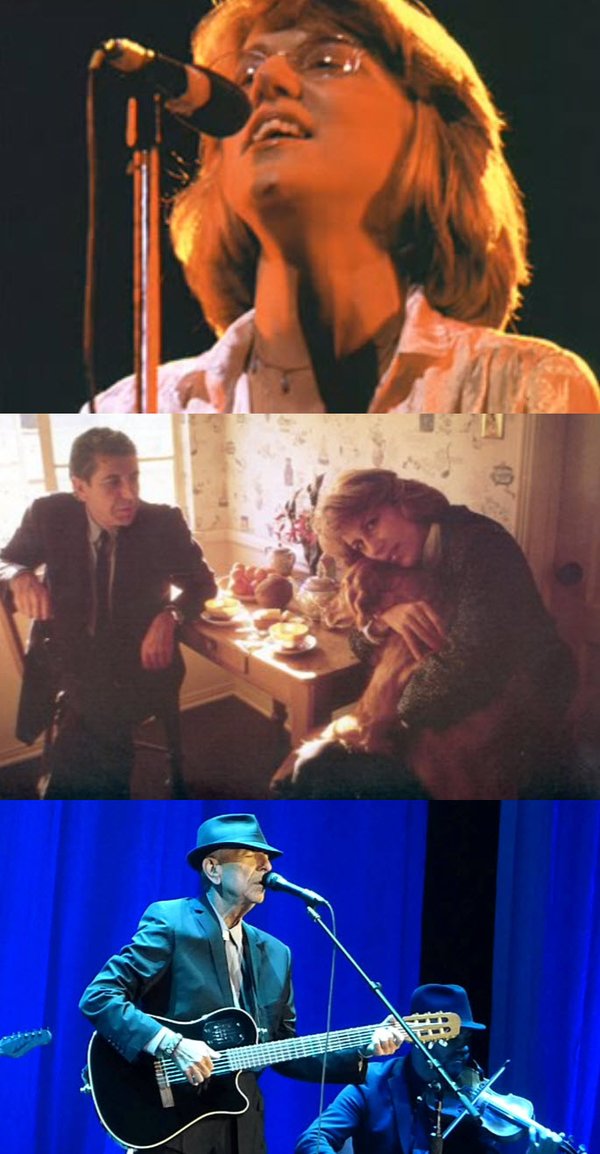 专辑曲目:
01. First we take Manhattan 3:44
02. Bird on a wire 4:42
03. Famous blue raincoat 5:33
04. Joan of Arc (with guest vocal by Leonard) 7:47
05. Ain't No Cure For Love 3:19
06. Coming back to you 3:42
07. Song of Bernadette 3:58
08. A singer must die 4:50
09. Came so far for beauty 3:57
10. The Night Comes On
11. Ballad Of the Runaway Horse
12. If It Be Your Will
13. A Singer Must Die
14. Joan Of Arc (alternative outtake)
这里是其它用户补充的资源(我也要补充):
暂无补充资源