专辑英文名: Beethoven - Symphonies Nos. 4 & 5
专辑中文名: 贝多芬:第4&5号交响曲
古典类型: 交响曲
资源格式: FLAC
版本: [24 bits 96 KHz]
发行时间: 2016年03月16日
简介: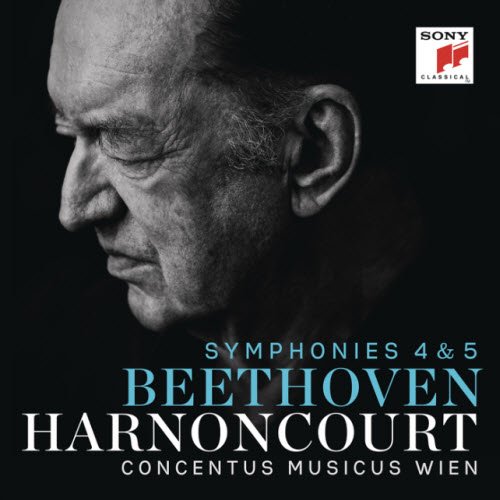 专辑介绍:

哈农库特Nikolaus Harnoncourt (指挥)
维也纳古乐合奏团Concentus Musicus Wien

指挥大师哈农库特宣布退休的最后一张录音。
专辑於维也纳的金色大厅现场录音。
录音所呈现的是哈农库特经过六年的苦心研究贝多芬交响曲的终极詮释。
哈农库特表示:「贝多芬的第5号交响曲,彻底被误解了。它与命运无关,而是描述『群眾的反抗』」。

25年前哈农库特以当代乐团完成具有跨时代意义的贝多芬交响曲全集的录音,各国重要乐评均给予高度的评价。如今他带领古乐团回归贝多芬的怀抱,期盼将贝多芬作品的精神淋漓展现。

哈农库特是二十世纪下半叶最具影响力的音乐人之一,2015年十二月他正式宣佈退休,这张专辑便是他退休前的最后一张录音。而这张专辑也是他与一手创立的维也纳古乐合奏团(Concentus Musicus Wien)首度演出贝多芬第4号与第5号交响曲。专辑於维也纳的金色大厅(Musikverein Vienna)现场录音。此厅由於音响效果卓越,因此被视为世界上最好的音乐厅之一。

维也纳古乐合奏团由哈农库特与妻子爱丽丝(Alice Hoffelner)於1953年创办,为古乐器演奏风潮的引领者之一,而他们更是现存最长寿的古乐合奏团。乐团成员最初是来自於维也纳交响乐团,1957年於维也纳举行首度演出。指挥与乐团五十多年的合作关係,让彼此的情谊深长。而他们的合作非只是主从关係,也是一段音乐与历史的佳话。

哈农库特在指挥乐团超过60年,用尽一生的时间钻研莫札特最后三首交响曲后,近年来体认为贝多芬第4号与第5号交响曲留下最后的詮释并录音的时候终於到了。他一直希望能以古乐器演奏这些作品,并认为这是展示贝多芬在交响曲之音响改革唯一的方式。这份录音所呈现的便是哈农库特经过六年的苦心研究贝多芬交响曲的终极詮释 。

专辑解说中哈农库特提到:「贝多芬的第5号交响曲,彻底被误解了。它与命运无关,而是描述『群眾的反抗』(the revolt of the masses )」,并表示这首交响曲是贝多芬最伟大的政治宣言。透过他的指挥詮释,贝多芬的作品展现了全新面貌,并以此录音为他的指挥生涯写下最完美的句点。

Symphony no. 4 in B-flat major, op. 60
1. I. Adagio - Allegro Vivace
2. II. Adagio
3. III. Allegro Molto E Vivace - Un Poco Meno Allegro
4. IV. Allegro Ma Non Troppo

Symphony no. 5 in C minor, op. 67
5. I. Allegro Con Brio
6. II. Andante Con Moto
7. III. Allegro
8. IV. Allegro


HARNONCOURT, NIKOLAUS [所有作品]
产品条码: 0888751364523
产品编号: 88875136452
发行公司: SONY MUSIC [发行商品]
发行日期: 2016年02月19日
产品制造地: 欧美 .
发行类型: 乐团 . 交响乐 . 古典 . CD .
内装片数: 1片

Beethoven: Symphonies Nos. 4 & 5 / Nikolaus Harnoncourt (2LP)
贝多芬:第4&5号交响曲 / 哈农库特 (2LP黑胶唱片)
发行公司:SONY MUSIC
演出者:哈农库特 Nikolaus Harnoncourt
产品编号:88875136451
发行日期:2016/06/24


引用
Audio CD (March 18, 2016)
Number of Discs: 1
Label: Sony Classical
Run Time: 70 minutes
ASIN: B014XABILM
Average Customer Review: 4.4 out of 5 stars

BEETHOVEN Symphonies Nos 4 & 5

Show View record and artist details
Author:
Richard Osborne
88875 13645-2. BEETHOVEN Symphonies Nos 4 & 5BEETHOVEN Symphonies Nos 4 & 5
BEETHOVEN Symphonies Nos 4 & 5

Symphony No. 4
Symphony No. 5
Buy from Amazon
Such is the vitality of these performances recorded live in Vienna's Musikverein in May 2015, it is difficult to believe that just seven months later, on the eve of his 86th birthday, Nikolaus Harnoncourt announced, 'My bodily strength requires me to cancel my future plans.'

The principal casualty of his retirement has been the cycle of the nine Beethoven symphonies he was planning to give with his own Concentus Musicus Wien in Graz in June 2016. His 1990-91 cycle made with the Chamber Orchestra of Europe (Teldec/Warner, 11/91) is as fine as any in modern times. But for a musician who has been exploring period practice since the 1950s (Harnoncourt and his wife founded Concentus Musicus in 1953), it would have been fascinating to hear him close the circle with a period view.

The new account of the Fourth Symphony nicely complements the older Chamber Orchestra of Europe version. The reading itself is much as before, perfectly vital and serene. What is different is a more purposeful tread to the rhythms and some fresh voicings of wind and brass. The orchestra play superbly, though I suspect that the added gravitas has more to do with Harnoncourt's late delvings than with changed sonorities as such.

In the Fifth Symphony the orchestra seems underpowered at first, as if this were one of Haydn's 'London' Symphonies rather than Beethoven at full throttle a decade later. The upper strings seem undernourished throughout, just as the winds and, more particularly, the brass become ever more explosive. In the finale it is the trombones that are given their head, firing broadsides with a fierceness of report the cannons on Nelson's Victory would have been proud to deliver. Yet, for all that this is a symphony created in a time of war, such effects are often exaggerated in a way they are not in Harnoncourt's superlative 1990 performance. Tempi, too, were better integrated in that earlier performance. The new quicker pulse of the third movement trivialises the Scherzo's return midway through the finale, draining it of menace.

And then there is Harnoncourt's late-flowering love of the 'General Pause'. 'Today I have reached the stage where in works of this period I give special emphasis to every General Pause,' he announces in the booklet. There is a hint of this at the start of the third-movement Trio as the double basses dig into the preliminary crotchet C then halt. But that is nothing to what happens at the symphony's end. In the final 13 bars Harnoncourt introduces a series of general pauses between some (but not all) of the C major chords, stopping Beethoven's peroration in its tracks. The effect is the kind of rhythmic disjunction we expect to hear the end of Sibelius's Fifth, not Beethoven's.

It's what the Generalpause is designed to do, of course, yet there is not a shred of evidence – nor does Harnoncourt offer any – that this is what Beethoven wanted. You may thrill to the effect, though as Dr Johnson warned, 'It has long been found that specious emendations do not equally strike all minds with conviction.'

That said, I'm rather relieved to hear Harnoncourt going out with a bang rather than a whimper. He is too courageous a musician to have done anything less.

Ludwig van Beethoven
Symphony No. 4 in B flat major, Op. 60
Symphony No. 5 in C minor, Op. 67

Concentus Musicus Wien, Nikolaus Harnoncourt


Release Date November 13, 2015
Duration 01:10:41
Genre Classical
Styles Symphony
Recording DateMay 8, 2015 - May 11, 2015

AllMusic Review by Blair Sanderson [-]
Nikolaus Harnoncourt and his period orchestra, Concentus Musicus Wien, never recorded a complete cycle of the symphonies of Ludwig van Beethoven, and this 2016 Sony release is their only recording of the Symphony No. 4 in B flat major and the Symphony No. 5 in C minor, made almost ten months before the conductor's death. Harnoncourt planned for this to be his last recording before his retirement, so it inevitably has the feeling of a valedictory performance, and one can also hear it as the orchestra's warm tribute to its leader and his sterling musicianship. But beyond the well-deserved accolades, this is a truly fine live recording of one of the most famous symphonies of all time and its somewhat less loved sibling, so the musical value of this singular Beethoven disc is quite high. Because the Symphony No. 4 is often overlooked, it's gratifying that it opens the album, and listeners are well advised to try it first. The distinctive woodwind sonorities, the punch of the brass and the timpani, and the crisp articulation of the strings make it a delightful performance, and the pronounced use of the bassoon as a lyrical instrument gives this performance a special character lacking in more conventional performances. The dramatic Symphony No. 5 needs no introduction, but this well-considered reading explores the piece's internal workings and Beethoven's innovative use of instruments, and Harnoncourt draws out extraordinary details in the winds and brass that are seldom heard as clearly as they are here. This is a splendid disc for its original and thoughtful interpretations, remarkable sound quality, and compelling energy, and it is a superb achievement that serves Harnoncourt's memory well. Highly recommended.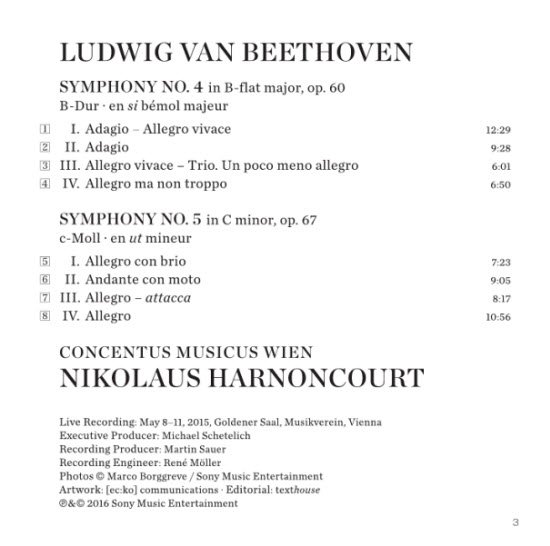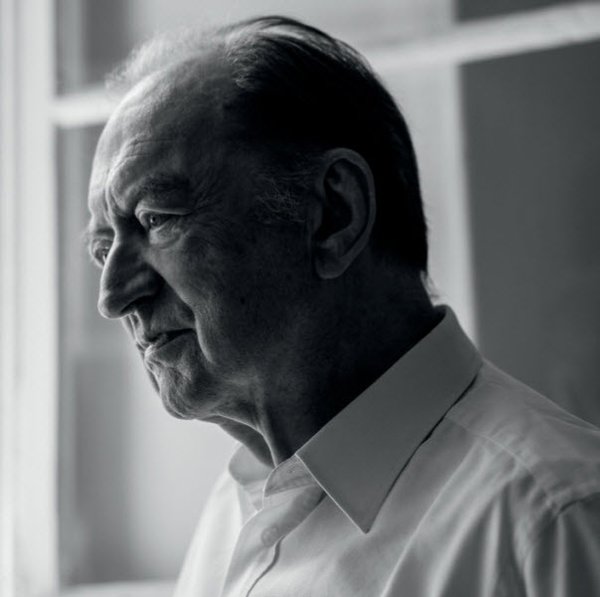 专辑曲目:
Symphony no. 4 in B-flat major, op. 60
1. I. Adagio - Allegro Vivace
2. II. Adagio
3. III. Allegro Molto E Vivace - Un Poco Meno Allegro
4. IV. Allegro Ma Non Troppo

Symphony no. 5 in C minor, op. 67
5. I. Allegro Con Brio
6. II. Andante Con Moto
7. III. Allegro
8. IV. Allegro
这里是其它用户补充的资源(我也要补充):
暂无补充资源