专辑英文名: When I Fall In Love
专辑中文名: 心动
音乐风格: 爵士
资源格式: FLAC
版本: [DVD Audio 24 bit 48 KHz]
发行时间: 2004年
简介: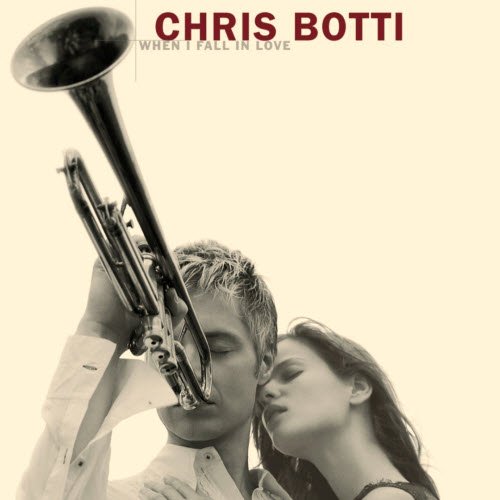 专辑介绍:

自查特贝克Chet Baker后最受乐坛注目的白人小号手

收录最经典的情歌 沉醉於低吟温柔的小喇叭声中
Chris Botti一开始跟随萨克斯风手George Coleman及小号大师伍迪萧(Woody Shaw)。之后伯堤转战流行市场并於西洋乐坛多位巨星如巴布狄伦(Bob Dylan)、蓝调天后艾瑞莎法蓝克林(Aretha Franklin)、诗人歌手保罗赛门(Paul Simon)…等。

「When I Fall In Love」为伯堤的第7张个人专辑,也是他加盟新力的第三张专辑,邀请到曾为Blood, Sweat & Tears鼓手的著名制作人Bobby Colomby操刀,如同专辑名称挑选的都是最经典的情歌:西雅图夜未眠的浪漫主题曲 "When I Fall In Love"、爵士大师盖西文名曲 "Someone To Watch Over Me"。请到了曾经获得葛莱美最佳新人加冕的才女歌手宝拉寇儿(Paula Cole)合作了 "What'll I Do"及 "How Love Should Be"两首情歌。更难得的是请到了好友流行西洋巨星史汀跨刀并与吉他手Dominic Miller(曾与Sting合作 "Shape Of My Heart")一同创作并演唱了 "La Belle Dame Sans Regrets"。

Chris Botti / When I Fall In Love
克里斯柏堤 / 征服情海
发行公司:SONY MUSIC
演出者:克里斯.波提 Chris Botti
产品编号:CK92872
发行日期:2004/11/04
媒体形式:CD
张数:1 张 - 1CD


引用
Artist: Chris Botti
Title Of Album: When I Fall In Love
Year Of Release: 2004
Label: Columbia Records
Genre: Smooth Jazz, Instrumental Pop, Easy Listening
Total Time: 00:58:44

Since the 2004 release of his critically acclaimed, When I Fall In Love, Chris Botti (Boat-Tee) has become the largest selling American jazz instrumentalist. He followed the #1 album with 3 gold records and 2 groundbreaking platinum DVD's, fueled by his ongoing relationship with PBS.

Botti is a native of Oregon who was born in Portland, raised in Corvallis, and spent two years of his childhood growing up in Italy. His earliest musical influence was his mother, a classically trained pianist and part-time piano teacher. He began playing trumpet at age 9 and, after hearing a recording of Miles Davis playing "My Funny Valentine," realized the instrument was his key to "doing something meaningful with my life." He pursued his music studies with a succession of outstanding teachers including Professor Bill Adam and Dave Baker in Indiana.

In the studio and on stage, Chris Botti has worked with such leading singer-songwriter/composers as Paul Simon, Joni Mitchell, Sting and renowned film composer John Barry, among others; as a sideman, he has appeared on dozens of albums, compilations and soundtracks. Botti's association with Sting--who appeared on Botti's To Love Again and When I Fall In Love--dates back to 1999, when the trumpeter joined the pop legend's band as featured soloist on the "Brand New Day" tour, which lasted two years.

Released in 2007, Italia, Chris Botti's most recent studio album, links the worlds of jazz and pop and classical music in a suite of songs and music inspired by the romance of Italy. Featuring duets with Andrea Bocelli, Paula Cole and Dean Martin. Since then, Chris Botti has toured constantly, stopping only to tape his second PBS Special, DVD and Blu-ray release, Chris Botti In Boston, in September of 2008.

Chris Botti In Boston was shot in beautiful high definition video September 18th and 19th, 2008, over a Thursday - Friday run at Symphony Hall in Boston with Keith Lockhart conducting The Boston Pops. Botti, along with incredible, world famous artists Sting, Lucia Micarelli, John Mayer, Josh Groban, Katharine McPhee, Yo-Yo Ma, Steven Tyler, and Sy Smith gave masterful performances selecting material different from the repertoire one might associate with them. This RIAA platinum-certified concert DVD is now available on CD, a CD/DVD package and Blu-ray edition.

One of the world's most popular concert attractions, Chris Botti maintains one of the busiest touring schedules monitored by the industry. Performing more than 250 concerts this past year, Chris's 2008 concert itinerary included concerts at the Hollywood Bowl and New York's Carnegie Hall.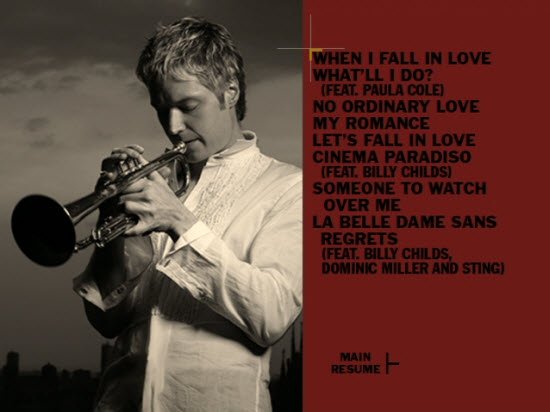 专辑曲目:
01. When I Fall In Love (4:23)
02. What'll I Do? (5:09) Featuring Paula Cole
03. No Ordinary Love (6:05)
04. My Romance (3:21)
05. Let's Fall In Love (3:41)
06. Cinema Paradiso (4:58) Featuring Billy Childs
07. Someone To Watch Over Me (4:36)
08. La Belle Dame Sans Regrets (5:32) Featuring Billy Childs Featuring Dominic Miller, Sting
09. Nearless Of You (3:12)
10. How Love Should Be (4:03) Featuring Paula Cole
11. Make Someone Happy (4:09)
12. One For My Baby (4:55)
13. Time To Say Goodbye (Con Te Partiro) (4:46)
这里是其它用户补充的资源(我也要补充):
暂无补充资源