专辑英文名: Live In San Diego
专辑中文名: 圣地牙哥现场实录
别名: WITH SPECIAL GUEST JJ CALE
音乐风格: 摇滚
资源格式: FLAC
版本: [24 bits 96 KHz]
发行时间: 2016年09月30日
简介: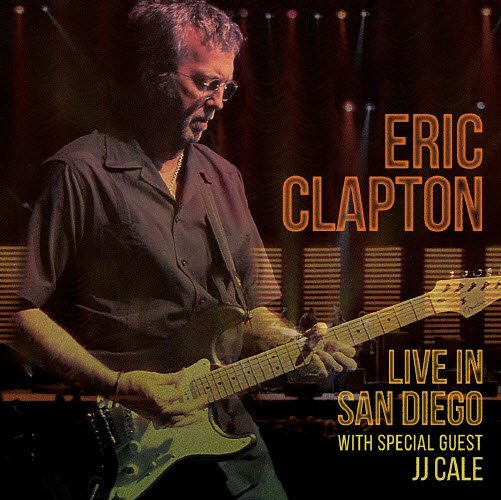 专辑介绍:


ERIC CLAPTON/LIVE IN SAN DIEGO WITH SPECIAL GUEST JJ CALE
艾力克莱普顿/圣地牙哥现场实录 2CD

ERIC CLAPTON 艾力克莱普顿
优惠价: 428
定价: 480

产品库存: 正常
可接受付款方式: 线上刷卡, ibon代码缴费(7-11), 超商代码缴费(全家、莱尔富、OK), 虚拟帐号
可接受取货方式: 宅配, 7-11取货, 超商取货(全家、莱尔富、OK)
产品类别: 西洋专辑
产品编号: 9362491855
产品条码: 0-9362-49185-5-4
发行日期: 2016-09-30
tags
Eric Clapton艾力克莱普顿
facebookplurktwitter
Product Details
* 「吉他之神」早在2007年即已录制好的现场演出,相隔9年之久终告问市!

* 影响Eric Clapton至深的大师J.J. Cale站台共绎五首歌谣!

* 敬邀Robert Cray+Doyle Bramhall II+Derek Trucks等三位优秀吉他高手助阵!

年过70高龄的「吉他之神」Eric Clapton,近期新作频传,除了录音室专辑之外,陆续献上精湛的现场演出影音特典,此回再接再厉的圣地牙哥现场,绝对大饱乐迷耳福!包括以个人身份,以及跟随Yardbirds和Cream乐团,成为音乐史上唯一三次入列「摇滚名人殿堂」的传奇大师,被纷纷选进滚石杂誌『百名伟大』+『不朽的百大艺人』名单,佔据Gibson吉他公司『史上50位顶尖吉他手』殿军。身拥18座葛莱美奖加冕,并与Cream成员齐力拿下『终身成就』奖肯定!超过半个世纪的摇滚生涯,以精湛的琴艺、历尽沧桑的声调、舞台上即兴的演出、真实感人的创作笔触,於歌坛屹立不摇,无论是以个人或合作发行的专辑,都能写下排行各榜的优异成绩,实属不易,更是许多长青树艺人难以达到的成绩!

继2016年7月发行"Crossroads Revisited:Selections From The Crossroads Guitar Festivals"之后,紧接著推出"Live In San Diego",早在2007年3月15号即已录制好的现场演出,相隔9年之久才终告问市。这场Live秀不仅以Eric为主轴,更邀请深深影响Eric Clapton、民谣摇滚大师Neil Young、英国超级摇滚乐团险峻海峡灵魂人物Mark Knopfler、带动艺术与前卫思潮之华丽摇滚乐团Roxy Music创建者Bryan Ferry等多位摇滚巨星人物的J.J. Cale助阵,混融乡村、蓝调、爵士乐种而自成一格的Tulsa Sound,足以见识这位大师一派个性化调调。2004年Eric於达拉斯举办的【The Crossroads吉他音乐节】上曾经与J.J.Cale同台演出,合作愉快,2006年齐力发行"The Road To Escondido",全球热卖百万张,抱回一座葛莱美『最佳当代蓝调专辑』喝采。赢取艺术和商业双赢肯定,所以J.J.Cale义不容辞的前来"Live In San Diego"站台演出5首歌!

不仅有J.J.Cale的加持,还有5座葛莱美奖加冕,曾协助Buddy Guy、Jimmie Vaughan、Stevie Ray Vaughan等巨星的Robert Cray+与Jimmie Vaughan曾组织过团体的已故大师Doyle Bramhall儿子Doyle Bramhall II+葛莱美礼讚乐团The Derek Trucks Band核心人物Derek Trucks…等三位优秀吉他高手助阵,交付轰动80年代双人组Climie Fisher的Simon Climie(Rod Stewart、Michael McDonald、Pat Benatar)担纲制作与录音室混音。重新演绎Derek & The Dominos时期的「Tell The Truth」、滚石杂誌选为『史上500首经典歌曲』之「Layla」、英年早逝迷幻吉他先驱Jimi Hendrix的「Little Wing」,以及J.J. Cale撰写曲目「After Midnight」、「Don't Cry Sister」、「Cocaine」等。还有全球突破400万销售的招牌红歌「Wonderful Tonight」,最后以滚石杂誌『史上经典吉他歌曲』名单第三名的「Crossroads」当谢幕曲,詮释出Robert Johnson的Delta Blues独特风味!

商品条码 : 0093624918554
商品编号 : 9362491855
艺人/团体 : 艾力克莱普顿 Eric Clapton - 查看所有专辑
专辑名称 : 圣地牙哥现场实录2CD(欧洲进口盘)
Live in San Diego with Special Guest JJ Cale
音乐类型 : 西洋 [CD 演唱会]
发行公司/日期 : 华纳 2016/9/30
制作公司 :
内含片数 : 2



引用
Audio CD (September 30, 2016)
Number of Discs: 2
Label: Reprise
ASIN: B01JQUBMZ6
Average Customer Review: 4.4 out of 5 stars


Eric Clapton has announced a new live album, Live in San Diego.

The album, which was recorded March 15, 2007, at San Diego's iPayOne Center, features several appearances—and compostions—by JJ Cale. At the time, Clapton and Cale—Clapton's good friend and mentor—were casually supporting their new studio album, 2006's Road to Escondido.


"This is the realization of what may have been my last ambition: to work with the man whose music has inspired me for as long as I can remember," Clapton said of Road to Escondido in 2006. Cale died July 26, 2013.

Cale appears on five tracks, including "Cocaine" and "After Midnight," two Cale tunes Clapton covered in the Seventies. Other guests include Derek Trucks—who handles the late Duane Allman's slide parts on the album's Derek and the Dominos tunes—plus Doyle Bramhall II and Robert Cray, who guests on "Crossroads." Trucks' tasteful slide work also happens to be featured on Road to Escondido.

Live in San Diego will be available September 30 as a two-disc CD, a three-disc vinyl set and as a digital album. If you pre-order the album at ericclapton.com, you'll receive "Anyway the Wind Blows" (watch it below) immediately, plus two additional songs before the album's release date. The album also is available for preorder via iTunes.




Eric Clapton
Live in San Diego with Special Guest J.J. Cale
(Reprise)
Rating: 4.5 out of 5 stars

Why this extraordinary concert, recorded March, 2007 in the titular city, took nearly a decade to get released is unclear, but that doesn't diminish its excellence. With plenty of — some might say too many — live albums to his name, including a bulging four disc box and the latest rote and somewhat disappointing 70th birthday event at the Royal Albert Hall, adding yet another seems redundant. It's not.

This tour found guitarists Derek Trucks and Doyle Bramhall ll backing Clapton a

nd, more importantly, pushing him out of his comfort zone. Having drummer Steve Jordan, bassist Willie Weeks and longtime keyboardist Chris Stainton along didn't hurt either. But it's the material, six tracks resurrected from Layla with Trucks substituting for Duane Allman, that puts this over the top. Sure, we could do without yet another version of the alternately sappy and charming "Wonderful Tonight." Still, that's a small price to pay for finally hearing Trucks and Bramhall ll dig into the Layla material such as the seldom performed, funked up "Got to Get Better in a Little While," urging the sometimes reticent Clapton to some of his most stirring recorded performances.

Oh, and there's J.J. Cale too.

The famed Okie singer-songwriter — who had just released the impressive Road to Escondido joint album with Clapton — "gate-crashed" the gig for a short but potent 25 minutes worth of five tunes including the inevitable "After Midnight" and "Cocaine," two of Clapton's biggest hits penned by Cale. Three others from the duo's then recent disc round out an enthralling mini set that is moving, subtle and emotional, the latter not a description applied to the often business-like Clapton's stage persona. Professionally shot videos available on YouTube exhibits the smiles on the faces of the four guitarists as the collaboration rolls out, which also begs the question of where the DVD of this is hiding.

The 17 minute slow blues of Robert Johnson's "Little Queen of Hearts," a vehicle for band solos, is another highlight as is a riveting, charged up "Motherless Children." Robert Cray swings in for a closing vocal on "Crossroads" where his presence adds another voice and guitar. Even "Layla," a song Clapton has played hundreds of times, sounds unusually inspired and invigorated, especially in its magnificent closing instrumental ballad section, as Trucks takes over Allman's by-now-classic slide parts.

Since this is a single show, there is an ebb and flow that's palpable. Between that, the remarkably intense and fluid playing by Clapton with one of his finest bands (it's doubtful he'll be working with Trucks who is tied up with his own music anytime soon), and stimulating song choices, this now becomes one of Clapton's best live recordings in a catalog already stuffed with plenty of terrific choices.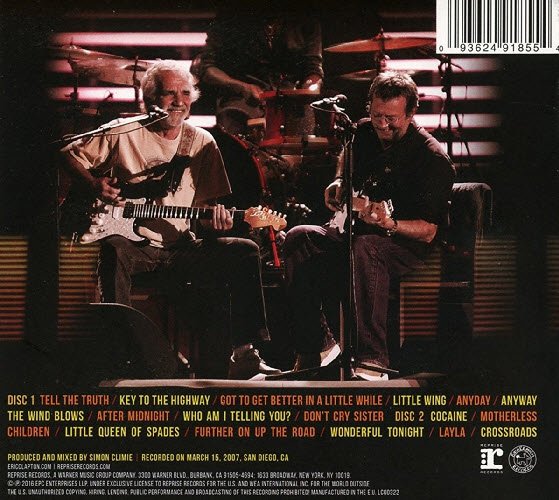 专辑曲目:
01. Tell The Truth
02. Key To The Highway
03. Got To Get Better In A Little While
04. Little Wing
05. Anyday
06. Anyway The Wind Blows
07. After Midnight
08. Who Am I Telling You?
09. Don't Cry Sister
10. Cocaine
11. Motherless Children
12. Little Queen Of Spades
13. Further On Up The Road
14. Wonderful Tonight
15. Layla
16. Crossroads
这里是其它用户补充的资源(我也要补充):
暂无补充资源