专辑中文名: Café Society
专辑英文名: 咖啡‧爱情
资源格式: MP3
发行时间: 2016年07月08日
简介: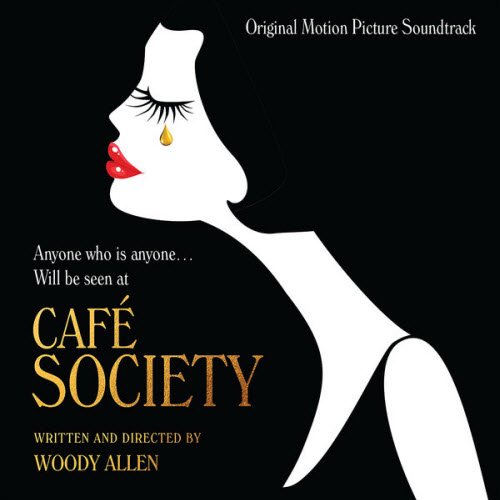 压缩码率: 320Kbps

专辑介绍:

《咖啡‧爱情》电影原声带
Cafe Society (Original Motion Picture Soundtrack)
2016年7月08日
産品编号: 88985342262
*金奖导演伍迪‧艾伦(Woody Allen)最新浪漫爱情喜剧片。
*导演亲自挑选30年代的经典爵士乐曲,交付葛莱美肯定的组合Vince Giordano & The Nighthawks为中心詮释多达9首歌谣。
*外加Benny Goodman和Count Basie等大师的经典作品回味。

【关於电影】
职业生涯已逾60年,独具风格拍摄手法,成为最受尊敬的金奖导演之一伍迪‧艾伦(Woody Allen),交出自编自导以及旁白发声新片《咖啡‧爱情Café Society》,获得第69届坎城影展开幕片,这部是伍迪‧艾伦第14次以非竞赛片前进坎城影展,自1966初执导演筒的《野猫嘻春What's Up, Tiger Lily?》至今,迈入导演生涯第40个年头纪念!此片伍迪首次以数位方式拍摄,网罗曾靠《末代皇帝》等片拿下三座奥斯卡喝采的义大利摄影师维多里欧‧史托拉洛(Vittorio Storaro)捕捉时代风情。故事背景设定1930年代的纽约,一位拥有好莱坞梦想的年轻人Bobby,前去纽约投靠大制片舅舅,却与舅舅的女秘书Vonnie相恋,意外陷入一场三角恋情,同时发现自己沈醉在当时蓬勃发展的咖啡馆社交风气之中。邀请《幕光之城》系列大为走红的女主角克莉丝汀‧史都华(Kristen Stewart)+凭藉《社群网战》入围奥斯卡「最佳男主角」、《蝙蝠侠对超人:正义曙光》中饰演超人的杰西‧艾森柏格(Jesse Eisenberg)+《特务行不行》、《40处男》的喜剧泰斗史提夫‧卡尔(Steven Carell)主演三角恋,还有以《花边教主》一举成名的布蕾克‧莱芙莉(Blake Lively)+《午夜‧巴黎》的寇瑞‧史托尔(Corey Stoll)+能演能唱的《歌喉讚》安娜‧坎普(Anna Camp)+《璀璨星史》保罗‧史奈德(Paul Schneider)等明星参与!

首批赠送电影早场优惠券

【关於原声带】
为了符合当时年代的场景与氛围,严选30年代的爵士音乐,由伍迪亲自挑选。大部分都是作曲家理察‧罗杰斯(Richard Rodgers)、填词者罗伦斯‧哈特(Lorenz Hart)这两位创作伙伴共通撰写之歌,深深刻划甜蜜又苦涩的罗曼史箇中滋味。理查和罗伦斯曾替多达28齣音乐剧、写了超过500首歌谣,两人自1919年开始合作,直到1943年罗伦斯辞世,这组传奇才用音乐画下优美的句点。交付参与过高收视率的《海滨帝国》影集演出与伴奏,抱回葛莱美肯定,擅长1920-1930年代爵士乐唱作的纽约组合Vince Giordano & The Nighthawks为中心,一口气詮释〈The Lady Is A Tramp〉、〈Jeepers Creepers〉、〈Have You Met Miss Jones〉、〈Zing Went The Strings Of My Heart〉、〈Manhattan〉、〈My Romance〉、〈Pick Yourself Up〉和〈There's A Small Hotel〉等8首纯演奏的轻愉风情之外,由跨界流行/爵士的创作精灵Kat Edmonson担任主音〈Mountain Greenery〉,柔媚性感破表;展示晚期Big Band文化的大师Benny Goodman经典〈I Didn't Know What Time It Was〉;9座葛莱美奖肯定并且选入葛莱美爵士名人堂的Count Basie,跳动〈Taxi War Dance〉曼妙音符,勾起过去的美好回忆之歌!


引用
Audio CD (July 8, 2016)
Original Release Date: July 8, 2016
Number of Discs: 1
Label: SONY MASTERWORKS
Run Time: 46 minutes
ASIN: B01FNRHA3O

5.0 out of 5 starsThis soundtrack from Woody Allen's latest film stands on its own – Great new Rodgers & Hart arrangements by Vince Giordano and h
By Steve Ramm TOP 100 REVIEWER on July 13, 2016
Format: Audio CD
Last week I got to see a press screening of this latest Woody Allen film. In addition the music on the soundtrack – some from period records by Benny Goodman, Count Basie and Ben Selvin, there were some live music scenes (in a nightclub setting) featuring Vince Giordano and a few members of his band, The Nighthawks. (The Nighthawks band is large – 11 members at least – and Vince plays both a metal String Bass and a Bass Saxophone (really big!) For the film it was just Vance, Mark Shane on piano and, Vinny Raniolo and Chris Flory on Guitar and Chris Gelb on Drums. The next night I watched a screening of a new documentary on Giordano and his 40 year career running the Nighthawks.

So today I got this Cd soundtrack of the Allen film and among the 1q5 cuts are 9 by Giordano and his accomplished buddies, the three aforementioned classic band recordings and the rest are filled in by Pianist Conal Fowkes, (who, interestingly, also provided the voice of Cole Porter in Allen's film "Midnight in Paris") an a few others. For each film, writer/director Allen usually picks the siongs of a legendary American composer for his background music. This time he used the team of Rodgers and Hart. More than half the songs are R&H standards. All the tracks are instrumentals except for "Mountain Greenery" in which singer Kat Edmundson does the vocals, as she did in the film.

If you love the great American Songbook and/or just love great arrangements of classic songs, you'll love this album. You'll probably like to film too but the soundtrack – unlike some others – stands on its own.

The CD contains a 12-page booklet, but only three have text and those are filled with credits. The rest are just full page color photos from the film.

I hope you found this review both informative and helpful.

Steve Ramm
"Anything Phonographic"

Release Date July 8, 2016
Duration 46:24
Genre Stage & Screen Jazz
Styles Soundtracks Big Band Jazz Instrument

Sony Masterworks
Release Date: July 8, 2016
Format: CD

AllMusic Review by Marcy Donelson
Set in New York City in the 1930s, Café Society is a 2016 romantic comedy by director Woody Allen, his 47th film. The 15-song soundtrack features a reliable mix of big-band era tunes, with archival recordings such as "I Didn't Know What Time It Was" by Benny Goodman & His Orchestra, as well as eight covers by contemporary outfit Vince Giordano & the Nighthawks, who specialize in early swing. The ensemble also appeared on the soundtrack for the director's 1996 film Everyone Says I Love You (and non-Allen projects such as Boardwalk Empire and The Aviator). Here, they do piano-led instrumentals ranging from a lively "The Lady Is a Tramp" to a graceful take on Rodgers & Hart's "Manhattan." Also newly recorded for the film are versions of "Out of Nowhere" and "This Can't Be Love" by pianist Conal Fowkes, also a prior soundtrack collaborator of Allen's, and a member of the Woody Allen New Orleans Jazz Band.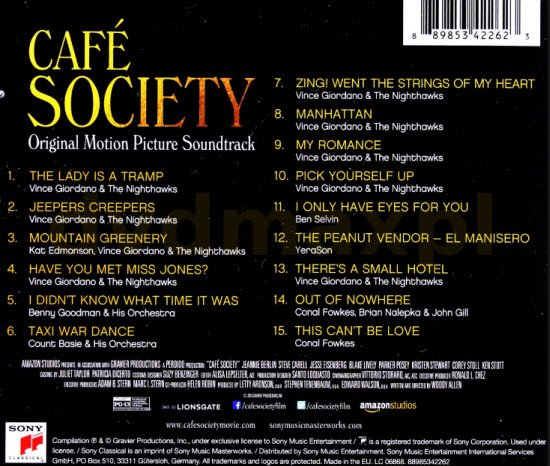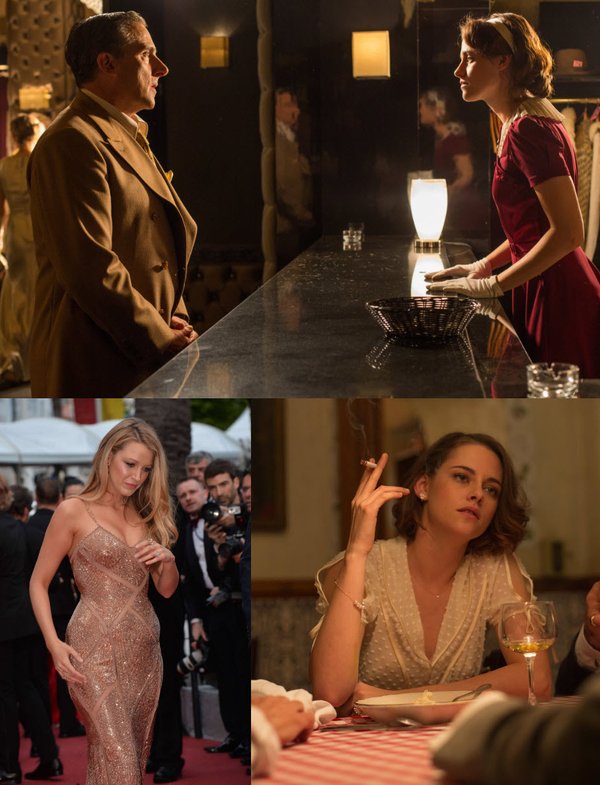 专辑曲目:
01. The Lady is a Tramp (Vince Giordano And The Nighthawks) 3:49
02. Jeepers Creepers (Vince Giordano And The Nighthawks) 2:06
03. Mountain Greenery (Kat Edmonson; Vince Giordano & The Nighthawks) 2:30
04. Have You Met Miss Jones? (Vince Giordano And The Nighthawks) 1:43
05. I Didn't Know What Time It Was (78 rpm Version) (Benny Goodman & His Orchestra) 3:18
06. Taxi War Dance (Alternate Take) (Count Basie & His Orchestra) 2:47
07. Zing! Went the Strings of My Heart (Vince Giordano And The Nighthawks) 4:13
08. Manhattan (Vince Giordano And The Nighthawks) 3:48
09. My Romance (Vince Giordano And The Nighthawks) 3:16
10. Pick Yourself Up (Vince Giordano And The Nighthawks) 3:16
11. I Only Have Eyes For You (Ben Selvin) 3:25
12. The Peanut Vendor (El Manisero) (YeraSon) 2:30
13. There's a Small Hotel (Vince Giordano And The Nighthawks) 2:39
14. Out of Nowhere (Conal Fowkes; Brian Nalepka; John Gill) 3:09
15. This Can't be Love (Conal Fowkes) 3:33

Total Album Time: 46:02
这里是其它用户补充的资源(我也要补充):
暂无补充资源