专辑英文名: The Melody of Rhythm
专辑中文名: 节奏的旋律
音乐风格: 爵士
资源格式: FLAC
发行时间: 2009年08月25日
简介: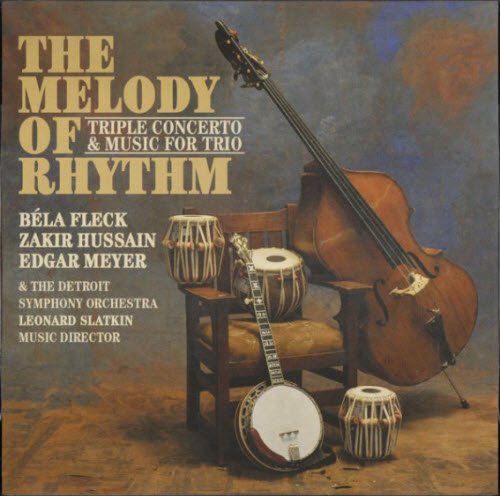 专辑介绍:

Béla Fleck, Zakir Hassain and Edgar Meyer
我是何德何能可以看到Béla Fleck、Edgar Meyer还有Zakir Hussain这三个人的表演,我要哭了我!其实本来好像有看到宣传海报,但因为不认识根本没打算去看。XD 是爵士课老师刚好介绍到班鳩琴,在课堂上播了Béla Fleck and the Flecktones的〈Hurricane Camille〉,一听回家后马上上亚马逊下单。后来就发现他跟另外两位音乐大师竟然要来学校表演。

本来因为没买到票超失望连等候补也没等到整个很灰心,想说去现场赌赌看,刚好有人在卖,马上手刀买下!他们的音乐真的好美、好无懈可击。Béla笑起来很像温和版的Jack Black,而且一直看我的镜头(?)。Edgar Meyer就是个帅气老绅士。Zakir Hussain根本是个顽童!他的手到底是怎么回事?也太强!

除了音乐以外,Béla跟Edgar也很爱斗嘴。
「接下来我们要表演Edgar三十年前所写的歌‧‧‧嗯,就是在他音乐生涯的高峰那时写的歌。」 Béla如是说。(Edgar摆臭脸)
「啊‧‧‧不对!是第一个音乐生涯的高峰!」(Edgar再次臭脸XD)
「嗯‧‧‧又错了,是他早期音乐生涯的高峰才对!」(全场大爆笑)

Zakir接著就说吵是你们在吵,跟我一点关係都没有。XD
B:「刚刚演奏的第一首歌是Zakir写的,但在我们的专辑上曲名打错了~」
Z:「这一切都是你们俩的阴谋!」

总之他们三人讲话的时候超欢乐的。斑鳩琴的华丽速弹(无误)、塔布拉鼓的生命力和异国风情,再加上低音提琴的圆润音色,音乐真的是我无法形容的好听。三个人一起演奏真的不知道该看谁, 因为都太厉害了!好喜欢他们演奏时看对方后相视一笑的默契。补充一下,他们三个一起出的专辑《The Melody of Rhythm》真的超级好听!超值得买!


类型: 古典音乐, 音乐, 世界音乐, 亚洲, 爵士乐
发行日期: 1998年07月28日
℗ 2009 E1 Music


引用
Audio CD (August 25, 2009)
Number of Discs: 1
Label: Koch Records
ASIN: B002F3BQB2
Average Customer Review: 4.5 out of 5 stars

4.0 out of 5 starsIndescribably Delicious
By Constant Listener on August 26, 2009
Format: Audio CD
There's really no way to accurately describe this music. Is it World Music because the great Zakir Hussain is on it? Americana or Classical because of Edgar Meyer? Bluegrass or Jazz because Bela Fleck rounds out the group? You can put aside all of these categories because the music is all of it and more, and completely accessible. It's not a hodgepodge of styles. The compositions and sounds have real unity and the players enjoy legitimate chemistry.

It's absolutely not avant garde or free jazz, and I have no idea why Amazon has it in this category. Classical is more appropriate but doesn't tell the whole story.

The recorded sound is less austere than your average ECM production, but I think if you like the cross-cultural music from that great label, you'll be on board.

Obviously, fans of any or all three of the principals (as I am) are sure to love it.


Release Date August 25, 2009
Duration 01:03:26
Genre Jazz Classical Folk
Styles Chamber Music Modern Creative New Acoustic


AllMusic Review by Thom Jurek [-]
Béla Fleck wasn't done after his world music extravaganza Throw Down Your Heart, Tales from the Acoustic Planet, Vol. 3: The Africa Sessions. Those groundbreaking explorations led to the forming of this group and yet another collaboration, The Melody of Rhythm: Triple Concerto & Music for Trio, which teams him with cellist/bassist Edgar Meyer and the mighty Indian percussionist Zakir Hussain. The trio collaborates here with the Detroit Symphony Orchestra directed by maestro Leonard Slatkin. Fleck and Meyer had been playing together on and off for 26 years at the time of this recording, and had previously composed a double concerto for banjo and cello for the Nashville Symphony Orchestra in 2004. They were commissioned by the same orchestra to create a triple concerto in 2006. They decided on Hussain as a collaborator for this set, and performed "The Melody of Rhythm" with the NSO conducted by Slatkin. This is the debut recording of the work and it is augmented by other incidental music either inspired by the original piece or derived directly from it. The DSO, Slatkin's new home, recorded it in 2009. As for the music? What's not to like? Its three movements over 28 minutes are a spacious, wide-ranging, beautifully paced concerto with the trio interacting on its own quite intently and with the DSO not as individual instrumentalists, but as a group in dialogue with the orchestra. Jazz, Indian folk forms, classical music, Appalachian folk, progressive instrumental music, and something utterly new emerge for the listener. "The Melody of Rhythm" is preceded by three compositions. "Babar," which opens the set, is a wandering Eastern European folk song meeting near Asian folk forms. "Out of the Blue" is a work that combines elements of Gypsy swing, Indian classical music, and mountain blues. There are three pieces that follow the concerto as well; most notable among them is the haunting closer, "Then Again," with its high-neck modal explorations by Fleck answered contrapuntally by Meyer and covered in differing textures and tempos by Hussain. This CD is a stellar buy, because it showcases two entirely different faces of this group: one that plays a scripted work in the context of interacting with a much larger ensemble, and as what can only be called a new kind of improvising jazz trio that can work from a set composition and travel far and wide in sound, texture, and color. Bravo.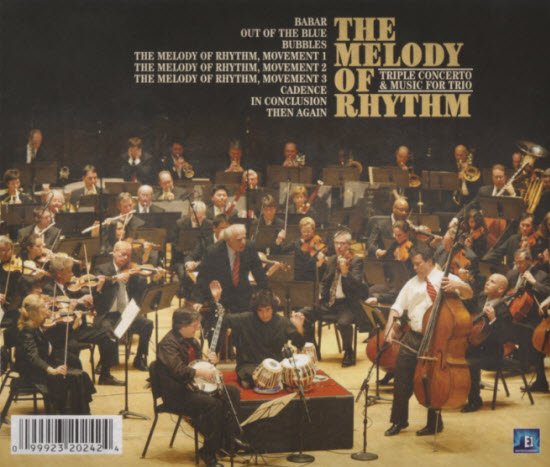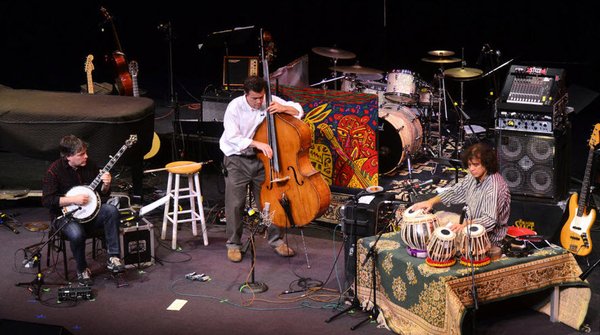 专辑曲目:
1. Bahar 6:10
2. Out of the Blue 4:58
3. Bubbles 7:12
4. The Melody of Rhythm, Movement 1 11:51
5. The Melody of Rhythm, Movement 2 6:26
6. The Melody of Rhythm, Movement 3 9:39
7. Cadence 3:56
8. In Conclusion 6:34
9. Then Again 6:40
这里是其它用户补充的资源(我也要补充):
暂无补充资源