专辑英文名: Poeta
专辑中文名: 诗人
音乐风格: 拉丁
资源格式: FLAC
发行时间: 1997年04月14日
简介: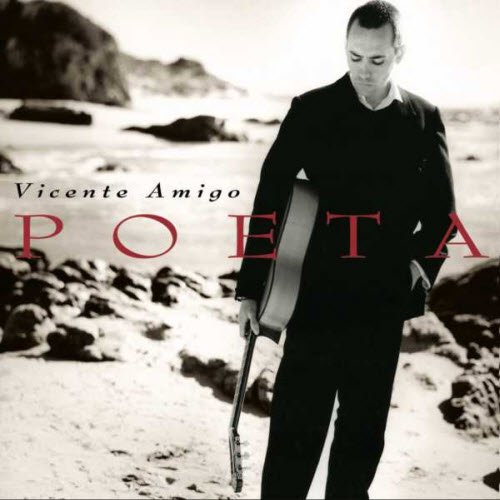 专辑介绍:

西班牙弗拉明戈吉他演奏家 Vicente Amigo的 《Poeta》(诗人)。1997年4月由科尔多瓦管弦乐队演奏的此碟录制和发布,Leo Brouwer指挥。这张CD在1997音乐奖中荣获AIE和SGAE授予的"最佳弗拉门科作家和最佳弗拉门科作曲家"。1998年12月西班牙国家芭蕾舞团演出了《Poeta》

艺人: Vicente Amigo
语种: 英语
唱片公司: Japanese Import
发行时间: 2001年12月11日
专辑类别: 录音室专辑
专辑风格: 西班牙 | 弗拉门戈 Flamenco


引用
Poeta album for sale by Vicente Amigo was released Apr 14, 1997 on the Sony BMG label. Personnel: Vicente Amigo (guitar); Igmar Alderete, Artaches Kazarian, Aroutioun Mikaelian, Angel Guzmán Corrochado, Anatolie Jitcov, Eugueny Syrkine, Elena Ivanova Anguelova, Diego Barbieri Gordo, Louri Petrossian, Jose Miguel Ballester Vercher, Jose Antonio Peñarroja, Jenny Guerra, Isel Rodríguez Trujillo, Yamir Enrique Portuondo Garzón, Rafael Enrique López Velasco, Francisco Delgado (violin); Dorin-Petre Sima, Mercedes Serrano, Jorge Adolfo Hernánez Iznaga, York Hartwig Thompson, Nelson Armitano Cividanes (viola); Carlos Amado Del Rosario Fernández, Néstor Jose Garrote (oboe); Juan M. Poeta buy CD music Morat Pomar, Rafael Martínez Guillén (trombone); Antonio Gil, Germán Izquierdo Veses, Francisco Fermín Galduf Cervera, Santiago Plá Sánchez (trompa); Tino Di Geraldo, Luis Dulzaides (percussion). Poeta CD music contains a single disc with 15 songs.
Item number 7460963
Label Sony BMG
Orig Year 2001
Catalog number 487502
Discs 1
Release Date Apr 14, 1997
Studio/Live Studio
Mono/Stereo Stereo
Producer Vicente Amigo
Engineer Jose Luis Garrido
Recording Time 46 minutes
Personnel Anatolie Jitcov
Angel Guzm+ín Corrochado
Antonio Gil
Aroutioun Mikaelian
Carlos Amado Del Rosario Fern+índez
Diego Barbieri Gordo
Dorin-Petre Sima
Elena Ivanova Anguelova
Eugueny Syrkine
Francisco Ferm+¡n Galduf Cervera
Director: Leo Brouwer.
Editor: Jesus Pardo Poeta album for sale.
Recording information: El Cine Gongora, Cordoba, Spain; Estudios Alta Frecuencia, Sevilla; Estudios Alta Frecuencia, Sevilla, Spain; Estudios Musitrón, Madrid; Estudios, Musitron, Madrid, Spain; Góngora De Córdoba; Gran Teatro de Córdoba; La Sala De Ensayos Del Gran Teatro De Cordoba.
Photographer: Jesus Ugalde.
Audio CD (April 21, 1997)
Number of Discs: 1
Format: Import
Label: CBS/Sony
ASIN: B000026YIG
Average Customer Review: 4.7 out of 5 stars
Biography
Born in Guadalcanal, a small village in Seville, Spain, on March 25th, 1967, Vicente Amigo Girol actually grew up and lives in Córdoba, also in Andalusia. He started studying guitar when he was eight with maestros such as El Merengue (Rafael Rodríguez Fernández) and El Tomate (Juan Muñoz Expósito) and at 15 he became an apprentice of the great Manolo Sanlúcar, in whose group he worked for several years. He appears in Sanlúcar's masterpiece Tauromagia (1988), considered one of the most important flamenco albums of all time.
He gained early recognition while accompanying singer El Pele (Manuel Moreno Maya), with whom he recorded "Poeta de Esquinas Blandas" (1988). That same year, Amigo also launched his solo career. Soon, he built an international reputation as he performed with Camarón de la Isla, arguably the most important singer in modern flamenco history, but also with artists such as John McLaughlin, Al Di Meola, Brazilian singer and songwriter Milton Nascimento, and Spanish pop superstar Alejandro Sanz.
He won several flamenco guitar prizes and appeared at Leyendas de la Guitarra (Legends of the Guitar), an international event celebrated in Spain that served as a preview of the Seville Expo in 1992, representing flamenco with Paco de Lucía, the decisive figure in modern flamenco guitar. De Lucia, who passed away on in February, 2014, became a lifelong friend and admirer. Those who set out sports-like comparisons or are eager to bestow the unwanted mantle of "the next Paco de Lucia" fail to grasp the depth of their relationship, which is underscored by the fact that they became compadres, godfathers to each other´s children: Amigo to De Lucia's daughter Antonia; De Lucia to Amigo's youngest son, Marcos.
"Such is life. I play guitar because when I was three years old I saw Paco de Lucia on TV and it stayed with me," recalls Amigo. "Later we became friends and shared many great times. For all flamencos, Paco is the greatest. He opened paths. He did so much for flamenco guitar that we are all indebted to him.".
Thoughtful and introspective, Amigo pauses before putting his work as a player in a larger context. "I'm a guitarist, but I love music well beyond my instrument," he says. "Music is my life."
Given his elegant, melodic style it's no surprise that he has been especially adept at writing for, and working with, singers, including the great Enrique Morente (who recorded several of Amigo's songs), his daughter, Estrella Morente, Carmen Linares and Diego El Cigala within the flamenco tradition, but also with artists such as Sting (on "Send Your Love" from Sting's Sacred Love), and Brazilian jazz pianist and vocalist Eliane Elias outside it.
He has also stretched out, contributing his playing, writing and production ideas to flamenco singers José Mercé ( on Del Amanecer) and Remedios Amaya (Me Voy Contigo).
Still, while clearly rooted in flamenco, Amigo set out early on to explore the possibilities of fusions in both his recordings and collaborations. In the remarkable Poeta (1997), he paid tribute to the poetry of Rafael Alberti with a work for guitar and orchestra featuring Cuban guitarist, composer and conductor Leo Brower and pop star Miguel Bosé, who collaborated reciting the texts. Then, in his Paseo de Gracia (2009), named after a street in Barcelona, he explored pop music, calling on the Morentes and Sanz. And in the expansive Ciudad de Las Ideas (City of Ideas), Amigo collaborated with Argentine pop rocker Pedro Aznar and Algerian rai star Khaled.
Tierra, his seventh and most recent release, features all music composed by Amigo and arranged by him and Dire Straits keyboardist Guy Fletcher. It was recorded in London with members of Mark Knopfler's band and the Scottish folk group Capercaillie.
A transcendent performer, composer and producer, Amigo burst onto the major stages of flamenco while still a teenager. Since then, he has earned a shelf full of awards, including the Medalla de Oro al Mérito en las Bellas Artes, roughly Spain´s equivalent of the National Medal of Arts, in December 2015, as well as a Latin GRAMMY® for Ciudad de Las Ideas (City of Ideas) in 2001.
http://www.vicenteamigo.com/en/photos/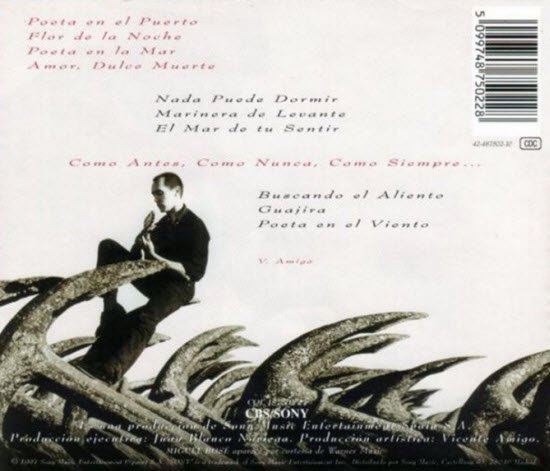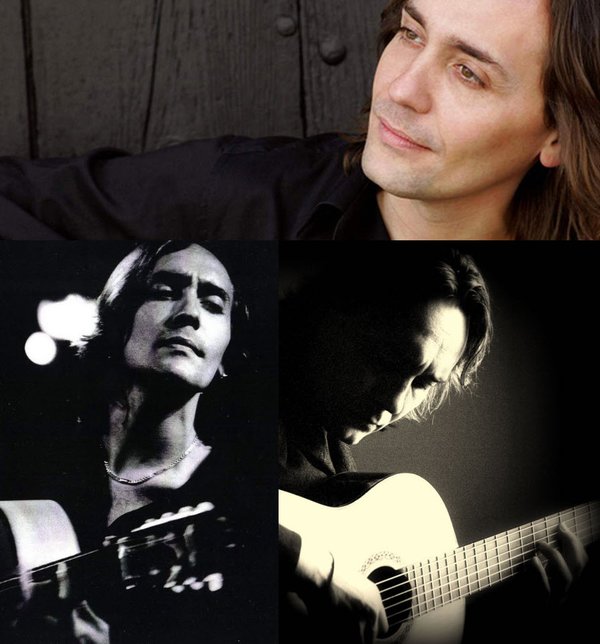 专辑曲目:
01. Poeta En El Puerto
02. Flor De La Noche
03. Poeta En La Mar
04. Amor, Dulce Muerte
05. Nada Puede Dormir
06. Marinera De Levante
07. Mar De Tu Sentir
08. Buscando El Aliento
09. Guajira
10. Poeta En El Viento
这里是其它用户补充的资源(我也要补充):
暂无补充资源