专辑英文名: Hi-Res Classic The First Selection
专辑中文名: 高清古典乐专辑
古典类型: 全集作品
资源格式: FLAC
版本: [24bits 96KHz]
发行时间: 2015年
简介: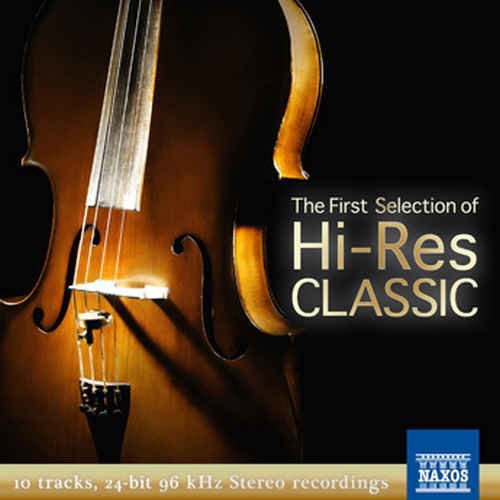 专辑介绍:

从维瓦尔第到格什温罗西尼和拉威尔来,这专辑不管在录音的音质及让乐评们赞不绝口的表演都是来自世界各地著名乐团和指挥。用于测试或显示音响系统掀起了巨大的汇编,所有的精选都是带高分辨率的经典之作适用于测试音响系统的功能。

http://www.hdtracks.com/the-first-selectio...-classic

From Vivaldi to Gershwin and Rossini to Ravel, critics have raved about both the performances and the audio quality of these recordings by celebrated orchestras and conductors from around the world. A great compilation for testing or showing off a sound system, all the selections have earned distinction as high-resolution classics.

The album was mastered using our 2xHD proprietary system. In order to achieve the most accurate reproduction of the original recording we tailor our process specifically for each project, using a selection from our pool of state-of-the-art audiophile components and connectors. The process begins with a transfer to analog from the original 24bits/96kHz resolution master, using cutting edge D/A converters. The analog signal is then sent through a hi-end tube pre-amplifier before being recorded directly in DXD using the dCS905 A/D and the dCS Vivaldi Clock. All connections used in the process are made of OCC silver cable.


引用
Top notch classical selection available in 96 kHz and DSD64. This album was mastered using our 2xHD proprietary system. In order to achieve the most accurate reproduction of the original recording we tailor our process specifically for each project, using a selection from our pool of state-of-the-art audiophile components and connectors. The process begins with a transfer to analog from the original 24bits/96kHz resolution master, using cutting edge D/A converters. The analog signal is then sent through a hi-end tube pre-amplifier before being recorded directly in DXD using the dCS905 A/D and the dCS Vivaldi Clock. All connections used in the process are made of OCC silver cable. DSD and 192kHz/24Bit versions are separately generated, directly from the analog signal. 2xHD was created by producer/studio owner André Perry and audiophile sound engineer René Laflamme.


Title: The First Selection of High-Resolution Classic
Artist: Various Artists
Genre: Classical Label: 2xHD - Naxos
Release Date: 2015

专辑曲目:
01. Antonio Vivaldi; Cho-Liang Lin; Sejong; Anthony Newman - I. Allegro
02. Gioachino Rossini; Prague Sinfonia; Christian Benda - Overture
03. Hector Berlioz; Lyon National Orchestra; Leonard Slatkin - II. Un Bal (Valse) Allegro non troppo
04. Felix Mendelssohn; Tianwa Yang; Sinfonia Finlandia Jyvaskyla; Patrick Gallois - I. Allegro molto appassionato
05. Antonin Dvorak; Baltimore Symphony Orchestra; Marin Alsop - IV. Allegro con fuoco
06. Leos Janacek; Warsaw Philharmonic Orchestra; Antoni Wit - I. Allegretto
07. Gustav Mahler; Warsaw Philharmonic Choir; Cardinal Stefan Wyszynski University Choir - Part I. Veni, creator spiritus
08. Maurice Ravel; Lyon National Orchestra; Leonard Slatkin - Bolero, M. 81
09. La grande porte de Kiev Modest Petrovich Mussorgsky; New Zealand Symphony Orchestra; Peter Breiner - La cabane sur des pattes de poule
10. George Gershwin; Orion Weiss; Buffalo Philharmonic Orchestra; JoAnn Falletta - Rhapsody in Blue (arr. F. Grofe for piano and orchestra)
这里是其它用户补充的资源(我也要补充):
暂无补充资源