专辑英文名: Brahms - Stravinsky - Volin Concertos
专辑中文名: 布拉姆斯&史特拉汶斯基小提琴协奏曲
古典类型: 协奏曲
版本: [SACD-r]
发行时间: 2001年12月04日
简介:


专辑介绍:

希拉蕊.韩Hilary Hahn (小提琴)
马利纳Sir Neville Marriner (指挥)
圣马丁室内乐团Academy of St Martin in the Fields

知名乐评Terry Teachout在Time时代杂誌中讚扬道:「希拉蕊韩是当今美国最杰出的新生代古典音乐演奏家!」
两首协奏曲是布拉姆斯与史特拉汶斯基於颠峰时期完成的代表作品,在此将欣赏到希拉蕊韩令人惊艳的超凡琴技。

「她的曲调轻盈甜美,她的演出创新时尚。即使是烂醉如泥,甚或是愤世忌俗的乐评家们,都要融化在她动人的音乐中。这位小提琴天才演奏家,在她如日中天的音乐生涯里,依然循著自己的步伐前进,丝毫不受压力阻扰而有所窒碍。」知名乐评Terry Teachout在Time时代杂誌中讚扬道:「希拉蕊韩是当今美国最杰出的新生代古典音乐演奏家!」

经历前几张专辑演奏巴哈,贝多芬与伯恩斯坦等人的作品而声名大噪之后,在一次偶然的机会里,希拉蕊韩听到了史特拉汶斯基的小提琴协奏曲,不凡的旋律,让她当下便决定要在自己的最新专辑中演奏此曲。再加上她十岁时第一次听到便无法忘怀的布拉姆斯协奏曲,一张深具挑战,且完美无双的录音作品於焉诞生。这两首协奏曲是布拉姆斯与史特拉汶斯基於颠峰时期完成的代表作品,希拉蕊韩说道「我一直梦寐以求,希望能有机会得以演出这么美的不可思议的大师杰作,它融合愉悦却又忧鬱的曲调,深深令我著迷。」


希拉蕊.韩 / 布拉姆斯&史特拉汶斯基小提琴协奏曲
Hilary Hahn/Brahms, Stravinsky:Violin Concertos
唱片公司:SONY MUSIC
音乐类型:古典音乐
唱片编号:SICC1052
发行日期:2016年01月22日
进口专辑 / CD / 1 片装


引用
Stravinsky's Violin Concerto waited seventy years for this performance. The work has been more successful as accompaniment to a Balanchine ballet than as a concert piece and Hahn hopes to see it better established in the standard repertoire. She is likely to help that along. Having first came to it in the course of score-reading when she found herself musically on her own at age 17, after the death of her teacher, Brodsky, and, much taken with its "combination of jaunty brilliance and pensive lyricism…quirky rhythms [and] many references to Bach," she played it with seven orchestras prior to this recording, years later. That being the case, I am inclined to think that Hahn's views of this work are dominant in the performance, as Stravinsky's own view of the matter is dominant in the recording he did with Isaac Stern. The present performance is quite different from that, in exciting ways.
One particularly interesting thing about this performance is that, as she implies in her notes, she plays the opening Toccata much faster than any recorded performance and closer to the tempo indicated in the score than Stravinsky does in his own recorded performance with Stern. Hahn/Marriner do it in 4:51 and Stern/Stravinsky take 5:35. The effect is that Hahn's performance scampers and swaggers, while Stravinsky's, although it does strut, has more of a metronomic, plodding pace to it that reminds me of nothing so much of the way Klemperer took the Scherzo in Beethoven's Ninth Symphony. Interesting, even canonic, in Stravinsky's case, but somehow not ideal. I say this in spite of the fact that I mostly forego the search for ideal performances in favor of appreciating what is good and distinctive about real ones.
The middle movements, Arias 1 and 2, are more spiky in the Stern/Stravinsky and more lyrical, even soaring, with gentle strength, in Hahn/Marriner. The second Aria is nearly a full minute longer in the latter. (6:07 compared with 5:10.) The other two movements are of equivalent length in the two performances, but the approach and effect is different: Hahn's Capriccio is lively and youthful; Stravinsky's is more sassy, but at the end of the movement, as at the beginning of the concerto, Stravinsky's tempo makes the rhythm sound four-square. Marriner's rhythms toward the end are slashing, reminiscent perhaps of the younger Stravinsky.
For a long time I accepted the notion that there is a chasm between early Stravinsky and the neo-classical Stravinsky. Actually, his characteristic approach to rhythm and harmony are remarkably comparable throughout his career. Some of the differences are a matter of smaller forces he used after his first period. I wonder how much also is a matter of the advanced age at which he recorded his works in later years and whether this slowed him down.
Smaller forces are one notable facet of the Brahms recording here. To my ears, they are sufficient, even refreshing (and bravo to the woodwinds in the slow movement.) In contrast, the larger forces of, say, the Chicago Symphony in the Pearlman/Giulini recording, add power in the tuttis and a greater weightiness to the effect generally, but I am not sure that is really needed in this work. At any rate, I find that I like this performance quite a lot more than I expected to, given the reservations I have often had about Marriner and given the restrained nature of Hahn's performance in the Barber Concerto (noted in my review of Sony 89029). Aside from that, there is little I feel a need to say about this very pleasurable performance of the Brahms. It is beautiful, and I expect to return to it often.
I have high regard for Hahn's musicianship. Aside from her exceptional technical ability, what she says about her self-directed exploration of scores alone suggests that she is unlikely to burn out and likely to develop a wide repertoire. Some of that repertoire is likely to be totally new, judging by Sony's commissioning of Edgar Meyer's delightful concerto. I would love to see further commissions, starting perhaps with concertos by Melinda Wagner, who won the Pulitzer prize a couple of years ago (Bridge 9098), Libby Larsen, Daniel Asia, and Christopher Rouse.
Copyright © 2003, R. James Tobin
Label: Sony Classical -
http://klassik.sonymusic.de/
Serial: SS 89469
Title: Brahms/Stravinsky: Violin Concertos - Hilary Hahn
Description: Brahms/Stravinsky: Violin Concertos
Hilary Hahn (violin)
Academy of St. Martin in the Fields
Sir Neville Marriner (conductor)
Track listing: 1-3. Brahms: Concerto for Violin and Orchestra in D Major, Op. 77
4-7. Stravinsky: Concerto for Violin and Orchestra in D
Total Time: 61:25
Genre: Classical - Orchestral
Content: Stereo/Multichannel
Media: Single Layer
Recording type: DSD
Recording info: Producer: Thomas Frost
Recording Engineer: Richard King
DSD Engineer: Andrew Halifax
Assistant Engineers: Andrew Granger, Jake Jackson
Post-Production Engineer: Andreas Meyer
A&R Manager: Susanne Schmidt
Recorded at Air Studios/Lyndhurst Hall, Hampstead, London February 25, 2001 (Stravinsky) & June 13-14, 2001 (Brahms)
Note: An earlier Dual Layer pressing caused a problem with some Marantz players.
Orchestra: Academy of St-Martin-in-the-Fields
Conductor: Neville Marriner
Composer: Brahms, Stravinsky
Audio CD (December 4, 2001)
Please Note: Requires SACD-compatible hardware
Number of Discs: 1
Format: Super Audio CD - DSD
Label: Sony
ASIN: B00005RIN6
Average Customer Review: 5.0 out of 5 stars
Release Date November 13, 2001
Duration 01:01:33
Genre Classical
Styles Concerto
AllMusic Review by Blair Sanderson
One of the most technically accomplished young musicians, Hilary Hahn is also ambitious. Performing Johannes Brahms' violin concerto at age 21 is a serious-minded choice, since this piece has acquired a reputation for being appropriate for mature artists. Hahn removes that dubious impediment by playing it on her own terms, with new ears, and by taking no heed of pretensions imposed on this masterpiece. All the fire and yearning are here, the chief characteristics of Brahmsian romanticism. However, Hahn has the intelligence and sensibility to keep her interpretation within classical bounds. Although she pushes the envelope just once -- her drawn-out cadenza in the first movement seems a little self-indulgent -- she maintains a high degree of control throughout. Her second-movement entrance, following the long oboe solo, is seraphic, perhaps the concerto's most moving passage. The finale is a pure delight, Hahn's shining moment as a virtuoso. Neville Marriner and the Academy of St. Martin-in-the-Fields provide a radiant accompaniment to support Hahn's glorious tone. If balance is the rule here, then they are all playing from the same score. The sound of this performance is terrific, and the violin's central placement is natural and uncontrived. Igor Stravinsky's Violin Concerto is notorious for its demands on the soloist, who must grab awkward quadruple stops, octaves, and harmonics, yet make them seem effortless. This piece is well-suited to Hahn's skills, and still more to her classical instincts, since it is never expressively overwrought. It takes a considerable intellect to grasp the complexities entailed in the music's quirky changes and to make them cohere. Hahn has given a unified interpretation, even when the music seems to resist her by denying expectations at every turn. The work's wry humor never becomes sarcasm, though the proceedings get fairly heated in the first movement, where Hahn is most focused. She does the best she can with the enigmatic material of the second movement, which disconnectedly meanders between painful reflection and ironic commentary. The elegiac third-movement aria is poignant, yet austere, and challenges Hahn to convey emotion with detachment. The fast finale employs the most virtuosic passagework and displays the rhythmic dynamism that never failed Stravinsky. Hahn pulls it all off with great panache. Sound reproduction is excellent here, marred only by someone's audible exertions.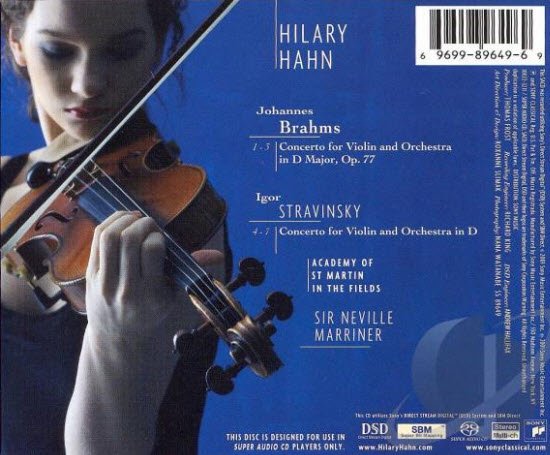 专辑曲目:
Johannes Brahms: Violin Concerto in D Major, Op. 77
1. I.Allegro non troppo
2. II. Adagio
3. III. Allegro giocoso, ma non troppo vivace

Igor Stravinsky: Violin Concerto in D Major
4. I.Toccata
5. II. Aria I
6. III. Aria II
7. IV. Capriccio
这里是其它用户补充的资源(我也要补充):
暂无补充资源