专辑英文名: We Get Requests SACD
专辑中文名: 应邀演出
音乐风格: 爵士
版本: [SACD-r]
发行时间: 2013年03月13日
简介: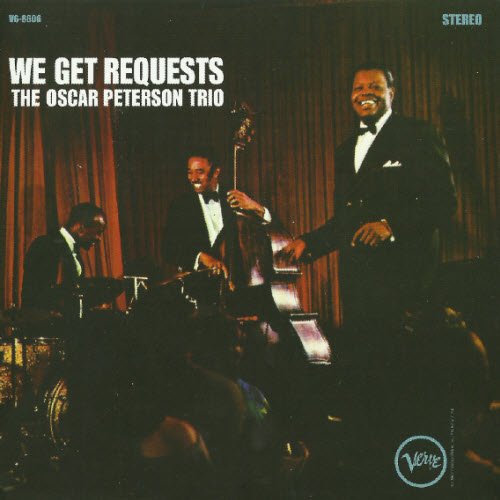 专辑介绍:

奥斯卡.彼得生三重奏:应邀演出
The Oscar Peterson Trio / We Get Requests


★ 英国「企鹅」爵士评鉴三星推荐、美国爵士乐权威「Down Beat」杂誌 4 星高度评价的经典录音。

★ 美国 TAS、香港 CD 圣经上榜;日本 Swing Journal、Stereo Sound 推荐。爵士乐界六十年代经典,世界各地的发烧杂誌先后推祟。

★ 美国发烧名厂 FIM 以 K2HD 技术重制,全新精美包装,极俱收藏价值!

The Oscar Peterson Trio 爵士乐三重奏 1964 年所灌录的 We Get Requests,被誉为爵士乐经典,录音具发烧级数。无论是弹琴的 Oscar Peterson、弹低音提琴的 Ray Brown 及鼓手 Ed Thigpen,演奏精彩绝伦,由当年著名的录音师 Bob Simpson 操刀,使整个演出效果发烧至极。立体的空间感,加上精确的乐器定位,表演逼真传神,各部乐声质感生猛,尤其 Ray Brown 拍弹的大牛筋,声效雄浑,动态强横,亦被乐迷讚誉试低音必备的「 Hi Fi 大牛筋」。这张爵士乐历史最经典名盘,无论是发烧友或爵士乐迷,均不容错过。而美国发烧名厂 FIM 以 K2HD 技术重制,更具迷人的类比韵味!

We Get Requests (K2HD CD) - The Oscar Peterson Trio [CD]
(日期:2009-07-29)
售价($): HK$259 (US$33.4)
发行商:美国F I M


引用
Audio CD (March 13, 2012)
Number of Discs: 1
Format: Hybrid SACD - DSD
Label: Analogue Productions
ASIN: B005VQRRYU
Average Customer Review: 4.7 out of 5 stars


We Get Requests is a perfect example of Oscar Peterson's remarkable two-sided appeal. Technically, the album is filled with above average melodic development and solid rhythmic blend, while the repertoire is a crowd-pleaser. The listener is treated to a tasteful mixing of current pop tunes, standards and originals here while the Oscar Peterson Trio shows again why they're one of the best in the business.


Mastered by George Marino at Sterling Sound from the original master tapes to vinyl and PCM. The DSD was sourced from the PCM. George listened to all of the different A/D converters he had before he chose which to use, and he felt the George Massenburg GML 20 bit A/D produced the best and most synergistic sound for the project.

Playable in 3-channel. Mastered from the original 3-track tapes.

When Jim Davis started producing records at Verve, he changed the company's recording philosophy toward its most prolific instrumentalist. Where Norman Granz had produced countless Oscar Peterson albums dedicated to the popular song, Davis was more interested in making albums closer to how the Peterson trio sounded live. His first Peterson records were the legendary London House sessions. By the time of this album, there had been no personnel change in the trio for five years - so it is no surprise that the rapport among the musicians here is telepathic.

Originally released in 1964.

Oscar Peterson, piano
Ray Brown, bass
Ed Thigpen, drums


The Oscar Peterson Trio We Get Requests Hybrid Stereo SACD

Mastered by George Marino at Sterling Sound from the Absolute Original Analog Master Tapes!

George Marino says the Verve masters are in excellent condition, with just one exception.

"The one problem we had was an Oscar Peterson one – We Get Requests," he says. "We played through it and there was a lot of weirdness going on, and the tape was really deteriorating. But what happened was they got the original three-track on that, and the three-track was great. So it all worked out in the end. That was the one tape that gave us a headache."

So imagine that. We Get Requests, of course, is a timeless audiophile classic. But the stereo master was shot. Given that we know the three-track hadn't been used before, this means that all those great reissues of this record to date? They were made from copies of the master. Now we get to hear the original three-track master!

"And it's the best sounding of all of them," Marino says. "Excellent sounding record."

Those reissues you've heard up until now – definitely still breathy, warm and rich – were made from something less than the master. Prepare to hear the veil removed.

This 1964 studio session features the Peterson trio with bassist Ray Brown and Ed Thigpen, a group that had been together for five years by then and performed like a well-oiled machine. The repertoire is mostly pop songs of the day, including bossa nova tunes and film themes, and the treatments are fairly brief, with emphasis placed squarely on the melodies. Even in their lightest moments, though, the group demonstrates some of the qualities that made it among the most influential piano trios in jazz, a group that could generate tremendous rhythmic energy and a sense of developing musical detail. For all his legendary force, Peterson possesses a subtle rhythmic sense, and here he infuses even "People" with an undercurrent of swing.

Features:
• Super Audio CD
• SACD Stereo SACD Layer
• This Hybrid SACD contains a 'Red Book' Stereo CD Layer which is playable on most conventional CD Players!
• Mastered by George Marino at Sterling Sound!
• Cut from the Absolute Original Analog Master Tapes!
• Original Verve Label Recording

Musicians:
Oscar Peterson, piano
Ray Brown, bass
Ed Thigpen, drum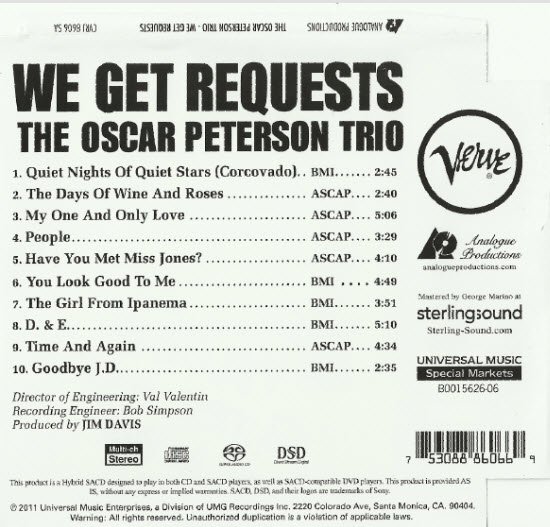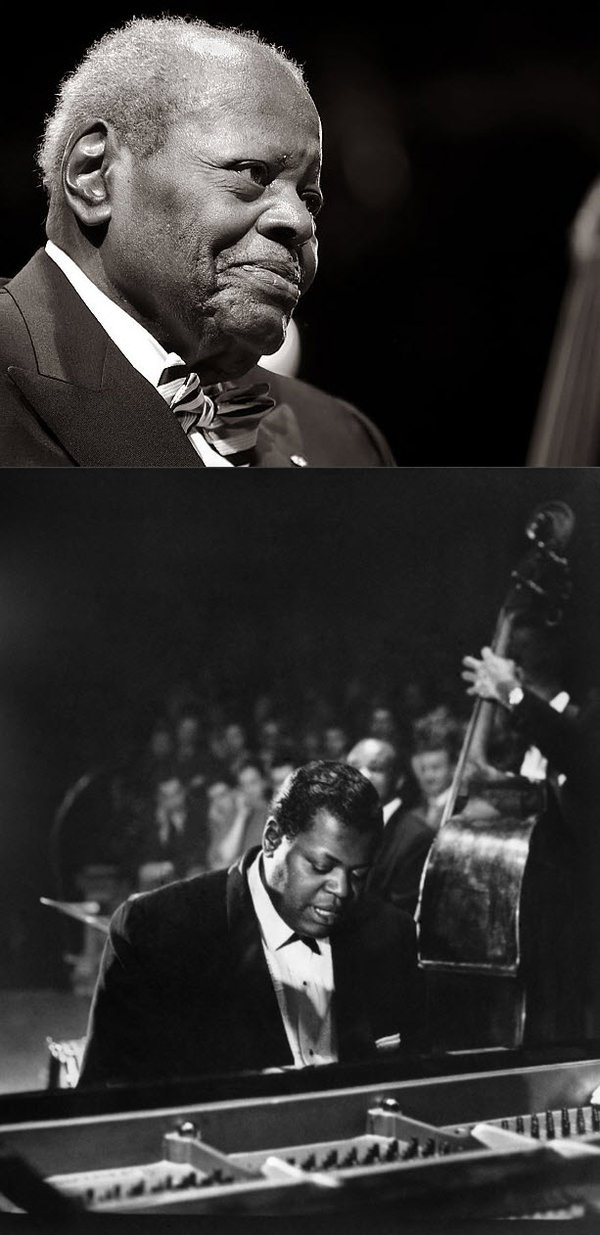 Oscar Emmanuel Peterson, CC, CQ, OOnt (August 15, 1925 – December 23, 2007) was a Canadian jazz pianist and composer. He was called the "Maharaja of the keyboard" by Duke Ellington, but simply "O.P." by his friends. He released over 200 recordings, won eight Grammy Awards, and received numerous other awards and honours. He is considered one of the greatest jazz pianists, and played thousands of concerts worldwide in a career lasting more than 60 years.
专辑曲目:
1. Quiet Nights Of Quiet Stars (Corcovado)
2. The Days Of Wine And Roses
3. My One And Only Love
4. People
5. Have You Met Miss Jones?
6. You Look Good To Me
7. The Girl From Ipanema
8. D. & E.
9. Time And Again
10. Goodbye J.D.
这里是其它用户补充的资源(我也要补充):
暂无补充资源