专辑英文名: A Celebration Of The Spanish Guitar
专辑中文名: 西班牙吉他礼赞
古典类型: 室内乐
资源格式: FLAC
发行时间: 2009年03月30日
简介: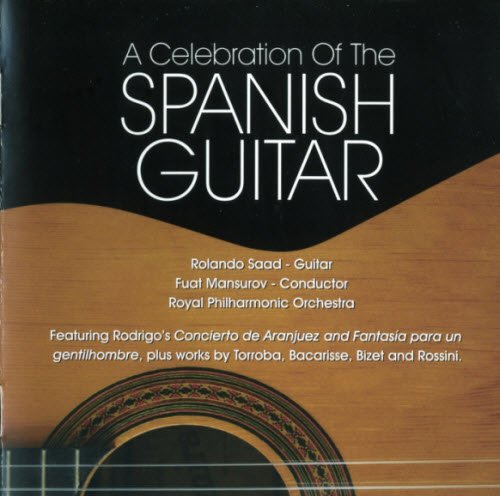 专辑介绍:

无意间听到收音机播放 Salvador Bacarisse 的 第4首 Conciertino A小调 让我禁不住在网上搜索关于他的资源并 发现这张美好的c.d. 它包含了我所有喜爱的西班牙Guitar作品. 一张精彩绝伦的C.D.让您放松现心情尽情欣赏,当然这C.D.也成了我的古典音乐收藏.

处于颠峰的皇家爱乐乐团与罗兰·萨阿德独奏的合作无间令人回味无穷。

5.0 out of 5 starsA Celebration of the Spanish Guitar
By L. M. Hyatt on 30 Mar. 2009
Format: Audio CD
After hearing the music by Salvador Bacarisse track no. 4 Conciertino in A minor on the radio, I had to search the internet @ found this wonderful c.d.containing all the favourite pieces played on the Spanish Guitar. A truely wonderful c.d. so relaxing @ a must to add to any classic music collection.The Royal Philharmonic orchestra are at their best with suburb solo performance by Rolando Saad on guitar.


引用
Performer: Rolando Saad
Orchestra: Royal Philharmonic Orchestra
Conductor: Fuat Mansurov
Composer: Various
Audio CD (1 Sept. 2009)
Number of Discs: 1
Format: Single
Label: Royal Philharmonic Orchestra
ASIN: B001HNF02M
Average Customer Review: 5.0 out of 5 stars


Album Features
UPC: 5050693194024
Artist: Rolando Guitar Saad
Format: CD
Release Year: 2009
Record Label: RPO
Genre: Classical, Concerto, Fantasy, Overture, Sonatina



Details
Playing Time: 74 min.
Contributing Artists: Rolando Guitar Saad
Distributor: Naxos (Distributor)
Recording Mode: Stereo
SPAR Code: n/a

Album Notes
Recording information: Angel Studios, London (12/12/2007-12/13/2007).


Release Date July 27, 2010
Duration 01:14:12
Genre Classical
Styles Concerto Chamber Music
Recording DateDecember 12, 2007 - December 13, 2007



Last Critics
Argentinean guitarist impresses

[…] an artist of unquestionable talent and subtle musicality […] showed the deep knowledge of his instrument, his ductility and he aesthetic sense that placed him at the vanguard of the soloists.
Herald Tribune

I've been observing this unique guitarist for a while and I was impressed that he doesn't always hold his guitar in the same way.
When for instance he is playing Rodrigo's Fantasia para un Gentilhombre, he holds his guitar in the traditional classical style. However, for some reason he holds the guitar in a hybrid flamenco style in his Concierto de Aranjuez, just as Pepe Romero and Sabicas.
He plays fine either way, but does it change projection and sound in some way?
I can't imagine if a musician of his level does it for fun or to make himself look more interesting.
Classical Guitar London

The Argentine Rolando Saad at the Berlin Philharmonic.



The most anticipated moment of the evening came with the beautiful and touching Concierto de Aranjuez by Joaquín Rodrigo. Rolando Saad was the architect of the performance that impressed the audience. His virtuoso performing enhanced this exquisite score thanks to the singular sound of the artist obtained by fingertip touch only. The remarkable dynamic scale, allowing him to be in tune together with a symphony orchestra, makes of Rolando Saad the exceptional guitarist also.
Mundoclásico

Expression of emotions and feelings

"He showed an enviable artistic maturity, not only on the solidity of his technique preparation but on the emotional expression of his temperament lyrically inspired.
The musicality of the artist and his temperament was on his side in a special way as for the sensibility of the Spanish authors that was interpreted with an absolute creative sensibility"
Beselinka Babamova, Diario Nueva Macedonia.

Majestic perfection

"The most intense moment was the famous adagio of the concert, performed by Saad with a fantastic elasticity and artistic feeling. I have already listened to plenty of recordings of the Concierto de Aranjuez with great guitarists and the question would be if I have come across someone better or with deeper soul than the masterly sensitive and virtuous performance of Saad."
Smalandsposten, Sweden



Spanish night, night of guitar

"An excellent soloist of the Spanish guitar raised the curtain of the opening of the last Festival Manuel de Falla. Rolando Saad made an excelent execution of the Fantasia para un gentilhombre, putting on the stage his particular technique that takes from the soul of the guitar a particular son, fruit of playing the string whit decision and security, helped only with the fingertips. His gesture surrounds not only the guitar with the one he merges in the concert, but passes on serenity and control without words. Force, expression and feeling are wrapping up too by this special communication that Saad strikes up with the audience since the first quaver. And really worth to listen to Saad during the interpretation of El Concierto de Aranjuez, wich I mark as excellent and peculiar. The version of Saad of El amor Brujo sounded fantastic, getting that his guitar really sing, free and with personality."
Jesús Sánchez Ferragut - Diario de Cádiz

More guitar, please!

"Saad has interpreted this composition more than 700 times on the stages of concert halls in Europe and this seems puzzling: How does one keep the feelings? Because he does precisely this, he plays from the inside; you can feel he loves this music, that he is linked to it."
Camila Dal, Sweden



Temperamentally Spanish
"The Argentinian guitarist Rolando Saad took the beautiful nuances out of his instrument which were founding an appropriate contribution accompanied by the orchestra"
Horst Reischenböck. Dreh PunktKultur, Salzburg

"He's an excellent guitarist and I enjoyed his performance with orchestra immensely."
Classic Guitar, London

"The guitar player Rolando Saad earned the applause of the numerous audience as a long distance soloist of the Concierto de Joaquín Rodrigo, showing a decisive and refined spirit in facing the troubles of this fascinating piece of work."
Octavio de Juan. La Verdad

Entertaining spanish evening

"The argentinian guitarist Rolando Saad gave a beautiful performance of the well known Concierto de Aranjuez by Joaquín Rodrigo."
Ger van der tang. AD.

Saad during a break from a recording with orchestra

A celebration of the spanish guitar at the Barbican

Royal Philharmonic Orchestra- Fuat Manzurov, conductor-Rolando Saad, guitar
"The event was great. Both the orchestra and Rolando Saad were amazing. He is truly a gifted guitarist and was a pleasure to listen to."
Eddie Lake. London and Beyond, Inglaterra

Great tribute to the Spanish music

"A splendid program and a precise execution of soloist and orchestra, with soul because this music requires precision, technique and passion. Rolando Saad passed on the riches of the timbre and the beauty of the Spanish guitar.
La tribuna de Albacete (May 5th, 2011)

The Power of the guitar

"Rolando Saad brightly showed the power of the guitar and the audible panorama of the guitar, -that has an intense strength which the aesthetic can't be deleted: under his fingers, the soft tone vibrated like in an arch instrument, and sometimes, as an organ as well.
The Argentinean artist presented to us in his totality as a complete performer that inside of himself linked the emotive-artistic approach and intellectual-analytic of the master pieces, thanks to his extraordinary internal riches and his technique, dominated to its perfection, let to his instrument sing, to be sad, play and talk."
Mijail Igmiatovic, Diario de Niš



"The nice soloist, the famous Argentinean guitarist Rolando Saad, fulfilled the expectations. Saad was in his element with his vivacious and fascinating interpretation. The splendid and celestial part of the Adagio, the one we can really label as a success, meant the highest moment of the night with a sensitive and emotional interpretation of the soloist. As well, in the fast part of the ending, the virtuous interpretation of Saad kept all the charm and spirituality."
Arto Safari, Tehomylly. Helsinki, Finland

A tribute to the spanish guitar

"Rolando Saad proved to be a great guitarist in this brilliant Spanish program".
Klassik guitarr, Sweden

"Rolando Saad expressed huge emotions in every note of the Concierto de Aranjuez".
Elcorreodigital, Spain



Rolando Saad at the Maggio Musicale Fiorentino of Florence

"What a fantastic interpreter, what a tone and what diction! […] a dreamer Aranjuez, lyric and entranced that let to the Argentina soloist, Rolando Saad, to show the sensible and temperamental artist that is inside him, showing vehemence in the expression of the famous Adagio and virtuosity at the last time."
Antonio Gasco, Diario de Castellón


A silent dedication

"A silent dedication to the execution accompanied everybody after the interpretation of Rolando Saad […] the popular Catalan melodies where carried out with a tonal transcendence subjugated and interpreted with an impressive rituality, it was a night of a successful artistic encounter […] the balance between the melodic and the harmonic was of a beauty rarely seen."
Enriko Josif, Diario Política - Belgrado

"In the Concierto de Aranjuez Rolando Saad achieved his highest quality moments, showing the best of his musical qualities. He started with character and personality, dominated the virtuous landscapes of the whole play and specially created a unique atmosphere in the second movement."
Teresa Pueyo. Diario del Alto Aragón, Spain

"Ara Malikian, Ainhoa Arteta, Rolando Saad. Real luxury strings for our ears delight".
Artez, Spain

"A splendid concert, inspired in Andalusia's culture. The neat keys of the guitar and its rhythmical energy reflected perfectly the Spanish character. Rolando Saad's interpretation of the famous Concierto de Aranjuez was absolutely marvellous. The soloist was the virtuous and passionate guitarist Rolando Saad. An exceptional and unique technique".
Renata Swirercz. Varsovia, Polan

Masterly concert of Aranjuez

"More than playing, he caressed the instrument that showed to know like few and which music left from his fingers looked celestial, from another dimension."
Diario de Jaén

"Refined gentleness shown in each note…Virtuosity and perfection, providing the guitar the entire expression that can be obtained from the instrument."
Kulturart

Rolando Saad: Original guitarist

Rolando Saad demonstrated its expressiveness and virtuosity, bringing shades of originality: the melodic and harmonic enrichment. El Concierto de Aranjuez was settled with poise, professionalism and originality of interpretation. The guitarist's personal musical contribution was appreciated by the audience and therefore he received a big applause.
Leopoldo Centeno. La voz de Galicia, España

"Rolando Saad gained audience's favor thanks to his musicality"
Plzensky Denik, República Checa

A tribute to the Spanish guitar at Cervantes

"The argentinean Rolando Saad is characterized for its passion to pass on to the audience the beautiful sound of the Spanish guitar."
Claridaddigital.es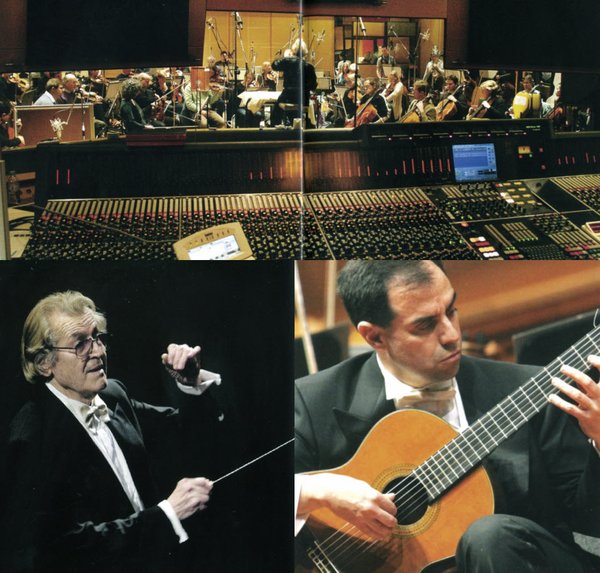 专辑曲目:
01. Concerto de Aranjuez: Allegro con spirito
02. Concerto de Aranjuez: Adagio
03. Concerto de Aranjuez: Allegro gentile
04. Concertino in A minor: Romanza
05. Carmen Suite No. 1: Prelude
06. Carmen Suite No. 1: Aragonaise
07. Carmen Suite No. 1: Les Toreadors
08. Fantas¡a para un gentilhombre: Villano y Ricercare
09. Fantas¡a para un gentilhombre: Espa€oleta y Fanfare de la Caballer¡a de N poles
10. Fantas¡a para un gentilhombre: Danza de las Hachas
11. Fantas¡a para un gentilhombre: Canario
12. Sonatina in A: Allegretto
13. Sonatina in A: Andante
14. Sonatina in A: Allegro
15. The Barber of Seville Overture
这里是其它用户补充的资源(我也要补充):
暂无补充资源