专辑英文名: Close Your Eyes
专辑中文名: 闭上眼睛
音乐风格: 爵士
资源格式: MP3
发行时间: 2013年06月17日
简介: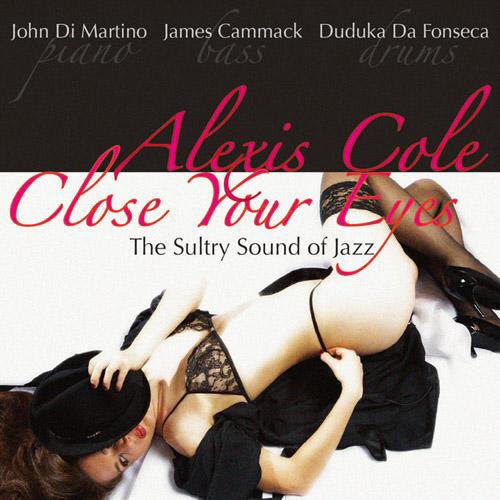 压缩码率: 320Kbps

专辑介绍:

美国实力派爵士女歌星Alexis Cole伙拍钢琴巨星John Di Martino等献唱多首名曲,并以单层SACD推出,这个备受发烧友及音响界推崇的制式。提供如在现场欣赏的靚绝音效。

Close Your Eyes合上你的眼睛 限量单层SACD
By Alexis Cole
VHGD24
(Venus Records)

Code: VEN-139308
Label: Venus Records
EAN: 4571292511315
Reference: VHCD-1131
Format: CD
Number Of Discs: 1


引用
This Single-Layer SACD can only be played on a Super Audio CD Player!

Luxurious, Smooth Vocals!

With a voice praised as "a deep contralto as smooth and dark as the richest espresso" (Jazz Times, November 2007,) award-winning jazz vocalist Alexis Cole has made an impressive impact on audiences ever since she first took the stage as a teenager.

Called "one of the great voices of today," Alexis Cole has been compared to classic jazz singers such as Sarah Vaughan and Anita O'Day. Her luxurious voice and innovative interpretations make her an instant favorite with audiences of all ages. Cole is the recipient of a Swing Journal Gold Disk award, and has won the NY Jazzmobile and Montreux Jazz Festival vocal competitions. She records for Motéma Music, NY. and Venus Records, Japan. Her recordings, which feature musical luminaries such as Fred Hersch, Eric Alexander, Matt Wilson, Harry Pickens, Don Braden and Pat LaBarbara, have received high praise in the jazz press and are spun on radio world-wide. In addition to her many performances at top jazz venues like Dizzy's Club at (Jazz at Lincoln Center), The Oak Room, Blues Alley, and Billboard Live, she's also performed at the Kennedy Center and been a featured soloist at Avery Fisher Hall with the NY Philharmonic Brass. She also trained in Indian Classical singing at the Jazz India Vocal Institute in Mumbai." She is currently the full-time jazz vocalist with the West Point Band Jazz Knights.

This is one singer you'll want to pay attention to. As the infamous jazz publication Swing Journal states, "We've been waiting for the next great singer to come along, and finally... Alexis."

Musicians:
Alexis Cole, vocals
John Di Martino, piano
James Cammack, bass
Duduka Da Fonseca, drums


Audio CD
Number of Discs: 1
Label: Pony Canyon Japan
ASIN: B00DBRN91Q

PERSONNEL:

ALEXIS COLE, vocals
JOHN Di MARTINO, piano
JAMES CAMMACK, bass
DUDUKA DA FONSECA, drums

Recorded at Trading 8s Studio in New York, on June 17,18 and 19, 2013.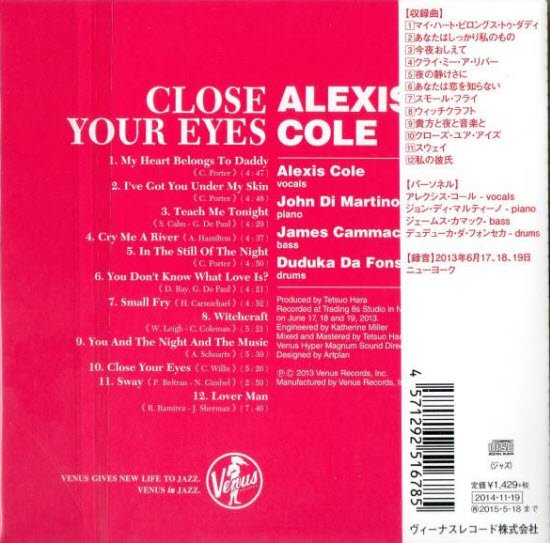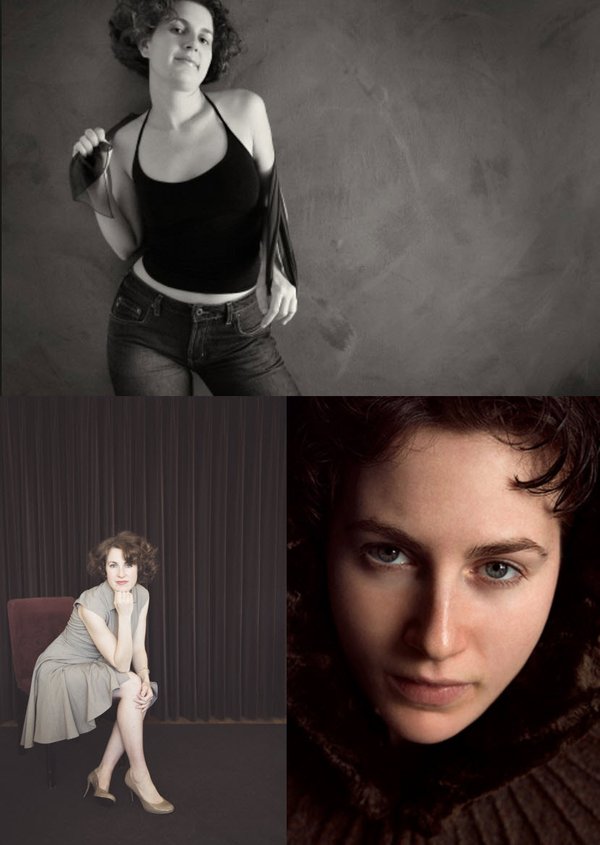 专辑曲目:
01. My Heart Belongs To Daddy《 C. Porter 》
02. I've Got You Under My Skin《 C. Porter 》
03. Teach Me Tonight《 S. Cahn - G. De Paul 》
04. Cry Me A River《 A. Hamilton 》
05. In The Still Of The Night《 C. Porter 》
06. You Don't Know What Love Is?《 D. Ray, G. De Paul 》
07. Small Fry《 H. Carmichael 》
08. Witchcraft《 W. Leigh - C. Coleman 》
09. You And The Night And The Music《 A. Schuartz 》
10. Close Your Eyes《 C. Willis 》
11. Sway《 P. Beltran - N. Gimbel 》
12. Lover Man《 R. Ramirez - J. Sherman 》
这里是其它用户补充的资源(我也要补充):
暂无补充资源