专辑英文名: The World's Greatest Audiofile Vocal Recordings - Chesky
专辑中文名: 天籟发烧精选
音乐风格: 爵士
版本: [SACD-r]
发行时间: 2006年09月26日
简介: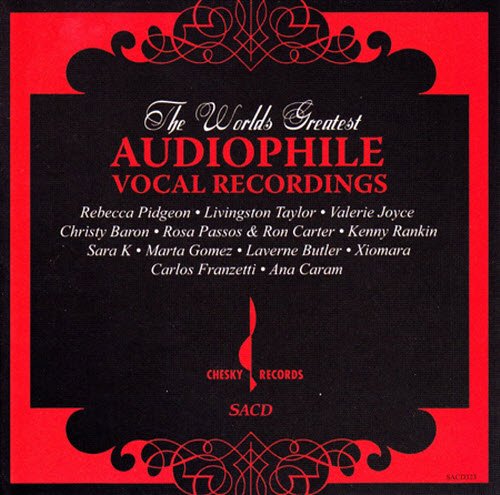 专辑介绍:

天籟发烧A精选The World's Greatest Audiophile Vocal

响迷对於录音的要求可说是世界上最严苛,为了满足音响迷的胃口,各大唱片公司无所不用其极的提昇录音技术,达到最佳录音的效果,在录音的过程中,人声重播品质的优劣,往往是决定一张作品的成败,因为人体结构的复杂,声音的无可取代。  

Chesky Records的录音技术,绝对是业界翘楚。藉由高品质的96K/24bit的高取样技术,与拿手的单点麦克风收音技巧,创造出一番新局面的录音重现品质,也是全球音响迷公认的发烧录音唱片大厂。不但重新定义了音响迷口中的音场、定位、层次感等多项严格的要求,更是让许多刚入门的乐迷,清楚感受到录音技术的好坏,对於音乐重播的影响,做了最佳示范。  Chesky发烧传奇代表歌手Rebecca Pidgeon,自从婚后就已呈封嗓状态,也使得美妙嗓音成为绝响。她的首张专辑「The Raven」(大乌鸦),绝对称得上是音响迷人手一张的发烧人声经典。民谣天后Sara K.独特的沧桑歌喉,更是温暖真挚而令听者动容。来台演出获得好评的巴西天后Rosa Passos及传奇贝斯手Ron Carter所合作演出的爵士经典名曲「The Girl From Ipanema」(来自伊帕诺码的女孩),展现出不凡的纯真娇嫩与清新。此外,Basa Nova天后Ana Caram、巴西歌王Kenny Rankin及纽约新人气歌后Valerie Joyce等等,多位在各种音乐风格各领风骚的眾家歌手,自然不能缺席此一难得的发烧【响】宴。  

以人为出发点,完全/专门地为音响迷打造的人声录音,将世上最美妙也最复杂的乐器-人声(Vocal),利用独门的绝佳录音技术及最原音重现的高传真的SACD,完整重现在音响迷的面前。对於想要体验顶级录音的人声会有多发烧的音响迷而言,本张20年空前卡司的超级精选,绝对是音响迷不可错过的一张测试宝典。


引用
http://www.audionet.com.tw/a/thread-4927-1-1.html
Reviews
If you're into vocal recordings, or want a sampler of Chesky's material, or if you just want something that sounds great so that you can impress friends with your stereo, get this disc. I play it a lot -- for all of the above reasons. I listen to many tracks on this disc, but I'm always drawn back to Livingston Taylor singing Stevie Wonder's "Isn't She Lovely." Through the OMD-28s, the richness and vibrancy of Taylor's voice were startlingly realistic, with no chestiness or overhang. Furthermore, his voice was tight and focused.
- Doug Schneider Soundstage AV
Audio CD (September 26, 2006)
Number of Discs: 1
Format: Hybrid SACD - DSD
Label: Chesky Records
ASIN: B000HIVOFU
4.0 out of 5 starspure crystal
By Andrew G. Randall on November 25, 2008
Format: Audio CD Verified Purchase
When I bought this sacd by Chesky recording it really opened my ears.This disc is in two channel only.Not multichannel.But the stereo sound is so real in the room when you hear the vocals from these artists. Very moving and touching when listening. How pure can a stereo sacd can be?I would say that Chesky records did a great job making this two channel format. I would truly recomend this. Theres a true variety of music on this. good jazz vocal,some vocals have good sounding strings in the backround.If any of you audiophile listeners are thinking of listening to different brands of speakers if your at your friends place or buying new ones this is a good disc to tag along with ,to hear all the different vocals it gives You. You love good range of vocal acoustics ?than I highly recomend this music.
THE WORLD'S GREATEST AUDIOPHILE VOCAL RECORDINGS (SACD323)
Artist: Various Artists Compilations
Genre: Folk, Jazz
Worlds Greatest Audiophile Vocal Recordings on Super Audio CD
October 14, in DVD-Audio News
inShare
A collection of performances titled the World's Greatest Audiophile Vocal Recordings has been released by Chesky Records as one of their latest Surround Sound Super Audio CD releases. The new Super Audio CD joins two more from the label's New York Sessions SACD series – New York Time by Christian McBride, Javon Jackson, Jimmy Cobb and Cedar Walton and Traffic by Larry Coryell, Lenny White and Victor Bailey – in music stores and web sites that carry Jazz and Vocal music titles. As with their last round of Surround Sound Super Audio CDs, these three releases are Single Inventory Hybrid Surround Sound SACDs where the SACD serves as both the CD and SACD edition of the album.
Chesky also has planned additional Super Audio CD releases at the end of October and the end of November. Here's more on the latest Super Audio CD titles from the Chesky Records label.
World's Greatest Audiophile Vocal Recordings
Rebecca Pidgeon, Livingston Taylor, Valerie Joyce, Christy Baron, Rosa Passos & Ron Carter, Kenny Rankin, Sara K., Marta Gomez, Laverne Butler, Xiomara, Carlos Franzetti and Ana Caram
SACD Surround Sound/SACD Stereo/CD Audio
(Chesky SACD 323)
For the new Surround Sound Super Audio CD titled World's Greatest Audiophile Vocal Recordings, Chesky Records has dipped into their vaults to bring listeners a sampling of some of their most talented vocalists. What is different about this SACD Sampler compared to others you have seen is that the label is combining 5 standout performances that have appeared on Super Audio CD disc with 7 that have not. So there are more performances new to SACD here than what we've heard to date. A nice plus, I'd say.
Chesky says that "Chesky Records celebrates its 20th anniversary with The World's Greatest Audiophile Vocal Recordings, selections culled from the label's back catalog. Artists include the established Rebecca Pidgeon, Sara K. and Livingston Taylor as well as up-and-comers including Japanese-born chanteuse Valerie Joyce, Cuban sensation Xiomara and Colombian singstress Marta Gomez."
The album was produced by David Chesky from material engineered by Barry Wolifson, Bob Katz and Nicholas Prout. The SACD was compiled, edited and mastered by Nicholas Prout with Project Coordination by Lisa Marks and Project Assistance by Lisa Herschfield and Nicholas Oddy. The Hybrid SACD disc was made by Sony DADC in Terre Haute, Indiana on their Hybrid SACD production line.
The new Super Audio CD combines some of the label's most notable tracks from their work with the format to date with a sampling of other tracks – both old and new from Chesky's 20 years of recording. The Surround Sound mix focuses attention to the front channels with the label's usual very ambient approach to Surround Sound. I leave to listeners whether the songs on this SACD are truly the "World's Greatest" but I will say that Rebecca Pidgeon's vocals on Spanish Harlem (track 1), the guitar work on Livingston Taylor's Isn't She Lovely (track 2) and the vocals and musical detail on What's A Little More Rain by Sara K. (track 7) are certainly highlights and worthy of a listen here. A very nice collection indeed.
Album Selections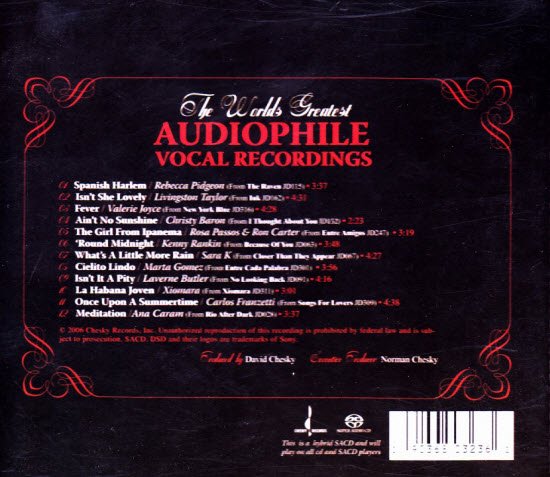 专辑曲目:
01. Spanish Harlem – Rebecca Pidgeon
02. Isn't She Lovely – Livingston Taylor
03. Fever – Valerie Joyce
04. Ain't No Sunshine – Christy Baron
05. The Girl From Ipanema – Rosa Passos & Ron Carter
06. 'Round Midnight – Kenny Rankin
07. What's A Little More Rain – Sara K
08. Cielito Lindo – Marta Gomez
09. Isn't It A Pity – Laverne Butler
10. La Habana Jouen – Xiomara
11. Once Upon A Summertime – Carlos Franzetti
12. Meditation – Ana Caram
这里是其它用户补充的资源(我也要补充):
暂无补充资源