专辑英文名: The Beat Goes On
专辑中文名: 心动时刻
音乐风格: 爵士
资源格式: MP3
发行时间: 2010年10月12日
简介: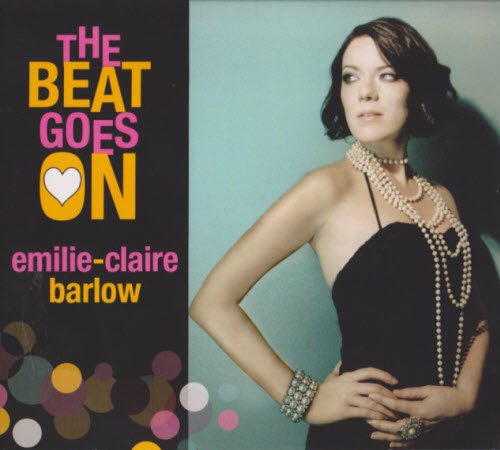 压缩码率: 320Kbps

专辑介绍:

心动时刻 The Beat Goes On / 爱蜜莉 Emilie-Claire Barlow

*National Jazz Awards 2006「年度最佳女伶」2007「年度最佳爵士女伶」双料提名入围
*一张向美好六零年代致敬的爵士专辑 复古的曲调挥散著拉丁火烫节奏
*日本大厂VICTOR唯一的Soul-Bossa女王迄今最独特的绝讚佳作

或许爱蜜莉天生存有人们脑海中编织,所谓女伶们身著礼服脚踏狐步的优柔姿态。当然,还有那一开口便要人并住呼吸聆听的华美嗓音。但显然她不满足於这样的窗 橱限制。如同貌美的女演员总要扮丑几回让观眾注意其演技,爱蜜莉向来喜爱挑战自身的音乐才能,也调皮地挑战乐迷耳朵。

这位深黯多项乐器的加拿大才女,从她即兴哼唱的乐句中不难发现Ella Fitzgerald的影响。不仅在08年的National Jazz Awards中获提名《年度最佳女歌手》奖项,也受邀献声於多部精采的动画原声带。自2001年的处女作发表以来,她参与音乐制作的比重也逐渐提高,这张 专辑她更一肩挑起制作人与编曲著的责任。『The Beat Goes On』保有过往爱蜜莉令人惊艳的拉丁味火烫节奏,但乐器的编排更为精鍊简洁。选曲的部分则显示她停不下的玩心,无论是民谣、芭莎、香颂或灵魂乐,通通收? 为爱蜜莉本人的标準曲。所以谁都能哼上两句的《Raindrops Keep Falling On My Head》变成脚痒难耐的小步舞曲;摇滚传奇Bob Dylan的《Don't Think Twice, It's Alright》则散发芭莎的切分韵致;《Will You Still Love Me Tomorrow》则呈现不温不火的忠实演绎,每段歌词彷彿祈祷情伤过渡的和平鸽,沿著婉转柔美的嗓音飞翔。

在这张充满向六零年代流行音乐致敬的专辑中,我们发现了有别以往的爱蜜莉。不强加个人特质在每一首歌,而让每首歌用自己的方式向听眾倾诉故事。忘掉脑中爵 士人声专辑固有的型式吧!因为爱蜜莉打造了一座唯她能成就的爵士乐园。


引用
Audio CD (October 12, 2010)
Number of Discs: 1
Format: Import
Label: Ais
ASIN: B004226BC8
Average Customer Review: 4.4 out of 5 stars

Release Date 2010
Duration 54:33
Genre Jazz
Vocal Styles
Vocal Jazz Standards

5.0 out of 5 starsEmilie-Claire at her Best.
By D.R.L. on October 8, 2012
Format: Audio CD
~ If you approach this CD with the idea of hearing some pop / rock / folk songs from the past faithfully recreated in the style of the original, you will be disappointed.
~ If you approach this CD expecting to hear a creative artist backed by an exceptional band offering fresh jazz interpretations of songs from the past, you will be pleased beyond your wildest expectations.
~ Others have written reviews comparing Emilie-Claire to fellow Canadian Diana Krall. Forget that comparison; a better comparison is to fellow Canadian Holly Cole. Both E-C and Holly are creative stylists who put their own personal stamp on everything they do through the use of phrasing and slight variations in vocal texture. Emilie-Claire has one of the best voices in jazz. No histrionics, no vocal gymnastics, just a pure voice singing with emotion.
~ For this CD, Emilie-Claire draws from a wide variety of sources and gives each song a special treatment.
- Raindrops Keep Falling on My Head: forget B.J. Thomas; E-C takes this tune into the realm of Chick Corea's early `Return to Forever' days with the strong bass lines, the wordless backing vocals, and even quotes from `What Game Shall We Play Today".
- Sunshine Superman: E-C stays rather close to the Donovan original at the start, but the jazzy sax, guitar, bass, and drums soon take this tune away from the folk-rock and into the pure jazz world.
- Breaking Up Is Hard to Do: the 1950's Neil Sedaka uptempo tune gets a slow broken-hearted treatment with sympathetic big band backing.
- Don't Think Twice, It's Alright: Bob Dylan could not have ever imagined this interpretation of his classic. A Latin-tinged version with outstanding percussion by Davide DeRenzo, Getz-esque sax by Kelly Jefferson, and Charlie Byrd-esque acoustic guitar by Reg Schwager.
- He Thinks I Still Care: unlike the Connie Francis version of the early sixties, E-C carries the listener back to the 1940's with country swing feel thanks to outstanding guitar support from Reg Schwager.
- The Beat Goes On / Soul Bossa Nova: combining Sonny Bono and Quincy Jones is a bold concept. Outstanding work by the entire big band.
- These Boots Were Made for Walking: Treatment is close to the Nancy Sinatra original version, but the wonderful support on bass (Ross MacIntyre) and sax (Kelly Jefferson) transforms this into a funky jazz tune.
- Until It's Time For You to Go: a touching haunting rendition of this ballade by fellow Canadian Buffy Sainte-Marie.
- Little Boat: a trip to Rio in English and Portugese with wonderful percussive support and nice guitar work. E-C's version is a far cry from the Perry Como version of the 1960's.
- Comme Je Crie, Comme Je Chante: Emilie-Claire and her big band borrow this mid-tempo song from fellow Canadian Pauline Julien and do a wonderful job - even if you do not speak French.
- Will You Still Love Me Tomorrow?: a tender heart-breaking treatment of the King-Goffin penned Shirelles classic with sparse arrangement featuring Mark Keiswetter on piano.
- Yester-Me, Yester-You, Yesterday: a unique slow treatment of the Stevie Wonder classic featuring great guitar (Reg Schwager), bass (Ross MacIntyre) and brushes (Davide DiRenzo)
- T'es Pas Un Autre: with this tender Buffy Sainte-Marie ballade E-C evokes the image of a chanteuse in a Parisian nightclub backed only by piano and accordion.
~ When this 55 minute CD is finished you will be wishing it could have gone on much longer.
~ Highly recommended.
~ Also highly recommended = if you ever get the chance to see E-C in concert, do so. She is captivating.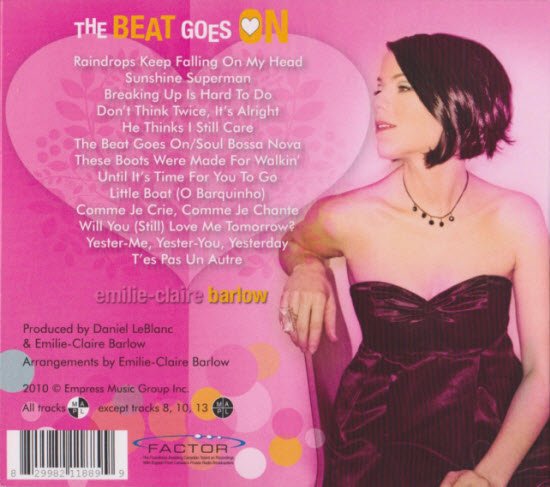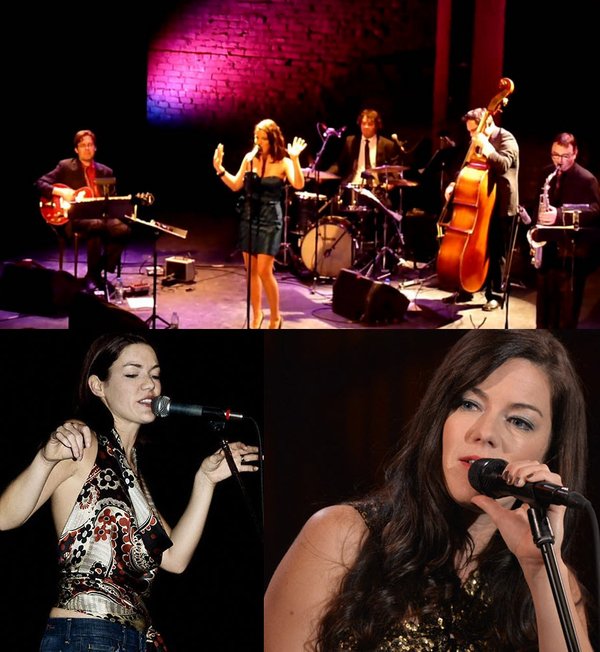 专辑曲目:
01. Raindrops Keep Falling On My Head
02. Sunshine Superman
03. Breaking Up Is Hard To Do
04. Don't Think Twice, It's Alright
05. He Thinks I Still Care
06. The Beat Goes On/Soul Bossa Nova
07. These Boots Were Made For Walkin?
8. Until It抯 Time For You To Go
09. Little Boat (O Barquinho)
10. Comme Je Crie, Comme Je Chante
11. Will You (Still) Love Me Tomorrow?
12. Yester-Me, Yester-You, Yesterday
13. Tes Pas un Autre
这里是其它用户补充的资源(我也要补充):
暂无补充资源