专辑英文名: Chris Botti in Boston
专辑中文名: 克里斯·波提 波士顿演唱会
音乐风格: 爵士
资源格式: FLAC
版本: [Bluray 24bits 48KHz]
发行时间: 2010年01月07日
简介: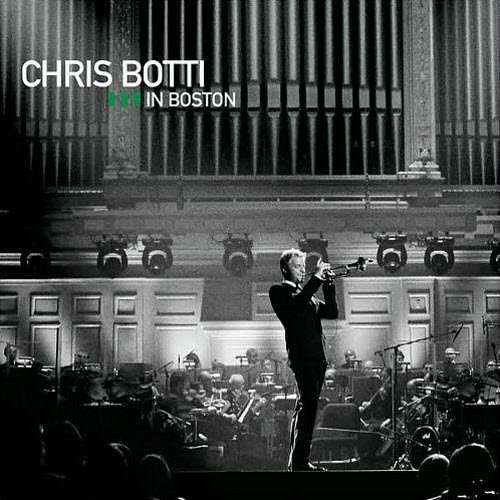 专辑说明:

全世界最性感小号手 魅力上演都会爵士的浪漫风华

波士顿大眾管弦乐团伴奏;Sting、马友友、Josh Groban、John Mayer、Aerosmith主唱Steven Tyler等九大巨星跨刀献艺!
〈When I Fall In Love〉、〈Cinema Paradiso〉(新天堂乐园主题曲)、〈Time To Say Goodbye〉等精彩曲目
超过两小时的演出实况与幕后花絮,影音双碟全收录!

 08年曾翩然访台的Chris Botti,其时人杂誌列名全球前50大美男子的俊秀风采果然风靡宝岛,不负其「全世界最性感小号手」之封号!继去年的葛莱美入围专辑「义大利风情」(Italia)后,再度推出现场大碟「波士顿巨星之夜」(Chris Botti in Boston),以影音双碟的形式,完整呈现都会爵士的浪漫魅力风华!在乐界有好人缘的他,每次录制新专辑或开演奏会,总是能邀到巨星级的特别来宾跨刀,06年就曾以同样形式发表过Chris Botti Live with Orchestra & Speical Guests这张洛杉磯现场,当年的特别来宾包括了Sting、Paula Cole、Gladys Knight、Burt Bacharach、Jill Scott跨类型的巨匠助阵,而这次「波士顿巨星之夜」的阵容更是盛大,除了超级好朋友Sting及其御用吉他手Dominic Miller照例现身力挺之外,跨界情歌王子Josh Groban也带著其御用小提琴美女Lucia Micarelli加入演出阵容;葛莱美最佳流行男歌手John Mayer、American Idol窜红新星Katharine McPhee、甚至全球最知名的大提琴家马友友等都在这一夜献艺!其中最令人感到惊喜的,应该是Aerosmith的大嘴主唱Steven Tyler,他的现身可说是完全颠覆了观眾的想像空间!

 这场巨星云集的演奏会於08年9月18日的波士顿交响音乐厅举行,除了Billy Childs(钢琴)、Billy Kilson(鼓手)、Mark Whitfield(吉他)、Robert Hurst(贝斯),及Chris Botti本人的五重奏阵容之外(亦是去年访华登台的班底),波士顿大眾管弦乐团(Boston Pops Orchestra)也全程参与,更添复古兴味!全场以舒伯特的〈Ave Maria〉(圣母颂)开场,管弦乐团典雅的衬托,Chris Botti诚恳不花俏的吹奏,带起圣洁悠扬的氛围,接下来的〈When I Fall In Love〉从浪漫的主奏开场,中间一转成为乐手轮番竞飆的快意即兴,令现场气氛急速升温;而Sting与Dominic Miller上场演出〈Seven Days〉更是掀起第一波高潮,Josh Groban深情的〈Broken Vow〉亦令观眾如痴如醉!Katharine McPhee带著现代口吻重新詮释的经典曲〈I've Got You Under My Skin〉,更是引领Botti做出愉悦精彩的即兴回应。马友友与Botti联手的〈Cinema Paradiso〉(新天堂乐园主题曲)则是万眾期待的梦幻演出,但小提琴美女Lucia Micarelli凄美的〈Emmanuel〉,感染力亦是不遑多让,让听者在当下有感动落泪的衝动!而Steven Tyler的现身则令现场气氛为之转变,一曲火力热辣的摇滚情歌〈Cryin'〉,更显出Botti演奏实力的宽广全面,Tyler亦出乎意料之外地接著演唱了爵士经典曲〈Smile〉做为回应。John Mayer也登场做了过去很少尝试的爵士演唱,而Sting与Josh Groban连抉献唱〈Shape Of My Heart〉,为演奏会进入尾声前的惊喜!Sting更是很够义气地大放送,紧接著演唱自己的畅销曲〈If I Ever Lose My Faith In You〉,整场演出最后以Botti独奏的〈Time To Say Goodbye〉压轴,两小时绝无冷场的扎实内容,绝对值得乐迷再三回味!

克里斯伯堤 / 波士顿巨星之夜 (CD+DVD)
Chris Botti / Chris Botti in Boston (CD/DVD)
唱片公司:Linfair Records Limited/DECCA
演出者:克里斯.波提
音乐类型:爵士乐
唱片编号:2715817
发行日期:2010年01月27日
高价版 / CD / 2 片装


引用
Duration 01:12:38
Genre Jazz Vocal Classical
Styles Concerto Standards Chamber Music Contemporary Jazz Jazz Instrument
Trumpet Jazz

AllMusic Review by Matt Collar [-]
Chris Botti in Boston features trumpeter Chris Botti along with a bevy of name artists performing live with the Boston Pops Orchestra at Symphony Hall in 2008. Fully documented as a concert film and album, the night is an intimate and soulful birds-eye view of the supple-toned trumpeter who has grown into his role as a virtuoso since his time backing up Sting -- who of course appears here. Perhaps it isn't surprising then the concert is subtly reminiscent of Sting's own classic coming of age concert moment Bring on the Night. If Sting's 1986 show was an attempt to reintroduce himself to the world as a pop-cum-jazz artist, then Botti's 2008 show is clearly a showcase for the one-time smooth jazz wunderkind to fully represent himself as the eye of his own crossover storm. Having never fully embraced the synthetic vibe of the smooth jazz sound, Botti has spent his time since 2004's massively popular When I Fall in Love creating his own organic, acoustic and "straight-ahead" crossover jazz. In the context of contemporary smooth jazz, Botti's retro-gesture is actually kind of innovative. Clearly owing a heavy debt to legendary trumpeter Miles Davis, Botti not only surrounds himself with the elegant, live Boston Pops Orchestra, but has hired some of the most heavy-hitting rhythm section players on the scene with drummer Billy Kilson, bassist Robert Hurst, pianist Billy Childs, guitarist Mark Whitfield, and others. The result clearly pulls much inspiration from Davis' work with Gil Evans -- he even plays "Flamenco Sketches" -- but never seems to belabor the comparison. Similarly, Botti's choice of guest artists including vocalist Josh Groban, violinist Lucia Micarelli, and even rocker Steven Tyler always appears genuinely considered based on Botti's own musical taste. And although pairing the elegant cellist Yo-Yo Ma with Botti is somewhat of a no-brainer, their work together here, much like the entire concert itself, is never less than breathtaking.

Editors' Notes
With its prestigious Symphony Hall locale and superstar guest list including cellist Yo-Yo Ma, vocalist/songwriter Josh Groban, and singer/actress Katherine McPhee, Live in Boston reflects Chris Botti's immense success at the time of its recording in September 2008. Backed by The Boston Pops and conductor Keith Lockhart, the triumphant crossover trumpeter dazzles with his regular rhythm section. Former boss and longtime champion Sting sings two of his own songs ("Seven Days," "If I Ever Lose My Faith in You"), while rock-pop singer/songwriter John Mayer surprises with a sweet vocal on Rodgers & Hart's "Glad to Be Unhappy." Aerosmith's Steven Tyler charms the hometown audience with Charlie Chaplin's "Smile," and Botti closes the night with a dazzling version of "Time to Say Goodbye."

Customer Reviews
FINALLY! A NEW CD FROM CHRIS BOTTI!!!!!!

by thebrowneyegirl
This album is AMAZING as usual for Mr. Botti. He always has unique pairings and this release is no different. "Broken Vow" with Josh Groban is ethereal,"Glad To Be Unhappy" is my favorite and I like the fresh take of Sting's "Seven Days". If you've never heard Chris Botti before, this album will hook you!

A Musical Boston Tea Party!

by Jazzynkc
A variety of guests from different music genres make this a party not to be missed! With Keith Lockheart and the Boston Pops Orchestra providing the backdrop, Botti remains the focus while showcasing the extraordinary talent that joins him on-stage! John Mayer's stirring rendition of "Glad To Be Unhappy", Botti and Band on jazz infused "Flamenco Sketches" and Yo Yo Ma on soul stirring "Cinema Paradiso", and Lucia Micarelli on "Emmanuel" are especially haunting! Sting, as usual, is the perfect vocal matchup for Chris on trumpet and "Smile" with Steven Tyler is one of the best versions of that song I've heard. And Josh Groban on "Broken Vow" moved me to tears! A lovely Boston tea party--brewed to absolute perfection!

...More
A Musical Memory To Last A Lifetime

by Linda (jazz neophyte)
While nothing can compare with the thrill of being in Boston's Symphony Hall the nights this was recorded, the CD is the next best thing. The sold out crowd was treated to hometown musicians Steven Tyler and Yo-Yo Ma. Steven brought down the house, microphone scarves flying, to Cryin' and Yo-Yo had the audience in tears with Cinema Paradiso. Seeing John Mayer in a tuxedo singing a Sinatra tune was amazing, as was the quartet of Yo-Yo, Dominic Miller, Sting (on the lute) and Chris performing Fragile. The only thing missing here is Sy Smith's incredible rendition of The Look Of Love. She was an audience favorite and it was a crime not to include her.

...More
Biography
Born: October 12, 1962 in Portland, OR
Genre: Jazz
Years Active: '90s, '00s, '10s

Though best known as a contemporary jazz performer, trumpeter Chris Botti made his initial splash on the pop music scene. A native of Oregon, he started playing at the age of ten, and began performing professionally while still in high school. After studying in the prestigious Indiana University music program under noted jazz educator David Baker, Botti relocated to New York, where he served with saxophonist George Coleman and trumpet great Woody Shaw. In 1990, Botti was asked to join Paul Simon's...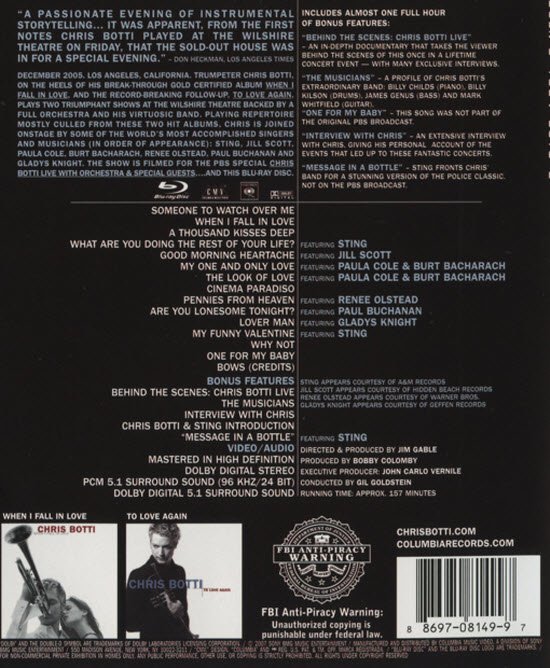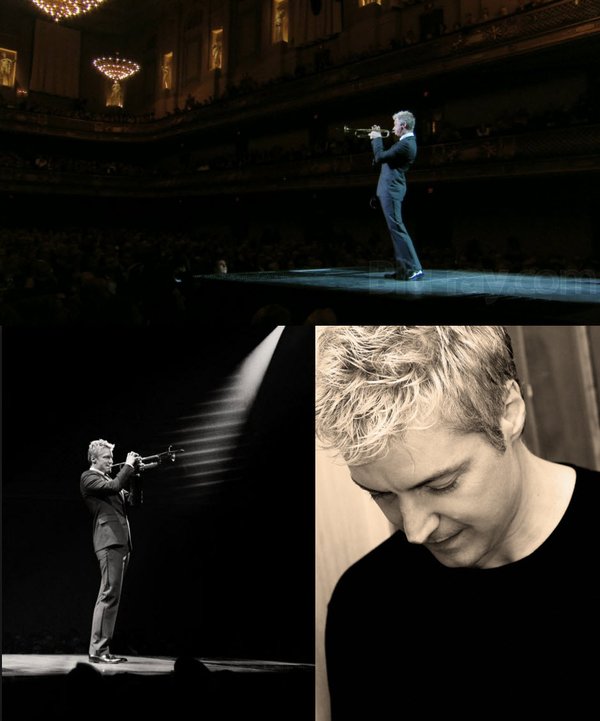 专辑曲目:
01. Ave Maria
02. When I Fall In Love
03. Caruso
04. Seven Days featuring Sting and Dominic Miller
05. Broken Vow featuring Josh Groban
06. Flamenco Sketches
07. Hallelujah
08. I've Got You Under My Skin featuring Katharine McPhee
09. Cinema Paradiso featuring Yo-Yo Ma
10. The Look Of Love featuring Sy Smith
11. Emmanuel featuring Lucia Micarelli
12. Glad To Be Unhappy featuring John Mayer
13. Cryin' featuring Steven Tyler
14. Smile featuring Steven Tyler
15. Indian Summer
16. Shape Of My Heart featuring Sting and Josh Groban
17. If I Ever Lose My Faith In You featuring Sting and Dominic Miller
18. Con Te Partiro (Time To Say Goodbye)
*Credits
*Behind The Scenes
这里是其它用户补充的资源(我也要补充):
暂无补充资源