专辑英文名: Brahms - Violin & Double Concerto
专辑中文名: 布拉姆斯:小提琴协奏曲、双重协奏曲
古典类型: 协奏曲
资源格式: FLAC
版本: [24bits 96KHz]
发行时间: 2007年04月24日
简介: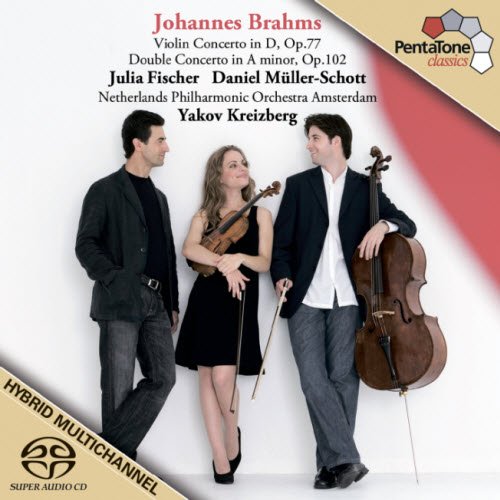 专辑介绍:

★2007年德国唱片评审大奖Preis der deutschen Schallplattenkritik
★英国留声机杂誌编辑严选专辑Editor's Choice
★英国BBC杂誌:演奏与录音均五颗星最高评价
★英国广播电台FM古典频道 (Classic FM):当月最佳专辑
★週日泰晤士报 (The Sunday Times):当週最佳古典CD
★双层多声道,一般CD Player均可播放
★DSD Recorded

专辑简介:

  1983年出生於慕尼黑的德国女小提琴家茱莉亚‧费雪,父亲是来自东德的数学家,母亲则是来自斯洛伐克的德国人。茱莉亚四岁不到就开始学小提琴,稍长也随母亲学钢琴。她先在奥格斯堡(Augsburg)的雷欧帕德‧莫札特音乐院接受正式音乐教育,九岁获准进入慕尼黑音乐院,在教授Ana Chumachenco门下学琴。茱莉亚在青少年时期曾参加过许多音乐比赛,最受人瞩目的就是1995年的国际曼纽因音乐大赛,她以十二岁之龄拿下青少年组第一名,同时获颁最佳「巴哈独奏作品」特别奖。接下来五年茱莉亚参加多项比赛更是屡获佳绩,之后她的足迹遍佈欧洲各地,和她合作的指挥与乐团也相当多。2003年茱莉亚在大师马捷尔带领巴伐利亚广播交响乐团之下在卡内基首度登台,终场获得全场起立致意的最高荣耀。此外,茱莉亚也是英国留声机Gramophone杂誌2007年的年度最佳艺人。

  2004年,茱莉亚‧费雪在PentaTone Classics旗下录制首张个人专辑「俄罗斯小提琴协奏曲辑 (PTC5186059)」,发行之后大获好评,并获得留声机杂誌2005年一月号的「编辑严选专辑Editor's Choice」,也入选美国TAS发烧天碟。自此茱莉亚在演奏舞台之外,展开一帆风顺的录音工作。到2010年为止,她在PentaTone已发行十张录音,曲目包括巴哈、莫札特、孟德尔颂、舒伯特、布拉姆斯和柴可夫斯基等作品,可说是张张精采,同时获得乐迷和乐评的青睞。

  这张录於2007年的布拉姆斯协奏曲,茱莉亚‧费雪在充满温暖人性与丰富情感的演奏里注入强烈性格,在毫不沉溺之下,她让每一乐句都充分歌唱。更令人惊讶的是,她所制造出来的紧张感与气度丝毫不亚於男性,本辑能获得各家媒体一致佳评绝非偶然。和同样来自德国的大提琴家穆勒-修特合作的双重协奏曲,两人外在精湛的技巧与内在丰富的音乐性,在水乳交融白热化的演奏下绝对是道地的德奥传统,也是此一曲目二十一世纪的新标竿。(PentaTone/Lins)

曲目
1-3. D大调小提琴协奏曲Op.77
4-6. a小调双重协奏曲Op.102
小提琴:茱莉亚‧费雪Julia Fischer
克瑞兹贝格指挥荷兰室内乐团
Yakov Kreizberg cond. Netherlands Philharmonic Orchestra
首席Concert Master:Gordan Nikolic
录音:2007年

布拉姆斯:小提琴协奏曲、双重协奏曲 / 茱莉亚‧费雪、克瑞兹贝格指挥荷兰爱乐乐团 (SACD)
Brahms : Violin Concerto, Double Concerto / Julia Fischer, Yakov Kreizberg cond. Netherlands Chamber Orchestra (SACD)
唱片公司:PentaTone Classics
音乐类型:古典音乐
唱片编号:PTC5186066
发行日期:2011年06月23日
进口专辑 / SACD / 1 片装


引用
Brahms: Violin concerto; Double concerto/Fischer
Review by: David Hurwitz
Artistic Quality: 8
Sound Quality: 9
The Violin Concerto is arguably Brahms' finest work in the concerto medium. He was always at his best when facing a serious musical challenge, in this case pitting the solo violin against the full orchestra. The very nature of the task played to Brahms' strengths, permitting him to create a work whose symphonic integrity is matched by the beauty of its themes and the mastery of their scoring. This may seem obvious, and heaven knows the work needs no recommendation from me, but it's worth mentioning all the same because the best performances understand and project those special qualities that make the concerto such a remarkably integrated whole, a true partnership of equals. This technically superb performance comes close, as so many modern performances do, but doesn't quite capture the expressive essence of the music in the way that, say, Oistrakh, Heifetz, Milstein, or Szigeti did at various times.
As is so often the case, the biggest problems arise in the first movement. At just a bit more than 23 minutes, it's too slow (tellingly, Oistrakh/Klemperer is quicker). This is less a function of absolute tempo than of contrast between the quick music and the more lyrical or reflective passages, where tension tends to sag, and where Fischer's tone (for all its basic sweetness of timbre and excellent intonation) can turn comparatively thin. The problem is exacerbated by conductor Yakov Kreizberg, who sculpts an introduction on the grandest scale, with huge contrasts of tempo and dynamics. It's not surprising that Fischer isn't quite up to the challenge that Kreizberg presents. Her response is clean, spirited, and technically impeccable, but it needs to be heroic. Though nearly impossible to quantify in words, there's a certain bigness of character, an element of risk, that's audibly missing.
This is much less of a problem in the slow movement and finale, both of which are just about spot-on. The former opens with a nicely phrased oboe solo and continues with Fischer highly responsive to the opportunities for lyrical dialog with the orchestra. The absence of any need to adopt a confrontational musical persona allows her to let her instrument sing feely, and very expressively. In the finale, both Fischer and Kreizberg go for broke, adopting a very swift basic tempo and bringing as much energy and fire to the music as anyone. Once again, the fact that both solo and orchestra find themselves operating in tandem most of the way makes the performance much more successful than in the first movement.
The Double Concerto has a major asset in the person of cellist Daniel Müller-Schott, an excellent performer who guarantees that, unlike so many versions of this work, neither of the two soloists dominates at the expense of the other. That said, and despite this being a more emotionally restrained work than the Violin Concerto overall, you will hear the same combination of technical polish and slight want of character as previously. Frankly, I hate writing impressionistic criticism like this. I want to be able to say "at figure x such-and-such clearly goes especially right or wrong." Nothing like that happens here: Kreizberg and the orchestra are in fine form, the first movement (in this case) is taut and well-argued, the slow movement lovely, the finale smashing. But in the final analysis, it's just not as moving or memorable as it should be. Admittedly, this is highly subjective, but there it is.
It's interesting to reflect a bit on this release, coming as it does hard on the heels of Fischer's wonderful Tchaikovsky Violin Concerto. That piece offers none of the intellectual challenges of the Brahms, with sheer virtuosity constituting a good deal of the music's expressive point. It may be that Fischer still needs a bit more experience, and a stronger personality profile, before tackling Brahms (and Beethoven). Recordings today seldom represent the mature reflection of a seasoned artist; they are calling cards useful in getting live concert engagements. Fischer is a hot commodity at present not because of her artistic insight and wisdom, but because of her youth and novelty. This doesn't mean that Fischer's efforts here are not sincere, or that she isn't tremendously talented. She is both. But she also may be doing too much, too fast. PentaTone needs to slow down. The last thing I want to see in 20 years is an interview with Fischer on the occasion of the release of her next recording of the Brahms concerto, in which she admits (as she surely will) that she wasn't yet ready when she made this one.
- See more at:
http://www.classicstoday.com/review/review...KD8.dpuf
Release Date April 24, 2007
Duration 01:12:55
Genre Classical
Styles Concerto
AllMusic Review by James Leonard [-]
Is violinist Julia Fischer in the same league as David Oistrakh in her recording of Brahms' Violin Concerto? Are Fischer and cellist Daniel Müller-Schott in the same league as Oistrakh and Mstislav Rostropovich in their recording of Brahms' Double Concerto? No: Oistrakh and Rostropovich are playing big, muscular, and heroic music while Fischer and Müller-Schott are playing intimate, sensuous, and lyrical music. Fischer's tone is lovely, her technique is impeccable, but best of all his interpretation of the Violin Concerto is sweet, smiling, and joy-filled. Müller-Schott's tone is warm, his technique is impressive, but best of all his interpretation of the Double Concerto with Fischer sounds like a love duet from an Othello written by a German. Together with the lush and enveloping accompaniment of the Netherlands Philharmonic Orchestra Amsterdam led by Yakov Kreizberg, Fischer and Müller-Schott turn in performances that aren't in the same league as Oistrakh and Rostropovich -- they're in a wonderfully seductive league of their own. PentaTone's super audio digital sound is rich, full, deep, and just about real.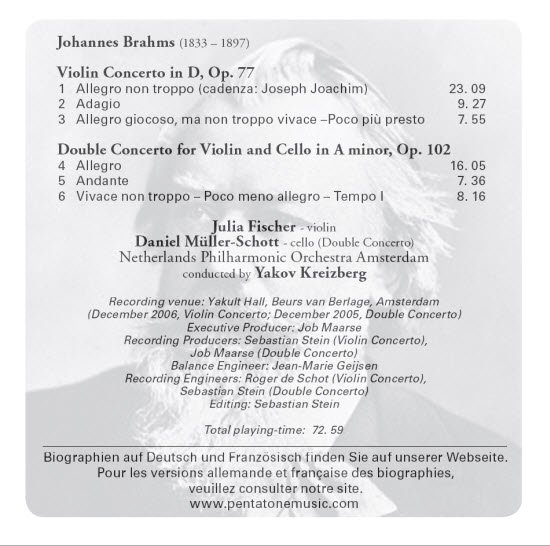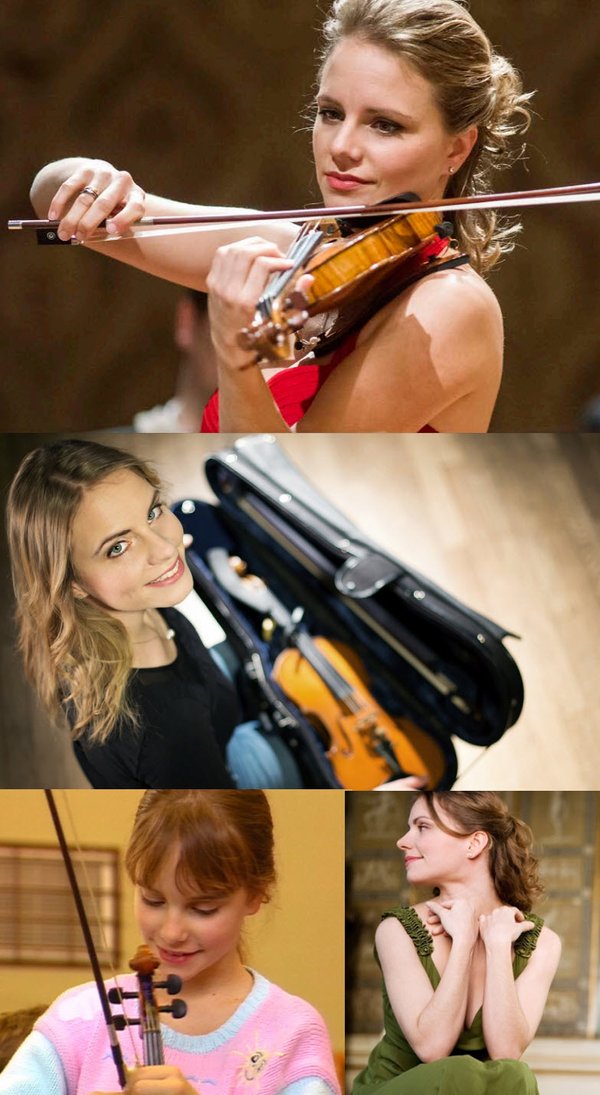 专辑曲目:
Violin Concerto in D, Op.77
1. Allegro non troppo (cadenza: Joseph Joachim) 23.09
2. Adagio 9.27
3. Allegro giocoso, ma non troppo vivace –Poco più presto 7.55

Double Concerto for Violin and Cello in A minor, Op.102
4. Allegro 16.05
5. Andante 7.36
6. Vivace non troppo – Poco meno allegro – Tempo I 8.16
这里是其它用户补充的资源(我也要补充):
暂无补充资源