专辑英文名: Masters Of The Irish Guitar
专辑中文名: 爱尔兰吉他大师
版本: [Alac]
发行时间: 2006年02月21日
简介: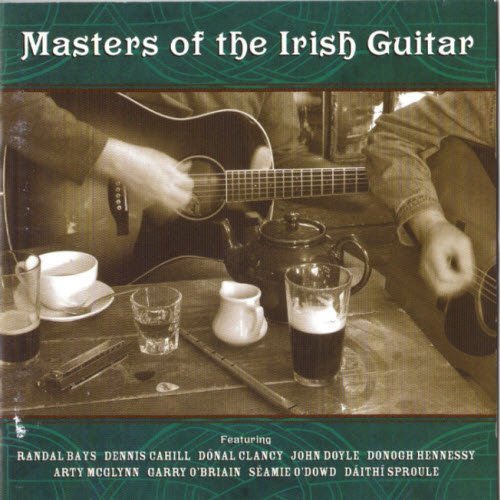 专辑介绍:

这是张爱尔兰吉他的CD专辑。请允许我在这里再次说明,这是新的录音而不是简单的合辑(把以前发布的录音放在一起), 所有的录音是特别为这张专辑录制的。

作为一个爱尔兰传统音乐的吉他手,我还能说什么呢?真的很高兴能听到所有高手在各种曲调里各显所长。难以置信吉他是可以产生这样广度但充满喜悦而又独具风格的声音,我强烈推荐这CD给任何人 。。



引用
Audio CD (February 21, 2006)
Number of Discs: 1
Label: Shanachie
ASIN: B000CQO1BQ
Average Customer Review: 5.0 out of 5 stars

5.0 out of 5 starsYou couldn't find a better collection of Irish guitar if you tried
By Ian Martyn on August 1, 2006
Format: Audio CD
This is the definitive Irish guitar CD. Now, let me state here that these are NEW RECORDINGS, not simply a compilation album that's been put together of previously released recordings. All of the recordings have been recorded specifically for this album.

What can I say? As an Irish traditional music guitarist, I was so delighted to hear all of the masters playing various tunes. It's such a delight to listen to just to see the breadth of styles that the guitar can produce. It's breathtaking to hear all of the sounds. I highly recommend this CD to anyone for any reason. It's definitely in my top 10 CD list.



Masters of the Irish Guitar

Shanachie 78064; 53 minutes; 2006

The guitar, once rarely heard in Irish music, is now firmly established as a sophisticated solo vehicle for traditional airs and dance tunes. This compilation showcases the virtuosity and widely diverse styles of nine of today's leading Irish guitarists. From elegant finger-style settings of ancient harp tunes to hot flatpicking solos, Masters of the Irish Guitar offers music to please every guitar lover. [From the CD's tray liner]

If there's one thing guaranteed to get this reviewer's goat (a geriatric Puck Fair rejection by the name of Jimmy) it's claims such as the above whose opening sentence provokes the simple response "says who?" Whatever the Shanachie label and the co-ordinator of this album, Dónal Clancy, might believe, the guitar's role in Irish music remains exceptionally limited. True, there might be a solo spot during a Danú concert for Clancy to showcase his skills, but I've seen Altan and Lúnasa several times and never seen the limelight suddenly descend upon Dáithí Sproule or Donogh Hennessy (who has, of course, now left Lúnasa). Realistically, the only guitarists who regularly enter the spotlight are Dennis Cahill, during his shows with Martin Hayes, and Arty McGlynn, in similar fashion with Nollaig Casey. Then there's the reference to 'Irish guitarists' which must sadly exclude one of the nine participants on this album, Randal Bays.

More to the point, this album's title is also deeply questionable. What is an 'Irish guitar'. We all know how the bouzouki became adapted to the needs of Irish accompanists once the instrument arrived in the country via Johnny Moynihan, but the guitar's integral shape has not been similarly revised by its protagonists. True, the DADGAD tuning has become the norm, but even that was an import from the UK folk club scene (and it's sad to see that the very male 'masters' does not include one of the finest players of the instrument using that setting – Sarah McQuaid, author of Ossian's The DADGAD Guitar Book). Indeed, and in contrast, Dennis Cahill continues to utilise the old standard EADGBE tuning.

Additionally, 'masters' is a highly loaded description and one, at least in Irish music terms, usually associated with important players from the past.

As for the music itself, well that familiar Samuel Johnson comment about dogs standing on their hind legs springs to mind. There's no questioning the ability of any of the musicians on this album (Bays, Cahill, Clancy, John Doyle, Hennessy. McGlynn, Garry O'Briain, Séamie O'Dowd and Sproule), but there's plenty of reasons for questioning its existence.

Overall, listening to this CD feels like a dumbing-down experience and makes one wish for a sudden incursion by a fiddler or piper or anyone who can take control of a tune and drag it from the guitarist's hands into a more meaningful world.

Geoff Wallis

13h April, 2006



Release Date February 21, 2006
Duration 52:47
Genre International Folk
Styles Celtic Folk Contemporary Celtic Traditional Irish Folk Contemporary Folk Celtic

AllMusic Review by James Christopher Monger
Solas/Danu guitarist Donal Clancy, inspired by an impromptu "guitar jam" with some of Celtic music's finest pickers at the 2003 Sebastopol Celtic Festival in California, asked a pal at Shanachie (Richard Nevins) if he would be interested in releasing a compilation to showcase the contemporary instrumentalists without all of the pipes, fiddles, and flutes. The resulting Masters of the Irish Guitar may sound like a WWF wrestling event on paper, but the 16 home-recorded airs, jigs, reels, waltzes, and hornpipes that reside within its interior are pure atmosphere and feature some of the genre's finest practitioners. Arty McGlynn, Garry O'Briain, Donogh Hennessy, and even Clancy himself may not be household names, but each provides the collection with some its finest moments.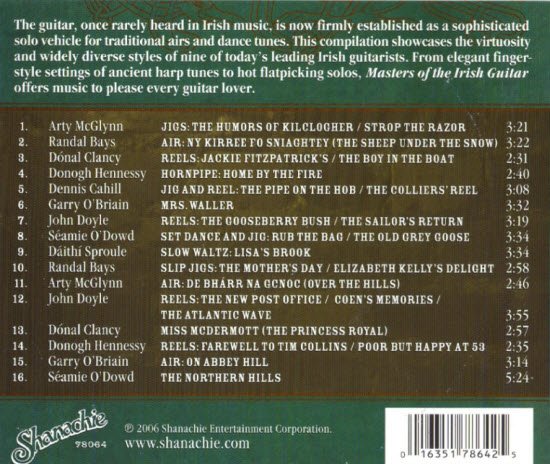 专辑曲目:
01. Jigs: The Humors Of Kilclogher / Strop The Razor-Arty McGlynn
02. Air: Ny Kirree Fo Sniaghtey (The Sheep Under The Snow)-Randal Bays
03. Reels: Jackie Fitzpatrick's / The Boy In The Boat-Donal Clancy
04. Hornpipe: Home By The Fire-Donogh Hennessy
05. Jig And Reel: The Pipe On The Hob / The Colliers' Reel-Dennis Cahill
06. Mrs. Waller-Garry O'Briain
07. Reels: The Gooseberry Bush / The Sailor's Return-John Doyle
08. Set Dance And Jig: Rub The Bag / The Old Grey Goose-Seamie O'Dowd
09. Slow Waltz: Lisa's Brook-Daithi Sproule
10. Slip Jigs: The Mother's Day / Elizabeth Kelly's Delight-Randal Bays
11. Air: De Bharr Na Gcnoc (Over The Hills)-Arty McGlynn
12. Reels: The New Post Office / Coen's Memories / The Atlantic Wave-John Doyle
13. Miss McDermott (The Princess Royal)-Donal Clancy
14. Reels: Farewell To Tim Collins / Poor But Happy At 53-Donogh Hennessy
15. Air: On Abbey Hill-Garry O'Briain
16. The Northern Hill-sSeamie O'Dowd
这里是其它用户补充的资源(我也要补充):
暂无补充资源