专辑英文名: This and That
专辑中文名: 又是这个... 又是那个
古典类型: 全集作品
资源格式: FLAC
发行时间: 2008年11月
简介: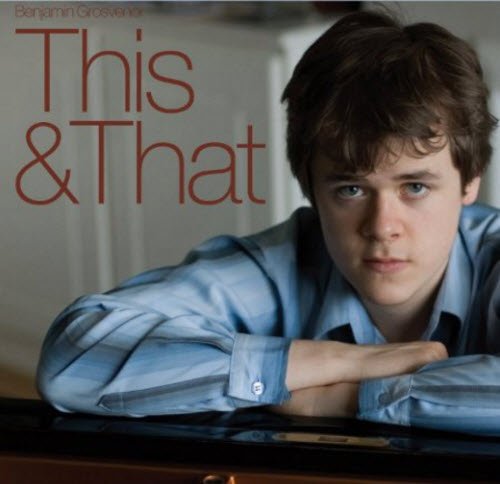 专家介绍:

November 2008
Recorded at the Yehudi Menuhin school, the debut album from this gifted 16-year old pianist showcases his stunning range.

2008年11月
在梅纽因学校的现场记录,从这个天赋的16岁的钢琴家的首张专辑展示了他惊人的范围。

5.0,满分5星 天才钢琴家
通过对15 2010年2月拉米雷斯球员
格式:音频CD

我昨天看到本杰明的现场演奏,其中包含部分曲目有收藏在这光盘里。 我费尽心思以避免言过其实,但对我来说(这必须始终是个人的),本杰明是我听到过任何有记录现场演奏最伟大的钢琴家之一。在上世纪80年我听过鲁宾斯坦的演奏。我一直也很喜欢布伦德尔。现17岁的本杰明的功力真是不同凡响,在这光盘里尽显无疑,他的技术似乎完美无瑕,音乐性也无可挑剔。。。

5.0 out of 5 starsgenius pianist
By ramirezplayer on 15 Feb. 2010
Format: Audio CD
I saw Benjamin live yesterday and he played some of the pieces on this cd. I have had to think hard before writing this for fear of exaggeration. But for me (and this must always be personal) he is among the greatest pianists I have ever heard either recorded or live.I saw Rubinstein live in the 80's. And I have always loved Brendel. He is already (at 17) of this stature. The cd is breathtakingly accomplished; his technique seems flawless and there is no greater musicality than you will find here. He seems most at home with Romantic music, particularly Chopin; the melodies are crisp and sonorous, the tones from the piano are remarkably beautiful. The Kapustin (which I didn't know) is performed playfully, excitingly, brilliantly -- mixing ragtime, jazz, broadway etc in an inextricable mix. I like the Scarlatti least but it is still rewarding listening. He is only 17 but has the musical sensibility of mature genius.


引用
2014年8月10日 星期日
英国街知巷闻的钢琴大男孩 Benjamin Grosvenor

今年才21岁的Benjamin Grosvenor,脸上不脱稚气。不过若论在公眾场合表演的「年资」,他已可取「老人金牌」。早於11岁时,他在BBC青年音乐家比赛(键盘组)胜出,成为全英街知巷闻的孩子。2011年被Decca罗致,成为旗下最年轻音乐家。这位三个月前才不用母亲陪伴、独自周围飞演出的大男孩,谈起钢琴却有板有眼,成熟非常。

YouTube上仍可找到Grosvenor十年前参加比赛的片段,当时他才刚升中。「最初只为取得更多经验而参赛。家里没有人觉得我可过到第一round的!」回看那个比赛,Grosvenor觉得是很好磨练,「每个回合都要学新乐曲。过程中,I grew a lot as a pianist。」

同年在这比赛脱颖而出的还有Nicola Benedetti,如今两人都成了英国古典乐坛新宠。成名早可以是blessing也可以是诅咒,难得Grosvenor锋芒大露后仍谦逊学艺,仅作有限度演出(包括13岁在Carnegie Hall演出,16岁与英国Philharmonia合作),直至19岁才应BBC逍遥音乐节之邀,与BBC交响乐团演出首夜音乐会(First Night of the Proms),弹李斯特协奏曲,成为Proms史上最年轻首夜音乐家。他曾跟不少知名乐团合作,包括三藩市交响乐团、克里夫兰乐团等,近年更横扫多个古典乐坛奖项,包括《Gramophone》年度青年艺术家奖。

说话带浓重英国腔的Grosvenor,说他的啟蒙老师是母亲,十岁前都跟她学琴。「我有四个哥哥,我排行最细。母亲是钢琴老师,她安排我们每人在五、六岁时开始学一种乐器。四个哥哥学了小提琴、小号、结他等,只有我选择钢琴。」但他最初对练琴提不起兴趣,「直至知道有同学仔也在学琴,因不想弹得比他差,才认真练起来。」四个哥哥最后都没走上专业音乐家之路,他却因好胜心强而越练越好,越好越爱弹。

今年二月他首度来港,和小交合作,演出英国作曲家布列顿(Benjamin Britten)的钢琴协奏曲。

作曲家之中,布列顿不算「红」,但去年正好是其百周年诞辰,Grosvenor因此弹了很多遍这首本名曲。「布列顿是很棒的钢琴家,创作此曲时很年轻(25岁),所以它有种youthful和vibrance特质。它很容易入口,据我经验,观眾都能明白它。」这首1938年创作的作品,的确跟别的协奏曲大相逕庭,首乐章是充满能量、体现钢琴敲击个性的Toccata(意大利文touched的意思)。Grosvenor和小交的演出也没令人失望,观眾全程都血脉沸腾。

Grosvenor的唱片,选曲多元化,除了Chopin和Liszt等必备曲目,还有Gershwin懒洋洋的、爵士味浓郁的《Rhapsody in Blue》,一问之下才知道他和爵士向来投缘,「十岁时,我每星期天都在家乡一间餐厅弹琴。那时弹不少jazz,如Gerswhin和英国的Billy Mayerl。」后者是爱以jazz style创作的当代英国作曲家。他又自觉幸运,「钢琴作品有很多,穷一生都弹不完。」他特别喜欢弹被忽略的作品,譬如最近便演奏了不见经传的西班牙作曲家Frederic Mompou的作品,「以前弹过Granados和Albeniz,对西班牙钢琴音乐产生兴趣,於是便去查音乐字典,在『西班牙作曲家』一栏找到Mompou这名字。我发现他有很独特的voice,予人很亲暱的西班牙vision。他的音乐deserves to be heard。」

喜好眾多,但Grosvenor坦言流行曲不是他那杯茶。「自己少听,但因四哥Jonathan患唐氏综合症,常在家里播流行曲,所以我也听过不少。我想,我喜欢较complex的音乐。当然流行曲有时也做得到,我小时候便很迷Queen!」他的Blackberry里,还有Eric Clapton的unplugged呢。(U Magazine,2014年4月)
引用
Audio CD
Number of Discs: 1
Format: CD
Label: Galton Concert Productions
ASIN: B002Z2WAW2
Average Customer Review: 4.9 out of 5 stars

Benjamin Grosvenor: 'I'm not that talented'
Pianist Grosvenor is about to become the Proms' opening night's youngest ever soloist. And yet, he was no child prodigy

Thursday 14 April 2011 22.00 BST Last modified on Thursday 14 January 2016 20.31 GMT
Share on Pinterest Share on LinkedIn Share on Google+

Eighteen-year-old Benjamin Grosvenor, a finalist in the BBC Young Musician of the Year aged just 11, set to become the youngest-ever soloist in the history of the Proms when he plays Liszt's Second Piano Concerto on the opening night, and who has just signed a deal with Decca as their youngest-ever artist, has just stunned me. "I'm not that talented, musically. I obviously have some kind of gift for interpreting music, but really otherwise, I'm not that talented."

There's modesty, and then there's stratospheric self-deprecation. Coming from a half-decent amateur pianist, you could understand this comment, but from someone who started playing the piano aged six, and who was playing Grade 8-standard pieces just 18 months later, Grosvenor's assessment of his musicality seems ludicrously low-key.

But he's serious. As with everything else this reflective and intelligent 18-year-old says, Grosvenor means it. Because although he is prodigiously talented – whatever his protestations – he is no child prodigy. "I wasn't one of those prodigies you read about who went to the piano and could just pick out tunes. My mother tried to start me when I was five, but I couldn't be bothered. I only began practising seriously when my friends at school started to play, and I thought, 'they're not going to get better than me!'"

Grosvenor's mother, a piano teacher, taught him until he was nine, and is still one of his biggest musical influences. "She realised I had a gift for music when I was eight and I could play a Chopin waltz with more of a feeling for conveying emotion in the music than her 17- or 18-year-old pupils. But I don't have any particular early memories of the piano."

Grosvenor talks of his early years as if he's a seasoned professional looking back on the sins of his youth. But he's talking about 2004. "Listening back to the Chopin D Flat Major Nocturne I did when I was 12" (it's on his website, www.benjamingrosvenor.co.uk) – "I think it's really interesting, some of the expressive things I do, like the asychronisation of the hands." That's a technique where the left hand plays a microsecond before the right, something associated with pianists of an earlier age, such as Alfred Cortot and Artur Schnabel, and frowned on by today's virtuosos. "I don't really know where that came from; I hadn't heard any of those early 20th-century recordings by then."

Advertisement

It must have been instinct. And Grosvenor's musical intuition made him a fully fledged musician even at the age of 11, rather than merely a precocious prestidigitator. As you can see on YouTube in his performances from the Young Musician competition, it's not his technique that impresses the most, but how he communicates the emotional landscape of music by Scarlatti, Ravel, or Carl Vine. A few years later on his first CD, a compilation of some of the heights of pianistic possibility by Kapustin, Chopin, and Moszkowski, it's the colours he creates, and the range of expression he finds, that potentially puts him right up there with some giants of the piano.

The question is where his unerring feeling for music came from. A semi-detached house in Southend is the literal answer, where Grosvenor still lives with his parents and four elder brothers, and where his piano practice still upsets his neighbours. He shares a bedroom with his brother Jonathan, who has Down's syndrome, and whose obsession with Westlife can drive him up the wall: "Those modulations at the end of the songs! They've sung it all already, and then to create a greater emotional effect, they put it up a tone." He shakes his head in disbelief at the musical crudity.

His relationship with his mother is central. "She has shaped me musically. She knows what I'm trying to do. Sometimes she makes a comment about my playing that makes me think, 'what are you saying, Mum?' – only to discover hours later that she's right. Which is annoying."

Grosvenor is now at London's Royal Academy of Music, studying for a degree. He goes out drinking with friends there, even if he says he has no time for a partner, and still less to go to many concerts. He does, though, do a lot of listening and talking with one of the academy professors, pianist Daniel-Ben Pienaar. "He has opened my ears to different ways of playing and thinking about everything," Grosvenor says. Together they fine-tune his interpretations, discuss old recordings, and delve deep into music's expressive world. "Listening to other recordings can help, but really what it's about is finding what I want in the piece, how I'm going to say it. It sounds egocentric, but that's the approach."

Advertisement

Grosvenor's main inspirations do not come from today's pianists. "I've become disillusioned with how people play classical music these days. If you compare the way people perform Mozart now with, say, Lili Kraus's recordings, or Schnabel's Beethoven with today's players – today, things are so much blander and more boring. They were each so unique back then." Does he have a favourite? "Probably Horowitz, but there are so many: Cziffra, Rosenthal, Cortot, Cherkassky, Moiseiwitsch. Maybe it's because of recording and the pressure to make things note-perfect, or the influence of competitions, but we've lost touch with that tradition of playing, with its imagination and expression."

I know what Grosvenor means. He's too polite to name names; reading between the lines, neither the conscientious Alfred Brendel approach nor the flashy Lang Lang brand of pianism would excite him as much as the older generation. He admits to being jealous of Chinese sensation Yuja Wang's repeated octave-runs, but if he's competing with anyone "it's with the old dead guys" of the so-called golden age. Their fearlessness is what he aspires to, even if it means doing things the composer didn't write. "If you presented any composer with their music in a completely different way from what they wrote, but it was incredibly effective, they would be flattered. And with most of the composers I play, there's even less of an obligation, because they're dead. They're not ever going to hear it."

There's a glint in Grosvenor's eye; he knows he's going against the grain of the genuflection of so much classical-music culture. But if anyone can bring back a new golden age, it could be Grosvenor. He has the intelligence, the technique, the instinct, and the confidence. All he needs now is to put it all together on a big stage – and they don't come bigger than the Proms.

Benjamin Grosvenor plays the First Night of the Proms, Royal Albert Hall, 15 July. Ticketshere. His first release on Decca will be out in July.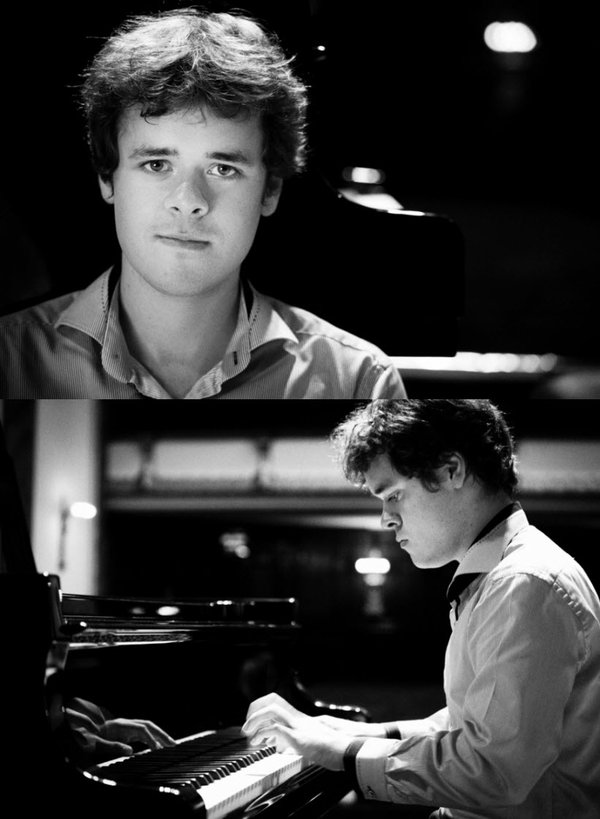 专辑曲目:
01. Nikolai Kapustin - Concert Etude Op.40 No.3
02. Nikolai Kapustin - Concert Etude Op.40 No.6
03. Nikolai Kapustin - Concert Etude Op.40 No.7
04. Domenico Scarlatti - Sonata in F minor K466
05. Domenico Scarlatti - Sonata in D minor K141
06. Isaac Albéniz - Iberia Book 1 - Evocación
07. Isaac Albéniz - Iberia Book 1 - El Puerto
08. Isaac Albéniz - Iberia Book 1 - Fête-dieu à Seville Moritz
09. Moszkowski - Caprice Espagnol
10. Frédéric Chopin - Nocturne in D-flat Op.27 No.2
11. Frédéric Chopin - Nocturne in E-flat Op.55 No.2
12. Johannes Brahms/Cziffra - Hungarian Dance No.5
13. Johann Strauss II/Cziffra - Tritsch-Trasch Polka
这里是其它用户补充的资源(我也要补充):
暂无补充资源