专辑英文名: Covered
专辑中文名: 现场情韵Live
音乐风格: 爵士
资源格式: FLAC
发行时间: 2015年06月16日
简介: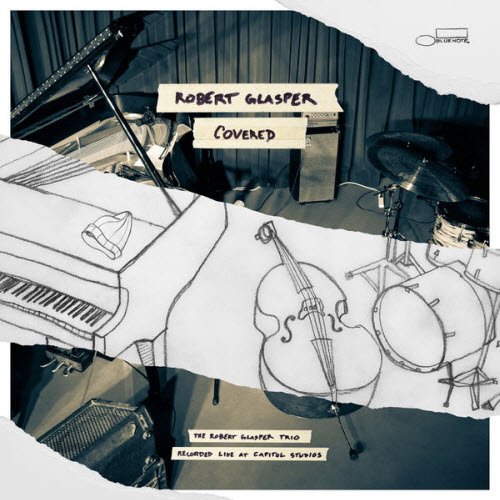 专辑介绍:

【Blue Note】Robert Glasper:Covered罗勃.葛拉斯帕:现场情韵Live(AMG四星)

罗勃‧葛拉斯帕/现场情韵Live

Robert Glasper / Covered (The Robert Glasper Trio Recorded Live At Capitol Studio)

*2届葛莱美奖得主,当今乐坛天才型爵士钢琴家,再度展现触动人心演奏面向以及超凡过人的写曲编曲生花神笔...

*知名传奇歌手哈利.贝拉方提Harry Belafonte跨刀演唱,现场魅力即兴不凡之作

★ AMG 4星祟高评价!!!!

如果这不是天才?…..什么才叫做天才…..

如果你就是无法点头赞同…那么你应该至少能接受他之为鬼才…..

如果你就是排斥他的无法抑制与神灵活现…那我们实在不知道在人生中你还能接受些什么? 如果不是如此出色? 为何连续二张专辑「黑色广播电台1与2 / Black Radio 1&2」,葛莱美奖毫不迟疑的给了他2013年度节奏蓝调专辑与2015年度最佳传统节奏蓝调演出两大殊荣?

即使是在美国知名学府耶鲁大学中进行现场表演,仍可以看见场下的未来美国菁英份子以一种 朝圣的心情与表情在专注的浸淫於他所无人能够成功复制的音乐表现风格,那种如同电影「心灵补手」中麦特戴蒙的角色-- 一位可能你在街头上随处可见的街坊兄弟,却能够引领著你一游那可能只在卡内基、东京蓝调之音或甚至是纽奥良街乐混合著纽约大都会典雅的无可界定音乐灵感--- 彻底而完全的捕获了你的悸动心灵.....

今年2月份於第57届葛莱美中再度以专辑「黑色广播电台第二集/Black Radio 2」拿下了最佳传统节奏蓝调演出大奖- 此为继55届葛莱美他以「黑色广播电台第一集」夺下年度节奏蓝调专辑后再拔头筹。罗勃.葛拉斯帕从原本在纽约最受欢迎的爵士钢琴手,直至今日在现今乐坛已经被称为新一代天才人物的爵士钢琴大师,葛拉斯帕近十年间已经证明他在触动人心演奏面向以及超凡过人的写曲编曲能力上超越了自己并也超越了眾多的同儕….在今年拿下葛莱美奖的4个月后,葛拉斯帕推出了这张创意新声且具回溯色彩的现场录音新作,他回归早期在Blue Note唱片的Acoustic 三重奏风格,重聚贝斯手Vincente Archer 与鼓手Damion Reid,在知名的Capitol Studio A进行一场现场热力四射与观眾面对面的录音实演。知名传奇歌手哈利.贝拉方提Harry Belafonte 也在Got Over一曲中跨刀,对比意味深涵气韵,演出除自创作品I Don't Even Care、In Case You Forgot等之外,也包括Joni Mitchell的名作Barangrill等深度重制- 天才的生花神笔再度令人惊豔….一场无懈可击素为广大乐迷所引领神往的葛拉斯帕掌管音乐流动置入现场神作的魅力- 在此辑中再度得到无可挑剔的印证……

【曲目】1.Intro 2.I Don't Even Care 3.Reckoner 4.Barangrill 5.In Case You Forgot 6.So Beautiful 7.The Worst 8.Good Morning 9.Stella By Starlight 10.Levels 11.Got Over [feat. Harry Belafonte] 12.I'm Dying Of Thirst



引用
POSTED 1 YEAR AGO BY SHAMZ 4 COMMENTS
Robert Glasper Set To Release 'Covered' LP This June


Fresh off yet another Grammy win, our guy Robert Glasper now has plans of shaking up the music world again this Summer. As mentioned in our "Dillalude 3" premiere, Glasper has a new project on the way set to drop in June. As just announced with Billboard, RG's new Blue Note album, Covered, will be out June 16th. Alongside bassist Vicente Archer and drummer Damion Reid, the trio recorded Covered at Capitol Studios in Hollywood, this past December. 3-tracks are Glasper's own (with features from Jean Grae, Macy Gray, and Harry Belafonte), while the remaining 9 tracks include covers of Kendrick Lamar, John Legend, Radiohead, Jhene Aiko, Musiq Soulchild, Bilal, and Joni Mitchell. Get the full tracklist for Covered, below, and please believe you'll find all that music here as soon as it starts rolling out.


Release Date June 16, 2015
Duration 01:11:54
Genre Jazz
Styles Contemporary Jazz
Jazz Instrument Piano Jazz
Recording DateDecember 2, 2014 - December 3, 2014


Release Date June 16, 2015
Duration 01:11:54
Genre Jazz
Styles Contemporary Jazz
Jazz Instrument Piano Jazz
Recording DateDecember 2, 2014 - December 3, 2014


AllMusic Review by Thom Jurek [-]
Four months after winning his second Grammy Award in the R&B category for Black Radio 2, pianist Robert Glasper re-assembles the acoustic jazz trio that played on his first two Blue Note recordings. Bassist Vicente Archer and drummer Damion Reid assist the pianist in a live audience recording from Capitol's famed Studio A. Covered is far from a return to an acoustic piano trio for Glasper. Instead, it's an acoustic approach to the directions he employed on his early Blue Note dates, and the R&B and hip-hop engagements on Black Radio. With the redo of "I Don't Even Care," Black Radio 2 commences with a nearly elliptical air, but Reid's skittering snare creates a dance rhythm while Archer's bassline plays the changes and tastefully fills Glasper's ever widening melodic circle. With post-bop flourishes, he nonetheless remains close to the harmonic center, uncovering its richness in the process. The rhythm section's intro to Radiohead's "Reckoner" is lithe and almost funky before Glasper uses the melody's limited palette as a circular, restrained, yet emotionally moving exploration of its possibilities. The album's centerpiece is the 13-minute "In Case You Forgot." It begins with a knotty, angular solo piano intro (check "Silly Rabbit" from 2007's In My Element), with single-note syncopations and mid-register arpeggios cascading around a four-note bassline with classical embellishments. When the rhythm section enters, they weave jazz standards and modern pop songs together -- from Freddie Hubbard's "Up Jumped Spring" and Cyndi Lauper's "Time After Time" to Bonnie Raitt's "I Can't Make You Love Me," among others -- with sharp, sudden cuts from Glasper before they all climb headlong into their own sprint. Scattered throughout the set is Glasper's sincere but wry dialogue with his audience. A considerable strength from the trio is their ability to translate the appeal of neo-soul ballads such as Musiq (Soulchild)'s "So Beautiful," Jhené Aiko's "The Worst," and Bilal's "Levels" as jazz, even equating them with standards. An example is "Stella by Starlight," whose canny arrangement simultaneously celebrates, decodes, and cracks open Bill Evans' lyricism atop triple-timed brushed snare -- think drum'n'bass -- and a bumping bassline. Harry Belafonte delivers an earnest, grainy, proud and poignant spoken word appearance on "Got Over." Set closer "I'm Dying of Thirst" offers a shadowy melody to a Latin-tinged tom-tom and bass groove as a children's chorus recites the names of African-Americans shot by police; it results in a statement of dignity and self-determination. Glasper's piano alternates between contemplative vamp and haunting elegy before it whispers to a finish. Covered may be a return to the acoustic piano trio, but cedes none of the ground gained by the Black Radio albums. This is Glasper refusing to be reined in by any format or artistic desire but his own. This set is welcoming, open, and warm: it invites fans of all of his musical pursuits along for the ride.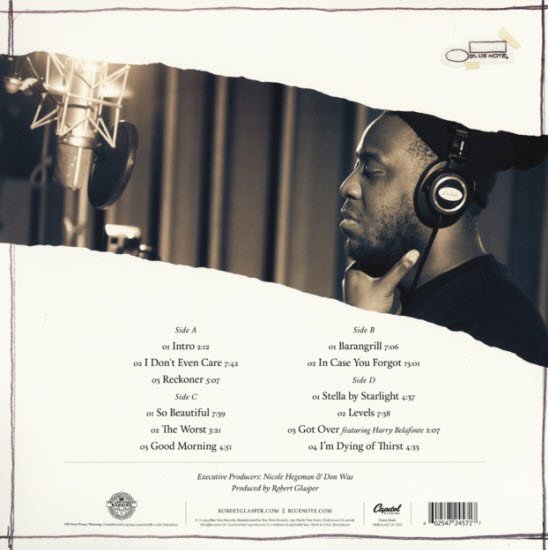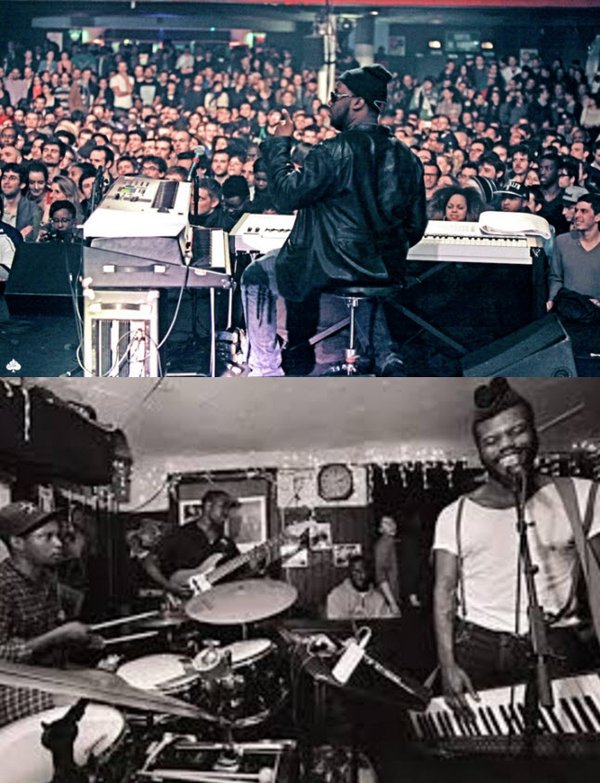 专辑曲目:
01. "Introduction"
02. "I Don't Even Care" (Robert Glasper/Macy Gray/Jean Grae)
03. "Reckoner" (Radiohead)
04. "Barangrill" (Joni Mitchell)
05. "In Case You Forgot" (Robert Glasper)
06. "So Beautiful" (Musiq Soulchild)
07. "The Worst" (Jhené Aiko)
08. "Good Morning" (John Legend)
09. "Stella By Starlight" (Victor Young)
10. "Levels" (Bilal)
11. "Got Over" feat. Harry Belafonte (Robert Glasper/Harry Belafonte)
12. "I'm Dying of Thirst" (Kendrick Lamar)
这里是其它用户补充的资源(我也要补充):
暂无补充资源