专辑英文名: Sentimentale
专辑中文名: 感伤
音乐风格: 爵士
资源格式: FLAC
发行时间: 2014年09月30日
简介: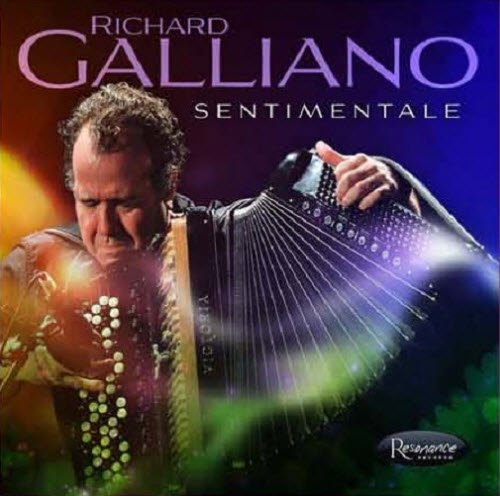 专辑介绍:

Richard Galliano,1950年12月12日出生于法国戛纳。Piazzolla最后一个关门弟子,这位有着意大利血统的法国人,被誉为20世纪最杰出的手风琴家,
其手风琴技巧令人炫目,尤其是演奏Piazzolla的名曲"自由探戈",在后世的无数版本中,这是最耀眼令人赞叹的。
Richard Galliano四岁起就跟随其父练习手风琴,少年时代迷恋上了爵士,尤其从小号手Clifford Brown的音乐中得到启示,并很快驱使他投入到爵士音乐这片新天地中,70年代他移居法国后,就开始为一些著名的爵士乐手伴奏,诸如Chet Baker, Ron Carter, Michel Petrucciani, Jan Garbarek等。直到他遇见给他带来巨大影响的人: Astor Piazzolla。




理查•加里亚诺(Richard Galliano)1950年出生于法国戛纳。因为父亲是意大利手风琴老师,Galliano从4岁起开始拉琴。曾就学于尼斯音乐学院。14岁的时候,Clifford Brown的音乐向他敞开了爵士的大门,他惊喜的发现这还是一片手风琴的处女地。随后他陆续接触到各类爵士风格手风琴大师的音乐,像西班牙的Sivuca、Dominguinhos,美国的Tommy Gumina、 Ernie Felice和Art Van Damme,意大利的Felice Fugazza、 Volpi和Fancelli,让他彻底的倾倒,义无反顾的离开了当时在法国常见的传统手风琴演奏。1973年他移居巴黎,逐渐结识并和越来越多的音乐家合作。直到80年代初期,他开始正式进入爵士舞台,曾和Chet Baker、Steve Potts、Jimmy Gourley、Toots Thielemanns、Jean-Charles Capon等合作。1983年他与Astor Piazzolla相识,1991年他接受了Piazzolla的建议,回归到传统的Valses-Musette、Javas、Complaintes和探戈。在Gus Viseur和Tony Murena的激励下,Galliano使手风琴摆脱了传统旧式的3/4节奏,而发展了全新的节奏概念和泛音形式,以更好的表现爵士音乐。1991年他的新专辑《New Musette》中充分展现了这种技巧,专辑获得法国爵士Django Reinhardt奖"年度音乐家"奖。这是Galliano的里程碑,随后的几张专辑他和他的Victoria手风琴全然证明了他们在爵士的自由疆土上驰骋的能力。他的技艺和能力让手风琴的音色和音调达到宽度的极限。1996年,他赴美国与George Mraz、Al Foster和Biréli Lagrène录制了《New York Tango》,获法国Victoire de la Musique奖。这张唱片为他赢得了国际声誉,Galliano得以尝试不寻常的乐器组合,包括Enrico Rava、Charlie Haden、 Michel Portal、Antonello Salis和Eddy Louiss。1999年,他开始发表自己的手风琴与室内乐团作品,也演奏了一些改编自Astor Piazzolla的音乐。2003年他发行了向导师致敬的《Piazzolla Forever》。独奏或与大乐团合作,抒情小品或法国情歌,他在越来越宽的音乐领域获得成功。Galliano和父亲合作的手风琴演奏技巧著作,获得2009年SACEM奖最佳教学作品奖。


引用
Copyright: 2014 Resonance Records
Total Length: 1:05:59
Genres: Jazz
ASIN: B00NQ3ARGU
Average Customer Review: 5.0 out of 5 stars


With accordionist Richard Galliano, guitarist Victor Juris, pianist John Nelson, bassist George Mraz, and drummer Mauricio Zottarelli

World-renowned accordionist Richard Galliano returns to Dizzy's Club Coca-Cola to present the music from his Sentimentale album. Though his career has included unprecedented accordion performances of Vivaldi and Bach, and a revival of the French folk style bal-musette, Galliano clearly feels at home playing jazz. He has worked with jazz greats since the 1970s, from Ron Carter and Kurt Elling to Toots Thielemans, and he continues to work with some of the most interesting musicians around. Alongside a veteran group of jazz musicians, the accordion virtuoso will apply his unique sound to the music of Chick Corea, Duke Ellington, Horace Silver, and John Coltrane, as well as classic Brazilian composers like Ivan Lins, Joåo Doato, and Abel Silva.


Release Date September 30, 2014
Duration 01:06:21
Genre Jazz
Styles Modern Jazz Modern Creative Continental Jazz

AllMusic Review by Thom Jurek [-]
Sentimentale is accordionist Richard Galliano's debut as a leader for Resonance Records. This date marks his return to jazz after a three-album sojourn with Deutsche Grammophon recording the music of Bach, Piazzolla, and Vivaldi. His multi-national quintet here includes Israeli-born pianist and arranger Tamir Hendelman, American guitarist Anthony Wilson, Cuban bassist Carlitos Del Puerto, and Brazilian drummer Mauricio Zottarelli. The program is as diverse as the personnel. Things kick off on the spirited side with a galloping reading of Chick Corea's "Armando's Rumba," with Wilson and Galliano twinning the head as Hendelman lays down shiny chords and spirited montunos with a killer bass solo from Del Puerto before the accordionist launches into a combination of tango and jazz. Duke Ellington's "In a Sentimental Mood" opens with a near pastoral reverie before the melody is introduced by Galliano and Wilson. Hendelman's illustrative fills and comps are gorgeous without being flowery. The funky groove in Horace Silver's "The Jody Grind" is derived from Dee Dee Bridgewater's vocal version, despite Hendelman's finger popping pianism. Galliano crosses harmonic lines between both Zottarelli's drum break, spiky blues from Wilson, and soul-jazz swagger from Del Puerto. On John Coltrane's "Naima," Wilson adopts a near sitar-like sound while Galliano's crystalline, glass bead sound enters into the melody and opens it onto the accordion's higher register, offering a bright harmonic flourish in his solo. Brazilian music makes its appearance on Sentimentale as well. This take on Ivan Lins' evergreen "The Island" is equally based on the composer's earliest, Bahia-informed version rather than his post-bossa take from later years as well as singer Patti Austin's. Likewise "Verbos Do Amor," by João Donato and Abel Silva, finds Galliano's quintet engaging in inspired, multi-textured samba. There are two familiar originals here as well: "Ballade Pour Marion" is magical in this bal musette-cum-lyrical jazz setting as Hendelman's voicings twin with the accordionists', offering different timbral statements and underscoring its lush colors. Closer "Lili" is trimmed to a languid, tender duet between the accordionist and Wilson -- both of whom display their enormous gifts for lyricism (which is why they are oft-chosen accompanists for singers). Sentimentale is not only classy in its choice of material, it's canny and expert in its arrangement, interplay, and articulation. Like the best of Galliano's recordings, it displays not only his iconic signature on the accordion, but the commanding presence, communicative inquisitiveness, and elegant creativity of his spirit.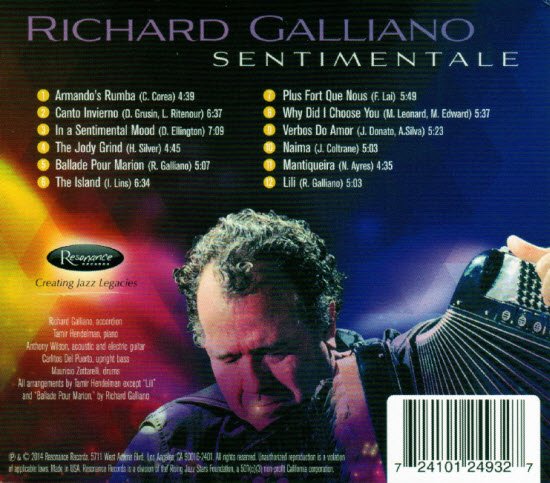 专辑曲目:
01. Armando's Rumba (C. Corea) 4:39
02. Canto Invierno ( D Grusin, L. Ritenour) 6:37
03. In A Sentimental Mood (D. Ellington) 7:09
04. The Jody Grind (H. Silver) 4:45
05. Ballad For Marion (R. Galliano) 5:07
06. The Island (I. Lins) 6:34
07. Plus Fort Que Nous (F. Lai) (5:49)
08. Why Did I Choose You (M. Leonard, M. Edward) 5:37
09. Verbos Do Amor (J. Donato, A.Silva) 5:23
10. Naima (J. Coltrane) 5:03
11. Mantiqueira (N. Ayres) 4:35
12. Lili (R. Galliano) 5:03
这里是其它用户补充的资源(我也要补充):
暂无补充资源