专辑英文名: Bach - Keyboard Concertos Vol.1
专辑中文名: 巴哈:键盘协奏曲第一集~第1 和 第7号
古典类型: 全集作品
版本: [SACD-r]
发行时间: 2005年06月06日
简介: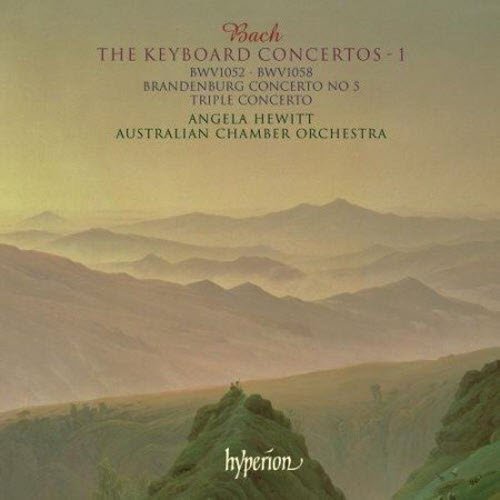 专辑介绍:

巴哈:键盘协奏曲第一集~键盘协奏曲第1、7号、第5号布兰登堡协奏曲、三重协奏曲 Bach, JS:The Keyboard Concertos Vol.1

1729年巴哈接受莱比锡音乐协会邀请,出任音乐总监。这是莱比锡大学所创立的团体,由优秀师生合组乐团经常於齐玛曼咖啡屋演出音乐会,吸引许多市民和游 客来此休閒。巴哈任期一共十年,其七首键盘协奏曲乃后段任期的产物。本辑选录《D小调第1号协奏曲, BWV1052》与《G小调第7号协奏曲, BWV1058》,前者係改编自一首已经遗失的小提琴协奏曲,后者则因改编自《A小调小提琴协奏曲,BWV1041》而特别著名。本片另外收录两首跟键盘 独奏相关的协奏曲。《第5号布兰登堡协奏曲,BWV1050》是第一首让键盘乐器跳脱数字低音角色的里程碑杰作。《A小调三重复协奏曲,BWV1044》 的独奏群跟前者一样是键盘、长笛和小提琴,曲风充满希望与救世的情怀。独奏者安洁拉.休薇特乃当今首屈一指的巴哈詮释者,先前所灌录巴哈键盘独奏曲全集好 评如潮,这次弹奏Fazioli名琴,韵味更加香醇,高贵质感令识者颤慄不已!

专辑编号: CDA67307
专辑类型: 单CD
发行年份: 2005
国际条码: 0034571173078
音乐家:
Hewitt, Angela (piano) 安洁拉.休薇特 (钢琴) Tognetti, Richard (conductor) 理查.托奈提 (指挥) Australian Chamber Orchestra 澳洲室内管弦乐团
音乐厂牌: Hyperion
库存状态: 有库存

商品条码 : 0034571173078
商品编号 : CDA67307
演奏者 : 安吉拉赫为特 Angela Hewitt - 查看所有专辑
指挥家 : 理察扥格涅提 Richard Tognetti - 查看所有专辑
乐团 :
作曲家 : 巴哈 J.S.Bach - 查看所有专辑
专辑名称 : 键盘协奏曲 (第一集)
The Keyboard Concertos -1
音乐类型 : 古典音乐 [CD 协奏曲]
发行公司/日期 : 上扬 2005/10/3
制作公司 : hyperion
内含片数 : 1


引用
Release Date June 6, 2005
Duration01:16:55
Genre Classical
Styles Concerto


AllMusic Review by James Leonard [-]
Okay, that was weird. Did Angela Hewitt -- a Canadian avatar of musical heresy of Bach on the piano -- really have a harpsichord chattering along behind her in this recording of Bach's Fifth Brandenburg Concerto? Did the Australian Chamber Orchestra -- in all likelihood the finest ensemble of its kind and size from the land down under -- really have the light-fingered Linda Kent providing the continuo on a performance whose ostensible raison d'etre is to demonstrate the efficacy of using a modern hammer-and-metal concert grand piano rather than a pluck-and-quill two-manual harpsichord? Apparently so; and yet one cannot deny that, despite the musical oxymoron of having the two keyboards existing in the same piece at the same time, Hewitt, Kent, and the Australian Chamber Orchestra's version works wonderfully well. There is wit and joy and sorrow and a sort of multi-keyboard ecstasy in the performance, which, despite the blatant disregard of authentic performance practice, still sounds tremendously exciting. The other soloists -- violinist Richard Tognetti and flutist Alison Mitchell on loan from the Scottish Chamber Orchestra -- are just as fine as Hewitt, and the remaining performances on the disc -- a demonic D minor Concerto, a delightful G minor Concerto, and a driven Triple Concerto -- are just as fine as the Fifth Brandenburg. Plus, of course, Hyperion's sound is absolutely transparent and thoroughly intimate. It's so musically axiomatic that anyone who enjoyed Hewitt's previous Bach recordings will certainly enjoy this disc and anyone who enjoys this disc will certainly enjoy Hewitt's other Bach recordings.



Product Details
Performer: Angela Hewitt
Orchestra: Australian Chamber Orchestra
Conductor: Richard Tognetti
Composer: Johann Sebastian Bach
Audio CD (June 13, 2005)
SPARS Code: DDD
Number of Discs: 1
Format: Import
Label: Hyperion UK
ASIN: B0009K9P7K
Average Customer Review: 4.6 out of 5 stars See all reviews (12 customer reviews)

This disc and its companion SACDA67308 contain all Bach's extant concertos that feature a solo keyboard. Most were written in the 1730s and are thought to be arrangements of earlier concertos, many of which are now lost (though two will be recognized as Bach's E major and A minor violin concertos and the sixth is an arrangement of the fourth Brandenburg). The fifth Brandenburg Concerto, with harpsichord, flute and violin soloists, dates from 1721 and is generally regarded as the first concerto for a solo keyboard instrument ever written. Bach made the keyboard part particularly brilliant and included a huge cadenza; he certainly knew how to establish a genre with a bang!

Hewitt's Bach is by now self-recommending but only after playing Bach across the world with numerous ensembles did Angela decide that the Australian Chamber Orchestra were the perfect collaborators. After a month of concerts across Australia these recordings were set down in Sydney in February of this year and the frisson of artists operating at the peak of their form is clear for all to hear. One is immediately struck by the quality of chamber-music playing as phrases are passed from soloist to orchestra and, in the case of Brandenburg Concerto No 5 and the Triple Concerto, between all three soloists. Rhythms are buoyant, tempos lively, the spirit of dance is never far away in the fast movements and a perfectly vocal quality pervades the sung lines of the slow movements.

These CDs will surely be the jewels in the crown of Angela Hewitt's magnificent Bach series.
专辑曲目:
Keyboard Concerto No 1 in D minor BWV1052 EnglishFrançaisDeutsch
01. Movement 1: Allegro [7'37]
02. Movement 2: Adagio [7'17]
03. Movement 3: Allegro [7'50]

Keyboard Concerto No 7 in G minor BWV1058 EnglishFrançaisDeutsch
04. Movement 1: [untitled] [3'41]
05. Movement 2: Andante [6'34]
06. Movement 3: Allegro assai [3'50]

Brandenburg Concerto No 5 in D major BWV1050 EnglishFrançaisDeutsch
07. Movement 1: Allegro [9'41]
with Richard Tognetti (violin), Alison Mitchell (flute)
08. Movement 2: Affettuoso [5'02]
with Richard Tognetti (violin), Alison Mitchell (flute)
09. Movement 3: Allegro [5'14]
with Richard Tognetti (violin), Alison Mitchell (flute)

Triple Concerto in A minor BWV1044 EnglishFrançaisDeutsch
10. Movement 1: Allegro [8'35]
with Richard Tognetti (violin), Alison Mitchell (flute)
11. Movement 2: Adagio ma non tanto e dolce [4'36]
with Richard Tognetti (violin), Alison Mitchell (flute)
12. Movement 3: Tempo di alla breve [6'56]
with Richard Tognetti (violin), Alison Mitchell (flute)
这里是其它用户补充的资源(我也要补充):
暂无补充资源