专辑英文名: Haydn, Hummel Trumpet Concertos
专辑中文名: 海顿、胡麦尔等人:小号协奏曲
古典类型: 协奏曲
资源格式: FLAC
版本: [24bits 44.1KHz]
发行时间: 2008年09月01日
简介: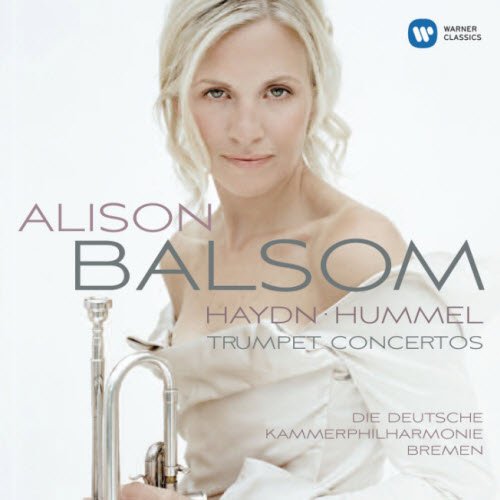 专辑介绍:

艾莉森.鲍尔珊,小号/布莱梅德意志室内爱乐管弦乐团

  本片的四首小号协奏曲是来自完全不同年代作曲家的作品,横跨了巴洛克到古典乐派前后150年的时间,而这150年的期间正好也是欧洲从传统手工跨入工业时代的交界,这个工业文明的转变,直接影响了音乐演奏和风格的变化,而小号吹奏也是,本片这四首协奏曲就见证了这个转变的过程,看著小号从无音栓的自然小号进展到有音栓的小号。

  片中最早的是义大利巴洛克作曲家托瑞里的协奏曲,出生於十七世纪中叶的他,当时的小号家所演奏的技巧和四世纪前小号诞生时的技巧没有两样。但到了十八世纪中叶,也就是涅鲁达创作他的协奏曲时,这种无音栓小号就已经式微,被新式小号所取代,在维也纳的宫廷中流行的是一种按键式小号,海顿和胡麦尔的协奏曲都是为这种如今已经失传的乐器所写的。这种新式小号让小号家可以吹奏半音阶,并且自由的转调,正符合古典乐派的曲式需求。海顿与胡麦尔的小号协奏曲是音乐史上最著名的小号协奏曲。海顿的协奏曲是他唯一流传下来的此类作品,是特别为宫廷小号手温丁格所写,完成於1796年,当时他已经离开宫廷乐长的工作。胡麦尔的协奏曲也同样是为温丁格所写,有意思的是,这是为1804年的新年所写的作品。

  这份录音是当今最受欢迎的女性小号演奏家鲍尔珊在EMI的第三份录音,短短一年半内即发行了三张专辑,足见鲍尔珊演奏的魅力。在巴黎音乐院拜著名北欧小号家Hakan Hardernberger为师的鲍尔珊,在这些经典小号协奏曲中,展现了饱满的音色与精準的技巧。

专辑名称:Haydn & Hummel: Trumpet Concertos 海顿、胡麦尔等人:小号协奏曲
唱片公司:EMI
演 出 者:Alison Balsom 艾莉森鲍尔珊、Bremen conducted Die Deutsche Kammerphilharmonie 布莱梅指挥德意志室内爱乐管弦乐团
音乐类型:Classical, Trumpet
发行日期:2008年10月03日
音乐格式:MP3/320K
档案大小:129MB
时间长度:00:52:52

   Alison Balsom(艾利森 巴尔松)1978年10月7日生于英国。自11岁随John Miller、Paul Benniston、John Wallace学习。1999年进入法国国立高等音乐学院,随Antoine Cure学习。得奖经曆:97年获John Fletcher 铜管大赛优胜奖;98年获得BBC年度铜管青年演奏家称号;99年获得伦敦交响乐团招考半准决赛入围。Alison随后又在巴黎音乐学院的市府学校学习小号,师傅哈肯哈登伯格。并在第四届莫裏斯安德烈国际小号比赛中获得第三名和最具美感银色奖。她进来被任命为市府音乐及戏剧学校的小号访问学者,并被英国古典音乐奖评为年度最佳青年英国表演者。Alison Balsom的独奏和协奏曲目非常广泛,从阿尔比诺尼泽梅曼。她既演奏现代小号也演奏传统小号。在青年艺术家音乐基金会的推荐下,Alison 引起了百代古典唱片公司的关注,在2002年为她发行了首张唱片,Alison现为BBC第三套广播演奏中的新生代艺术家节目中的一员,她已经在维格摩尔音乐厅和全部BBC管弦乐队合作演出过,这其中包括BBC交响乐和Andrew Davis爵士及BBC威尔国家管弦乐团。美女小号手在《Caprice》专辑中改编莫扎特《第11钢琴奏鸣曲》《夜后咏叹调》法雅的《7首流行的西班牙歌曲》帕格尼尼的《随想曲第24号》巴赫的《第一小提琴协奏曲》等等大家耳熟能详的曲目。通过这张专辑作品反映出了Alison 高超的小号演奏技巧。


http://www.warnerclassics.com/shop/3251677...oncertos

BALSOM, ALISON
Haydn & Hummel: Trumpet Concertos

CD-Enhanced
1 Sep 2008

Barcode: 5099921621307

Composer: Johann Nepomuk Hummel / Joseph Haydn
Other participants: Alison Balsom * Deutsche Kammerphilharmonie Bremen

Alison Balsom must be a concert promoter's dream: she is young, beautiful and very talented. This is her fourth CD for EMI, and the first to concentrate on concertos. The earlier discs were predominantly transcriptions and miniatures - see Christopher Thomas's review of her Debut album EMI 5756832. Now with the two staples of the repertoire – Haydn and Hummel – she has demonstrated the desire to be taken seriously.

Let me get the only two negatives out of the road first: the programme is somewhat unbalanced, presenting as it does, the two "big" concertos first, and secondly, it is a rather miserly running time. Yes, there aren't that many trumpet concertos, but sub-hour CDs these days are really not acceptable, not matter how well played.

Be in no doubt: this is very, very well played. Balsom's tone is silky smooth, yet bell-like in its clarity. There is no harshness at all in her playing, even in phrases of extreme difficulty. I have seen the adjective "poetic" applied to this recording in another review – I couldn't agree more. Her playing brought to mind the great Maurice André in its sheer musicality.

Lest you start to think that this is all honeyed and amorphous, please don't – there is great verve and spirit in the faster movements; the opening of the final movement of the Hummel bears witness to this. The solo part in the Torelli rings out bright and clear, and even the relatively mundane Neruda sounds as good as it probably ever will on record. I heard this in concert in the gardens of the palace of Würzburg and even those extraordinarily grand surroundings could only elevate it to the ranks of pleasant!

My standard for many years for the Haydn and Hummel has been Håkan Hardenberger with Sir Neville Marriner and the Academy on Philips 4202032: a superior coupling of concertos by Johann Hertel and Johann Stamitz. Listening to the two led me to the conclusion that Hardenberger's athleticism was trumped by Balsom's musicality – I wanted to listen to the latter again straight away.

I also found in the process of writing this review that Norway has its own Alison Balsom: her name is Tine Thing Helseth, and she too is beautiful, young and blonde. Earlier in 2008, she also released a CD which has the Haydn, Hummel and Neruda concertos (Simax PSC1292) – instead of the Torelli is a transcription of an Albinoni oboe concerto. However, comparisons with Balsom vanished as soon as the music began - I listened to it via my Naxos Music Library subscription. Helseth is colourless and uninspiring, and totally overshadowed by Balsom.

The conductor-less Deutsche Kammerphilharmonie Bremen are equal partners in this endeavour: they are fleet, crisp and totally attuned to Balsom's playing. I would love to hear them by themselves in Mozart and Haydn symphonies. They are far superior to the Norwegian Chamber Orchestra who play quite limply, and much better recorded than the ASMF who sound like they are in the next building.

This is an OpenDisc recording, which is a rather underwhelming feature: it allows you access to "exclusive" promotional on the EMI website when you put the disc in your computer. There are a few videos promoting new EMI & Virgin releases, curiously none of them with Alison Balsom. There is, however, a seven minute EMI promo video on YouTube if you would like to hear her talk about the Haydn, and see her play at the recording session.

I see that ArkivMusic have included this CD in their top recordings for 2008. I can't disagree: it will be in my Recordings of the Year for 2009. I won't discard the Hardenberger because of the couplings, but Alison Balsom is tops in Haydn and Hummel.
David Barker

Read more: http://www.musicweb-international.com/clas...inAdC1U0


引用
Label: Warner Classics
Genre: Classical
Product No.: XWAR22858F44
Availability: In Stock
Category: FLAC 44kHz/24bit Download

Total download size: 494MB Total play length: 52:47

Cover art included, liner notes not included

Alison Balsom's fourth album for EMI Classics features Franz Joseph Haydn and Johann Nepomuk Hummel's evergreen trumpet concertos, coupled with concertos by Johann Baptist Georg Neruda and Giuseppe Torelli. Balsom also directs Die Deutsche Kammerphilharmonie Bremen.

The Haydn Trumpet Concerto is arguably the most popular work for the instrument as well as one of the composer's best known compositions, a favourite of performers and audiences alike for its wonderful melodic invention and challenging virtuosity. Reviewing Alison's performance with the Milwaukee Symphony in March of this year, the Journal Sentinel wrote, "Alison Balsom's details of attack, release, dynamics and timbre polished Haydn's … Trumpet Concerto into an exquisite little gem. …This concerto … has its moments of brilliant bugling. More often, though, it [shows the short-lived keyed trumpet] capable of a refined sort of expression …. Balsom excelled at both facets of the concerto. She snapped off staccato 16ths with ease and signal calls with clarion purity and power. And she shaped and colored Haydn's gentle, lyrical lines with the grace and warmth of a really good Mozartean mezzo."

Jonathan Freeman-Attwood's linder notes describe the notoriously-difficult-to-play 'natural' trumpet of the Renaissance and Baroque periods and the development of the 'keyed' trumpet by the Viennese court trumpeter Anton Weidinger in the 1790s, which inspired the concerto masterpieces by Haydn and Hummel performed on this disc.

The enticing melodic possibilities of Weidinger's "keyed" trumpet, and indeed the artistry of Weidinger himself, moved Franz Joseph Haydn (1732-1809), then at the height of his powers, to compose his concerto in E-flat for trumpet & orchestra. His last purely orchestral work, the concerto is a "gloriously ebullient and concise masterpiece in which the composer […] conceives a highly distinctive palette to thrust the trumpet into a brave new world." Interestingly, it was not premiered until 1800, four years after its completion, possibly because Weidinger needed time to master its technical challenges.

Also composed for Weidinger was the Concerto in E Major (often performed, as here, in E-flat) by Johann Nepomuk Hummel (1778-1837), prodigy, student of Mozart and, later, of Haydn. Hummel composed his trumpet concerto in 1803 and Weidinger premiered it the following year for members of the Esterházy court. The composer was subsequently appointed music director there, on Haydn's recommendation and likely helped by the success of his trumpet concerto. The concerto, "a more expansive work [than Haydn's, takes the modified trumpet] a stage further in variety of idiomatic figuration and harmonic adventure."

The Concerto in D by Giuseppe Torelli (1658-1709) was composed for the "natural" trumpet and likely performed on feast days in the San Petronio Basilica. The concerto for hunting horn and strings in E-flat by the Czech composer Johann Baptist Neruda (c1707-c1780) was probably written in the 1760s and is an example of a charming, traditional work of its era.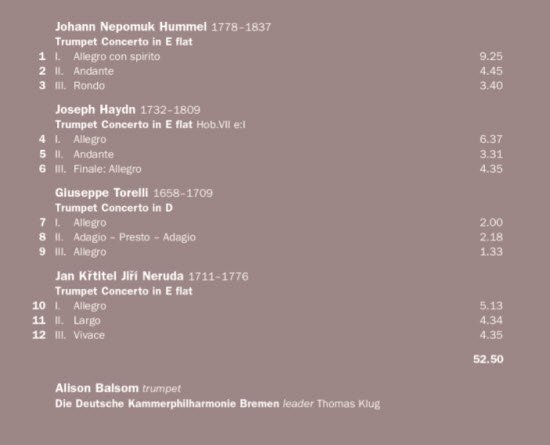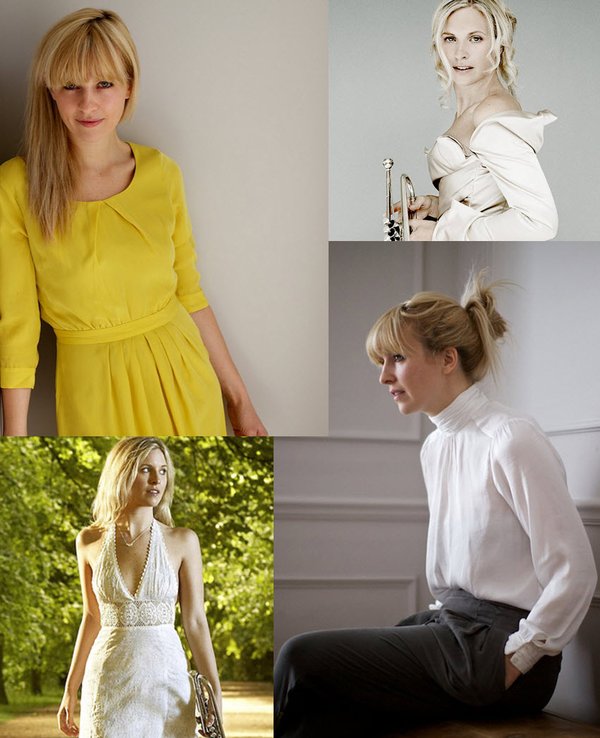 专辑曲目:
01. Hummel: Trumpet Concerto in E-Flat Major
02. Hummel: Trumpet Concerto in E-Flat Major: II. Andante
03. Hummel: Trumpet Concerto in E-Flat Major: III. Rondo
04. Haydn: Trumpet Concerto in E-Flat Major, Hob.VII e/1: I. Allegro
05. Haydn: Trumpet Concerto in E-Flat Major, Hob.VII e/1: II. Andante
06. Haydn: Trumpet Concerto in E-Flat Major, Hob.VII e/1: III. Finale - Allegro: I. Allegro con spirito
07. Torelli / Arr Balsom: Trumpet Concerto in D Major: I. Allegro
08. Torelli / Arr Balsom: Trumpet Concerto in D Major: II. Adagio - Presto - Allegro
09. Torelli / Arr Balsom: Trumpet Concerto in D Major: III. Allegro
10. Neruda: Trumpet Concerto in E-Flat Major: I. Allegro
11. Neruda: Trumpet Concerto in E-Flat Major: II. Largo
12. Neruda: Trumpet Concerto in E-Flat Major: III. Vivace
这里是其它用户补充的资源(我也要补充):
暂无补充资源