专辑英文名: Biber - Rosary Sonatas
专辑中文名: 伯罗莎利奏鸣曲
古典类型: 奏鸣曲
资源格式: FLAC
版本: [24bits 176KHz]
发行时间: 2015年10月16日
简介:
专辑介绍: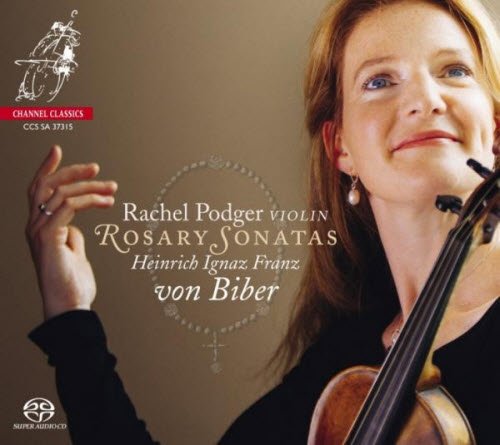 拉克儿拉比 伯罗莎利奏鸣曲 Rachel Podger Rosary Sonatas Biber (2SACD)


拉克儿 宝洁儿 Rachel Podger出生於英国,在德国的鲁道夫斯坦因音乐学校习音乐,然后再回英国习小提琴,曾在Guildhall学校师事Perry Hart,和多位大师习音乐,后来喜爱上古乐器与音乐,逐而参加古乐团,成为小提琴古乐家,她最喜爱拉奏十七世纪和十八世纪的古乐曲,在1997年她并和古乐指挥家宾诺克合作过演出,她现在是乐坛的顶佳独奏家及演出家,受各地的竞邀不断.
本片他拉奏义波希米亚作曲家Heinrich Ignaz Franz Biber 比伯,小提琴家,1644-1704,他是17世纪德国音乐圈最伟大的小提琴家,1670年开始担任萨尔兹堡的大主教的宫廷任职,受到当时皇帝的封爵,在音乐上他受到义大利小提琴音乐的影响,编写出他自己的乐风,以对位与变易调弦的独特技法写曲,本片罗莎利奏鸣曲是他在1670-80萨尔姿堡写的16首小提琴奏鸣曲。有古大提琴,大键琴.管风琴等的伴奏。优美!稀少见!好听的古小提琴曲! 二片特价

PODGER, RACHEL [所有作品]
产品条码: 0723385373155
产品编号: CCS37315
发行公司: CHANNEL [发行商品]
发行日期: 2015年11月25日
产品制造地: 欧美 .
发行类型: 小提琴 . 室内乐 . 古典 . CD .
内装片数: 2片


商品条码 : 0723385373155
商品编号 : CCS37315
演奏者 : Rachel Podger - 查看所有专辑
指挥家 :
乐团 :
作曲家 : Biber - 查看所有专辑
专辑名称 : 拉克儿拉比伯罗莎利奏鸣曲 ( 2CD )
BIBER : ROSARY SONATAS ( 2CD )
音乐类型 : 古典音乐 [SACD 奏鸣曲]
发行公司/日期 : 韵顺 
制作公司 :
内含片数 : 1


DISK 1 CD
编号 曲名
1. Rosary Sonata No. 1 in D Minor, `The Annunciation`
2. Rosary Sonata No. 2 in a Major, `The Visitation`
3. Rosary Sonata No. 3 in B Minor, `The Nativity`
4. Rosary Sonata No. 4 in D Minor, `The Presentation in the Temple`
5. Rosary Sonata No. 5 in a Major, `The Finding in the Temple`
6. Rosary Sonata No. 6 in C Minor, `The Agony in the Garden`
7. Rosary Sonata No. 7 in F Major, `The Scourging`
8. Rosary Sonata No. 8 in B Flat Major, `The Crowning With Thorns`
DISK 2 CD
编号 曲名
1. Rosary Sonata No. 9 in a Minor, `The Carrying of the Cross`
2. Rosary Sonata No. 10 in G Minor, `The Crucifixion`
3. Rosary Sonata No. 11 in G Major, `The Resurrection`
4. Rosary Sonata No. 12 in C Major, `The Ascension`
5. Rosary Sonata No. 13 in D Minor, `The Descent of the Holy Ghost`
6. Rosary Sonata No. 14 in D Major, `The Assumption of the Blessed Virgin`
7. Rosary Sonata No. 15 in C Major, `The Coronation of the Blessed Virgin`
8. Rosary Sonata No. 16 in G Minor for Solo Violin, `Passacaglia`


引用
AllMusic Review by Blair Sanderson

The Rosary Sonatas (also known as the Mystery Sonatas) of Heinrich Ignaz Franz von Biber are his most celebrated works, and their technical demands and innovations have given them a mystique quite apart from their religious associations. Rachel Podger's recording for Channel Classics is a virtuoso's showcase, where she displays her consummate talents and her expressive depth in rendering Biber's elaborate music for violin and continuo with a compelling mix of flair and reverence. These 16 sonatas, inspired by the Joyful Mysteries, the Sorrowful Mysteries, and the Glorious Mysteries of the Roman Catholic Rosary, and capped by the Guardian Angel sonata, depict the central events of the life of the Blessed Virgin Mary, though they are also a compendium of Baroque violin techniques, such as scordatura tunings, multistops, contrapuntal passagework, and special bowing effects, which came into vogue in the late 17th century. Podger's scrupulous attention to detail and fine musicianship make this double SACD a treasure for fans of authentic period-style Biber, and the multichannel sound is vibrant and almost palpable in its presence. Highly recommended.


Conductor: None
Composer: Biber
Audio CD (16 Oct. 2015)
Please Note: Requires SACD-compatible hardware
Number of Discs: 2
Format: Double CD, Hybrid SACD, SACD
Label: Channel Classics
ASIN: B0135GT9VQ

4 of 4 people found the following review helpful
An outstanding recording
By Sid Nuncius #1 HALL OF FAMETOP 50 REVIEWER on 4 Nov. 2015
Format: Audio CD
This is simply wonderful. Biber's Mystery Sonatas are extraordinary works in themselves, and Rachel Podger produces something really special in her performances here.

The music is a series of sonatas for violin which Biber wrote to represent key events in the life, death and resurrection of Christ. Biber was a very fine violinist and composer and in my view these sonatas are among the very best music he wrote. It is expressive, emotionally intense and often very beautiful. He demands that the violin be retuned in unusual ways for each sonata (a technique called scordatura) which produces some extraordinarily atmospheric effects. It's amazing music which I have liked and admired for years in excellent recordings by both John Holloway and Andrew Manze, but I have always found it slightly forbidding music somehow. This performance by Rachel Podger has changed all that.

Technically, of course, she is superb and is rightly regarded as one of the world's leading baroque violinists. She has the skill and technique to make these extremely difficult pieces sound completely natural, with no sense of strain anywhere – just a deep involvement in what the music is saying. Her tone is beautifully warm and she has a way of making the music accessible and welcoming without ever losing any of its intensity or intellectual weight. She is beautifully matched in this by an excellent group of continuo players and the whole thing is an absolute delight.

Ten years ago, Rachel Podger transformed the Bach Sonatas and Partitas for me in her recording of them by showing me a way into the heart of the music and what it is really about in a way no-one else had managed. She has done the same here with the Mystery Sonatas. This is an absolutely outstanding recording (there will be something seriously wrong if it is not a strong contender in the next Gramophone Awards) and I can recommend it extremely warmly.

Number of cd's: 2
Year of release: 2015
Recording Location: London England
Producer: Jonathan Attwood
Recording Engineer / Mastering: Jared Sacks
Running time: CD1 - 60.36 CD 2 - 73.50

Technical Specifications:
Microphones: Bruel & Kjaer 4006, Schoeps
Digital Converters: DSD Super Audio/Meitner Design AD/DA
Speakers: Audiolab, Holland
Software: Pyramix Editing, Merging Technologies
Mixing Board: Rens Heijnis, custom design
Mastering Room: B+W 803d series speakers, Classe 5200 Amplifier
Cables: Van den Hul




Caroline Gill Sinfini Music | 21 October 2015
Album Review Rachel Podger
Biber: Rosary Sonatas (Mystery Sonatas) by Rachel Podger, Marcin Swiatkiewicz, David Miller, Jonathan Manson
Outlandish harmonies and unexpected tunings make these Baroque violin sonatas anything but predictable. Caroline Gill relishes this virtuoso guided tour from Rachel Podger.

Label: Channel Classics

Rating 5


It is important to judge every disc on its individual merits. That can sometimes be difficult with the recordings of violinist Rachel Podger, who tends to record a disc and receive immediate praise without exception. But is easy with her new recording of Biber's Rosary, or 'Mystery', Sonatas.

She may have recorded Bach's Sonatas and Partitas for Solo Violin, one of the pinnacles of solo violin repertoire, over 20 years ago, but to wait to record this Biber was a sensible decision. What has come out of that wait is a performance of such variety, insight and instinctive musicianship that it could, and should, define her talents as a performer.

The 'scordatura' (re-tuning) of certain strings on the violin to create different – and often challenging – harmonies, is a particular singularity of these pieces, but is only one element of the array of techniques on which Podger draws. The transformation of sound between the sonatas entitled 'Crucifixion' and 'Resurrection', for instance, makes it difficult to believe she is playing the same instrument from sonata to sonata. That comes as much from the beauty of her playing, as well as that of the radiantly contrasting continuo parts, as the leg-up Biber gives the performer with the different colours naturally provided by the various tunings.

In the end, though, if this disc shows anything, it is that however established they are, the greatest performers are those that still have the power to surprise and gladden, whatever you previously thought you knew of them.

Artists: Rachel Podger (violin)

Caroline Gill is a freelance writer on music for Gramophone, among others, and regular contributor to Radio 3's CD Review.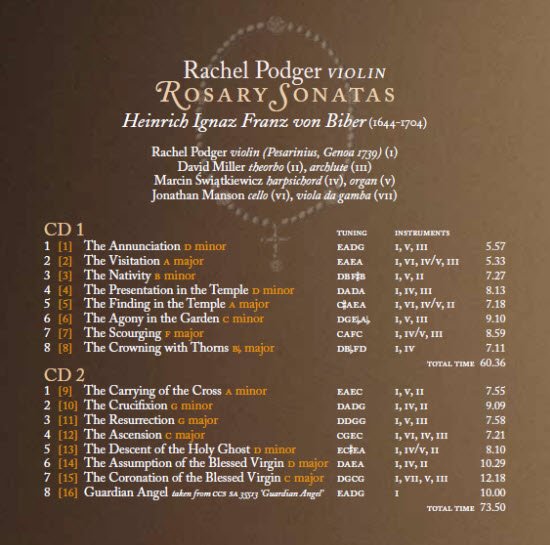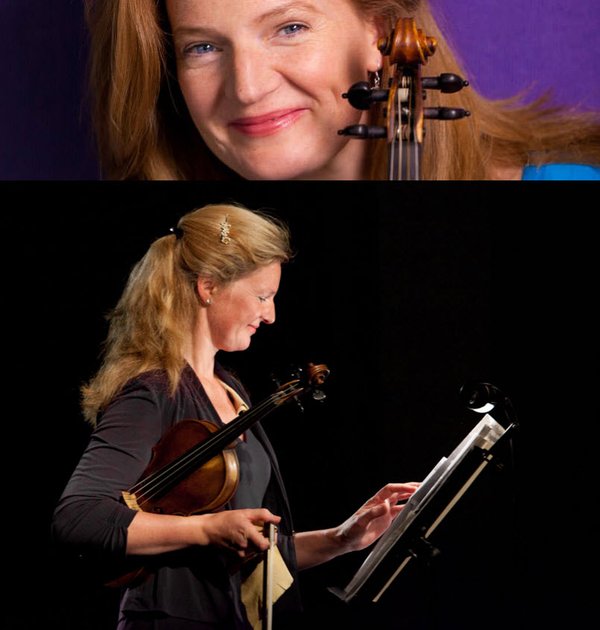 专辑曲目:
01. Biber - The Annunciation d minor 6:03
02. Biber - The Visitation a major 5:38
03. Biber - The Nativity b minor 7:35
04. Biber - The Presentation in the Temple d minor 8:19
05. Biber - The Finding in the Temple a major 7:24
06. Biber - The Agony in the Garden c minor 9:14
07. Biber - The Scourging f major 9:03
08. Biber - The Crowning with Thorns bb major 7:13
09. Biber - The Carrying of the Cross a minor 7:59
10. Biber - The Crucifixion g minor 9:15
11. Biber - The Resurrection g major 8:02
12. Biber - The Ascension c major 7:27
13. Biber - The Descent of the Holy Ghost d minor 8:16
14. Biber - The Assumption of the Blessed Virgin d major 10:30
15. Biber - The Coronation of the Blessed Virgin c major 12:25
16. Biber - Guardian Angel taken from ccs sa 35513 'Guardian Angel' 8:53
这里是其它用户补充的资源(我也要补充):
暂无补充资源