专辑英文名: Rock 'n' Roll Memories
专辑中文名: 摇滚年代
音乐风格: 摇滚
版本: [2 SACD-r]
发行时间: 2004年
简介: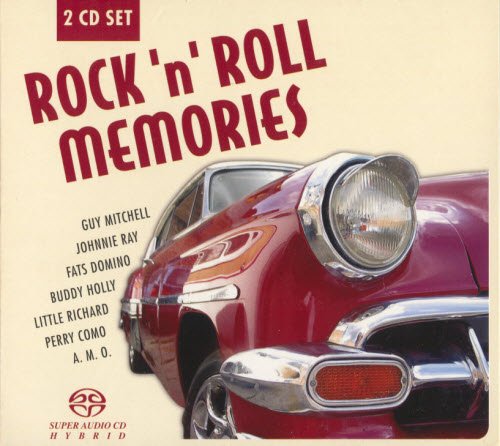 专辑介绍:

这光盘具有很好的歌,带回许多美好的回忆。事实上,这个盘,主要是为歌曲 "海派甜心"由Frankie and the Knockouts 主导,还真的很喜欢所有的这些歌曲,它是如此高兴听到所有这些,再来!我绝对推荐这个,如果你是从小70年代/80年代流行一起长大的。

This disc has very good songs and brings back many great memories. I actually got this disc, primarily for the song "Sweetheart" by Frankie and the Knockouts, but really enjoyed all of these songs, it was so great to hear them all, again! I definitely recommend this, if you grew up with 70's/80's pop/soft rock.


音乐类型: Rock
发行地: Germany
发行时间: 2004
厂牌: Membran Music Ltd.
唱片编码: 224180-308A 224180-308B
时长: 56:12, 57:33

How often does a certain piece of music revive memories of important events from times gone by? This double SACD - from the new series "Memories Are Made Of This" - has been put together for exactly this purposey to bring back those memories. Those amongst us who grew up during the 1950s, experiencing their very own storm and stress period, will certainly be familitif with the titles on these SACDs and quite capable of singing or whistling along - or just humming the tune.


引用
Label: Documents -
http://www.membran.net/
Serial: 224180 (2 discs)
Title: Rock 'n' Roll Memories
Description: "Rock 'n' Roll Memories"
Various Artists
Genre: Pop/Rock
Content: Stereo/Multichannel
Media: Hybrid
Recording type: Analogue
2 of 2 people found the following review helpful
Great release!
By Charlie on 12 April 2007
Format: Audio CD
Two top Rock 'n' Roll stars recorded 'live' on radio shows and concerts during famous British tour which ended in Eddie Cochran's death. This edition has high quality sound and booklet.Eddie was decade's ahead of time with his guitar playing and to hear his blues solos is real treat.Here you'll find a lot of great blues and rock classics. With superb guitar version of 'What I'd Say', Eddie introduced Ray Charles to first generation of british rockers. Gene Vincent does great version's of 'Summertime' and 'Be Bop A Lula' backed up by Marty Wilde's Wildcats.
专辑曲目:
Disc 1:

01. Diana – Paul Anka (Anka) 1957
02. Rock & Roll Music – Chuck Berry (Berry) 1957
03. At The Hop – Danny & The Juniors (Singer/Madara/White) 1957
04. Bo Diddley – Bo Diddley (McDaniel) 1955
05. I´m Walkin´ – Fats Domino (Domino/Bartholomew) 1957
06. Wake Up Little Susie – Everly Brothers (F.Bryant/B. Bryant) 1957
07. Rock Around The Clock – Bill Haley & His Comets (DeKnight/Freedman) 1955
08. Peggy Sue – Buddy Holly (Holly/Petty/Allison) 1957
09. Great Balls Of Fire – Jerry Lee Lewis (Blackwell/Hammer) 1957
10. Tutti Frutti – Little Richard (LaBostrie/Luby/Penniman) 1956
11. Stood Up – Ricky Nelson (Dickerson/Herrold) 1957
12. Hound Dog – Elvis Presley (Leiber/Stoller) 1956
13. Be Bop A Lula – Gene Vincent (Vincent/Davis) 1956
14. I Love You Baby – Paul Anka (Anka) 1957
15. De De Dinah – Frankie Avalon (Marcucci/DeAngelis) 1957
16. Roll Over Beethoven – Chuck Berry (Berry) 1956
17. Pretty Thing – Bo Diddley (McDaniel) 1956
18. Little Darlin´ – The Diamonds (Williams) 1957
19. The Big Beat – Fats Domino (Domino/Bartholomew) 1957
20. See You Later Alligator – Bill Haley & His Comets (Guidry) 1956
21. That´ll Be The Day – Buddy Holly & The Crickets (Holly/Petty) 1957
22. Hula Love – Buddy Knox (Knox) 1957
23. Jailhouse Rock – Elvis Presley (Leiber/Stoller) 1957
24. Rock The Bop – Brenda Lee (Tillis/Walker) 1956

Disc 2

01. Bye Bye Love – Everly Brothers (B. Bryant/F. Bryant) 1957
02. Razzle Dazzle – Bill Haley & His Comets (Calhoun) 1955
03. Party Doll – Buddy Knox (Bowen/Knox) 1957
04. Dynamite – Brenda Lee (Glazer/Garson) 1957
05. Whole Lotta Shakin´ Goin´ On – Jerry Lee Lewis (Williams) 1957
06. Long Tall Sally – Little Richard (Blackwell/Johnson/Penniman) 1956
07. Blue Suede Shoes – Carl Perkins (Perkins) 1956
08. All Shook Up – Elvis Presley (Blackwell/Presley) 1957
09. Yes, Tonight Joesphine – Johnnie Ray (Scott/Goodman) 1957
10. Ooby Dooby – Roy Orbison (Moore/Penner) 1956
11. Lotta Lovin´ – Gene Vincent (Bedwell) 1957
12. Reet Petite – Jackie Wilson (Gordy/Carlo) 1957
13. Be Bop Baby – Ricky Nelson (Lendhurst) 1957
14. Boppin´The Blues – Carl Perkins (Perkins) 1956
15. Lucille – Little Richard (Collins/Penniman) 1957
16. Oh Baby Doll – Chuck Berry (Berry) 1957
17. Diddley Daddy – Bo Diddley (McDaniel/Fuqua) 1955
18. Ma (He´s Making Eyes At Me) – The Johnny Otis Show (Conrad/Clare) 1957
19. When My Dreamboat Comes Home – Fats Domino 2:16 (Domino/Bartholomew) 1956
20. Not Fade Away – Buddy Holly & The Crickets (Hardin/Petty) 1957
21. Hot Dog! That Made Him Mad – Wanda Jackson (Barker/Raye) 1956
22. Teddy Bear – Elvis Presley (Mann/Lowe) 1957
23. Bouna Sera – Louis Prima (Sigman/de Rose) 1957
24. Oh Boy – Buddy Holly & The Crickets (West/Tilghman/Petty) 1957
这里是其它用户补充的资源(我也要补充):
暂无补充资源