专辑英文名: Le Grand Tango
专辑中文名: 皮亚座拉伟大探戈吉他音乐曲
版本: [SACD-r]
发行时间: 2004年05月11日
简介: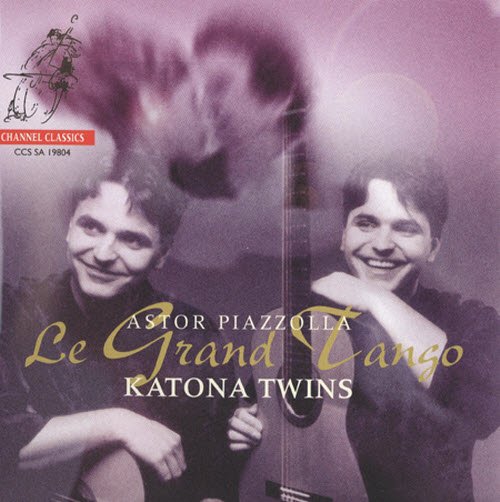 专辑说明:

提起探戈音乐,一般的人都以为是阿根庭国粹风行的社交舞,但最近却流行起"皮亚座拉"大师所创作的探戈曲风,连古典的小提琴大师都在拉奏,一时之间全球风行及爱听,可能是皮亚座拉的手风琴忽然畅销而动起来了,各国的音乐家们都向这种探戈音乐看齐了,本片是由世界第一流的双吉他演奏高手Peter Latpma & Zoltan Katona二位弹奏的双吉他们均出生於1968年,在就读於布达佩斯的巴托克大学习吉他,他们在1993年在法国夺得吉他国际大赛后就一帆风顺至今已连得九个国际大赛的大奖,博得全球吉他评论家的讚赏,而本片他们将以精湛的技巧加完美成熟的詮释名家皮亚座拉大师所创作的探戈曲风的精彩优美名曲,而这些曲目也是由这二位弹奏家所改编的音乐曲!

皮亚座拉伟大探戈吉他音乐曲 (SACD)
Le Grand Tango / Piazzolla / Katona Twins, Alfredo Marcuccui (SACD)
唱片公司:Channel Classics
音乐类型:古典音乐
唱片编号:CCSSA19804
进口专辑 / SACD / 1 片装


Performer: Daniel Storer, Katona Twins, Carducci Quartet
Composer: Astor Piazzolla
Audio CD (May 11, 2004)
SPARS Code: DDD
Number of Discs: 1
Format: Hybrid SACD - DSD, Import
Label: Channel Classics Nl
ASIN: B0001RBFKQ

Label: Channel Classics - http://www.channelclassics.com/
Serial: CCS SA 19804
Title: Piazzolla: Le Grand Tango - Katona Twins
Description: Astor Piazzolla: Le Grand Tango
Katona Twins
Track listing:
Genre: Classical - Instrumental
Content: Stereo/Multichannel
Media: Hybrid
Recording type: DSD


Release Date May 11, 2004
Duration55:00
Genre Classical International
Styles Chamber Music Tango South American Traditions
Recording DateJune, 2002

The Tango Suite and other pieces arranged by the Katona Twins

Astor Piazzolla wrote only one piece for two guitars. This SACD features his original guitar duet, the Tango Suite and other pieces arranged by the Katona Twins. A disc that will fascinate tango lovers, classical music enthusiasts and guitarists alike.

Peter & Zoltán Katona, guitars; Alfredo Marcucci, bandoneón; Carducci String Quartet, Daniel Storer, double-bass.


引用
ASTOR PIAZZOLLA
(1921 - 1992)

Astor Piazzolla was born in Argentina in 1921 and became one of the major classical composers of that country. He became so besotted by the music of the South American dance, The Tango, that he destroyed his early works and devoted his life to writing music with that rhythm as its basis. He has developed this art to the point where it is difficult to detect the dance in his complex and strictly classical music. Outside of the South American continent his music was little known until the past decade, when a renewed interest in the dance, mainly through major exposure in the cinema, has taken his works back into the concert hall. Though there are examples of the dance used in its most basic and popular form, Piazzolla has composed most of his music for small chamber groups or solo instruments. Most is written in a very contemporary 20th century style, usually calling for virtuosity of performance.




Piazzolla has become something of a celebrity composer in the past few years. Thirty years ago, I made it through two semesters of music history without hearing anything about him except for his name. This album has a good sampling of Piazzolla's small scale music, although ... only one piece on this disc was actually written for the forces that play it. If you like guitar, this will be an appealing arrangement. If you are after The Real Thing in Piazzolla, it may not.

The playing is clean. The sound is natural, to the point where it passes the LIAR test.** The recording serves the music very well. Most good hifis will produce satisfying sound when the instruments being reproduced are guitar, string quartet, and bandoneon, which is exactly what we have here. Channel Classics showed admirable restraint in keeping this recording within the bounds of good taste: you feel like you have a good seat in a small venue, not one with your left ear on the sound hole of one guitar, and your right ear on the other.

I played this album a couple of times a week when I first bought it; less so now. It is a good introduction to music from Piazzolla's part of the world in the mid-20th century. Piazzolla's music is less complex than Villa-Lobos, and more melodically memorable. In other words, much of this music is something that you find yourself able to sing along with.

At 55 minutes, the price is a little steep for the market niche served: a sampler of music by Piazzolla, arranged by the artists for performance with their chosen "two guitars, et al." format. On the other hand, because I have little acoustic guitar music in the piles, I am able to play something for guests who are curious, and who like guitar.

The best cuts are 4-6, which form the "Tango Suite for Two Guitars," and I like #7, which is "Tres Minutos con la Realidad."

** LIAR test: Coined by some audio magazine years ago, it is the Listening In Another Room test. In other words, if you hear the sound down a hallway do you feel the need to peek in the door to see if it is a live performance.

01. Fugata (03:03) for two guitars, string quartet and double-bass
02. Otono Porteno (04:49) for two guitars
03. Milonga en re (04:13) for two guitars and bandoneon
Tango suite for two guitars
04. Tango nr.1 Allegro (04:18)
05. Tango nr.2 Andante (03:36)
06. Tango nr.3 Allegro (05:54)
07. Tres Minutos con la Realidad (03:04) for two guitars, string quartet and double-bass
Homenaje a Lieja (1985)
Double concerto for two guitars, string quartet and double-bass
(original for bandoneon, guitar and string orchestra)
08. Introduction (03:25)
09. Milonga (05:49)
10. Tango (05:58)
11. Le Grand Tango (10:01) for two guitars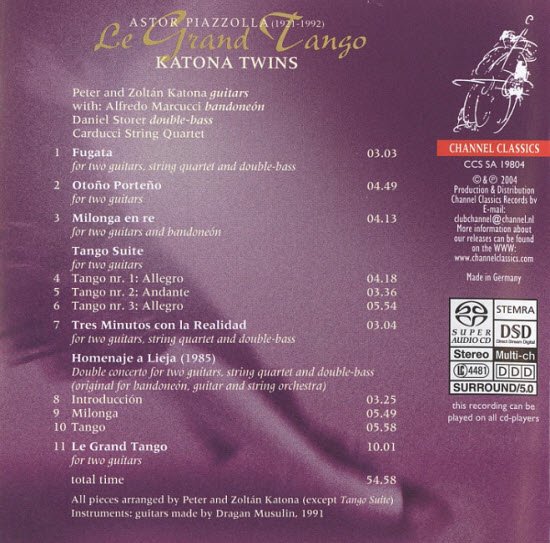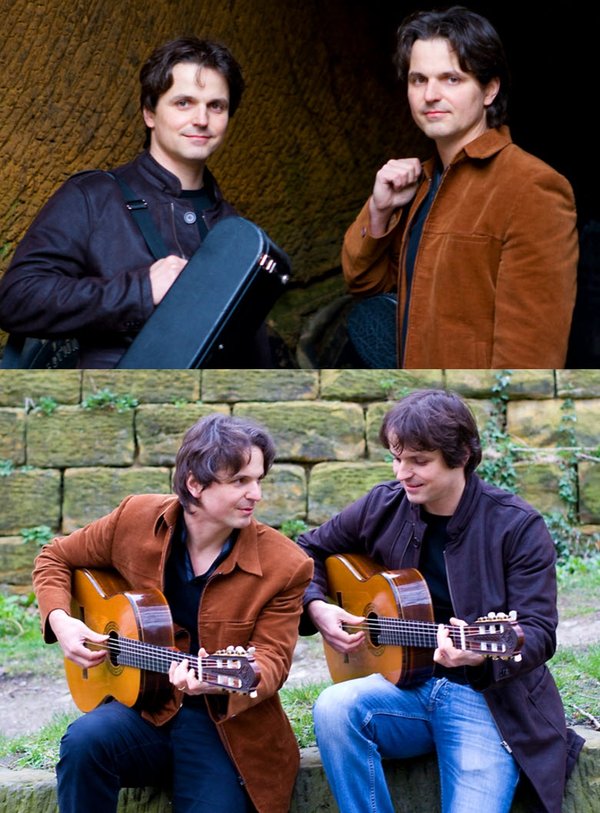 专辑曲目:
01. Piazzolla-Fugata 3:06
02. Piazzolla-Otono Porteno 4:56
03. Piazzolla-Milonga en re 4:17
04. Piazzolla-Tango Suite / Tango nr.1 4:25
05. Piazzolla-Tango Suite / Tango nr.2 3:38
06. Piazzolla-Tango Suite / Tango nr.3 5:57
07. Piazzolla-Tres Minutos con la Realidad 3:10
08. Piazzolla-Homenaje a Lieja / Introduccion 3:20
09. Piazzolla-Homenaje a Lieja / Milonga 5:54
10. Piazzolla-Homenaje a Lieja / Tango 6:03
11. Piazzolla-Le Grand Tango 10:02
这里是其它用户补充的资源(我也要补充):
暂无补充资源