专辑中文名: 五星主厨快餐车
专辑英文名: Chef
资源格式: FLAC
发行时间: 2014年09月12日
简介:


专辑说明:

*【钢铁人】导演执导,票房巨星小劳勃道尼,史嘉蕾乔韩森主演电影的原声带!
*已拿下全美原声带畅销专辑榜Top5,亚马逊美国网站电影原声带销售榜第2名!
*一场串联传统与现代拉丁音乐、纽奥良爵士乐,嘻哈音乐而成的听觉饗宴!

【钢铁人】导演强法夫洛深受电影【饮食男女】、【狂宴】啟发的编导演作品【五星主厨快餐车】,邀请明星好友—【钢铁人】票房巨星小劳勃道尼、【复仇者联盟】史嘉蕾乔韩森、奥斯卡影帝达斯汀霍夫曼,以及艾美奖喜剧影集【摩登家庭】性感女星苏菲亚薇格拉共襄盛举,剧情描述在料理创意上受挫的名厨在辞去洛杉磯首屈一指的餐厅大厨工作后,决定开设快餐车,他与好友及11岁儿子一起上路,造访纽奥良与奥斯汀等美食圣地,重新找回热情的故事。

快餐车所造访的每一个城镇都有其代表性的美食与音乐,而电影原声带的选曲则是完美呈现小镇人文风情与美食品味之间的听觉连结,强法夫洛表示:"细腻的食物画面配搭上具有吸引力的音乐色彩能让观眾流口水,毕竟,音乐是用来表达食物文化时最接近的选择,我们试著整合出一张足以突显故事与每一场戏的感情,同时又能反应出深受烹飪影响之感觉的集锦唱片,传统与现代的拉丁音乐,有趣的,充满铜管乐感觉的纽奥良爵士乐,这些都反应出我们这群旅客的旅游与烹飪体验,每一道食物都有一首音乐配搭。"

选曲的工作邀请在加州的圣塔摩尼卡学院校园电台KCRW主持音乐节目,同时也曾与灵魂乐传奇歌手Leon Ware与摇滚乐团The White Stripes合作过的法国DJ/制作人Mathieu Schreyer负责,Schreyer为迈阿密的戏挑选骚莎名曲「Que Se Sepa」、「Homenaje Al Beny」,为纽奥良的戏挑选铜管乐乐团韵味的「Bustin Loose」、「Sexual Healing」,为洛杉磯的戏挑选了嘻哈歌曲「C.R.E.A.M.」、「West Coast Poplock」。

原声带在制作上也融入厨师的原始食材与混搭酱料概念,像是选用了经常被嘻哈歌手混搭取样的歌曲,80年代纽约庞克摇滚乐团Liquid Liquid的「Cavern」(*Grandmaster + Melle Mel饶舌经典「White Lines (Don't Do It)」的取样原曲),放克乐团Ronnie Hudson And The Street People的「West Coast Poplock」(*2Pac & Dr. Dre畅销曲「California Love」的取样原曲),还有以纽奥良铜管乐风格翻唱节奏蓝调名曲「Bustin Loose」、「Sexual Healing」。此外,原声带中也有在拍片时以现场演唱方式录制的作品,包括:古巴老牌歌手Perico Hernandez在开拍第一场戏时演唱的骚莎名曲「Oye Como Va」,葛莱美奖蓝调歌手Gary Clark Jr.在电影於奥斯汀拍摄最后一场戏时演唱的蓝调名曲「When My Train Pulls In (Live In Austin)」。

原声带中的每一首歌曲不仅在电影中达到了原创音乐烘托情感的功能,更拥有一种让人在按了播放键之后,会想要一首接著一首听完整张,像是在听一张老黑胶唱片一样的听觉吸引力。附带一提,原声带的封面是採用小劳勃道尼为电影参加美国SXSW影展时所设计的电影海报图案。



原本在餐厅中担任主厨的男子,最后「沦」为快餐车的老闆,心态要如何调适?而他已经够失意了,不但离婚,失业,还在网路上出尽洋相,如果是你,你会怎么办?

电影原声带 / 五星主厨快餐车
O.S.T. / Chef
唱片公司:warner music
音乐类型:电影配乐
唱片编号:3299039956922
发行日期:2014年09月12日
进口专辑 / CD / 1 片装



Release Date May 19, 2014
Duration01:14:01
Genre Stage & Screen
Styles Soundtracks Salsa New Orleans Brass Bands Old-School Rap Contemporary Blues

AllMusic Review by Andy Kellman

Supervised by KCRW DJ Mathieu "Mr. French" Schreyer, the soundtrack to Jon Favreau's 2014 comedy Chef is an eclectic assortment of rhythmic music that spans several cultures and decades. Among the deeper, more vintage highlights are Liquid Liquid's "Cavern," Pete Rodriguez's "I Like It Like That," Roberto Roena's "Que Se Sepa," and Louis Ramirez's "Ali Baba." Several additional standouts are spirited modern covers, including El Michels Affair's "C.R.E.A.M." (Wu-Tang Clan), Rebirth Brass Band's "Bustin Loose" (Chuck Brown & the Soul Searchers), the Hot 8 Brass Band's "Sexual Healing" (Marvin Gaye), and Grant Phabao, the Lone Ranger, and Carlton Livingston's version of "A Message to You Rudy" (the Specials).


引用
Outstanding soundtrack for outstanding movie
By Paul Allaer TOP 500 REVIEWERVINE VOICE on May 25, 2014
Format: Audio CD
"Chef: Original Motion Picture Soundtrack" (17 tracks; 73 min.) brings the songs that are featured in Jon Favreau's excellent new movie called "Chef" (more on the movie later). As I very much enjoyed the music that is playing in the movie, and it even has a pivotal role in the movie, I made a mental note to myself to be sure to check out the soundtrack.

The songs featured in this collection plays pretty much in the same order as they appear in the movie. We start off with Pete Rodriguez's "I Like It Like That", and the positive vibes can immediately be felt. The movie has a strong Cuban (maybe I should say American-Cuban) element to it, so there are quite a few songs that either are influenced by that sound, or are outright performed in that style. Check out Roberto Roena's "Que Se Sepa", and later on Gente de Zona's "Homenaje Al Beny (Castellano Que Bueno Baila Usted)". But the very best of them come from Perico Hernandez, whose band we see perform several songs in the movie itself, including a delightful Cuban take on Santana's "Oye Como Va" and also "La Quimbumbia". The movie also goes to New Orleans, and so we get a couple of tracks influenced by that style of music, including a hilarious cover of Marvin Gaye's "Sexual Healing" by the Hot 8 Brass Band. When the movie goes to Austin for a few scenes, I was delighted to see that they had Gary Clark Jr. perform in the movie, and this is also included here ("When My Train Pulls In", the original studio version of which appears on his excellent album "Blak and Blu"). Bottom line, I couldn't be more pleased about this soundtrack. It's got everything that was in the movie, and in the right order. What more could you possibly ask for?

As to the movie itself, I had seen the trailer, but still am surprised how good it actually turned out. The first half of the movie is primarily focused on the "foodie" aspects, in particular the spats between the Jon Favreau character and his restaurant owner and a food critic, respectively, while the second half of the movie brings a tender look at the relationship with the Favreau character and his 10 year old son. One of the better movies I've seen this year.

Bottom line: "Chef", both the soundtrack and the movie, is HIGHLY RECOMMENDED!




Chef' Soundtrack Details
Posted: April 20, 2014 by filmmusicreporter in Film Music Albums
Tags: Chef, Jon Favreau, Lyle Workman, Soundtrack 25
chefMilan Records will release a soundtrack album for Jon Favreau's comedy Chef. The album features the songs from the film by artists including Pete Rodriguez, Courtney John, The Martinis, Liquid Liquid, Louie Ramirez, El Michels Affair and more . Also included is a cue by composer Lyle Workman (Superbad, The 40-Year Old Virgin) who wrote additional music for the film. The soundtrack will be released digitally on May 6, 2014 and is now available for pre-order on Amazon. A CD version will be released later in May and is available for pre-order here. Chef is written and directed by Favreau who also stars in the film alongside Sofia Vergara, John Leguizamo, Bobby Cannavale, Dustin Hoffman, Oliver Platt, Emjay Anthony, Scarlett Johansson and Robert Downey, Jr. The movie follows a chef who quits his job at a prominent Los Angeles restaurant after refusing to compromise his creative integrity for its controlling owner. The comedy premiered at this year's SXSW Film Festival and will be released in select theaters on May 9 by Open Road Films.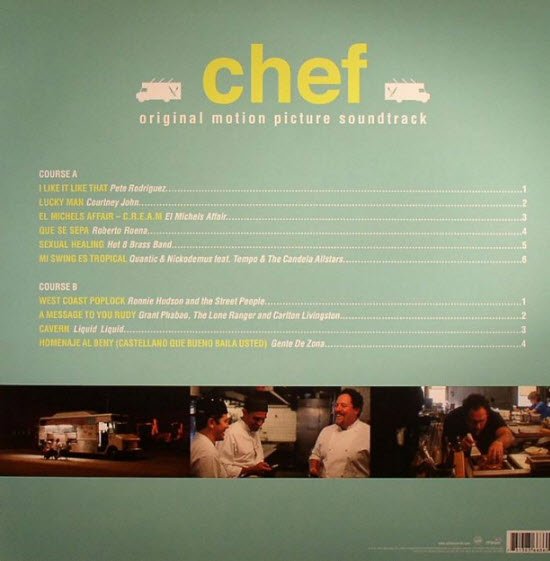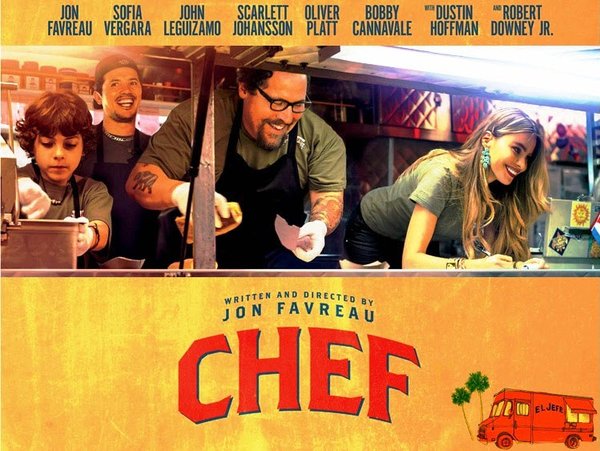 专辑曲目:
01. I Like It Like That – Pete Rodriguez
02. Lucky Man – Courtney John
03. A Message To You Rudy – Grant Phabao, The Lone Ranger and Carlton Livingston
04. Cavern – Liquid Liquid
05. C.R.E.A.M – El Michels Affair
06. Hung Over – The Martinis
07. Que Se Sepa – Roberto Roena
08. Ali Baba – Louie Ramirez
09. Homenaje Al Beny (Castellano Que Bueno Baila Usted) – Gente de Zona
10. Mi Swing Es Tropical – Quantic & Nickodemus feat. Tempo & The Candela Allstars
11. Bustin' Loose – Rebirth Brass Band
12. Sexual Healing – The Hot 8 Brass Band
13. When My Train Pulls In (Live in Austin) – Gary Clark Jr.
14. West Coast Poplock – Ronnie Hudson And The Street People
15. Oye Como Va (Live at el Jefe) – Perico Hernandez
16. La Quimbumbia (Live at el Jefe) – Perico Hernandez
17. One Second Every Day – Lyle Workman
这里是其它用户补充的资源(我也要补充):
暂无补充资源