专辑英文名: Bach Works for Trumpet
专辑中文名: 巴哈小号作品集
古典类型: 全集作品
资源格式: FLAC
版本: [24bits 44.1KHz]
发行时间: 2006年01月10日
简介: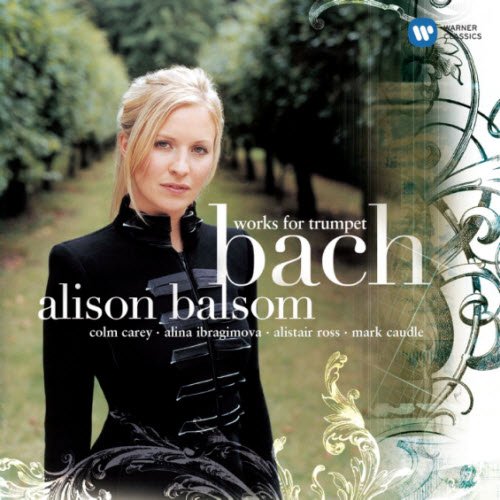 专辑介绍:

【Alison Balsom 艾莉森.鲍尔珊】【Bach: Works for Trumpet 巴哈小号作品集】


难得一见让人惊豔的古典音乐气质美女--艾莉森.鲍尔萨姆,更难得的是以一向非女性所擅长的小喇叭这项需要相当吹奏技巧的乐器来演奏巴哈的作品,曲目包括了D大调协奏曲、无伴奏大提琴组曲、A小调旋律变奏、C大调协奏曲等等。基本上,巴哈从来都不曾为小喇叭写过室内乐类型的乐曲,艾莉森鲍尔萨姆不仅将小喇叭吹奏得像是人声歌唱,也谨守巴哈室内乐的特色,在技巧与音色上都展现出让人一新耳目和其游刃有餘的功力。
艾莉森.鲍尔萨姆於2001年以第一等级的荣耀和首席奖毕业於巴黎音乐院,并曾跟随世界级的小号演奏家哈登伯格以及约翰瓦历斯学习。她在BBC逍遥音乐节首演之后,就受邀跟随许多知名乐团在欧洲巡迴演出。合作过的指挥家包括安德鲁戴维斯、罗杰诺林顿等人。

艾莉森.鲍尔萨姆现在是BBC( New Generation Artist)新一代艺术家之一,同时也和BBC管絃乐团一起演出和录音。世界的古典乐坛从此又多了一位外貌与演奏技巧并济的经典佳作,犹如她於2000年在巴黎的比赛中赢得「最美丽的声音」的封号一样,我们瞩目期待这位明日之星在乐坛大放异彩。

巴哈小号作品集 Bach: Works for Trumpet / 艾莉森鲍尔珊 Alison Balsom
唱片编号:0724355804723
唱片公司:华纳 WAR
发行日期:2013-01-18
商品单位:1CD

Concerto In D (After Vivaldi) BWV 972 D大调协奏曲,作品BWV972
01 Allegro 快板
02 Adagio 慢板
03 Allegro Assai 很快的快板

From Cello Suite No 2 BWV 1008 无伴奏大提琴组曲第二号,作品1008
04 Sarabande 萨拉邦德
05 Gigue 吉格舞曲

06 Aria Variata In A Minor (Italian Variations) BWV 989 A小调旋律变奏,作品989
07 Gigue From Violin Partita No 3 BWV 1006 第三号小提琴组曲,吉格舞曲,作品1006

Trio Sonata In C BWV 529 C大调三重奏奏鸣曲,作品529
08 Allegro 快板
09 Largo 最缓板
10 Allegro 快板

Concerto In C Minor (After Marcello) BWV 974 C小调协奏曲,作品974
11 Allegro 快板
12 Largo 最缓板
13 Presto 急板

14 Bist Du Bei Mir From The Anna Magdalena Notebook BWV 508 安娜玛格妲德莲娜乐曲集,作品508

Concerto In C BWV 1055 C大调协奏曲,作品1055
15 Allegro 快板
16 Larghetto 甚缓板
17 Allegro Ma Non Tanto 从容的快板

18 Badinerie From Orchestral Suite No 2 BWV 1067 第二号管絃乐组曲,舞曲,作品1067
19 Agnus Dei From Mass In B Minor BWV 232 B小调弥撒,羔羊经,作品232


引用
http://store.acousticsounds.com/d/103026/A...Download
Performer: Alistair Ross, Colm Carey, Alison Balsom
Composer: Johann Sebastian Bach
Audio CD (January 10, 2006)
Number of Discs: 1
Label: Warner Classics
ASIN: B000CNEO1G
Сomposer: Johann Sebastian Bach (1685-1750)
Artist: Alison Balsom
Title: Bach Works for Trumpet
Genre: Classical
Label: © Warner Classics
Release Date: 2005/2014
Quality: High-Fidelity FLAC Stereo 44,1kHz/24bit
Source: highresaudio.com
Duration: 1:11:28
The title Bach: Works for Trumpet is a little misleading: While Bach did compose glorious music for that instrument, everything here is a transcription. No matter. Bach himself was an avid transcriber, and these adaptations would surely draw smiles from the old Saxon -- not least because of the virtuosity of the soloist, Alison Balsom, who navigates music originally for keyboard, cello, violin, voice, and other sources with equal aplomb. Most daring, perhaps, are Balsom's unaccompanied selections: two movements from one of the cello suites, a Gigue from a violin partita, and the lively Badinerie from the Second Orchestral Suite. There's nothing to mask shortcomings in technique on these solitary tracks, yet Balsom never loses her stride in music that must pose an extra challenge on trumpet rather than on the nimbler flute, violin, or cello. Organist Colm Carey steps in to accompany three transcribed concertos (two of which are in turn Bach revisions of scores by Vivaldi and Marcello, adding to the complexity), while a small chamber group joins the trumpeter for a trio sonata and part of the Agnus Dei from the B Minor Mass. A harpsichord-accompanied Italian Variations and a version of the beautiful song 'Du bist bei mir,' with chamber organ and viola da gamba, complete the album's pleasingly diverse assortment of backup combinations. Balsom's playing is spirited and expressive, with a tone that swaps brassy glitz for a supple vocal quality. All in all, an impressive major-label debut that reveals a talent to keep an eye on.
"…as a showcase for this young artist's mesmerising virtuosity the disc does its job admirably, and presents some familiar and less familiar Bach in new guises at the same time. The supporting instrumentalists, especially organist Colm Carey, make a sterling contribution..." --BBC Music Magazine
"A disc of arrangements which is impressive on every level. Beautifully mellow playing contrasting with virtuosic moments." --Classic FM Magazine
Label: Warner Classics
Genre: Classical
Product No.: XWAR22896F44
Availability: In Stock
Category: FLAC 44kHz/24bit
Total download size: 677MB Total play length: 1:11:28
Cover art included, liner notes not included
Gramophone described her Bach album as "splendid stuff" and the pieces "showcase Balsom's phenomenal technique and gleaming expressiveness"
"… As a showcase for this young artist's mesmerising virtuosity the disc does its job admirably, and presents some familiar and less familiar Bach in new guises at the same time. The supporting instrumentalists, especially organist Colm Carey, make a sterling contribution..." BBC Music Magazine, February 2006
"A disc of arrangements which is impressive on every level. Beautifully mellow playing contrasting with virtuosic moments." Classic FM Magazine, March 2006
"Two transposed movements from BWV1008 and a mischievous solo take on the Badinerie (from BWV1067) showcase Balsom's phenomenal technique and gleaming expressiveness. Period-instrument practitioners Alina Ibragimova, Mark Caudle and Alastair Ross provide superb accompaniment in a charismatic version of the Trio Sonata. A surprisingly diverse range of textures and moods makes this disc a beguiling experience." Gramophone Magazine, May 2006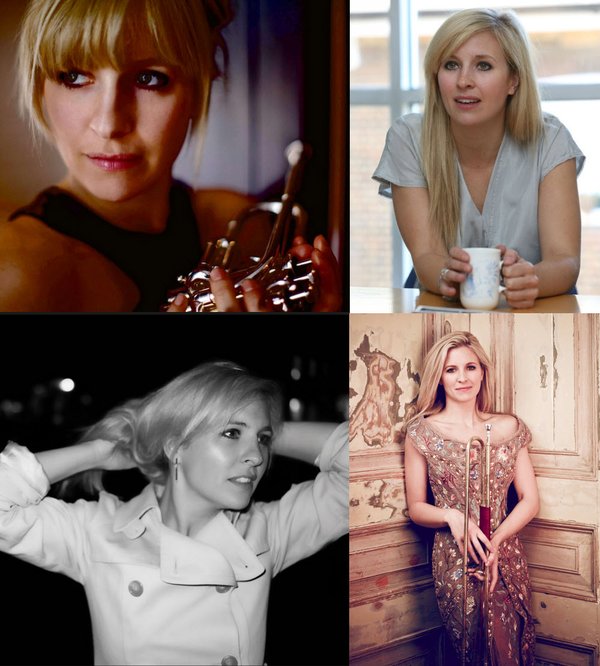 专辑曲目:
Johann Sebastian Bach (1685-1750)

Concerto in D Major, BWV 972
01. I. Allegro 02:04
02. II. Adagio 03:50
03. III. Allegro assai 02:10

Suite No. 2 in D minor, BWV 1008
04. IV. Sarabande 02:41
05. VII. Gigue 02:38
Aria Variata in A Minor (Italian Variations) BWV 989
06. Aria Variata in A Minor (Italian Variations) BWV 989 09:24

Partita No. 3 in E, BWV 1006: Gigue
07. Partita No. 3 in E, BWV 1006: Gigue 02:06

Trio Sonata in C Major, BWV 529
08. I. Allegro 04:55
09. II. Largo 05:16
10. III. Allegro 03:31

Concerto in C Minor (after Marcello) BWV 974
11. I. Allegro 03:13
12. II. Largo 03:41
13. III. Presto 03:12

Gottfried Stölzel, Johann Sebastian Bach
Klavierbüchlein für Anna...
14. II: Aria: Bist du bei mir, BWV 508 02:42

Colm Carey, Johann Sebastian Bach
Concerto in A Major, BWV 1055
15. I. Allegro 04:08
16. II. Larghetto 05:02
17. III. Allegro ma non tanto 04:24

Badinerie from Suite No. 2, BWV 1067
18. VII. Badinerie 01:31

Mass in B Minor, BWV 232
19. Mass in B Minor, BWV 232: Agnus Dei 04:60
这里是其它用户补充的资源(我也要补充):
暂无补充资源