专辑英文名: Pure... 60s
专辑中文名: 纯60金曲
音乐风格: 流行
资源格式: FLAC
版本: [4 CD]
发行时间: 2012年03月26日
简介: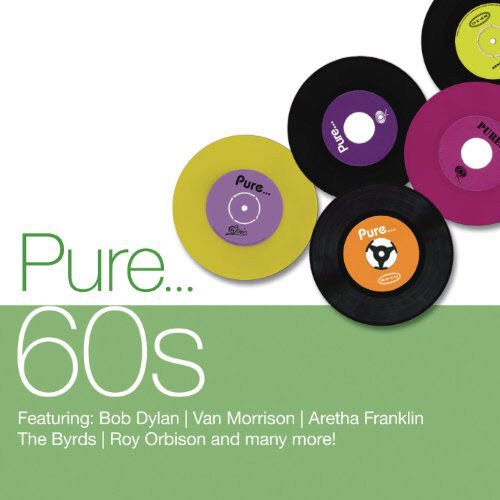 专辑介绍:

★摇滚年代最精采的作品,流行歌坛最好听的旋律..全在纯60金曲
★4CD一览无遗全面收录,旷世巨星齐声飆唱!!
★巴布狄伦、赛门与葛芬柯、珍妮丝贾普林、牛心船长、紫鲸乐团、山塔那、史莱与史东家族合唱团、伯兹合唱团、强尼卡许…

Sony Music 推出最新Pure…系列Pure…. 60s, 4CD收录共68首60年代经典歌曲.

产品名称: Pure... 60s (4CD)
歌手名称: 群星
推出日期: 2012-04-13
语言: 英语
光碟格式: 镭射唱片
其他资料: 4CD

商品条码 : 0886919464627
商品编号 : 88691946462
艺人/团体 : 选辑 V.A. - 查看所有专辑
专辑名称 : 纯60金曲 (进口4CD)
Pure…60s
音乐类型 : 西洋 [CD 合辑]
发行公司/日期 : SONY MUSIC 2012/10/12
制作公司 :
内含片数 : 4


引用

Artist: VA
Title Of Album: Pure... 60's
Year Of Release: March 23, 2012
Label: Sony
Genre: Pop
Total Time: 03:30:46

Audio CD (26 Mar. 2012)
Number of Discs: 1
Format: Box set
Label: Sony Music Cmg
ASIN: B006Z10BS4

AllMusic Review by Heather Phares

This generous four-disc set collects almost 70 original recordings of '60s hits, including songs by Bob Dylan, the Byrds, Elvis Presley, and Johnny Cash. Though the collection is undeniably comprehensive and eclectic, spanning early '60s songs like Bobby Vinton's "Blue Velvet" and Little Peggy March's "I Will Follow Him (Chariot)" and singles from later in the decade such as Harry Nilsson's "Everybody's Talkin'" and the Isley Brothers' "It's Your Thing," there's little rhyme or reason to the track list, and some of the juxtapositions make for a less-than-smooth listening experience. For listeners who don't mind hunting and pecking, the mix of big hits and unexpected tracks (a version of Dave Brubeck's "Take Five" with Carmen McRae on vocals; Captain Beefheart's "Yellow Brick Road"; the forays into country and early reggae) makes this more interesting than the average '60s comp.

专辑曲目:
CD 1:

01. I Want You - Bob Dylan
02. Brown Eyed Girl - Van Morrison
03. Oh Pretty Woman - Roy Orbison
04. Suspicious Minds - Elvis Presley
05. Be My Baby - The Ronettes
06. Mrs. Robinson - Simon & Garfunkel
07. Mr. Tambourine Man - The Byrds
08. Everybody's Talkin' (From "Midnight Cowboy") - Harry Nilsson & George Tipton
09. San Francisco (Be Sure to Wear Flowers In Your Hair) [Single Version] - Scott McKenzie
10. Cupid - Johnny Nash
11. One Love - Bob Marley & The Wailers
12. Light My Fire - José Feliciano
13. Groupie (Superstar) - Delaney & Bonnie
14. Wedding Bell Blues - Laura Nyro
15. Moon River - Henry Mancini and His Orchestra & Chorus
16. To Love Somebody - Nina Simone
17. Piece of My Heart - Erma Franklin

CD 2:

01. Ring of Fire - Johnny Cash
02. Can't Take My Eyes Off You - Andy Williams
03. Blue Velvet - Bobby Vinton
04. Move Over Darling - Doris Day
05. I Will Follow Him (Chariot) - Peggy March
06. Young Girl - Gary Puckett & The Union Gap
07. Everlasting Love - Love Affair
08. The Letter (Remastered) - The Box Tops
09. Kicks (feat. Mark Lindsay) - Paul Revere & The Raiders
10. Hang On Sloopy - The McCoys
11. Flowers On the Wall - The Statler Brothers
12. The Good, The Bad and the Ugly - Hugo Montenegro and His Orchestra and Chorus
13. The 'In' Crowd (Instrumental) - Ramsey Lewis
14. You've Made Me So Very Happy - Blood, Sweat & Tears
15. Didn't I (Blow Your Mind This Time) - The Delfonics
16. It's Your Thing - The Isley Brothers
17. Dance to the Music - Sly & The Family Stone

CD 3:

01. The Shoop Shoop Song - Aretha Franklin
02. Aquarius/Let the Sunshine In (The Flesh Failures) [from the American Tribal Love Rock Musical "Hair"] [Remastered] - The 5th Dimension
03. Breaking Up Is Hard to Do - Neil Sedaka
04. Donna the Prima Donna - Dion
05. I Left My Heart In San Francisco (Single Version) - Tony Bennett
06. The Theme from "a Summer Place" - Percy Faith
07. Midnight Special - Harry Belafonte
08. Take Five (Single Version) - Carmen McRae & The Dave Brubeck Quartet
09. I've Got You Under My Skin - Mel Tormé
10. The End of the World (Remastered) - Skeeter Davis
11. Stand By Your Man - Tammy Wynette
12. Dumb Blonde - Dolly Parton
13. Welcome to My World - Jim Reeves
14. What Will My Mary Say - Johnny Mathis
15. Bless You - Tony Orlando
16. (Today I Met) The Boy I'm Gonna Marry - Darlene Love
17. Stay (Remastered) - Maurice Williams & The Zodiacs

CD 4:

01. Somebody to Love (Stereo Version) - Jefferson Airplane
02. In the Year 2525 (Exordium & Terminus) - Zager & Evans
03. Get Together - The Youngbloods
04. Do You Believe In Magic - The Lovin' Spoonful
05. Green Tambourine - The Lemon Pipers
06. Hush - Billy Joe Royal
07. Summertime - Big Brother & The Holding Company & Janis Joplin
08. Yellow Brick Road - Captain Beefheart & His Magic Band
09. Changes - Moby Grape
10. Undun (Single Version) - The Guess Who
11. Mechanical World - Spirit
12. Be Careful With a Fool - Johnny Winter
13. Race With the Devil - The Gun
14. Rockin' Pneumonia and the Boogie Woogie Flu - Flamin' Groovies
15. Six Days On the Road - Taj Mahal
16. Village Dance - The Ravi Shankar Project
17. Evil Ways - Santana
这里是其它用户补充的资源(我也要补充):
暂无补充资源