专辑英文名: For All We Know
专辑中文名: 我思故我在
音乐风格: 爵士
资源格式: FLAC
发行时间: 2014年04月08日
简介: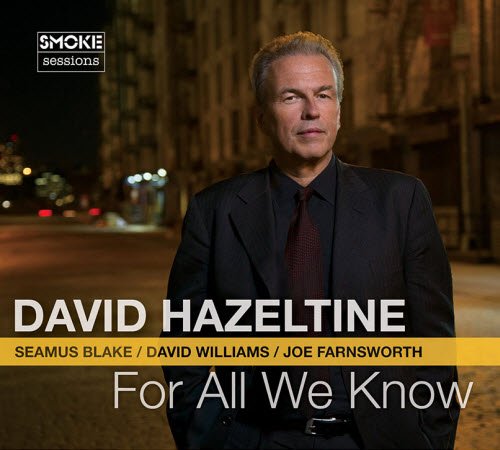 专辑介绍:

David Hazeltine/Piano

「David Hazeltine 毫无疑问是爵士钢琴界最耀眼的明星,他的演奏融会贯通传统与现代的爵士风格」

Cedar Walton David Hazeltine 承袭 Art Tatum、Bud Powell、Buddy Montgomery, Barry Harris 和Cedar Walton。

David 十三岁开始他的职业生涯,大卫为自己赢得「音家中的音家」称号。曾合作的对象包括Freddie Hubbard, James Moody等,并在Marlena Shaw,担任指挥、编曲者。

近期大卫是Marian cPartland广播节目 "Piano Jazz" 之中的焦点,同时也是男高音明星Eric Alexander团队 "One For All"之中一员。


Seamus Blake Biography 生平
http://www.seamusblake.com/biography

总部位于纽约的次中音萨克斯演奏家/作曲家Seamus Blake被公认为当代爵士乐最优秀的代表人物之一。他的音乐是著名的复杂性,大胆的即兴和"纯粹的招摇",约翰·斯科菲尔德,谁雇用西莫为他的"安静乐队",称他为"非凡,共萨克斯。"西莫布莱克最近的版本中,居住在斯莫(小商品直播2010),领头羊(十字交叉爵士2009年),住在意大利(爵士眼中的2009年),已经获取了相当的赞誉,他高超的演奏,他的精成分技能和他的工厂作为一个领导者,住在意大利获得4.5颗星悲观,形容为"一个拳头","年度精英专辑之一"和"为令人振奋的一个镜头咖啡的",这是许多顶级的年度名单。

New York based tenor saxophonist/composer SEAMUS BLAKE is recognized as one of the finest exponents of contemporary jazz. His music is known for its sophistication, bold improvisations and "sheer swagger". John Scofield, who hired Seamus for his "Quiet Band," called him "extraordinary, a total saxophonist." Seamus Blake's recent releases, Live at Smalls (Smalls Live 2010), Bellwether (Criss Cross Jazz 2009) and Live in Italy (Jazz Eyes 2009), have garnered considerable critical praise for his masterful playing, his fine compositional skills and for his facility as a leader. Live in Italy was awarded 4.5 stars in Downbeat. Described as "a knockout", "one of the elite albums of the year" and "as exhilarating as a shot of espresso", it is on many Top of the Year lists.


引用
Jazz pianist David Hazeltine was born and raised in Milwaukee, making his professional debut at age 13 and going on to gig extensively in Chicago and Minneapolis as well. Serving as the house pianist at the Milwaukee Jazz Gallery, he backed luminaries including Eddie Harris, Sonny Stitt and Chet Baker, the latter encouraging Hazeltine to further pursue his career by relocating to New York City; arriving there in 1992, he formed his own trio with drummer Louis Hayes and bassist Peter Washington, additionally serving as musical director for Marlena Shaw and playing with Slide Hampton's Jazz Masters Big Band as well as the Carnegie Hall Jazz Band. With tenor saxophonist Eric Alexander, Hazeltine also helmed the group One for All; as a headliner, he made his debut in 1995 with Four Flights Up, followed two years later by The Classic Trio. He resurfaced in 1998 with How It Is, issuing The World for Her the next year. Blues Quarters, Vol. 1 was released in August 2000.

Audio CD (April 8, 2014)
Number of Discs: 1
Label: Smoke Sessions Records
ASIN: B00JEVMTCS

David Hazeltine: For All We Know
David Hazeltine's CD For All We Know

David Hazeltine's musical mantra is a simple one: swing as much as humanly possible. That makes the pianist's new album, For All We Know, a great live date.

Captured live at the Smoke jazz club on New York's Upper West Side, the album pairs the pianist with saxophonist Seamus Blake for the first time, along with longtime friends and collaborators David Williams on bass and drummer Joe Farnsworth.

Hazeltine is steeped in a musical sense memory which began in his teenage years, when he wa house pianist at the Jazz Gallery in Milwaukee, working with the likes of Sonny Stitt, Eddie Harris and Chet Baker.

Since coming to New York a little over two decades ago, David has been a featured player with Louis Hayes, Ernestine Anderson, Jon Faddis and Marlena Shaw.

Hazeltine now has over 25 recordings as leader, and has recorded tributes along the way to Bill Evans, Horace Silver and Bud Powell, and he is a proud member of the collective One For All.

"Et Cedra," the album's opener, is a nod to legendary pianist Cedar Walton, and contains what David calls "a few Waltonian ideas". Walton's enormous influence on music is apparent throughout.

"My Ship" is also a Cedarized standard, with Blake's sax work providing a new look for this outfit.

"Pooh" and "Lord Walton," two more originals from the leader, continue the celebration and tribute.

David wrote "Eddie Harris" in the back of a car traveling to a record date for One For All.

David's choice here to include the Charlie Parker tune "Cheryl" was inspired from the first time he heard the tune, from Cedar Walton's great live album Live At Boomer's.

There's a nice feel on "Imagination," which Dave cites as a favorite, having played it many nights with Marlena Shaw.

The use of the title track has special relevance for the pianist, as he relates to Cedar's sudden passing.

For All We Know comes out April 8. For all we know, the musical comraderie heard here promises to bring much more worth knowing from this foursome.

- Gary Walker, WBGO music director

The audio for this Radar is no longer available. Visit iTunes or Amazon to preview and purchase.



David Hazeltine é conhecido por sua sofisticação harmônica e pianismo elegante, traços que também eram características de jogo de Cedar Walton. Quando Hazeltine inicialmente estabelecido fazer o que se tornaria seu Sessões de fumaça de lançamento, pelo que sabemos, fazer um disco tributo era a coisa mais distante de sua mente e deve ser salientado que, pelo que sabemos não é, definitivamente, um registro tributo. No entanto, é difícil ignorar a importância do legado de Cedar Walton a ele. Hazeltine é um dos herdeiros importantes para a tradição do piano de Walton, por isso é natural que a sua gratidão e afeto seria temas dominantes nesta gravação. É também um registro especial porque documenta o que é essencialmente a primeira colaboração entre Hazeltine e saxofonista tenor Seamus Blake. Foi uma parceria que ambos apreciamos imensamente e que funcionou muito bem com o resto do quarteto, o baixista David "Happy" Williams eo baterista Joe Farnsworth. O álbum abre com um dos originais inventivas do Hazeltine, "Et Cedra", que é também aquele que foi abertamente escrito com Walton em mente. Em sua torce melódicas e mais voltas e é harmonias sutis ainda inesperados, é rapidamente aparente porque Hazeltine tem um forte apoio tal. Outros destaques incluem Kurt Weill "My Ship" e turbulento "Eddie Harris" do Hazeltine que dá Blake a oportunidade de pagar alguns aspectos de sua autoria, desta vez para o mestre saxofone descolados. Quando For All We Know conclui com "AD Bossa," a realização em conjuntos que, apesar de jazz perdeu alguns de seus maiores talentos, há uma outra geração que é dedicado a manter a forma de arte vital e vivo.

Pianist David Hazeltine, a musician's musician known for his harmonic sophistication and elegant pianism, delivers a thoroughly beautiful recording with his latest For All We Know. His rich sound and comping is often reminiscent of the late, great Cedar Walton and Hazeltine honors the piano master with several original compositions including "Et Cedra," "Lord Walton," and "Pooh," as well as Kurt Weill's "My Ship." For All We Know also captures the first meeting between tenor saxophone sensation Seamus Blake and Hazeltine.

It is abundantly clear on tracks like Charlie Parker's "Cheryl" and Hazeltine's "Eddie Harris," that this collaboration is one worth returning to again and again. For All We Knowis available for purchase as a 8-panel CD-Deluxe Album complete with liner notes, interview and additional photos or as a high resolution download mastered for iTunes.

David Hazeltine: piano
Seamus Blake: tenor sax
David Williams: bass
Joe Farnsworth: drums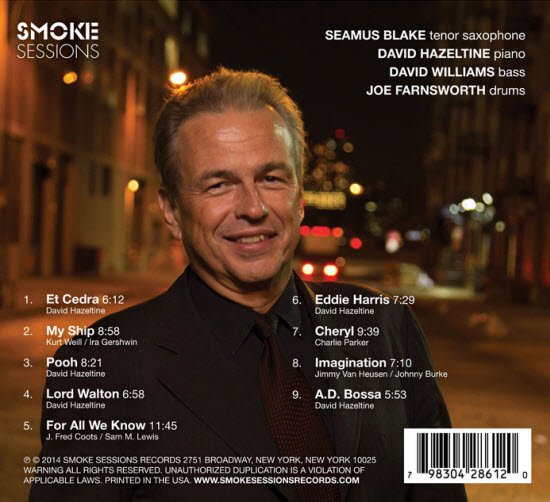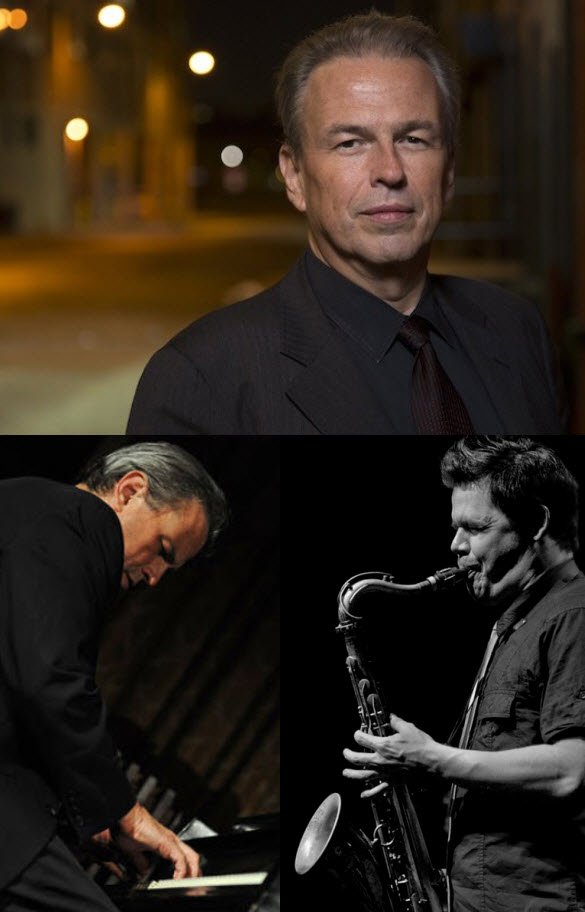 专辑曲目:
1. Et Cedra 6:12
2. My Ship 8:58
3. Pooh 8:21
4. Lord Walton 6:58
5. For All We Know 11:45
6. Eddie Harris 7:29
7. Cheryl 9:39
8. Imagination 7:10
9. A.D. Bossa 5:53
这里是其它用户补充的资源(我也要补充):
暂无补充资源