专辑英文名: My favorite Dowland
专辑中文名: 我最喜欢的约翰道兰
古典类型: 全集作品
资源格式: FLAC
发行时间: 2014年05月05日
简介: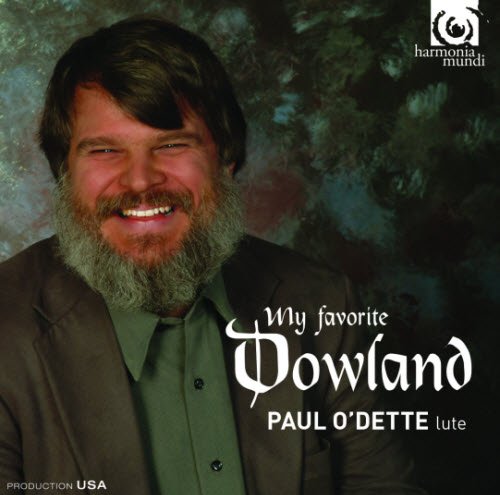 专辑介绍:

美国著名鲁特琴演奏家保罗奥戴特在20年前为Harmonia Mundi录制《约翰道兰鲁特琴作品全集》,在这之后,保罗奥戴特不时反覆思索这位作曲家音乐的精髓所在,现在,保罗奥戴特以他这几年获得的领悟,重新詮释约翰道兰23首经典作品。道兰在世时,曾反覆修订自己的作品,因此同一作品留下多种曲谱版本。身兼演奏家与音乐学者身分的保罗奥戴特,仔细推敲何种版本最接近作曲家原意,因此奥戴特决定採用道兰亲自编修的《Varietie of Lute Lessons》作为演奏依据。为了展现道兰音乐深沈内省的音乐特制,奥戴特特别使用体积较大的八弦组鲁特琴,并採用A=392的定调,以低沉的音色展现道兰音乐贴近灵魂深处的特质。

出生於美国哥伦布市的奥戴特,原本在摇滚演奏电吉他的他,因为一次与鲁特琴音乐的邂逅,便爱上了这个古老的乐器,前往古乐的重镇──瑞士巴赛尔古乐学院修习鲁特琴。他的《约翰道兰鲁特琴作品全集》多次获得法国金叉奖的肯定,让他成为詮释约翰道兰音乐最具代表性的演奏家。这次录制的新专辑,更是融合奥戴特对约翰道兰的喜爱以及长时间淬鍊下的体悟结晶,相信将为您带来更为扣人心弦的演奏!

专辑编号: HMU907515
专辑类型: 单CD
发行年份: 2014
国际条码: 0093046751524
音乐家:Paul O'Dette, lute 保罗.奥戴特, 鲁特琴
音乐厂牌: Harmonia Mundi
库存状态: 有库存

商品条码 : 0093046751524
商品编号 : HMU907515
演奏者 : 保罗奥戴特 Paul O`Dette - 查看所有专辑
指挥家 :
乐团 :
作曲家 :
专辑名称 : 我最喜欢的约翰道兰
My favorite Dowland
音乐类型 : 古典音乐 [CD ]
发行公司/日期 : 上扬 2014/5/13
制作公司 :
内含片数 : 1


产品条码: 0093046751524
产品编号: HMU907515
发行公司: HARMONIA MUNDI [发行商品]
发行日期: 2014年01月01日
产品制造地: 欧美 .
发行类型: 吉他 . 室内乐 . 古典 . CD .
内装片数: 1片


引用
Release Date May 5, 2014
Duration 01:15:09
Genre Classical
Styles Chamber Music
Recording Date January, 2012

Performer: Paul O'Dette
Conductor: None
Composer: John Dowland
Audio CD (May 13, 2014)
Number of Discs: 1
Format: Import
Label: Harmonia Mundi
ASIN: B00H287O7K

AllMusic Review by Blair Sanderson [-]

One of the world's foremost lutenists, Paul O'Dette is a leading authority on the music of John Dowland, the Elizabethan lute composer par excellence, and this album of favorites, freshly recorded for Harmonia Mundi, is a great introduction for newcomers. Many of the selections are popular and frequently recorded, such as the poignant Lachrimae (which Dowland based on his song, Flow, my tears), and his signature work, Semper Dowland, semper dolens. But O'Dette's album is less a greatest-hits compilation and more of a personal selection of pieces that have had special meaning to him. O'Dette has played Dowland over four decades, and he recorded the complete works for lute in the 1990s for Harmonia Mundi, so his relationship with the music has been long and fruitful. This CD is a reflection on the pieces he has most enjoyed playing and range from the melancholy plaints that were Dowland's stock in trade, to mirthful dances and insightful portraits. Some charming pieces to sample include My Lady Hunnsdon's Puffe (track 1), A Coye Joye (track 15), and The most sacred Queene Elizabeth, her Galliard (track 22), which show the brighter side of the famously gloomy Dowland.



CD My favorite Dowland Paul O'Dette
Paul O'Dette's newly recorded personal selection of favorite pieces from the pinnacle of lute repertoire by "the Liszt of the lute.""... maketh a man to be wholly Musiques …" – Thomas Lodge on John Dowland, A Learned Summary (1621)




MY FAVORITE DOWLAND • Paul O'Dette (lt) • HARMONIA MUNDI 907515 (75:23)

This is a curious choice for a new album by Paul O'Dette for Harmonia Mundi. Not because there's anything unusual about recording more Dowland, whose status as the most popular of lute composers remains unassailed. Rather, I'm surprised the company hasn't chosen to rerelease from its vaults the "complete" Dowland for lute that O'Dette recorded for them two decades ago. It was issued at the time on five discs, and is currently available through U.S. distributors as a Read more

It's not an unwelcome one, in any case. O'Dette is an excellent musician, with a command of both the technique and style to bring this kind of thing off easily. His knowledge of the repertoire is extensive (see above). Rather than exactly repeat himself, he's decided to select a tuning of A=392, on a larger lute than he usually applies to Dowland, giving the darker works a greater gravitas. The famed Lachrimae is two whole tones higher on the deleted second volume of his series (Harmonia Mundi 907161); My Lady Hunnsdon's Puffe and Walsingham (Harmonia Mundi 907162), a whole tone higher. On the whole, I prefer the earlier versions in the lighter material, such as The Right Honourable the Lady Cliftons Spirit , where the higher pitch, and stronger accenting, give the work greater energy. The heavier, more melancholy works, though, benefit from the darker coloration.

O'Dette has decided to use later versions in all 23 cuts here, including many from the 1610 Varietie of Lute Lessons issued by the composer's son Robert, and over which Dowland himself had supervision. Which isn't to say that these versions are any more authoritative than other performing versions, including O'Dette's; for in an age where the score was the spirit of the law, rather than the letter, a tastefully realized performance was the goal, however much it varied according to performer, instrument, and audience. There's literal evidence of this in his direct juxtaposition of Lachrimae, and Galliard to Lachrimae.

This is one of the best-sounding releases by O'Dette in a while. It has the closeness and lightly reverberant acoustic to bring out the full tone of his instrument that were part of his earlier Dowland series as well. Each note remains distinct, however, throwing the spotlight on the lutenist's clean, even production and fine phrasing.

Top marks, then, and worthwhile even if Harmonia Mundi does decide to reissue all five volumes of O'Dette's fine set.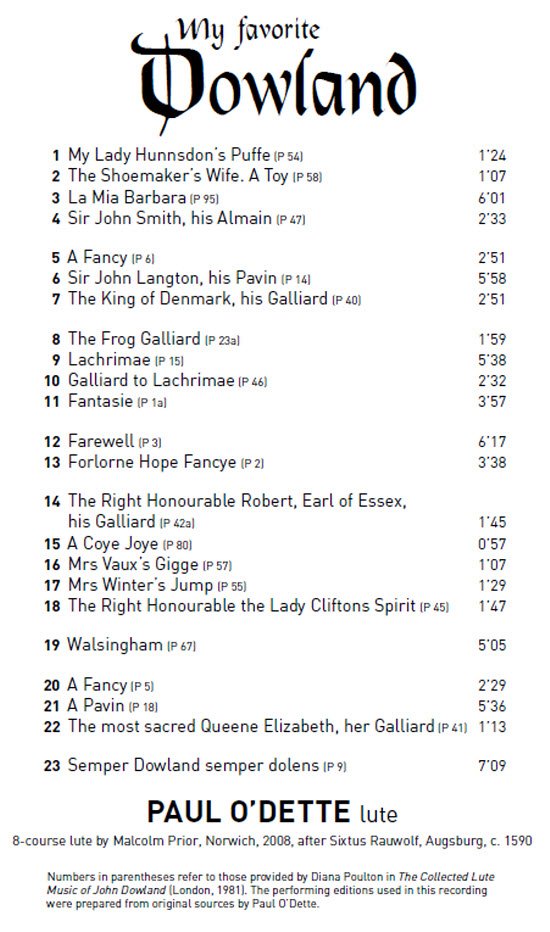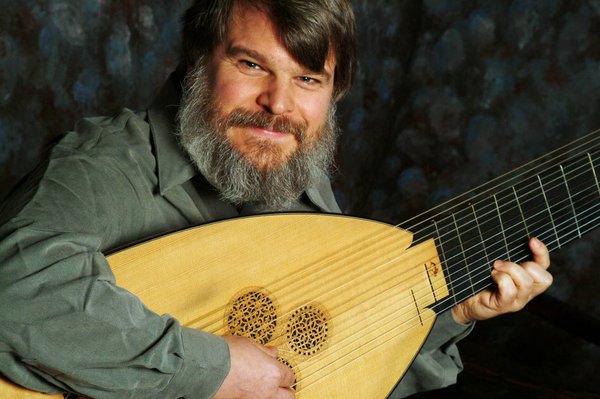 专辑曲目:
01. My Lady Hunnsdon's Puffe (P54)
02. The Shoemaker's Wife. A Toy (P58)
03. La Mia Barbara (P95)
04. Sir John Smith, His Almain (P47)
05. A Fancy (P6)
06. Sir John Langton, His Pavin (P14)
07. The King of Denmark, His Galliard (P40)
08. Frog Galliard
09. Lachrimae (P15)
10. Galliard to Lachrimae (P46)
11. Fantasie (P1a)
12. Farewell (P3)
13. Forlorne Hope Fancye (P2)
14. The Right Honourable Robert, Earl of Essex, His Galliard (P42a)
15. A Coye Joye (P80)
16. Mrs Vaux's Gigge (P57)
17. Mrs Winter's Jump (P55)
18. The Right Honourable the Lady Cliftons Spirit (P45)
19. Walsingham (P67)
20. A Fancy (P5)
21. A Pavin (P18)
22. The Most Sacred Queene Elizabeth, Her Galliard (P41)
23. Semper Dowland Semper Dolens (P9)
这里是其它用户补充的资源(我也要补充):
暂无补充资源