专辑英文名: Renaissance
专辑中文名: 文艺复兴
音乐风格: 爵士
资源格式: FLAC
发行时间: 2012年08月07日
简介:


专辑介绍:

■ 全球乐迷引颈期盼5年的个人全新专辑 席捲音乐革命的文艺复兴潮流
■ 贝斯之神、葛莱美奖最佳现代爵士天王与特别来宾:客席 萨克斯风手Alex Han、客席吉他手Raul Midon联合演出

马克思‧米勒是继Jaco Pastorius、Charles Mingus之后世人公认最佳贝斯手之一。他曾获得多项殊荣,1995年获BassPlayer杂誌票选最佳贝斯手及90年代最具影响力人物。1959年出生於纽约的天才级乐手,小时候从父亲那里获得音乐启蒙,他曾为Luther Vandross、David Sanborn、Miles Davis等巨星编曲、写曲以及制作专辑,乐风横跨爵士、节奏蓝调、放克到摇滚,无一不精纯熟练,擅长内心情感的抒发和表达,尤其Slap技巧可说是出神入化,在此张专辑里也展现马克思的姆指敲弦快速奇技。

人称贝斯之神的马克思‧米勒,除了贝斯,另高度精通键盘乐器、单簧管,乐迷们可在现场演出实况看到他这方面的音乐才华,也不愧他纵横整个乐坛三十餘载。1983年发行专辑至今,张张创造佳绩,此张专辑《文艺复兴》顾名思义他想要做出一番音乐的革命,不只是带给乐迷过去一惯的音乐风格,透过这里传达音乐纯粹本质和精神,并不会因为音乐潮流的交替而消逝,马克思米勒知道他会一直带领著大家向前迈进;专辑中邀请葛莱美萨克斯风乐手Alex Han联演,有著绝佳默契的俩人,正要掀起一股音乐文艺复兴的颶风。

马克思米勒/MARCUS MILLER [所有作品]
产品条码: 4988002617272
产品编号: MVP61665
发行公司: 马雅 [发行商品]
发行日期: 2012年06月15日
产品制造地: 台湾 .
发行类型: 流行 . CD . 英文 .
内装片数: 1片

Renaissance (文艺复兴)
歌曲数:14 首
艺人 Marcus Miller (马克斯 米勒)
类型 演奏音乐
发行月份 2012-Jun


引用
Release Date May 28, 2012
Duration 01:12:29
Genre Jazz R&B
Styles Contemporary Jazz Electric Jazz Funk Crossover Jazz Jazz-Funk Post-Bop


Audio CD (August 7, 2012)
Number of Discs: 1
Label: Concord Jazz
ASIN: B008BGNKIO



By JOHN KELMAN,
Published: December 4, 2012 | 14,294 views
View related photos


Marcus Miller: Renaissance
Some things change, other things stay the same. Marcus Miller—producer and performer with everyone from soul singer Luther Vandross and pianist Herbie Hancock to guitarist George Benson and Miles Davis, composing and producing the trumpeter's late period classic Tutu (Warner Bros., 1986)—has been releasing solo albums since 1983, but it was with The Sun Don't Lie (PRA, 1993) and Tales (PRA, 1994) that the bassist/bass clarinetist established a modus operandi that has served him well in the ensuing decades. Renaissance fits comfortably within Miller's overall discography, with plenty of the cornerstones upon which he's built his audience, but there are some differences as well...and, in this case, that's a very good thing.

As undeniably talented a player as he is—hundreds, if not thousands of recording sessions as a sideman can't be wrong—Miller's penchant for making overly bass-heavy albums has, to some extent, begun to render his own records a little too predictable. Still, his records are always profoundly deep in the groove department, with Miller quite possibly the funkiest bassist to emerge from the Stanley Clarke and Jaco Pastorius camps of the 1970s. There's still plenty of groove on Renaissance, and still plenty of room for Miller's irrepressible virtuosity, but the writing is broader, the arrangements more instrumentally balanced and, even though there are a few guests, he's largely working with a stable core group that includes keyboardist Federico Gonzales Peña and saxophonist Alex Han, both of whom appeared on Miller's recent A Night In Monte Carlo and the also-live Tutu Revisited, both released in 2011 on the Dreyfus imprint.

Guitarist Adam Rogers, appearing on half the album, and singer Gretchen Parlato, who contributes wordless vocals alongside Ruben Blades on the lovely Brazilian-informed ballad "Setembro (Brazilian Wedding Song)"—one of six covers that also includes an impressive and moving a cappella closer by Miller, the Jackson Five hit, "I'll Be There," paying tribute to the late Michael Jackson—are surprise participants, but suggest that Miller's far more attuned to what's going beyond his usual circles than might be expected. And that's also a very good thing.

It's a more diverse program than usual that, amongst its seven Miller originals, includes the dark ballad, "Gorée (Go-ray)," a gorgeous feature for his bass clarinet work that kicks into double time for a more dramatic climax, and "Cee-Tee-Eye," Miller's visceral tribute to producer Creed Taylor's influential CTI label of the 1960s and '70s. Elsewhere, a lengthy look at WAR's hit, "Slippin' Into Darkness" is equally booty-shaking, with strong solos from guest pianist Kris Bowers and Cleveland trumpeter Sean Jones (one of the set's most impressive) before opening up for one of Miller's staggering, lightning fast but always in-the-pocket features.

For those who've always appreciated Miller's multifaceted talents but have grown a little tired of the sameness of his recent solo recordings, Renaissance is a refreshing reminder that he's as good a writer, a bassist and a producer as ever and, in a career now in its fourth decade and with a little better balance across the board, is still capable of making compelling music that's as good as—or, in this case, even better than—either of those seminal mid-'90s PRA dates.

Track Listing: Detroit; Redemption; February; Slippin' Into Darkness; Setembro (Brazlian Wedding Song); Interlude: Nocturnal Mist; Revelation; Mr. Clean; Goréee (Go-ray); CEE-TEE-EYE; Tightrope; I'll Be There.

Personnel: Marcus Miller: bass, fretless bass (5), bass clarinet (5, 10), acoustic bass (5); Louis Cato: drums, djembé (3), conga (11); Kris Bowers: piano (1, 4, 12), Fender Rhodes (1, 11); Adam Agati: guitar (1, 7, 8, 11, 12); Alex Han: alto saxophone (1-12); Maurice Brown: trumpet (1, 3, 11), muted trumpet (4); Federico Gonzales Peña: Fender Rhodes (2, 5, 9), piano (2, 3, 5-8, 10); Adam Rogers: guitar (1, 4, 6, 9), acoustic guitar (2, 10); Sean Jones: trumpet (2, 4, 6, 9); Gretchen Parlato: vocals (5); Ruben Blades: vocals (5); Ramon Yslas: percussion (4, 5, 7, 8); Bobby Sparks: organ (4, 6, 9), clavinet (9); Paul Jackson, Jr.: guitar (11); Dr. John: vocals (12).

Record Label: Concord Music Group

Style: Funk/Groove




AllMusic Review by Thom Jurek [-]

Marcus Miller's career as a sideman, composer, and producer in jazz, R&B, and pop has been prolific. He's continuously pushed boundaries in order to blur and integrate genres. Renaissance is his first studio recording in five years (Free was released in 2007 in Europe and Japan, then re-released in the United States as Marcus in 2008). Renaissance's title reflects the idea that music needs a rebirth to keep up with the creative possibilities afforded by technology, and to reflect the ever-shifting, politically charged cultural landscape. The manner in which he posits this is anything but theoretical, however. Renaissance may be the most emotive offering in Miller's catalog. Groove and firepower are near constants here. Jazz-funk, R&B, rock, post-bop, club-jazz, and more come together in a wide-ranging collection that is deeply focused and expertly sequenced. Using a revolving cast whose core is alto saxophonist Alex Han, guitarist Adam Agati, and keyboardist Federico Gonzalez Peña, guests include trumpeters Maurice Brown and Sean Jones, organist Bobby Sparks, and more. Things get off to a skittering start on "Detroit," with Miller's bass riding heard over a knotty jazz-funk groove. Louis Cato's drums accent breaks in key sections, the souled-out horns highlight the choruses, and Agati's guitar nastily accents it all while Han's alto solo is a monster. The cover of "Slipping Into Darkness" melds Kris Bowers' piano and Sparks' organ with hand percussion, both trumpets, and Miller's funky reggae groove. The melody accents syncopation on the backbeat before weaving Bob Marley's and Peter Tosh's "Get Up, Stand Up" in as a logical yet surprising extension. Bowers' knotty piano solo illustrates the wide possibilities for jazz improvisation. "Jekyll & Hyde" combines alternate passages of elegant, soulful contemporary jazz with riff-driven rock as Agati and Miller complement and push one another. "Revelation" is a rumbling modal jam with funky highlights and fine soloing by Han. "Gorée (Go-ray)," with Miller on bass clarinet, is a lilting, post-bop ballad with lovely melodic interplay; it was inspired by his visit to the House of Slaves on Gorée Island, his feelings standing inside and reflecting on the horror of the slave experience. It's emotional quality contains numerous dimensions. It is a meditation on how the ends of the lives of these slaves as they knew them also birthed of the African-American experience, one of continued struggle that culturally evolved and transfromed into diverse musical forms that bore witness to tragedy but also triumph as the art created from this history has brought joy and meaning to individuals and societies across globe. Its tenderness and equanimity tells the whole story. "Cee-Tee-Eye," while a thoroughly contemporary jazz tune, pays excellent tribute to the inspiration of Creed Taylor's label. The set closer, a simple reading of "I'll Be There," showcases the bassist's gift for lyricism and understatement. Renaissance is a lofty title, but the inspired performances Miller puts on offer get very close to delivering on the ambition it promises.

Band Members:
Marcus Miller - bass, fretless bass, bass clarinet, acoustic bass
Louis Cato - drums
Kris Bowers - piano, fender rhodes
Adam Agati - guitar
Alex Han - alto sax
Maurice Brown - trumpet
Federico Gonzales Pena - fender rhodes, piano
Adam Rogers - guitar, acoustic guitar
Sean Jones - trumpet
Gretchen Parlato - vocals
Ruben Blades - vocals
Ramon Yslas - percussion
Bobby Sparks - organ
Paul Jackson, Jr. - guitar
Dr. John - vocals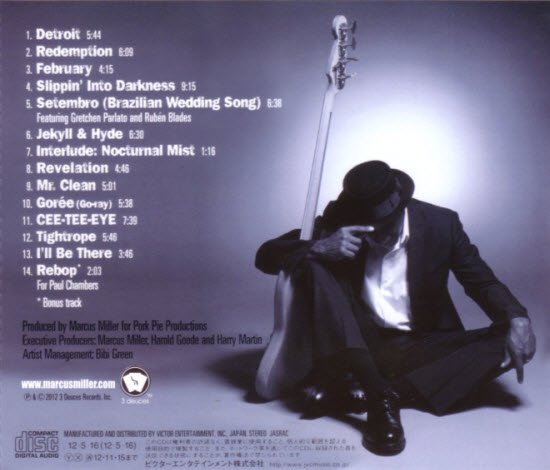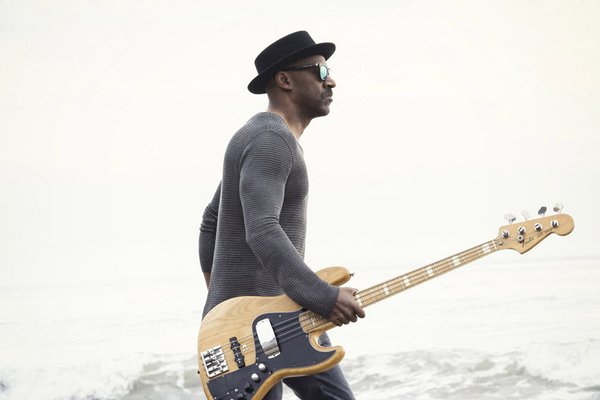 专辑曲目:
01. Detroit [5:46]
02. Redemption [6:09]
03. February [4:15]
04. Slippin' Into Darkness [9:17]
05. Setembro (Brazilian Wedding Song) [feat. Gretchen Parlato & Ruben Blades] [6:39]
06. Jekyll & Hyde [6:30]
07. Interlude - Nocturnal Mist [1:16]
08. Revelation [4:46]
09. Mr. Clean [5:01]
10. Goree (Go-ray) [5:38]
11. Cee-Tee-Eye [7:39]
12. Tightrope (feat. Dr. John) [5:46]
13. I'll Be There [3:48]
这里是其它用户补充的资源(我也要补充):
暂无补充资源