专辑英文名: Moon River
专辑中文名: 月河
音乐风格: 爵士
版本: [SACD-r]
发行时间: 2014年10月15日
简介:


专辑介绍:

日本Swing Journal金赏奖
(Swing Journal选定ゴールドディスク)

来自澳洲,弹唱俱佳的美女贝斯手首发个人专辑,演唱多首经典曲目,获得Swing Journal杂誌权威金唱片推荐。


贝斯是爵士乐界最庞大的乐器,因此这种乐器几乎都是男性的天下。妮基派洛特不但贝斯演奏技巧精湛,而且还有著一副醉死人的好歌喉,可说是爵士乐界最奇妙的音乐家。

出生於澳洲的妮基派洛特与吹奏萨克斯风的姊姊丽莎都是相当努力的音乐家。姊妹两人分别在1993与1994年获得澳洲政府赞助,到纽约深造。其中妮基拜师於著名贝斯手鲁佛斯里德(Rufus Reed)门下。妮基并且也是传奇吉他手雷斯保罗(Les Paul)开设的Iridium爵士酒吧的常驻贝斯手,每个礼拜一都与高龄超过九十岁的雷斯保罗共同登台演出。妮基也与许多爵士传奇人物如克拉克泰瑞、勃基皮萨瑞利等人同台,是纽约活跃的贝斯演奏家。

妮基四岁开始学习钢琴,求学期间持续演奏钢琴与长笛,但在15岁时因为姊姊的乐团需要一位贝斯手,因此转而演奏贝斯。大学时妮基在音乐学院就读,同时也与许多当地著名的爵士音乐家展开忙碌的巡迴演奏生涯。妮基除了演奏与演唱外,也曾获得爵士乐作曲首奖,可说多才多艺。在2001年,妮基与姊姊发行两人合作的专辑「Awabakal Suite」。

Venus唱片公司对妮基可说相当礼遇,在她首张个人专辑中请来了旗下当红的约翰迪玛悌农担任钢琴演奏,乐团还加入了在日本极受欢迎的萨克斯风演奏家哈瑞艾伦。在这样精彩的阵容下,妮基的专辑选择了十三首轻鬆雋永的爵士歌曲,其中大多是大家耳熟能详的经典,如「第凡内早餐」中由奥黛莉赫本在窗边唱出的「Moon River」、因为电影「一曲相思情未了」而再度走红的「Makin' Whoopee」、纳京高的畅销曲「Besame Mucho」等等。当然,也有妮基自己的创作一首传统蓝调歌曲「Nicki's Blues」。妮基在这些曲子中弹唱俱佳,几乎每曲都有她精彩独奏的机会,而妮基的歌喉乾净又轻鬆,让人想起著名钢琴家兼歌手Blossom Dearie。由钢琴、萨克斯风与吉他组成的伴奏班底让音乐听起来丰富多变化,难怪获得乐评们一致好评。

Nicki Parrott - vocal & bass
Harry Allen - tenor sax
John Di Martino - piano
Paul Myers - guitar
Billy Drummond - drums

【曲目】
01. Moon River 月河
02. Is You Is Or Is You Ain't My Baby? 你是我的宝贝吗?
03. Say It Isn't So 告诉我不是这样的
04. You'd Be So Nice To Come Home To 你能回家真是太好了
05. Takin' A Chance On Love 在爱情上冒险
06. I Don't Know Enough About You 我不够瞭解你
07. Makin' Whoopee 好好亲热
08. Cry Me A River 泪流成河
09. What A Difference A Day Made 一天有多大的变化
10. Besame Mucho 深情的吻我
11. I Can't Give You Anything But Love 我只能给你爱情
12. Nicki's Blues 妮基蓝调
13. The More I See You 每次看到你


MOON RIVER(SACD)
NICKI PARROTT

商品版本: 日版
商品类别: E-POP
商品编号: VHGD-37
发行公司: PONY
发行媒体: CD
发售日期: 2014/10/15 已发行
日币售价: ¥4100円(未税) / 台币约NT$1210


引用
Audio CD (Oct. 28 2014)
Please Note: Requires SACD-compatible hardware
Number of Discs: 1
Format: SACD, Import
Label: Imports
ASIN: B00MXVRPWU

Artist/Band: Nicki Parrott
Name: Moon River [Single Layer SACD]
Cat No.: VHGD-37
Performed by: Nicki Parrott (bass,vocal)
John di Martino (piano)
Paul Meyers (guitar)
Billy Drummond (drums)
Harry Allen (tenor sax)
Release Date: 10/15/2014
Description: Single Layer SACD = Ultimate Audiophile Edition!
Winner of Swing Journal 2008 Jazz Disc Vocal Award!
Swing Journal Gold Disc!

In 2014, the Japanese independent jazz label Venus Records began releasing its "best of the best" albums from its deep catalog on single layer SACD, the ultimate audiophile format. (Please note that single layer SACDs require an SACD player for playback. They will not play on a regular CD player.)

Australian-born and New York-based Nicki Parrot is a double threat: She can play the bass very competently, and has a singing voice that shares the relaxed sexiness of Julie London and the coquettishness of Blossom Dearie. She has performed and/or recorded with the legendary guitarist Les Paul, pianist Rachel Z and her sister Lisa Parrott.

Venus' producer Tetsuo Hara got to know Parrott when he recorded the Rachel Z band which included her. For this auspicious label debut CD, Parrott was teamed with wonderful musicians that include John di Martino, a wonderful pianist and arranger who has recorded several times for Venus. Paul Myers' guitar work is exemplary, and Harry Allen contributes with tasteful solos and obligatos.

As Jay Leonhart often says, many people believe it's impossible to play the jazz bass and sing at the same time. But Parrott, together with Kristin Korb on the West Coast, proves them wrong. This is a very enjoyable, straight ahead jazz CD with great singing and strong performances throughout. Recommended!

Produced by Tetsuo Hara and Todd Barkan. Recorded at The Studio in N.Y. on June 7 & 8, 2007. Engineered by Katherine Miller. Mixed and mastered by Tetsuo Hara. Gate-fold paper sleeve edition. Single Layer SACD.
Eastwind Import Price:
$36.00

Nicki Parrott - vocal & bass
Harry Allen - tenor sax
John Di Martino - piano
Paul Myers - guitar
Billy Drummond - drums

Nicki Parrott is a premier jazz vocalist and string bass player. Born in Newcastle, Australia, Nicki started her musical training at age four with the piano, followed by the flute, soon after. Nicki switched to double bass at the age of 15. "Moon River" is Nicki Parrott's debut as a leader. The album received Swing Journal's "Best Jazz Vocal Album" award.



Another delight in my growing collection of Parrott's albums Sept. 16 2014
By Mike Tarrani - Published on Amazon.com
If you are a fan I need not say much, but if you are just now discovring Nicki Parrott and do not know which album to get this one is more up tempo than Fly Me to the Moon. On the other hand, that one has lusher arrangements that include her sister Lisa on both baritone and soprano saxophones. This one, though truly flows.

I've heard other albums she has released, as well as enjoyed live video clips of her with luminaries like Les Paul and Rossano Sportiello and this one has the energy of her live performances. Not that her other albums are not superb also because I would hate to have to choose just one.

What I love about this one is the arrangements are more straightforward and allow you to hear the many nuances she brings to songs. And nuances she brings becuase on a track like Cry Me A River she evokes Julie London's iconic delivery, but manages to make it her own as well. On Nicki's Blues her vocals are true blues and easily sells that particular song. In fact, I would be hard pressed to pick a favorite track, but Moon River and Takin' A Chance On Love keep popping into my head.

Sadly there are no sound samples on this page at the time of this review. You can hear some of the songs on this album if you search Youtube, but the entire album is so delightful that a few songs will only whet your appetite.

In addition to Nicki I have come to respect the pianist and the drummer (John Di Martino on piano and Billy Drummond on drums) who are on a lot of her albums. Both are excellent and as a fellow drummer I acknowledge Drummond as a true master who plays with a lot of taste. Tenor saxophonist Harry Allen is also on more than a few of her albums and is to her what Lester Young was to Billie (in my opinion - I am drawing an analogy instead of a comparison). Rounding out the ensemble here is Paul Myers who added a lot to the music.

Overall this is probably one of my favorite Parrott albums, if for no other reason than it showcases her versatility as a vocalist and a bassist. It also has more raw energy (to my ears) than her other albums - but that's just me.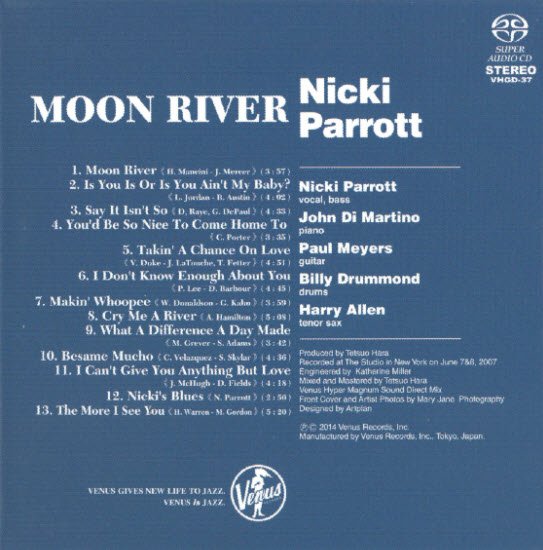 专辑曲目:
01. Moon River
02. Is You Is Or Is You Ain't My Baby?
03. Say It Isn't So
04. You'd Be So Nice To Come Home To
05. Takin' A Chance On Love
06. I Don't Know Enough About You
07. Makin' Whoopee
08. Cry Me A River
09. What A Difference A Day Made
10. Besame Mucho
11. I Can't Give You Anything But Love
12. Nicki's Blues
13. The More I See You
这里是其它用户补充的资源(我也要补充):
暂无补充资源