专辑英文名: Live From Lugano 2014
专辑中文名: 阿格丽希 2014卢加诺音乐节
古典类型: 室内乐
资源格式: FLAC
版本: [24bits 44.1Khz] [3 CD]
发行时间: 2015年05月11日
简介: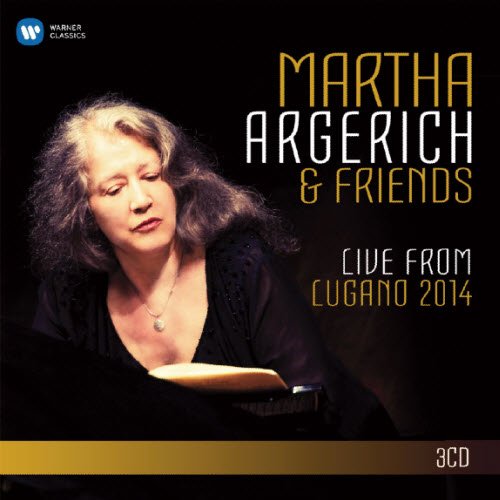 专辑介绍:

2014年卢加诺音乐节的现场录音专辑依然星光熠熠,除了「钢琴女王」的天王级老朋友─大提琴家麦斯基与小提琴家克莱曼之外,还有当红的法国大提琴家卡普松,钢琴家齐柏丝坦、2012比利时伊莉莎白国际小提琴大赛首奖得主巴拉诺夫。

从 2002年成立以来,钢琴名家阿格丽希每年在瑞士卢加诺举办的音乐节Progetto Martha Argerich,在2014年的六月便已到了十三届。与其说是阿格丽希每年邀请乐界的名家或新秀,不如说整个乐坛都将「参与卢加诺音乐节」视为殊荣。音 乐节通常为期约三周,密集进行多场独奏会、室内乐与协奏曲,大家以乐会友,互相切磋,在彼此互动与交流的过程当中,同时也会发掘出不少罕为人知的有趣室内 乐曲目

2014年的阿格丽希在卢加诺音乐节依然星光熠熠,除了「钢琴女王」的天王级老朋友─大提琴家麦斯基与小提琴家克莱曼之外,当红的 法国大提琴家卡普松,钢琴家齐柏丝坦、2012比利时伊莉莎白国际小提琴大赛首奖得主巴拉诺夫,都算是音乐节的熟面孔。诚如阿格丽希在接受访问时所说:我 们採取自由的态度来合作,就像家人一样,一视同仁。音乐节的这段期间所有人都放下身段,为了音乐大家齐聚一堂,非常具有啟发性。

商品条码 : 0825646134601
商品编号 : 2564613460
演奏者 : 阿格丽希与朋友们 Martha Argerich - 查看所有专辑
指挥家 :
乐团 :
作曲家 :
专辑名称 : 阿格丽希 2014卢加诺音乐节(3CD)
Martha Argerich and Friends: Live from Lugano 2014
音乐类型 : 古典音乐 [CD 音乐会]
发行公司/日期 : 华纳 2015/5/22
制作公司 :
内含片数 : 3

古典 CLASSICAL
阿格丽希 2014卢加诺音乐节Martha Argerich and Friends: Live from Lugano 2014 / 阿格丽希与朋友们 Martha Argerich
唱片编号:0825646134601
唱片公司:华纳
发行日期:2015-05-22
商品单位:3CD



美不胜收

由钢琴家Argerich发起的卢加诺室内乐音乐节,已经举行了13届。每年的3CD套装,都是用Argerich主奏的钢琴协奏曲开始。大提琴家Mischa Maisky跟她合作了贝多芬的《In men变奏曲》(主题是莫扎特《魔笛》Act 1裏的二重唱)。Gidon Kremer则带来Weinberg的第5号小提琴奏鸣曲。瑞士籍的钢琴家Dagmar Clottu与Argerich一起演出4手联弹的浦朗克钢琴奏鸣曲。一如既往,不少音乐Argerich是没参与演出的。这没有削弱吸引力,一则是作品本身由於较少公演衍生的吸引,二则是Argerich请来的后辈必定不是省油的灯。Gautier Capuçon拉奏了Frank Bridge与普朗克的大提琴奏鸣曲,Mogilevsky及Rivera合奏了史克里亚宾a小调幻想曲(双钢琴)。趣品还包括孟德尔逊第一交响曲。刘志刚


§ 曲 目 §

CD1
1-3 莫札特:D小调第20号钢琴协奏曲,K.466
【阿格丽希〈钢琴〉卡斯齐克指挥瑞士义语区管弦乐团】

4. 贝多芬:莫札特《魔笛》主题七段变奏曲「懂得爱情的男人」
【阿格丽希〈钢琴〉麦斯基〈大提琴〉】

5-9 米尧:钢琴五重奏,作品81b
【胡伯特〈钢琴〉朵拉‧ 史瓦兹柏格〈小提琴〉古特曼〈小提琴〉
诺拉‧罗曼诺夫─史瓦兹柏格〈中提琴〉卓宾斯基〈大提琴〉】

CD2
孟德尔颂:C小调第一号交响曲,作品11 (布梭尼改编,为两部钢琴/八手联弹)
【酒井茜、齐伯丝坦;安东‧ 葛森伯格、丹尼尔‧ 葛森伯格〈双钢琴 / 八手联弹〉】

鲍罗定:C小调钢琴五重奏
【莫西列夫斯基〈钢琴〉巴拉诺夫〈小提琴〉霍素雷果基〈小提琴〉
诺拉‧罗曼诺夫─史瓦兹柏格〈中提琴〉赵静〈大提琴〉】

布里吉:D小调大提琴奏鸣曲,H 125
【高提耶卡普松〈大提琴〉盖布莉叶拉‧蒙泰罗〈钢琴〉】

CD3
浦朗克:钢琴奏鸣曲(四手联弹)FP8
【阿格丽希、克萝图〈钢琴 / 四手联弹〉】

浦朗克:大提琴奏鸣曲FP 143
【高提耶卡普松〈大提琴〉皮耶蒙特吉〈钢琴〉】

史克里亚宾:为双钢琴的A小调幻想曲
【莫西列夫斯基、李维拉〈双钢琴〉】

范贝格:第5号小提琴奏鸣曲,作品53
【克莱曼〈小提琴〉阿格丽希〈钢琴〉】


引用
Argerich, Martha
Martha Argerich & Friends - Live from Lugano 2014

3 CD
11 May 2015

Barcode: 0825646134601

Other participants: Gidon Kremer, Alexander Mogilevsky, Daniel Rivera

The Progetto Martha Argerich took place in June 2014 in Lugano for the thirteenth consecutive year. Over time, the great Argentine pianist, together with a substantial group of artists, has created a spirit of togetherness that has led to many memorable performances. As a chamber music event, this series has become a laboratory that gives guest artists a chance to prove themselves not only in well-known masterpieces but also in rarely performed repertoire.

"The music-making always has a tremendous energy and relaxed enjoyment about it...There's a sense of specialness, of off-the-cuff music-making of the highest class." (The Guardian)

"...The charismatic, if sometimes elusive, Argentine Klaviertigress...gathers a select group of colleagues for chamber-music-making of the highest qualities. As she rarely ventures into the studio these days, it's a treat to have her first recording of Mozart's great D Minor Piano Concerto K466." (Sunday Times Album of the Week)


Live from Lugano 2014 CD review – top-class music-making from Argerich and co

The Progetto Martha Argerich, the chamber-music festival that the pianist started in the Swiss resort of Lugano 15 years ago, has become an annual event, and the recordings made there each year are eagerly anticipated. The music-making always has a tremendous energy and relaxed enjoyment about it, and there's invariably something unexpected in the compilations, whether it's Argerich adding something new to her own repertoire, or up-and-coming instrumentalists joining her and her regular colleagues to explore neglected chamber works.

This latest set, taken from last year's festival, for instance, includes two curiosities: Darius Milhaud's own piano-quintet arrangement of his 1920s ballet La Création du Monde, and Busoni's transcription of Mendelssohn's First Symphony for eight hands at two pianos. You might not want to hear either work in such a version very often, but they are real collector's items, and Scriabin's very Chopinesque 1889 Fantasy for two pianos in F minor Op posth, played here by Alexander Mogilevsky and Daniel Rivera, doesn't turn up in recitals very often either.

The great lady herself is featured in four performances. She opens the set as the soloist in a typically striking performance of Mozart's D minor Piano Concerto with the Orchestra della Svizzera Italiana under Jacek Kaspszyk; partners two old musical friends, cellist Mischa Maisky and violinist Gidon Kremer, in Beethoven's Variations on Bei Männern, Welche Liebe Fühlen from Mozart's Magic Flute, and Weinberg's Fifth Violin Sonata respectively; and joins Dagmar Clottu for Poulenc's early little four-hand Piano Sonata. But it's another Poulenc work, his Cello Sonata, that's one of the true highlights of the set, thanks to a searching performance by Gautier Capuçon and Francesco Piemontesi. The former, partnered by Gabriela Montero this time, also plays Frank Bridge's Cello Sonata, underlining its French antecedents (Fauré and Debussy) much more than . In everything, though, there's a sense of specialness, of off-the-cuff music-making of the highest class.


Warner Classics is pleased to release the 12th annual 3CD set of highlights from the Progetto Martha Argerich in Lugano, described in The Times (London), as "community music-making on a deluxe scale, with performers and listeners mutually uplifted by music's wonders." The recordings celebrate the musical fruits of a project in which young artists join seasoned performers, including Martha Argerich herself, to explore wide-ranging chamber music and orchestral repertoire, both well-known and rarely heard.

In addition to Ms Argerich, the 2014 Festival featured long-time collaborators such as Gidon Kremer, Gabriela Montero, Mischa Maisky, Gautier Capuçon and Lilya Zilberstein, as well as many of Ms Argerich's young protégées, including pianists Anton and Daniel Gerzenberg and violinists Geza Hosszu-Logocky and Andrey Baranov, winner of the 2012 Queen Elizabeth Competition. Also featured are pianists Alexander Mogilevsky, Francesco Piemontesi, Daniel Rivera, Dagmar Clottu, Akane Sakai, Eduardo Hubert, violinists Dora Schwarzberg and Michael Guttman, violist Nora Romanoff and cellists Jing Zhao and Mark Drobinsky.

The piano has been at the heart of all Lugano Festival programmes, from the Festival's inception, in performances of standard repertoire alongside rarely heard compositions and the 2014 season was no exception. Each year the Festival includes a piano concerto with Ms Argerich as soloist and this time it is Mozart's Concerto No 20 in D minor, K466, with the Orchestra della Svizzera Italiana conducted by Jacek Kaspszyk. Argerich also performs sonatas with each of two long-standing collaborators, cellist Mischa Maisky and violinist Gidon Kremer. She joins Maisky in Beethoven's Variations on 'Bei Männern, welche Liebe fühlen' based on Papageno and Pamina's duet in Mozart's opera Die Zauberflöte and Kremer, a champion of the work of Shostakovich's younger friend and colleague Mieczysław Weinberg, in the composer's Fifth Violin Sonata.

The Swiss pianist Dagmar Clottu appears for the first time in this series, joining Argerich in Francis Poulenc's Piano Sonata for four hands. Gautier Capuçon and Francesco Piemontesi perform Poulenc's Cello Sonata and Capuçon performs the Cello Sonata in D minor by Frank Bridge with Gabriela Montero.

Other works featured include Darius Milhaud's jazzy ballet, La création du monde, performed in the composer's arrangement for piano quintet; Alexander Borodin's early Piano Quintet; Felix Mendelssohn's First Symphony, composed at the age of 15, in an arrangement by Ferruccio Busoni for four players at two pianos; and Alexander Scriabin's Fantasy in A minor, envisaged as a work for piano and orchestra but only sketched for two pianos, and neither orchestrated nor performed during his lifetime.

Few artists have nurtured and promoted emerging young musicians with the level of personal commitment shown by Martha Argerich. In the process, she has created inspired chamber music partnerships mixing established and up-and-coming artists. A legend in her own lifetime for her technical mastery and passionate artistry, Argerich possesses an infectious spirit that has fired her own performances and partnerships as well as those of her colleagues and protégées.

After setting up Meeting Point at Beppu, Japan in 1996 and the Martha Argerich Festival in Buenos Aires in 1999, the pianist decided to create a similar gathering of musical minds in Europe. The southern Swiss town of Lugano was identified as an ideal setting for a project based on the spirit of building a community of close-knit relationships among young and established artists and the Progetto Martha Argerich was launched in 2002. More than a decade later, the Festival continues to retain its original experimental 'feel' because of the original programming and the emergence of new performing talents. Geoffrey Norris in The Daily Telegraph wrote, "It is always instructive to see who has been invited to perform at the Progetto Martha Argerich in Lugano, because the cast list is a reliable guide to some of the most exciting talent in the musical world today."

The fourteenth season of the Progetto Martha Argerich will take place from 10-29 June 2015 and will include performances by many of the artists appearing on these recordings.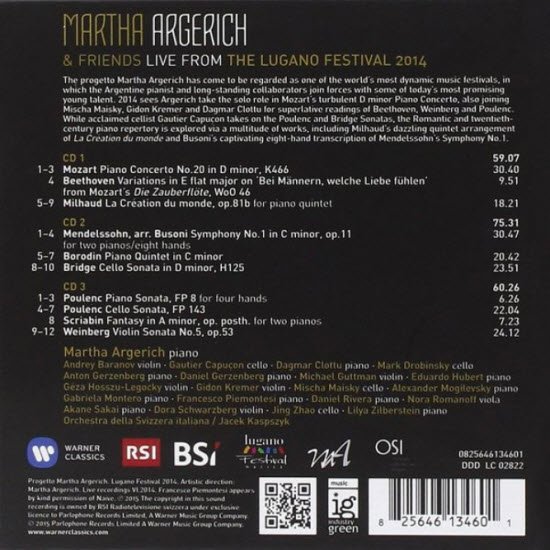 专辑曲目:
Disc: 1

01. Piano Concerto No. 20 in D Minor, K. 466: I. Allegro (Live)
02. Piano Concerto No. 20 in D Minor, K. 466: II. Romance (Live)
03. Piano Concerto No. 20 in D Minor, K. 466: III. Rondo - Allegro assai (Live)
04. Variations on "Bei Mannern, welche Liebe fuhlen", WoO 46 (Live)
05. La creation du monde, Op 81b: I Prelude (Live)
06. La creation du monde, Op 81b: II Fugue (Live)
07. La creation du monde, Op 81b: III Romance (Live)
08. La creation du monde, Op 81b: IV Scherzo (Live)
09. La creation du monde, Op 81b: V Finale (Live)

Disc: 2

01. Symphony No. 1 in C Minor, Op.11: I. Allegro di molto (Live)
02. Symphony No. 1 in C Minor, Op.11: II. Andante (Live)
03. Symphony No. 1 in C Minor, Op.11: III. Menuetto - Allegro molto (Live)
04. Symphony No. 1 in C Minor, Op.11: IV. Allegro con fuoco (Live)
05. Piano Quintet in C Minor: I. Andante (Live)
06. Piano Quintet in C Minor: II. Scherzo - Allegro non troppo (Live)
07. Piano Quintet in C Minor: III. Finale - Allegro moderato (Live)
08. Cello Sonata in D Minor, H. 125: I. Allegro ben moderato (Live)
09. Cello Sonata in D Minor, H. 125: II. Adagio ma non troppo (Live)
10. Cello Sonata in D Minor, H. 125: Molto allegro e agitato (Live)

Disc: 3

01. Sonata for Piano, 4 Hands, FP 8: I Preude Modere (Live)
02. Sonata for Piano, 4 Hands, FP 8: II. Rustique. Naif et lent (Live)
03. Sonata for Piano, 4 Hands, FP 8: III Final Tres vite (Live)
04. Cello Sonata, FP 143: I. Allegro. Tempo di Marcia (Live)
05. Cello Sonata, FP 143: II Cavatine Tres calme (Live)
06. Cello Sonata, FP 143: III Ballabile Tres anime (Live)
07. Cello Sonata, FP 143: IV Finale Largo, tres librement - Presto subito - Largo (Live)
08. Fantasy for 2 Pianos in A Minor (Live)
09. Violin Sonata No. 5 in G Minor, Op. 53: I. Andante con moto (Live)
10. Violin Sonata No. 5 in G Minor, Op. 53: II. Allegro molto (Live)
11. Violin Sonata No. 5 in G Minor, Op. 53: III. Allegro moderato (Live)
12. Violin Sonata No. 5 in G Minor, Op. 53: IV. Allegro - Andante - Allegretto (Live)
这里是其它用户补充的资源(我也要补充):
暂无补充资源