专辑英文名: Duets
专辑中文名: 经典情歌对唱
音乐风格: 流行
资源格式: FLAC
发行时间: 2013年04月09日
简介: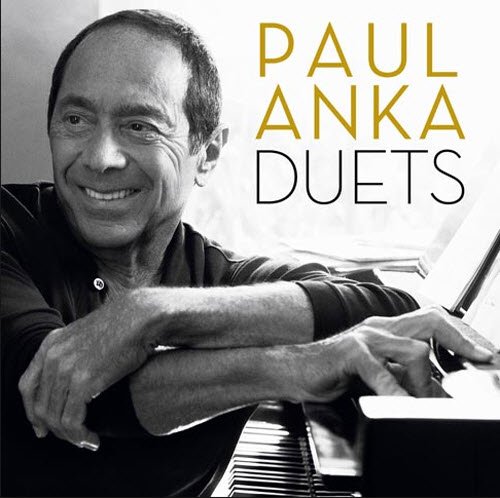 专辑简介:

世纪巨星,情歌经典

★保罗安卡2013年全新录音专辑

◎流行音乐巨星倾全力跨刀合作: 席琳狄翁、麦可杰克森、麦可布雷、克里斯伯堤、桃莉巴顿、葛洛丽雅伊斯特芬、法兰克辛纳屈、汤姆琼斯、威利尼尔森、芝加哥合唱团之彼得塞特拉

◎收录经典对唱曲目: My Way、She's A Lady、You Are My Destiny、This Is It、Hold Me 'Til The Mornin' Comes

◎录音发烧品质,情歌最高杰作: 14首完美流行极品一次呈现!



保罗安卡(Paul Anka)这位出道超过半世纪,创作无数排行经典的音乐创作人,堪称是美国流行音乐的最传奇巨星之一。从1957年热销全球9百万张的成名冠军单曲"Diana"开始,保罗安卡以偶像歌手身分进军歌坛,但是突出的创作才华让他得以音乐创作人姿态,陆续以"You Are My Destiny,","Lonely Boy,","Put Your Head On My Shoulder,","Puppy Love"这些排行金曲享誉全世界。

细数保罗安卡的经典歌曲包括,法兰克辛纳屈唱红的跨世代传唱经典"My Way",麦可杰克森去世之后发表的冠军单曲"This Is It",还有英国白人灵魂巨星汤姆琼斯的代表歌曲"She's A Lady",美国谈话节目强尼卡森秀的主题曲,柯达相片的广告歌曲Times Of Your Life",这些优美旋律词意动人的歌曲,打破语言与种族的限制,成为许多人生命中的美好回忆。

树立流行歌坛指标半世纪之后,保罗安卡2013年推出这张名为【Duets】的全新专辑,找来流行音乐超级巨星,包括流行天后席琳狄翁、爵士巨星克里斯伯堤、麦可布雷、乡村天后桃莉巴顿、拉丁巨星葛洛丽雅伊斯特芬、以及已逝巨星法兰克辛纳屈、麦可杰克森一同合作的珍贵录音,14首顶级流行音乐饗宴,例如示范峰迴路转的抒情功力与席琳狄翁合唱的"It's Hard To Say Goodbye" , 屡次成为好莱坞电影插曲由保罗与汤姆琼斯合唱"She's A Lady",芝加哥合唱团金嗓主唱Peter Cetera合唱的"Hold Me 'Til The Morning Comes",最后以世纪歌王法兰克辛纳屈的流行经典"My Way"将这张精致的流行对唱专辑画下完美的休止符。

保罗安卡/PAUL ANKA [所有作品]
产品条码: 0887654848925
产品编号: 88765484892
发行公司: SONY MUSIC [发行商品]
发行日期: 2013年04月23日
产品制造地: 欧美 .
发行类型: 流行 . CD . 英文 .
内装片数: 1片


Audio CD (April 9, 2013)
Number of Discs: 1
Label: Sony Legacy
ASIN: B00B8WXG9G


引用
Release Date April 8, 2013
Duration 01:06:46
Genre Pop/Rock Vocal
Styles Adult Contemporary Vocal Pop


AllMusic Review by Stephen Thomas Erlewine [-]

Released as a tie-in to Paul Anka's 2013 memoir My Way (really, would an Anka autobiography bear another name?), the 2013 collection Duets attempts to illustrate the depth of Anka's career through song, letting the singer/songwriter indulge himself with duet partners both expected and unfamiliar. There is a degree of posthumous trickery here -- he sings "This Is It" with Michael Jackson and "My Way" with Frank Sinatra, two vocalists long deceased by the time Anka assembled this album -- but Anka is such a creature of show biz that this sleight of hand doesn't much matter; arguably, it even enhances the splash and glitz of this deliberately showy album. There may be a little too much modernity on Duets -- Anka succumbs to Auto-Tune here and there, including on "Find My Way Back to your Heart," the only solo song here -- and there's the odd sense that he's trying to appeal to every possible audience that may exist in 2013, although nothing here could conceivably be played on modern radio. Instead, Duets plays like a fantasia of pre-MTV pop, songs designed for maximum radio play even when there are no outlets for that sound. There are some pleasant moments here, to be sure -- many of them play like throwbacks to 1990, including Tom Jones' new take on "She's a Lady" -- but it's a sound that belongs to past that's long since gone.




Paul Anka Releases 'Duets' Album On 09 April 2013 With Recordings From Michael Buble, Tom Jones, Frank Sinatra, Celine Dion And More

On 09 April 2013, Sony Music Legacy Recordings will release 'Duets', a celebration of Paul Anka's 55th year as a singer/songwriter/entertainer featuring brand new recordings with Michael Bublé and Leon Russell and collaborations with some of the world's greatest artists.

The album brings together a mixture of the best artists and songs throughout music history including Paul Anka's all-time classic 'My Way', recorded by Frank Sinatra, Michael Jackson's posthumous last single 'This Is It' co-written by Anka and the track he penned for Tom Jones, 'She's A Lady'.

Duets also features collaborations with George Benson, MICHAEL MCDONALD, Dolly Parton, Leon Russell, Gloria Estefan, Willie Nelson, Patti Labelle, Chris Botti and Peter Cetera, who have all contributed to Paul Anka's musical journey in this warming, must-have album. The release coincides with Anka's long-awaited life story, 'MY WAY: An Autobiography', co-written with David Dalton and published by St. Martins Press.

Paul Anka said: 'Throughout the history of music there have been all kinds of songs; to me, the classics still reign supreme. This endeavour, these songs, will be easy on your ears; they are the stuff that love and life is all about.'

Paul Anka is a pop music legend and is among Billboard magazine's top 25 most successful recording artists, putting him alongside Elvis Presley and The Beatles. Anka's debut single, Diana hit the number one spot in the UK in 1957 and he has continued to chart singles throughout the 1960s, 1970s and 1980s.

Paul Anka wrote all his own hits - 'Diana', 'You Are My Destiny', 'Lonely Boy', 'Put Your Head On My Shoulder', 'PuppyLove' and took control of his business career (producing, buying and owning his master recordings, a practice he still employs today).

Anka finishes with a personal message: 'I am proud of what you are about to hear, and I am grateful to those of you out there who continue to show an interest in every body of work that I create. I have always said that success has many fathers and I thank everyone who has made this venture possible; it is always a team effort.'



From the 1950s into the new millennium, Paul has endured and thrived as a very successful performer, songwriter, and recording artist. He long ago cemented his status as an icon of popular music; but never one to rest on his impressive laurels, he has continually re-invented himself throughout his career, establishing new pop standards and electrifying the classics.

The prolific and versatile songwriter is now releasing a brand-new collection: DUETS. This remarkable assortment of classics and standards features superstar collaborations with Chris Botti, Celine Dion, Frank Sinatra, Michael Buble, Tom Jones, and many others.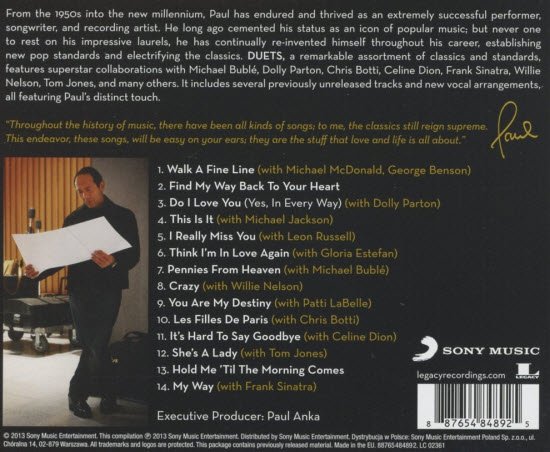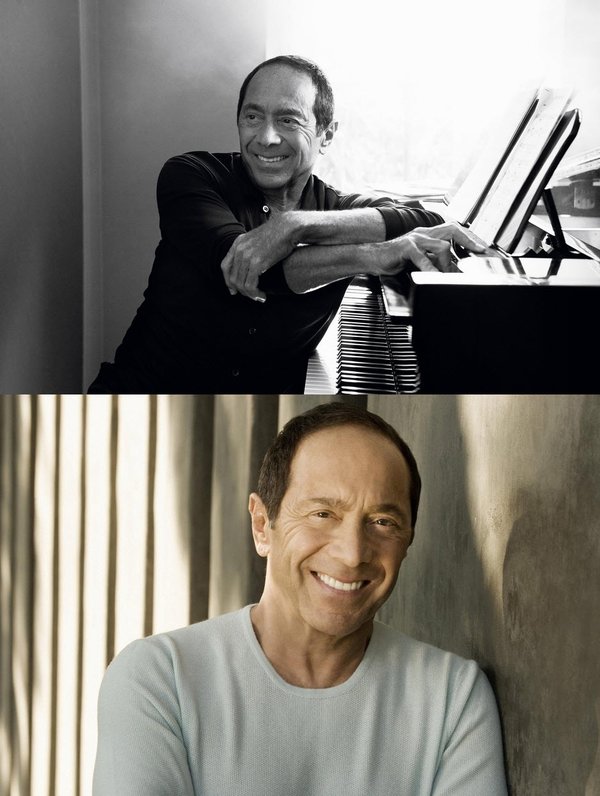 专辑曲目:
01. Walk A Fine Line (with Michael McDonald & George Benson) 5:32
02. Find My Way Back To Your Heart (with Tita Hutchison) 4:39
03. Do I Love You (Yes, In Every Way) (with Dolly Parton) 4:53
04. This Is It (with Michael Jackson) 4:07
05. I Really Miss You (with Leon Russell) 4:45
06. Think I'm In Love Again (with Gloria Estefan) 5:05
07. Pennies From Heaven (with Michael Bubl) 4:12
08. Crazy (with Willie Nelson) 4:45
09. You Are My Destiny (with Patti LaBelle) 4:11
10. Les Filles de Paris (with Chris Botti) 5:03
11. It's Hard To Say Goodbye (with Cline Dion) 5:11
12. She's A Lady (with Tom Jones) 4:20
13. Hold Me 'til The Morning Comes (with Peter Cetera) 4:52
14. My Way (with Frank Sinatra) 5:14
15. I'm Not Anyone (with Sammy Davis, Jr.) 4:08
16. Les Filles de Paris (with Chris Botti) (French Version) 5:03
这里是其它用户补充的资源(我也要补充):
暂无补充资源