专辑英文名: Thou Swell
专辑中文名: 我心中的歌
音乐风格: 爵士
资源格式: FLAC
发行时间: 2008年01月13日
简介: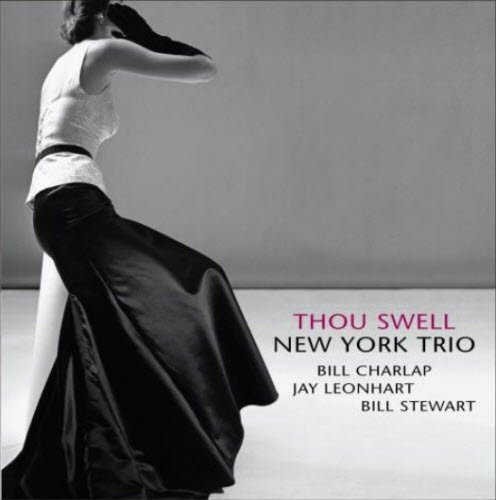 专辑介绍:

日本Swing Journal金赏奖
(Swing Journal选定ゴールドディスク)

比尔查拉普向最伟大的音乐剧作家理查罗杰斯致敬之作,詮释多首耳熟能详的歌曲作品,日本权威爵士乐杂誌Swing Journal金赏推荐。


理查罗杰斯(Richard Rogers, 1902-1979)公认是美国最伟大的歌曲作曲家之一。他在十七岁就与写作搭档罗伦斯哈特(Lorenz Hart)写了第一首登上百老匯舞台的歌曲,而这对搭档为当时的好莱坞及百老匯写作了无数的畅销歌曲。在哈特於1943因饮酒过量过世前,他们留下了许多至今仍膾炙人口的歌曲如「My Funny Valentine」、「The Lady Is A Tramp」、「Bewitched, Bothered and Biwildered」等等。接下来罗杰斯与另外一个搭档,奥斯卡汉莫史坦二世(Oscar Hammerstein II)开始写作。有趣的是,罗杰斯、哈特与汉莫史坦二世三人都是哥伦比亚大学的学生。罗杰斯与汉莫史坦二世的搭档从第一齣戏「奥克拉荷马」(Oklahoma!)就叫好又叫座,到汉莫史坦二世於1960年过世前,两人的写作拿下了三十五座东尼奖、十五座奥斯卡金像奖、两座葛莱美奖,甚至还有两座普立兹奖!这段时间的作品如「奥克拉荷马」、「国王与我」、「真善美」等等都搬上大银幕,因此影响力比哈特时期来得更广。

本专辑是向理查罗杰斯致敬的歌曲集,如果只粗略看封面,「纽约三重奏」这样通俗到过分的名称很容易让人走宝。事实上,这个三重奏的钢琴手比尔查拉普(Bill Charlap)可是近年来最抢手的艺人之一,在Blue Note领军的三重奏发行了几张专辑都受到广泛的注意。尤其是近年来两张分别向伯恩斯坦与盖希文致敬的专辑,已经让爵士乐界将他定调为詮释传统歌曲的高手。本张专辑可视为他向作曲家致敬系列的延伸。十首曲子中,有九曲都是哈特时代的作品,显见比尔查拉普对於注重作品艺术性的哈特时代歌曲有明显的偏好。

纽约三重奏的贝斯手也是爵士老将杰里昂哈特,鼓手则是比尔史都华。这个三重奏在Venus其下也已经发行了六张作品,其中2005年的柯尔波特、2003年的艾灵顿公爵作品集都已经获得极高的评价。这次挑战理查罗杰斯作品集,当然仍以比尔查拉普精湛的琴艺以及选曲、詮释功力为大家注目的焦点。罗杰斯的音乐早已经是爵士乐手们最常演奏的标準曲目,要能够在耳熟能详的旋律中加入新意的确不易。不过三位高手在纽约The Studio录音室中花了两天时间,使出浑身解数,绽放出惊人的爆发力以及过人的音乐性。与所有Venus唱片公司的作品相同,在母带处理时使用了他们独家的「Venus Hyper Magnum Sound」二十四位元处理系统,将爵士乐最细微的变化都捕捉得传神美妙。

Bill Charlap - piano
Jay Leonhart - bass
Bill Stewart - drums

【曲目】
01. Thou Swell 你太棒了
02. My Funny Valentine 可笑的情人节
03. I Didn't Know What Time It Was 我忘了那是何时
04. Where Or When 何时何地
05. My Heart Stood Still 我心仍坚
06. That's For Me 我就是那样
07. Have You Met Miss Jones? 你见过琼斯小姐吗?
08. That's A Small Hotel 这是间小旅馆
09. With A Song In My Heart 我心中的歌
10. Wait Till You See Her 等到你看见她

编号:TKCV-35384
条码:4988008913132


引用
Audio CD (January 13, 2008)
Original Release Date: 2009
Number of Discs: 1
Format: Import
Label: Tokuma Japan Comm.
ASIN: B000KF0ROE

Does any jazz musician alive today (be it player or singer) share more devotedly and mine with deeper conviction that widely-vaunted but too-often- dismissed-with-lip-service Great American Songbook than pianist Bill Charlap? This child of songwriter Moose and chanteuse Sandy Stewart was lovingly reared on the Tin Pan Alley and Broadway classics he so meticulously reimagines (usually romantically, occasionally puckishly, always honestly) on album after album. Thus Charlap's been recording beauty upon beauty with singular focus and unfailing swingability—abetted by terrific teammates—for a baker's dozen years; his '90s Criss Cross trio dates were goodie-laden grab-bags; Blue Note continued that tradition with Written In The Stars (gems by Cole Porter, Johnny Mercer, Harold Arlen, et al.), before producer Joel Moss wisely let him dedicate entire albums to individual composer/craftsmen of the golden age of popular song such as Hoagy Carmichael (Stardust), Los Hermanos Gershwin (The American Soul) and Lenny Bernstein (Somewhere).

Emphatically not a guy to be deterred from artistic completion by the wrys and fawns of the big bad music business, the modest, super-musical Charlap keeps the flame bright here with two new volumes from Venus in Japan, unerringly well-crafted albums devoted to theme and variation on the collected songs of Richard Rodgers (Thou Swell) and Irving Berlin (Always). With him now are bassist Jay Leonhart, himself an able singer and vocal interpreter, and drummer Bill Stewart, a happy collaborator reunited from the Criss Cross dates.

As ever, Charlap handpicks several less-than-obvious diamonds-in-the-rough. Sensitive singers will hear some of these and intone, "Gimme that leadsheet!" Charlap's tender treatment of the Rodgers love song I'd not heard since the inimitable Mabel Mercer stunningly retold it in 1977 at Boston's Merry-Go-Round Room, "That's For Me," brought me willies of wonderment, tears of recognition. Then he turns smartly around and briskly charms the pants off "Have You Met Miss Jones?" (Leonhart plucking firmly and Stewart whisking flies) as he balances the genteel mezzo-piano delicacy of Hank Jones with the brusque pungency of Andre Previn's trio with Red Mitchell and Shelly Manne with a bell-clear resonance at any tempo that's all his own. They revert to spacious legato on "There's A Small Hotel" (Stewart's brushes churn cream into butter.) And they end with a breathtaker on the endearing waltz "Wait Til You See Her". It gets better yet, if possible, on Always. Charlap's Irving Berlin set floats like a butterfly, or rather Fred Astaire's ineffable step, pinpoint turns in place. There haven't been so many of these unusually structured Berlins on a single since Fred crooned them with Oscar Peterson and Charlie Shavers in 1952: "Cheek to Cheek," "Change Partners," "Isn't It A Lovely Day?" That dancing, airy feeling pervades every track; it's like a suite to rooftop Manhattan lounges, where this trio could be the house band for eternity. Aah, pacing! Aah, cityscape!


Tracks and Personnel

Though Swell

Tracks: Thou Swell; My Funny Valentine; I Didn't Know What Time It Was; Where Or When; My Heart Stood Still; That's For Me; Have You Met Miss Jones?; There's A Small Hotel; With A Song In My Heart; Wait Till You See Her.

Personnel: Bill Charlap: piano; Jay Leonhart: bass; Bill Stewart: drums.

Always

Tracks: Always; Cheek To Cheek; They Say It's Wonderful; I Got The Sun In The Morning; How Deep Is The Ocean; Change Partners; What'll I Do; Isn't This A Lovely Day?; The Song Is Ended; Russian Lullaby.

Personnel: Bill Charlap: piano; Jay Leonhart: bass; Bill Stewart: drums.

引用
Artist/Band: Bill Charlap New York Trio
Name: Thou Swell
Cat No.: VHCD-78005
Performed by: Bill Charlap (piano)
Jay Leonhart (bass)
Bill Stewart (drums)
Release Date: 01/24/2007
Description: Hot off the press! This CD was just released in Japan in January 2007. The sixth album of Bill Charlap's New York Trio is also the sixth "songbook" album recorded by this premier interpreter of standards. This time, he chose the genious melody maker Richard Rodgers as his subject.

Charlap brought about 20 songs he prepared for this recording, sat down in front of the full concert Steinway "D," and simply started to play what he felt like at the moment. Playing together for six years now, the trio is tight and loose at the same time, and its blend of personalities is very attractive.

Charlap is a superb pianist and he has played wonderfully on many recordings, this might be his best recorded performance to date. Maybe the beautiful sounding piano inspired him as well. The band is swinging, and the arrangements are gorgeous and interesting. Great songs, wonderful performance, superb sound. This is one of the best piano trio recordings in my recent memory. Highly recommended!

Recorded at Clinton Studio in New York in September & October 2006 by Katherine Miller; Venus Hyper Magnum 24-bit mastering; Swing Journal Gold Disc. This CD is a limited, gatefold paper sleeve (mini-LP) edition.






AllMusic Review by Ken Dryden

The New York Trio, consisting of pianist Bill Charlap, bassist Jay Leonhart, and drummer Bill Stewart, have created quite a stir in Japan, as they have entered the studio regularly to record for the Japanese Venus Jazz label at the start of the 21st century. Their sixth CD for the label, Thou Swell draws from the songbook of Richard Rodgers and Lorenz Hart, a composer/lyricist combo who wrote many songs that became standards. As a result, a number of these songs have been frequently recorded by jazz musicians and seem in danger of overexposure. But Charlap is a thoughtful arranger, playing "My Funny Valentine" complete with the usually omitted verse that sets up the song while playing it at a very deliberate tempo, resulting in a stunningly different take. The pendulum-like introduction added to the breezy "I Didn't Know What Time It Was" is fun, as is the lush setting of the infrequently performed "That's for Me." Some pieces can't help but cover familiar ground, but that doesn't detract from these enjoyable performances.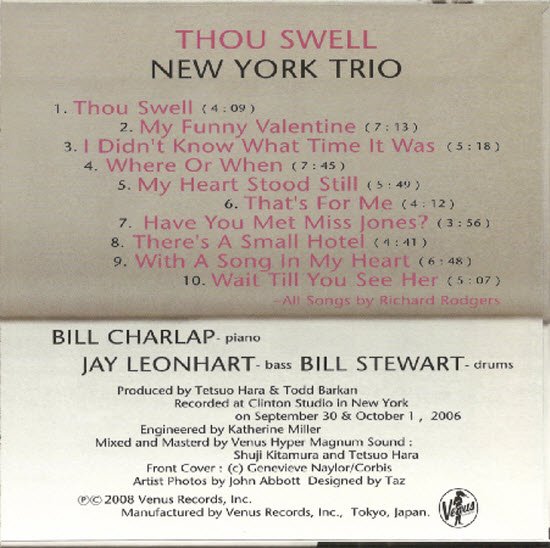 专辑曲目:
01. Thou Swell
02. My Funny Valentine
03. I Didn't Know What Time It Was
04. Where Or When
05. My Heart Stood Still
06. That's For Me
07. Have You Met Miss Jones?
08. There's A Small Hotel
09. With A Song In My Heart
10. Wait Till You See Her
这里是其它用户补充的资源(我也要补充):
暂无补充资源