专辑英文名: Chet Baker In New York
专辑中文名: 查特.贝克在纽约
音乐风格: 爵士
资源格式: FLAC
版本: [SACD-r]
发行时间: 2014年10月31日
简介: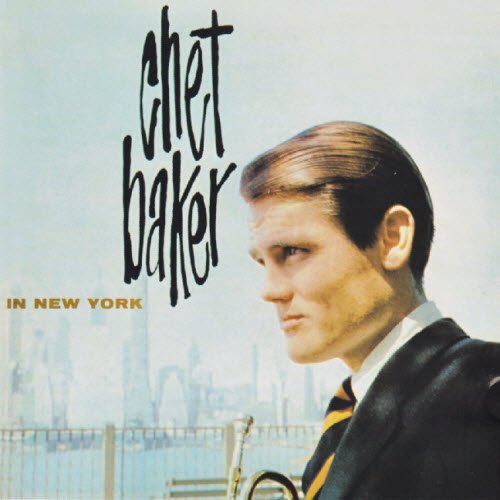 专辑介绍:

AMG四星评价, 企鹅爵士评鑑三星,滚石三颗星

明亮愜意的俱乐部情调--烛光晚餐必备盘


难得的明亮与和谐,在这张融合四重奏与五重奏交错的完美演出中,你彷彿更深切感受到一股愜意的俱乐部情调。咆勃乐派极富盛名的钢琴老手Al Haig的自由演绎,缀饰出每一个鲜明对话的色彩,绝对胜过你任何一场独具情调的烛光晚餐。

查特.贝克在纽约 IN NEW YORK / 查特贝克 Chet Baker
唱片编号:888072359116
唱片公司:环球 UNI
发行日期:2014-10-31


Chet Baker : In New York

with Johnny Griffin, Al Haig, Paul Chambers, Philly Joe Jones


1862072





产品条码: 0888072359116
产品编号: RLP12281
发行公司: RIVERSIDE [发行商品]
发行日期: 2014年10月31日
产品制造地: 欧美 .
发行类型: Jazz 爵士 . 黑胶唱片 . 英文 .
内装片数: 1片

Chet Baker : In New York 查特.贝克:在纽约(AMG四星, 企鹅三星,滚石三颗星)


引用
Audio CD (July 1, 1991)
Number of Discs: 1
Label: OJC
ASIN: B000000YBK

Release Date September, 1958
Duration 51:28
Genre Jazz
Styles Cool West Coast Jazz Jazz Instrument Trumpet Jazz Vocal Jazz
Recording Date September, 1958


AllMusic Review by Lindsay Planer [-]

Chet Baker's West Coast cool comes to the Big Apple on Chet Baker in New York. The project would be Baker's first -- in a four album deal -- with the Big Apple-based Riverside Records. The bicoastal artist incorporates his decidedly undernourished sound and laid-back phrasing into the styling of Al Haig (piano), Johnny Griffin (tenor sax), Paul Chambers (bass), and Philly Joe Jones (drums). The results are uniformly brilliant as Baker's cool-toned solos fly and bop with authority around the equally impressive supporting soloists. Conversely, the same cohesive unity continues on the introspective numbers that are more akin to Baker's California cool. Undoubtedly one of the charms of this collection is the distinct choice of material. Running the gamut from the relaxed and soothing "Polka Dots and Moonbeams" and equally serene "Blue Thoughts" at one end of the spectrum to the percolating and driving intensity of "Hotel 49" on the other. This track features each quintet member taking extended solos corralling together at the head and again at the coda for some intense bop interaction. Especially ferocious is Philly Joe Jones, who could easily be mistaken for Keith Moon, Ginger Baker, or even Gene Krupa with his cacophonous solo that never strays from the beat or loses its sense of swing. Perhaps the best meshing of styles can be heard on the Miles Davis composition "Solar." This "best-of" candidate refers to both Chambers' and Jones' concurrent involvement with Davis. The churning backbeat likewise propels the melody and ultimately the performers into reaching beyond their individual expertise and into an area of mutual brilliance. Chet Baker in New York is a highly recommended entry into Baker's catalog. It should also be noted that these same sides were issued in 1967 as Polka Dots and Moonbeams on the Jazzland label.



The Talent | Chet Baker

By JOHN VINOCUROCT. 13, 2013


Finding Meaning in a Trumpeter's Jagged Life and Death

''He was one of the first generation of masters who created the powerful American urban music that came to be called bebop. He was the last of them to remain faithful to heroin, long after the others had cleaned up or died young. It was a love affair more than a habit.''

He was Chet Baker, the junkie trumpeter, a legend of sordidness and stone brilliance, who fell to his death at age 58 out the window of room 210 at the Hotel Prins Hendrik in Amsterdam, near the drug-dealing area on Zeedijk. The fall was seemingly drug-induced and probably came as he nodded off while sitting on a windowsill. It was three in the morning on May 13, 1988.
Continue reading the main story
Related Coverage

Special Section | Turning The Page: Death of a Jazzman: Last Notes on Chet Baker's Final DaysOCT. 13, 2013

The writer, reporting from the scene a day or two later, was the late Mike Zwerin, the International Herald Tribune's man on jazz. He had both musical authority — he played trombone with Miles Davis on a couple of tracks of his revered ''Birth of the Cool'' album (which is like having pinch hit in a baseball lineup alongside Babe Ruth and Willie Mays) — and a warm, approachable style in print that comforted his many strong judgments.
Photo
Top of his game: Chet Baker in Los Angeles in 1954. Mike Zwerin wrote that by the 1980s,''He began to resemble an old Indian, the last of a tribe that had seen a lot of suffering.'' Credit William Claxton/Courtesy Demont Photo Management

Of Chet, who lived in Europe for most of the '80s, becoming a romanticized, broken-virtuoso commodity for Continental club owners and record producers, Mike reported:

''The creases on his face had multiplied and deepened and his lips turned in over the dentures he had worn since his teeth were knocked out by angry dealers in San Francisco. He began to resemble an old Indian, the last of a tribe that had seen a lot of suffering.''

Mike also pointed to a fierce irony: The mythic junkie had become an immense musician. After he embarrassingly won best-trumpeter polls as a ''great white hope'' in the 1950s in America, Mike insisted that Chet ''on a good night in the middle 1980s was capable of playing jazz as well as it can be played, yet was dismissed as a has-been.''

On his newspaper's good days in the '80s and '90s, Mike Zwerin represented a big piece of its elegant, Paris-based eclecticism. Looking back to the sixties, Volker Schlöndorff, the Oscar-winning film director, said there were moments ''when nothing could be more sexy than to be seen with a copy of the Herald Tribune sticking out of your coat pocket.''

The IHT had people who wrote about jazz, fashion, the art markets and eurobonds, but no White House correspondent, or anyone on the front lines in the Balkans — the news turbines of its publishers since 1967, The New York Times and The Washington Post, did those jobs masterfully for the Trib.

Rather, the IHTs editorial page editor, Robert Donohue, wrote about rugby's Five Nations Tournament, and Sam Abt, the paper's deputy editor, filled columns for years with insights into cycling and the Tour de France.

The IHT tried to pick its spots carefully.

Tom Buerkle, writing from Brussels, enraged European Union bureaucrats by showing how the bloc's own statistical service demonstrated that Germany and France had areas of poverty greater than corresponding ones in the United States.

And when the European Union seriously considered taking Turkey in as a member, the newspaper sent Tom Fuller to Turkey's borders with Iran, Iraq and Syria to report strikingly on how real life appeared at what were projected to become Europe's frontiers.

For the record, the day of Chet Baker's death, Mike Zwerin complained like hell about having to stir himself and head for Amsterdam on a couple of hours notice. And in the middle of the afternoon! He was told that breathing the air of the canals would do him great good.

The piece he wrote, probably smoking and still cursing, remains fine reading.
Companies etc
Recorded At – Reeves Sound Studios
Credits
Bass – Paul Chambers (3)
Design [Cover] – Paul Bacon (2)
Drums – Philly Joe Jones*
Engineer – Jack Higgins
Photography By [Cover] – Paul Weller (3)
Piano – Al Haig
Producer, Liner Notes – Orrin Keepnews
Tenor Saxophone – Johnny Griffin
Trumpet – Chet Baker
Notes
Recorded in New York; September, 1958.
Chet Baker appears by arrangement with World Pacific Records
Barcode and Other Identifiers
Matrix / Runout (side A runout area data): RLP 12-281 A CC
Matrix / Runout (side B runout area data): RLP 12-281 A CC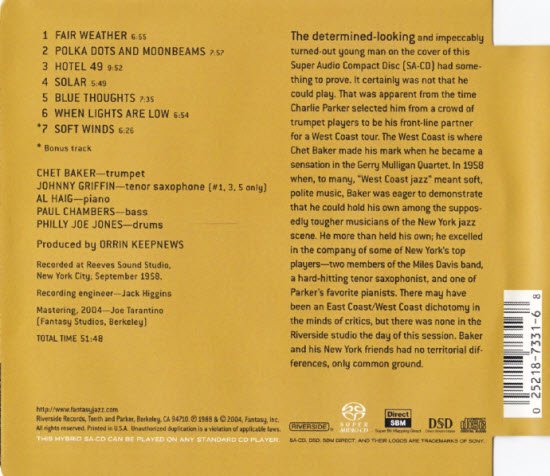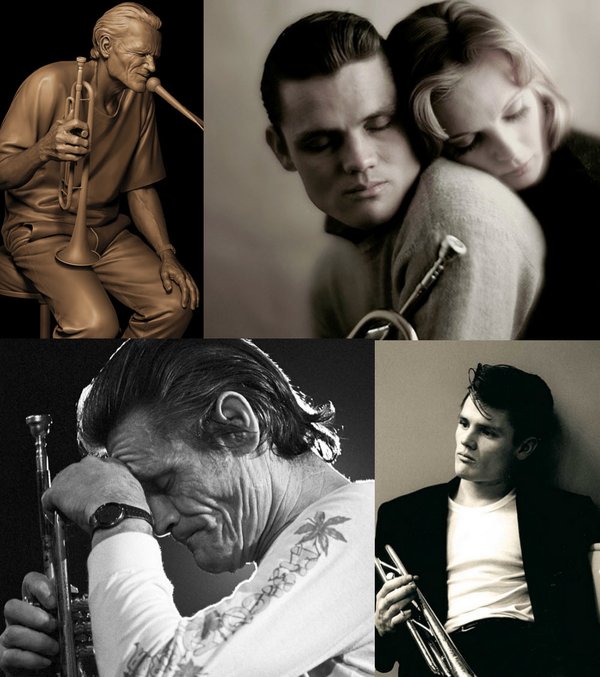 专辑曲目:
1. Fair Weather (Benny Golson)
2. Polka Dots and Moonbeams (Burke-Van Heusen)
3. Hotel 49 (Owen Marshall)
4. Solar (Golson)
5. Blue Thoughts (Golson)
6. When Lights Are Low (Williams-Carter)
7. Soft Winds* (Benny Goodman)
这里是其它用户补充的资源(我也要补充):
暂无补充资源