专辑英文名: Mozart, Schubert, Stravinsky - Piano Duos
专辑中文名: 柏林爱乐厅现场实况
古典类型: 全集作品
资源格式: FLAC
发行时间: 2014年10月20日
简介: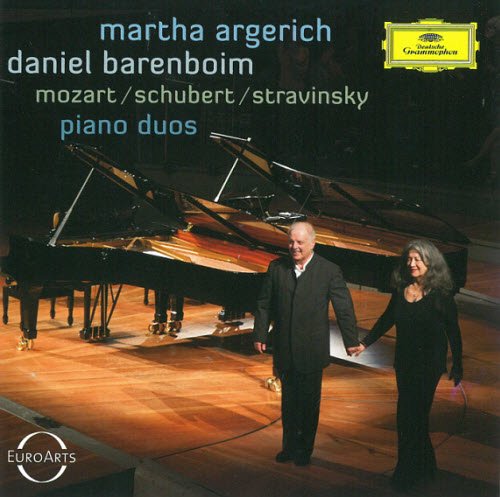 专辑介绍:

☉阿格丽希,钢琴/巴伦波英,钢琴

★2014年4月19日,柏林爱乐厅现场实况


提到出生於阿根廷,成长於阿根廷的古典音乐演奏大师,相信有两个名字一定会出现在爱乐者的脑海:一个是巴伦波英,一个是阿格丽希。

阿格丽希1941年出生於布宜诺斯艾利斯,在阿根廷师从史卡拉穆札,十四岁移民欧洲。巴伦波英1942年出生於布宜诺斯艾利斯的俄裔犹太家庭,由师从义大利裔阿根廷钢琴家史卡拉穆札的父亲啟蒙学习钢琴,九岁移民欧洲。1960年代以后,这两位来自阿根廷的音乐家在全球古典乐坛发光发热,各拥一片天,成为无可争议的音乐大师。

2014年四月十九日,由柏林国立歌剧院在柏林爱乐厅举办的音乐节成为国际注目的焦点:阿格丽希与巴伦波英以钢琴家的身分,一同举办一场音乐会。在这一场座无虚席的音乐会上,两人一同演奏了莫札特D大调双钢琴奏鸣曲、舒伯特降A大调为钢琴四手联弹所写的主题与变奏,以及双钢琴版本的史特拉汶斯基芭蕾音乐《春之祭》。史特拉汶斯基最初是以双钢琴的编制写下《春之祭》,并且在一次私人场合上,与作曲家德布西一同演出。而英国《卫报》在评论这一场音乐会的时候,认为「阿格丽希与巴伦波英当然具有比史特拉汶温斯基与德布西更杰出的钢琴演奏技巧。两人的合作成果,很难被超越」。

产品条码: 0880242599940
产品编号: 2059994
发行公司: EUROARTS [发行商品]
发行日期: 2015年04月17日
产品制造地: 欧美 .
发行类型: ABC区 . 普遍级 . NTSC美规 . 钢琴 . 室内乐 . 古典 . BLU-RAY .
内装片数: 1片

【曲目】

莫札特:D大调双钢琴奏鸣曲,K. 448
[1] 第一乐章:精神饱满的快板
[2] 第二乐章:行板
[3] 第三乐章:很快的快板
[4] 舒伯特:降A大调为钢琴四手联弹所写的主题与变奏,D. 813

史特拉汶斯基:芭蕾音乐《春之祭》
[5] 第一部:大地崇拜
[6] 第二部:牺牲




Performer: Martha Argerich, Daniel Barenboim
Composer: Wolfgang Amadeus Mozart, Franz Schubert, Igor Stravinsky
Audio CD (20 Oct. 2014)
Number of Discs: 1
Label: Decca (UMO)
ASIN: B00M14IEIS



Mozart, Schubert, Stravinsky: Piano Duos CD review – dizzy heights from two of the world's greatest

Martha Argerich, Daniel Barenboim
(Deutsche Grammophon)

This is sensational: two of the world's greatest pianists coming together for a seemingly spontaneous joint recital that hits dizzy heights of excitement. Not everything is perfect: Stravinsky's own piano duet version of The Rite of Spring is done on two pianos, which makes it marginally easier to play but creates tricky moments of ensemble: the Danse sacrale gets off to a very bumpy start. But can the adolescents' dance ever have sounded more eloquent than under Barenboim's fingers, or the spring rounds more hypnotic than Argerich makes them? Even in this seismically brutal music, neither of them ever makes an ugly sound, while in Mozart's Sonata for Two Pianos, K448 and Schubert's Variations on an Original Theme D81 3, their flexible, improvisatory approach lifts the music aloft.


引用
MOZART; SCHUBERT; STRAVINSKY Piano Duos
Show View record and artist details
Author:
David Threasher
479 3922GH. MOZART; SCHUBERT; STRAVINSKY Piano DuosMOZART; SCHUBERT; STRAVINSKY Piano Duos
MOZART; SCHUBERT; STRAVINSKY Piano Duos

Martha Argerich and Daniel Barenboim were born in Buenos Aires less than 18 months apart and were regarded as the city's 'two little wunderkinder', performing with visiting musicians at the Argentine capital's musical soirées of 1949. Astonishingly, however, they seem never actually to have played together in the intervening 55 years – until, that is, this much-anticipated Berlin concert, the result not only of lasting friendship and mutual respect but also, one gathers, of some fairly fierce horse-trading.

The opening selection, Mozart's Sonata for two pianos, demonstrates these two pianists' contrasting musical characters. Barenboim's instinct is to sing out, to play to the very back of the hall – although never at the expense of the cantabile that is so essential in all of Mozart's music. Argerich opted for the second piano part: 'She is a wonderful accompanist,' says Barenboim, 'and I think she wanted to control the pedals and the balance.' She acts in a way as a moderating influence on Barenboim's flights, thanks surely in part to her years of experience as a chamber musician. Does it work? After a shaky opening movement (ensemble is often awry and the wonderful hocketing sections from 1'33" passim don't come off that well), the central slow movement is beautifully shaped and phrased, and the finale, briskly taken, is properly bubbly and joyful.

Schubert's A flat Variations – like the Mozart, a party-piece of Richter and Britten's – finds the notes a little more surely under Barenboim's fingers and builds cumulatively to an intensity comparable with the roughly contemporary Death and the Maiden Quartet, which it resembles in certain motivic and formal ways. The main attraction of the evening, though, was surely The Rite of Spring in the two-piano arrangement Stravinsky made prior to the work's infamous premiere and which he performed in partnership with none other than Debussy. These two-piano bodges always draw from critics the cliché that one misses the orchestral colouring of the work; and anyway, they are best avoided unless one has a particular interest in the pianists. This shattering performance sweeps away all such notions. 'I didn't feel inhibited by the difficulties,' says Argerich, 'though it certainly is difficult, rhythmically in particular.' This is a tour de force of pianistic chutzpah; and if the closing bars of 'The Adoration of the Earth' are a little scrambled, that's Stravinsky's fault rather than Argerich's or Barenboim's. At the work's close there is a collective gasp from a packed Philharmonie audience before suitably riotous applause breaks out. Your reviewer gasped too.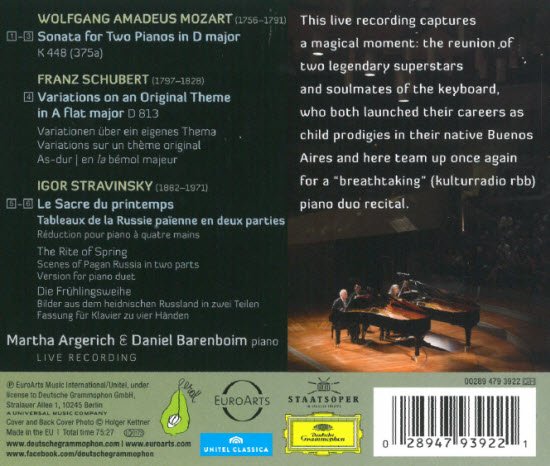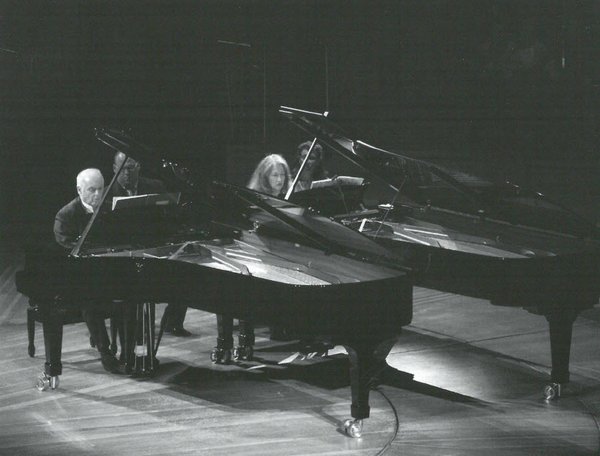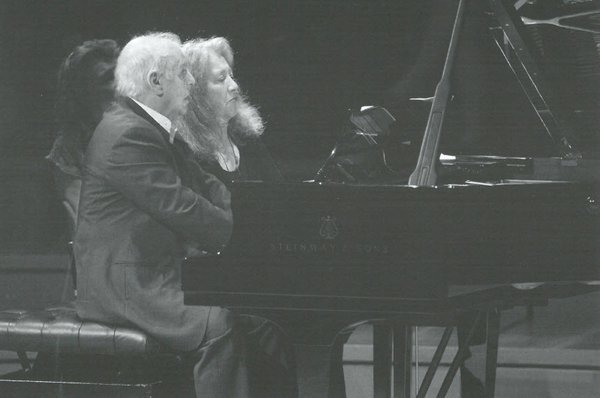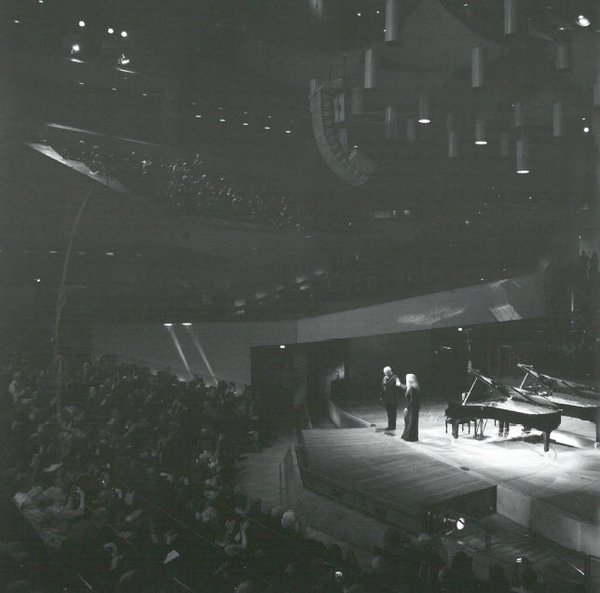 专辑曲目:
1. Sonata In D Major For 2 Pianos, K.448: 1. Allegro con spirito - Wolfgang Amadeus Mozart 8:01
2. Sonata In D Major For 2 Pianos, K.448: 2. Andante - Wolfgang Amadeus Mozart 10:02
3. Sonata In D Major For 2 Pianos, K.448: 3. Allegro molto - Wolfgang Amadeus Mozart 6:37
4. Variations On A Original Theme In A Flat, D813 - Franz Schubert 18:32
5. Le Sacre du Printemps - Version For Piano Duet (Published 1913): Part 1: The Adoration Of The Earth - Igor Stravinsky 14:48
6. Le Sacre du Printemps - Version For Piano Duet (Published 1913): Part 2: The Sacrifice - Igor Stravinsky 17:25
这里是其它用户补充的资源(我也要补充):
暂无补充资源