专辑英文名: Pure... Drive
专辑中文名: 纯兜风
音乐风格: 流行
资源格式: FLAC
版本: [4 CD]
发行时间: 2011年10月10日
简介: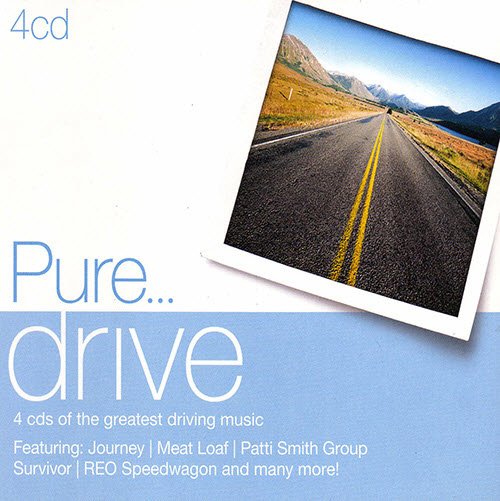 专辑简介:

★横跨摇滚5大系,天团金曲全收齐
★超级天团齐聚: 旅行者合唱团、山塔那、星船合唱团、欧洲合唱团、追随者乐团、REO快速马车等数十组经典乐团
★超激68首劲歌收录: 庞克、新潮流、另类摇滚、硬式摇滚、华丽摇滚、放克摇滚等类型公路神游必备歌曲


纯兜风 (4CD)
V.A. / Pure... Drive (4CD)

唱片公司:SONY MUSIC
音乐类型:西洋音乐
唱片编号:88697962962
发行日期:2012年06月12日
进口专辑 / CD / 4 片装


纯兜风 4CD
Pure... Drive

编号:88697962962
条码:886979629622

出版社:Sony Music
出版日期:2012/06/12

Audio CD (10 Oct. 2011)
Number of Discs: 1
Format: Box set
Label: Sony Music Cmg
ASIN: B005F1MZ66


引用
Artist:VA
Title Of Album:Pure... Drive
Year Of Release:2011
Label:Sony Music
Genre:Pop, Dance, Rock, Other
Total Time:04:17:24

Each collection features 4 CDs of the greatest artists, the biggest songs and the harder-to-find hits all uniquely themed to a genre.

Release Date October 10, 2011
Duration 04:16:52
Genre Pop/Rock Country
Styles AM Pop Arena Rock Blues-Rock Grunge Hard Rock Pop-Metal Alternative/Indie Rock Heavy Metal Traditional Country

Review by Steve Leggett

Almost anything could be called "driving music" if one drives to it, so this four-disc set of songs to drive to takes that theme pretty loosely for the most part, but it does include some classic odes to the joys and hazards of motion and movement like Kenny Loggins' "Danger Zone," Ram Jam's "Black Betty," Soul Asylum's "Runaway Train," Blue Öyster Cult's "(Don't Fear) The Reaper," the Edgar Winter Group's "Free Ride," and, of course, Willie Nelson's "On the Road Again," among dozens of other would-be road anthems.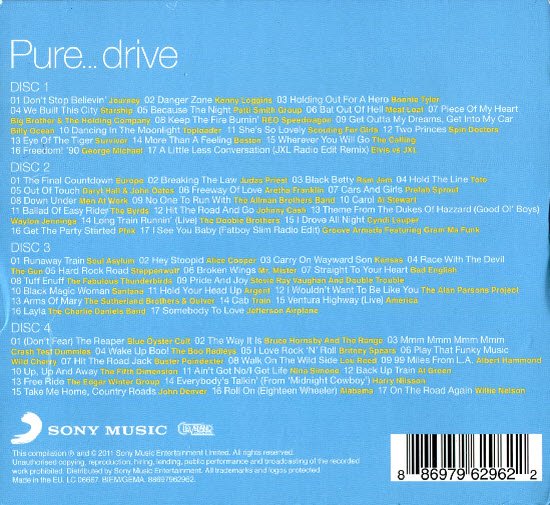 专辑曲目:
CD1

01. Journey - Don't Stop Believin'(4:11)
02. Kenny Loggins - Danger Zone(3:32)
03. Bonnie Tyler - Holding Out For A Hero(4:23)
04. Starship - We Built This City(4:26)
05. Patti Smith Group - Because The Night(3:24)
06. Meat Loaf - Bat Out Of Hell(4:52)
07. Big Brother and the Holding Company - Piece Of My Heart(4:16)
08. REO Speedwagon Keep - The Fire Burnin'(3:57)
09. Billy Ocean Get Outta - My Dreams, Get Into My Car(4:46)
10. Toploader - Dancing In The Moonlight(3:52)
11. Scouting For Girls - She's So Lovely(3:45)
12. Spin Doctors - Two Princes(4:17)
13. Survivor - Eye of the Tiger(3:49)
14. Boston - More Than A Feeling(3:29)
15. The Calling - Wherever You Will Go(3:29)
16. George Michael - Freedom '90(6:31)
17. Elvis vs JXL - A Little Less Conversation (JXL radio Edit Remix)(3:33)

CD2

01. Europe - The Final Countdown (4:00)
02. Judas Priest - Breaking The Law (2:36)
03. Ram Jam - Black Betty (3:58)
04. Toto - Hold The Line (3:57)
05. Daryl Hall & John Oates - Out Of Touch (4:08)
06. Aretha Franklin - Freeway Of Love (4:11)
07. Prefab Sprout - Cars And Girls (4:27)
08. Men At Work - Down Under (3:41)
09. The Allman Brothers Band - No One To Run With (6:00)
10. Al Stewart - Carol (4:27)
11. The Byrds - Ballad Of Easy Rider (2:05)
12. Johnny Cash - Hit The Road And Go (2:42)
13. Waylon Jennings - Theme From The Dukes Of Hazzard (Good Ol' Boys) (2:08)
14. Long Train Runnin' (Live) (5:58)
15. Cyndi Lauper - I Drove All Night (4:11)
16. Pink - Get The Party Started (3:14)
17. Groove Armada feat. Gram'Ma Funk - I See You Baby (Fatboy Slim Radio Edit) (4:06)

CD3

01. Soul Asylum - Runaway Train (4:26)
02. Alice Cooper - Hey Stoopid (4:35)
03. Kansas - Carry On Wayward Son (3:26)
04. The Gun - Race With The Devil (3:35)
05. Steppenwolf - Hard Rock Road (3:31)
06. Mr. Mister - Broken Wings (4:42)
07. Bad English - Straight To Your Heart (4:09)
08. The Fabulous Thunderbirds - Tuff Enuff (3:20)
09. Stevie Ray Vaughan and Double Trouble - Pride And Joy (3:40)
10. Santana - Black Magic Woman (3:15)
11. Argent - Hold Your Head Up (6:18)
12. The Alan Parsons Project - I Wouldn't Want To Be Like You (3:23)
13. The Sutherland Brothers & Quiver - Arms Of Mary (2:38)
14. Train - Cab (3:23)
15. America - Ventura Highway (Live) (3:46)
16. The Charlie Daniels Band - Layla (3:01)
17. Jefferson Airplane - Somebody To Love (2:58)

CD4

01. Blue Oyster Cult - (Don't Fear) The Reaper (5:09)
02. Bruce Hornsby And The Range - The Way It Is (4:58)
03. Crash Test Dummies - Mmm Mmm Mmm Mmm (3:49)
04. The Boo Radleys - Wake Up Boo! (3:06)
05. Britney Spears - I Love Rock 'n' Roll (3:07)
06. Wild Cherry - Play That Funky Music (3:04)
07. Buster Poindexter - Hit The Road Jack (3:10)
08. Lou Reed - Walk On The Wild Side (4:13)
09. Albert Hammond - 99 Miles From L.A. (3:58)
10. The Fifth Dimension - Up, Up And Away (2:37)
11. Nina Simone - Ain't Got No / I Got Life (2:11)
12. Al Green - Back Up Train (2:21)
13. The Edgar Winter Group - Free Ride (3:08)
14. Harry Nilsson - Everybody's Talkin' (From 'Midnight Cowboy') (2:36)
15. John Denver - Take Me Home, Country Roads (3:11)
16. Alabama - Roll On (Eighteen Wheeler) (3:45)
17. Willie Nelson - On The Road Again (2:33)
这里是其它用户补充的资源(我也要补充):
暂无补充资源