专辑英文名: Seule Ce Soir
专辑中文名: 唯独今夜
别名: Alone Tonight
音乐风格: 爵士
资源格式: FLAC
发行时间: 2012年10月16日
简介: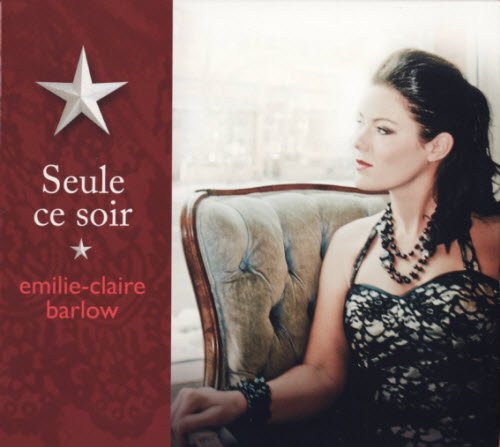 专辑介绍:

■ National Jazz Awards 2006「年度最佳女伶」 2007「年度最佳爵士女伶」双料提名入围

或许爱蜜莉天生存有人们脑海中编织,所谓女伶们身著礼服脚踏狐步的优柔姿态。当然,还有那一开口便要人并住呼吸聆听的华美嗓音。但显然她不满足於这样的窗橱限制。如同貌美的女演员总要扮丑几回让观眾注意其演技,爱蜜莉向来喜爱挑战自身的音乐才能,也调皮地挑战乐迷耳朵。

这位深黯多项乐器的加拿大才女,从她即兴哼唱的乐句中不难发现Ella Fitzgerald的影响。不仅在08年的National Jazz Awards中获提名《年度最佳女歌手》奖项,也受邀献声於多部精采的动画原声带。自2001年的处女作发表以来,她参与音乐制作的比重也逐渐提高,这张专辑她更一肩挑起制作人与编曲著的责任。

艺人 Emilie Claire Barlow (爱蜜莉)
类型 爵士音乐
发行月份 2012-Oct


Audio CD (October 16, 2012)
Number of Discs: 1
Format: Import
Label: Koch Canada
ASIN: B009E313R8

YOU WILL BELIEVE
By Ty Webb on February 20, 2015

Five stars all the way for "Seule" as Barlow continues to raise the bar, not only for other current chanteuses, but for herself as well. The choice to do this album in French was the bold, but brilliant brushstroke of an artist who hasn't forgotten how to deliver that punch to the gut with her vocal inflections.

Although fluent in French, for "Seule," Barlow recognized the need to polish her framing and pronunciation of the language in order to focus on the lyrics and feelings she wanted to effectively convey to her listener. To accomplish this she thoroughly revisited her French language teachings before laying down any serious tracks for this album. The further perfecting of her French language skills shines through in this brilliant recording. One only needs listen to "T'es Pas un Autre" to understand.

Whether or not one speaks French, the ardent listener will feel, and even many times, correctly identify the particular emotion being expressed.

"Seule" was my first Barlow experience, and one of the best first impressions of a vocalist I can remember.


引用
Emilie-Claire Barlow's French immersion
Article posted by Scott Tresham in Jazz

Seule ce soir (Alone Tonight) is Canadian jazz artist Emilie-Claire Barlow's ninth album — her first solely en français — comprising new arrangements of songs she's recorded previously, and six completely new covers including "Petit matin" by Sylvain Lelièvre, "Croissants de soleil" by Ginette Reno and "La belle dame sans regret" by Sting.

Seule ce soir will be officially released on Oct. 16, but you can preview the entire album as of now on our French-language sister site, espace.mu.

CBC Music reached Barlow at home in Toronto, for a little tête-à-tête about her latest essay.

Q: Pourquoi French? Pourquoi now?

A: I find the language to be beautiful and very musical. I appreciate the poetry of French lyrics — and it changes the sound of my voice, as the mouth adapts to the necessary shapes. Many people assume that I am French on my mother's side, because of my name, [but] there is no French in my background. The truth is my parents just loved the name.

The desire to do an all-French album was to have an opportunity to immerse myself a little deeper in the music and the language. I feel that I have been working up to it for a while. Regardless of the language, the tone of many of these songs really reflected where I am in my life right now, so it seemed very natural.

Q: You've recorded many of the songs on Seule ce soir before. Why record them again?

A: The original idea was to compile all of the tunes I have recorded in French onto one disc, with some additional material. But upon listening to the originals, I quickly realized that I wanted to record new versions.

I have a deeper connection to the songs, having performed them many times. And on a personal level, having gone through some ups and downs over the past while, I also understand myself a little better! I am so grateful to be able to channel these experiences and emotions into something artistic.

Q: "Boots for walking" versus "Bottes pour marcher."

A: I think that the level of "sass" is pretty equal in both versions. And though the translation is fairly direct, the French version strikes me as a bit more empowering. Instead of "walking all over" him, she uses those boots to simply leave and walk away.

引用

Emilie-Claire Barlow tries Jacques Rock

Bernard Perusse, Postmedia News | November 12, 2012 7:00 PM ET
More from Postmedia News

"The greatest thing about music is that it crosses those [language] 
borders," Emilie-Claire Barlow says.

Recording in French is not a big departure for Emilie-Claire Barlow. She has squeezed in some langue-de-Gainsbourg tracks on her albums before.

What makes the Toronto chanteuse's new disc, Seule ce soir, a modest milestone is that it's her first release to be recorded entirely en français. With this one, Barlow shows how seriously she takes her honorary Quebecer status. Going even farther, Barlow is immersing herself in French conversation these days — the better to get thrown into the deep end with French-language television interviews.

Surprisingly, you could say it started with, of all things, the bossa nova. Barlow says she fell in love with the genre early in her career.

"It didn't matter to me that it was in a different language," Barlow says during a recent visit to Montreal. "In fact, it was exciting to me that it was in a different language. I remember being frustrated that I couldn't sing along, and so I set out to, at the very least, learn the lyrics and the intent of the song — which, I think, is necessary to sing it. The same thing developed with me for the French repertoire. If a song speaks to me, if a phrase jumps out, or a melody, or just the overall mood of it, it doesn't matter what language it's in. I'm inspired to take it on as part of my repertoire.

"The greatest thing about music is that it crosses those [language] 
borders."

Musically, Seule ce soir settles down in a comfort zone of gently smouldering, jazzy covers, aimed squarely at the growing fan base 
Barlow is building in this province. In fact, eight of its 14 songs are remakes of tracks that have appeared in earlier versions on her previous albums.

Nobody does melancholy like the French. There's a complete giving in to it — almost enjoying it, just living inside your state of melancholy

Barlow says the original idea for the disc was more modest: It was to be a compilation of the previously released French tracks, with a few newly recorded songs. But when she went back and listened to the earlier studio performances, she realized they had to be updated, she said. The gradual improvement of her French pronunciation over the years and the way the original covers evolved after being played on the road dictated a full reboot.

And now that Seule ce soir was a bona fide new album, an actual tour seemed logical.

As on the singer's previous disc, the '60s homage The Beat Goes On, songs spanning different genres 
appear in smooth, Barlow-arranged renditions. "The only focus of it was that I was choosing songs that were all in French, but there were no other rules," she says.

The opening track, an understated, 
haunting Quand le soleil dit bonjour aux montagnes, will be remembered by some as Lucille Starr's 1964 international hit, also known as The French Song. "Whoa, that vibrato was something else!" Barlow says, laughing, when Starr's country rendition was mentioned.

"It's a beautiful song. Sometimes the process is about just taking a song and completely breaking it down to the nuts and bolts, the bare bones. If it's well-written, it can stand up to a completely different treatment," she says. "It's simple, and I mean that with the utmost respect, because it's very difficult to write such a simple and poignant song."

Lyrics are also an important part of what attracts Barlow to French songs, she said, rhapsodizing about the poetry of some of the compositions she chose for the album, such as Des croissants de soleil.

"On this album, there are common musical themes of romance and love, and also of loss and melancholy," she says. "Nobody does melancholy like the French. There's a complete giving in to it — almost enjoying it, just living inside your state of melancholy. It becomes romantic, in a way.

"I just love how some things just cannot be translated into English," she adds. "It's almost like a photograph, in the end. It paints a picture of a feeling or an emotion you can't really translate."

Barlow, as the album's producer and the arranger of all but one of its songs, takes on the responsibility for bringing some of those pictures to life. She is prone to joke about her tendency to be bossy — her word — a trait shared by Bunny, the character she voices in the animated series Almost Naked Animals. Or she will agree readily when asked if she needs to be in control. But there's an issue here that transcends personality traits.

Until the Beatles and Bob Dylan came along, songwriting and performing were, with few exceptions, separate disciplines. Frank Sinatra and Elvis Presley, for example, picked from the best tunesmiths and made great songs their own. Choosing was part of their art. After Lennon and McCartney ushered in an age of in-house writing and performing, singers were expected to write, and many were not up to the task. The distinction resonates with Barlow.

"It's funny how people immediately make that assumption," she says. "I get asked all the time when I'm going to write my own songs. Maybe I will, but I might not. It's a completely different craft. I marvel at that skill, but I have a lot of ideas for repertoire and for arrangements. That's my creative process. That's how I get my creative kicks, how I express myself: by writing arrangements for horns and strings. That, to me, is a hugely important part of the process that I don't want to give up."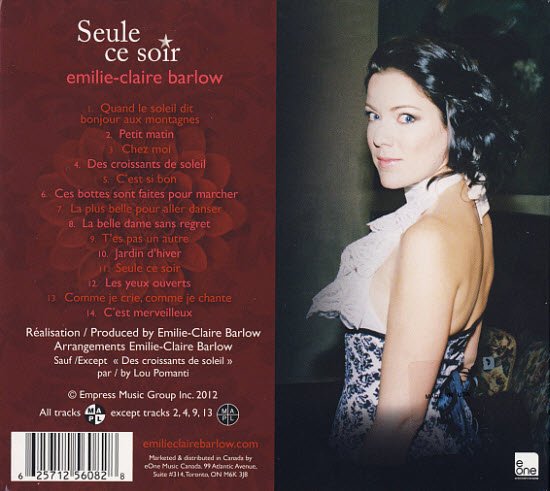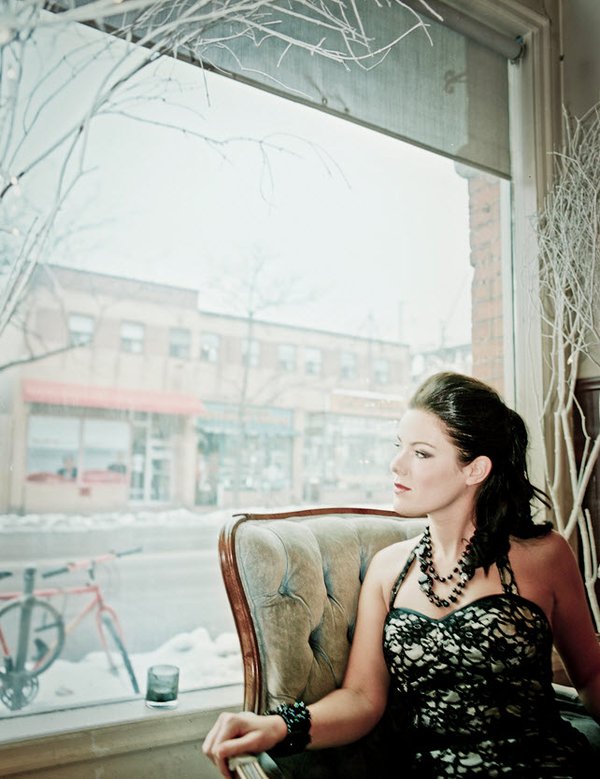 专辑曲目:
01. Quand Le Soleil Dit Bonjour Aux Montagnes
02. Petit Matin
03. Chez Moi
04. Des Croissants De Soleil
05. C'est Si Bon
06. Ces Bottes Sont Faites Pour Marcher
07. La Plus Belle Pour Aller Danser
08. La Belle Dame Sans Regret
09. T'es Pas Un Autre
10. Jardin D'Hiver
11. Seule Ce Soir
12. Les Yeux Ouverts
13. Comme Je Crie Comme Je Chante
14. C'est Merveilleux
这里是其它用户补充的资源(我也要补充):
暂无补充资源