专辑英文名: Live At The Regal
专辑中文名: 雷格现场演唱经典
音乐风格: 爵士
版本: [SACD-r]
发行时间: 1965年
简介: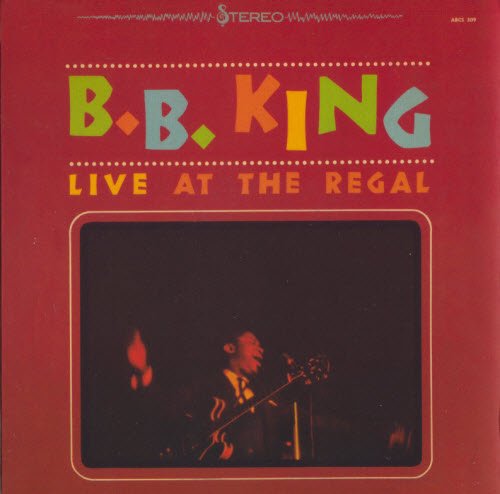 专辑介绍:

 毫无疑问地,这绝对是史上最棒的蓝调现场演唱专辑;这张专辑对64年之后所有的蓝调吉他手的影响力仿佛中国军事演习对于台湾股市。在这张专辑中,B.B.King展现它一贯的风格,以最少的音符表达最庞大的情感。这张专辑让所有吉他手痛恨味道这两个字,你能模仿B.B.King所弹得每一个音,但那永远无法听来像B.B. King。

  传奇人物B.B.King毋庸质疑是二十世纪后半叶吉他领域裏的权威人物,是这个时代布鲁斯音乐的领导者之一。一个有所成就的Blues吉他手如果没有经过音乐大师的指导是不可想象的,而B.B.King却是凭著自己的灵感与努力创立了自己的音乐风格。

  B.B.King原名Riley B.King,早年因做为一名虔诚的教徒而经常演唱教堂颂歌。1943年,他移居到接近Dela中心的一个小镇,渐渐的开始接触布鲁斯音乐,而让他的布鲁斯音乐才华得以充分发挥的却是布鲁斯圣地Mississippi Delta。在1951年到1985年间,B.B.King取得的成绩是为世人所瞩目的,他曾做为极少数功力深厚的布鲁斯明星之一,进入了仅74人的BillBoard R&B演唱会入选者名单。尤其是1970年,B.B.King因《The Thrill Is Gone》取得的巨大成功成为了乐坛的焦点人物,从而获得了数以万记的乐迷和世界一流吉他大师的头衔。在他的音乐生涯中,曾与多位音乐大师合作,包括布鲁斯大师T-Bone Walker和Lonnie Johnson、爵士大师Charlie Christian和Django。


(中央社拉斯维加斯15日综合外电报导)「蓝调之王」比比金(B.B. King)律师表示,他在拉斯维加斯过世,享寿89岁。

他的律师布莱森(Brent Bryson)向美联社表示,当地时间昨天晚上9时40分,比比金在家中安详辞世。

「洛杉磯时报」(Los Angeles Times)先前引述公关报导,比比金因病住院,但未透露病情细节。

法新社报导,比比金出生在密西西比州,本名莱里金(Riley B. King)。他是摇滚名人堂一员,名列史上最伟大吉他手之一。

他20多年来第二型糖尿病缠身。

B.B. King: Live at the Regal
比比金: 雷格现场演唱专辑

作者 / B.B. King 比比.金
出版社 / 环球国际唱片股份有限公司
出版日期 / 2007/01/28
商品语言 / 英文


Audio CD (July 29, 1997)
Number of Discs: 1
Format: Live
Label: Geffen
ASIN: B000002P72

Release Date 1965
Duration 01:13:42
Genre Blues R&B
Styles Early R&B Electric Blues Modern Electric Blues Soul-Blues Urban Blues Memphis Blues Modern Blues Regional Blues
Recording Date November 21, 1964

Review by Daniel Gioffre [-]

B.B. King is not only a timeless singer and guitarist, he's also a natural-born entertainer, and on Live at the Regal the listener is treated to an exhibition of all three of his talents. Over percolating horn hits and rolling shuffles, King treats an enthusiastic audience (at some points, they shriek after he delivers each line) to a collection of some of his greatest hits. The backing band is razor-sharp, picking up the leader's cues with almost telepathic accuracy. King's voice is rarely in this fine of form, shifting effortlessly between his falsetto and his regular range, hitting the microphone hard for gritty emphasis and backing off in moments of almost intimate tenderness. Nowhere is this more evident than at the climax of "How Blue Can You Get," where the Chicago venue threatens to explode at King's prompting. Of course, the master's guitar is all over this record, and his playing here is among the best in his long career. Displaying a jazz sensibility, King's lines are sophisticated without losing their grit. More than anything else, Live at the Regal is a textbook example of how to set up a live performance. Talking to the crowd, setting up the tunes with a vignette, King is the consummate entertainer. Live at the Regal is an absolutely necessary acquisition for fans of B.B. King or blues music in general. A high point, perhaps even the high point, for uptown blues.



55 of 58 people found the following review helpful
Blues People & Riley King
By Tony Thomas on January 26, 2004
Format: Audio CD
As has been noted, this is one of the essential albums, one of the records that everyone is supposed to have like John Coltrane and Johnny Hartman, like Robert Johnson, like the music Billie Holiday made with Lester Young for Columbia, like Louis's Hot 5s and Hot 7s, like Elvis's Sun Sessions.
Beyond that, this is something that has become increasingly rare, a live blues recording where the music is played for blues people, African American working class and middle class blues people in an urban center. This all about singing and swinging and jiving and talking to the audience and the audience talking back.
When I was in Mississippi in the mid 1960s doing civil rights work, I met Blues People who loved BB King who didn't know that he played the guitar. The expression always was and still is 'BLUES SINGER," not blues guitarist. He sang the blues the way they needed to listen to and in a Blues People venue the folks will talk back to him too.
My favorite, classic moment of the blues dialog here is in "It's my own fault baby" where Riley sings "I gave you seven children, and now you want to give 'em back." All the sistas in the audience scream. Gruffer sounds came from the men.
What is essential to blues performance for BLUES PEOPLE is the constant dialog between the singer and the audience that is the heart of the native blues experience. The dialog isn't about the impeccable guitar playing on this record, or the totally righteous playing of the band, or even the fine voice of Riley B. King here, but it is about what the words the lyrics speak to the lives of the audience, and what the audience responds to the singer. That's the center of blues, not heavy guitar licks that the post-folk-post rock blues fan thinks is the essence of heavy blues.
It's a shame the audience for the blues has almost disappeared, that blues stars no longer play in big "Chitlin' Circuit" theaters like the Regal, the Apollo, the Howard, the old non hippie Fillmore, or that you can't see Riley or Bobby Blue Bland in smoky little night clubs in the ghetto.
Perhaps, I am showing my age here, because time has to roll on. I am sure that night at the Regal there was someone who could remember when the sistas and their men would be shouting back at things Bessie Smith, or Big Maceo and Tampa Read, Lonnie Johnson, or Memphis Minnie had sung to them from that same stage without the electric instruments.
The real Black blues when it was based among us, was about singing, about commentary. For even the greatest guitarists like Riley, Lonnie Johnson, T-Bone Walker, Johnny Lee Hooker, Guitar Slim, the guitar playing and the band were just ways to emphasize how the to talk to audience. This brings to mind that great Betty Carter Album, "The Audience and Betty Carter." This is the Blues People and Riley King talking to each other. That's priceless, get it, and listen to it.




B.B. King's 5 Greatest Live Performances
back to top
'Live at the Regal' (1965)

King had already been an R&B star for a dozen years by the time of his first live album, recorded in 1964 in Chicago — and that meant that he could appeal to his audience's nostalgia. Between songs, he keeps telling the crowd that now he's going to "go back." His singing is as mighty and fluid as it ever was here, flickering between sweet and rough and radiant tones without a hint of effort. The rock fans who were just starting to get into blues ate it up. Live at the Regal became King's first charting LP and inspired the blues-rock scene that was forming in the United Kingdom.

http://www.rollingstone.com/music/lists/b-...20150515



引用
週末夜,给我B.B.King,再来杯小酒

已有 187 次阅读2009-12-12 22:55 |个人分类:音乐
又到了週末夜,挑了几首B.B.King的歌,佐以小酒与烛光,享受片刻宁静的夜

之前在滔儿音乐城西门店(关店多年,现址为西门红楼旁的NET)挑到了一张他的天碟,1965
出的Live at the regal,是mobile fidelity sound lab出的 编号 UDCD 548,封面就是第五首
mv的画面,虽然它是现场录音,但是没有video,甚憾



B.B.King(比比金)滚石杂誌"史上最棒的一百大歌手第96名"

B.B.King(比比金),介绍,评论
(我知道这个译名很奇怪,但是博客来这样决定的不是我!!)
滚石杂誌排名"史上最棒的一百大歌手第96名"
100Greatest Singers of All Time 96/100

出生於1925年 九月16号
关键歌曲"The Thrill Is Gone," "Every Day I Have the Blues," "Early in the Morning," "Ain't Nobody Home"
影响了 Eric Clapton, Ben Harper


「B.B.King最美妙的地方就在於-他的吉他演奏完美的扩展了他的声音」,Allman Brothers Band的Derek Trucks,一个B.B.King长期以来的歌迷这样说到。他是一种突破性的象徵,并持续著鼓励著妳的精神。

「听B.B.king唱歌是一件很轻鬆愉快的事情,他会让你的灵魂脱离你的躯壳,轻飘飘的。」"

B.B. King从吉他搾取出来的音符,那首Lucille、那把Lucille,是那么的清晰动人,并且,透露了一件其实有点好笑的事情,就是,当B.B.King一边在弹吉他还一边唱歌的时候,通常人们会忽略掉的,其实不会是吉他的弹奏声,而是B.B. King从自己嘴巴发出来的声音。就是这么容易就会被忽视掉。

B.B.King为蓝调歌曲带来了全新且微妙的层级,藉由他在早期民谣歌曲里富弹性的嗓音,如"You Know I Love You",与后来在1969年,充满高亢与嘶哑的"The Thrill Is Gone"还有一个温柔咆哮"Powerhouse"版本的""Every Day I Have the Blues"的live在1965年的芝加哥Regal Theater戏院。

我觉得,B.B.King最伟大的地方,是他几乎把他的吉他和他的歌声融为了一体,

彼此互补,互相延伸,这是古今中外很少人能够做到的事情。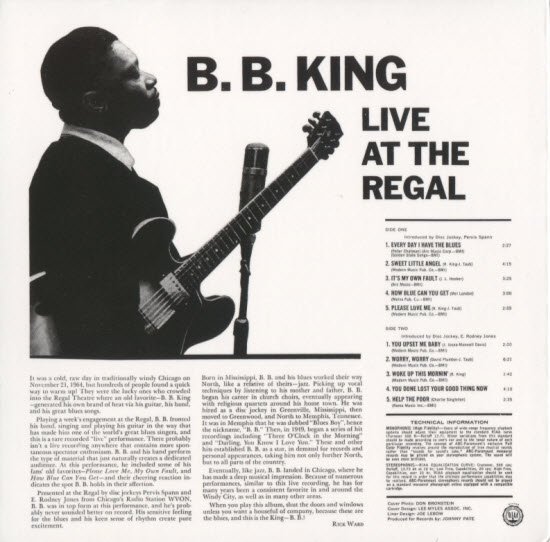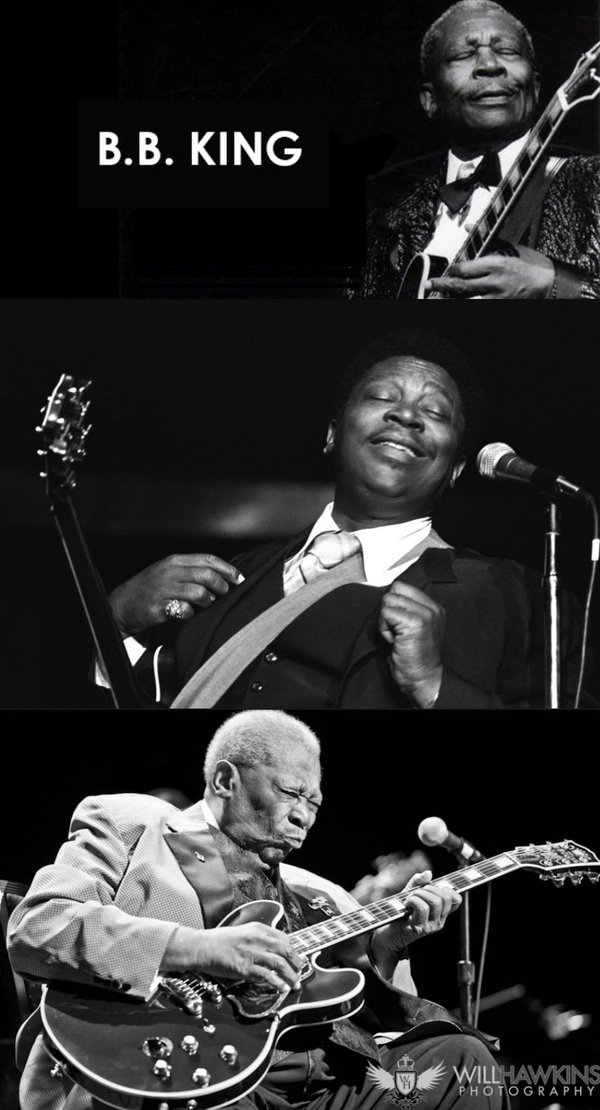 Riley B. King (September 16, 1925 – May 14, 2015), known by his stage name B.B. King, was an American blues singer, songwriter and guitarist.
专辑曲目:
01. Every Day I Have The Blues (1964/Live At The Regal Theater) 2:42
02. bSweet Little Angel (1964/Live At The Regal Theatre, Chicago) 3:47
03. It's My Own Fault 3:34
04. How Blue Can You Get? 2:40
05. Please Love Me (1964/Live At The Regal Theatre, Chicago) 2:59
06. You Upset Me Baby 3:04
07. Worry, Worry 6:23
08. Woke Up This Mornin' (Live (Regal Theatre)) 1:44
09. You Done Lost Your Good Thing Now 5:18
10. Help The Poor 2:37
这里是其它用户补充的资源(我也要补充):
暂无补充资源