专辑英文名: Famous Classical Trumpet Concertos
专辑中文名: 最受欢迎的小喇叭协奏曲集
古典类型: 协奏曲
资源格式: APE
版本: [2 CD]
发行时间: 2000年04月11日
简介: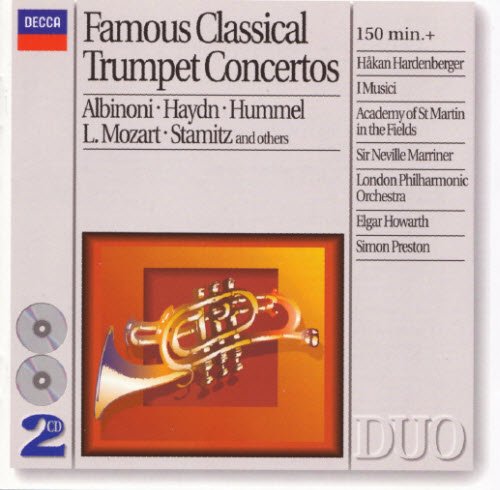 专辑介绍:

小号演奏家 Hakan Hardenberger 哈坎.哈登伯格 1961年10月27日出生於瑞典马尔摩,八岁在马尔摩跟随尼尔颂(BoNilsson)学习小号,接著进入马尔摩皇家音乐院与巴黎音乐院学习,受教於「欧洲小号教父」皮耶.提伯(PierreThibaud)的门下,之后又前往洛杉磯、巴思勒(Basle)与伦敦等地深造。并在巴黎、慕尼黑与日瓦内的小号比赛中获奖。

哈登伯格对现代音乐家的作品相当感兴趣,也致力於扩展新的小号曲目。直到目前为止,作曲家李格第、华金斯、桑德斯特隆等人都写过小号作品题献给哈登伯格。亨策的小号协奏曲在1992年也由哈登伯格首演。在技巧及音乐性上驾驭自如,尤 其小号的音色,真是圆润又优美,马利纳的指挥配合得暖又有深度,录音非常优秀,哈坎.哈登伯格乃当今瑞典第一把交椅小号高手,也是瑞典马莫音乐院和英国曼彻斯特皇家北方音乐院教授。

【Duo系列】Famous Classical Trumpet Concertos 最受欢迎的小号协奏曲集(哈登伯格,马利纳)(2CDs)(企鹅三星带花)

最受欢迎的小喇叭协奏曲集(2CDs)
Famous Classical Trumpet Concertos(2CDs)

唱片公司:Philips
作曲家:阿尔比诺尼,巴哈指挥:马利纳
演出者:哈登伯格
乐团:伦敦爱乐,义大利音乐家合奏团
系列:Philips2CD系列
音乐类型:古典音乐
唱片编号:4640282
发行日期:2000年01月11日
低价版 / CD / 2 片装 / 151分22秒

企鹅三星带花

COMPOSER: Johann Hummel (other composers in brackets after works)
TITLE: Famous Classical Trumpet Concertos
TRACKS: Trumpet Concerto in E (Hummel). Trumpet Concerto in D. Trumpet Concerto No.1 in E flat (Hertel). Trumpet Concerto in D (Stamitz). Trumpet Concerto in E flat HobVIIe:1 (Haydn). Trumpet Concerto in D (Richter). Trumpet Concerto in D (L Mozart). Trumpet Concerto No.1 in D (Molter). Trumpet Concerto No.2 in C (Haydn). Sonata in D for Trumpet, 2 violins & Continua (Corelli). Concerto in B flat op.7 No.3 (Albinioni). Adagio in G minor (Albinoni / Giazotto). Trumpet Tune (Clarke). Chorlae Preludes (Bach). Ave Maria (Gounod).
ORCHESTRA: Academy of St Martin in the Fields and London Philharmonic
CONDUCTOR: Neville Marriner and Elgar Howarth
ARTISTS: Hakan Hardenberger I Musici Simon Preston

'The finest version of piece in the catalogue'

CD1
1-3 Hummel : Trumpet Concerto in E Flat Major
4-6 Hertel : Trumpet Concerto in D
7-9 Stamitz : Trumpet Concerto in D
10-12 Haydn : Trumpet Concerto in E flat Hob. VIIe:1
13-15 Richter : Trumpet Concerto in D Major

CD2
1-2 Mozart : Trumpet Concerto in D
3-5 Hertel : Trumpet Concerto No. 1 in E flat
6-8 Molter : Trumpet Concerto No. 1 in D
9-10 Haydn : Trumpet Concerto No. 2 in C
11-15 Corelli : Sonata for Trumpet, 2 Violins and Continuo in D
16-18 Albinoni : Concerto a Cinque No. 3 in B flat major op. 7

19 Albinoni : Adagio in G minor for Strings and Organ

20 Clarke : Trumpet Voluntary

21 Bach : Erbarm'dich mein, O Herre Gott BWV721

22 Bach : Ich ruf zu dir, Herr Jesu Christ BWV639

23 Bach : Herzlich tut mich verlangen BWV727

24 Bach : Meditation on Bach's Prelude No. 1, BWV 846 From: Ave Maria


引用
59 of 59 people found the following review helpful
Sumptuous musicianship for a great price
By E. Koehler on March 4, 2000
Format: Audio CD
This compiliation brings together some of Håkan Hardenberger's past Philips releases in a value-priced 2 CD set that belongs in every music lover's collection. It's all here, the Haydn (what a cadenza!), a delicious performance of the Hummel, and a host of other delights including his brilliant piccolo trumpet playing on the Baroque selections. Hardenberger is the consummate virtuoso: a musician who plays with such wit and artistry that he makes you forget the fiendish difficulty of the music. His intelligent musicianship is a joy to hear, especially his quicksilver ornaments in the Leopold Mozart Concerto and his seamless cantabile in the Bach/Gounod "Ave Maria." If you have only one classical trumpet CD in your collection, let it be this one. You won't be disappointed. Here's hoping that Philips will re-issue more of Hardenberger's previous releases, especially the Telemann Concerti and his cornet CD, "At the Beach."
Comment Was this review helpful to you?
Yes
No
46 of 47 people found the following review helpful
The Best Trumpeter in the Business
By David A. Kemp on May 25, 2003
Format: Audio CD
It's a rare treat for a reviewer when he can throw caution to the winds and go out on a limb for a musician. This is such an occasion for me. Hakan Hardenberger is a phenomenon. I think he is the Babe Ruth, the Wayne Gretzky, the Michael Jordan, the Vladimir Horowitz, the Jascha Heifetz of trumpet players.
Hardenberger is a Swedish trumpeter who made his first recording (Haydn, Hummel, Hertel, and Stamitz trumpet concertos, with the Academy of St. Martin in the Fields under Neville Marriner, on Philips) in 1986 when he was only 25 years old (in the cover photo of the original CD he looks like a boy). The first time I played this debut CD of his, my jaw dropped and I could hardly believe my ears. His playing was a revelation--absolutely stunning. I'd never heard trumpet playing to compare with it. In my opinion, with his first two CDs young Hardenberger not only moved into the top rank of trumpeters; he swept right past his competitors to the head of the class. I've compared a number of his baroque concerto performances, here and elsewhere, with those of other famous trumpeters, and he always comes out on top. I believe him to be in a league of his own. He has everything: virtuosity and technique to burn, dead-on intonation, clean trills, smooth legato, expressive shading, beauty of tone, brilliant high notes, enormous dynamic range. He is also a sound musician, with taste and a sense of style. His arsenal is complete and unassailable; there is no chink in his armor.
Everything that was on that debut CD is now in this Philips Duo set, which is a much better value, because it offers two generously filled CDs--72:55 and 78:27--for the price of one, adding most of the contents of two later Hardenberger CDs of baroque music for trumpet (the recordings here were made from 1986 through 1993). It's a good buy, and if you're going to own only one collection of baroque trumpet music, this is the one I'd recommend.
The trumpet has always been a difficult instrument to record and reproduce accurately. Here, although the consistently excellent digital recording presents Hardenberger very much front and center, it captures the timbre, "bite," and wide dynamic range of his trumpet with exemplary vividness and fidelity. On a top-quality playback system, he sounds like he's standing right between the speakers playing for you. And what playing it is! Not to be missed.

Hardenberger's second CD, of Telemann Trumpet Concertos, also accompanied by the ASMF, this time under Iona Brown, was recorded in 1987 (again on Philips). It too is marvelous, fully as impressive as his first CD, but unfortunately none of it is included in the Philips Duo reviewed here, so you have to acquire it separately. It's well worth it.
Long live the king!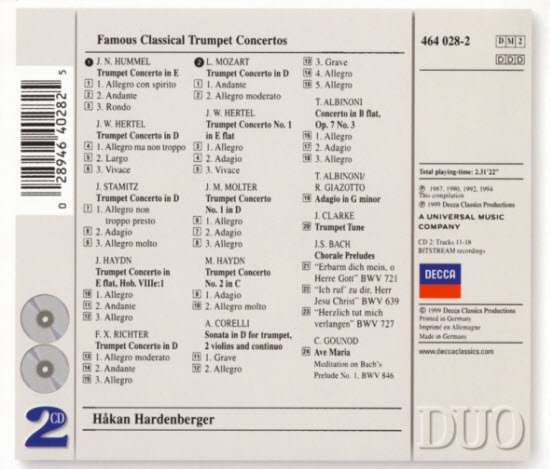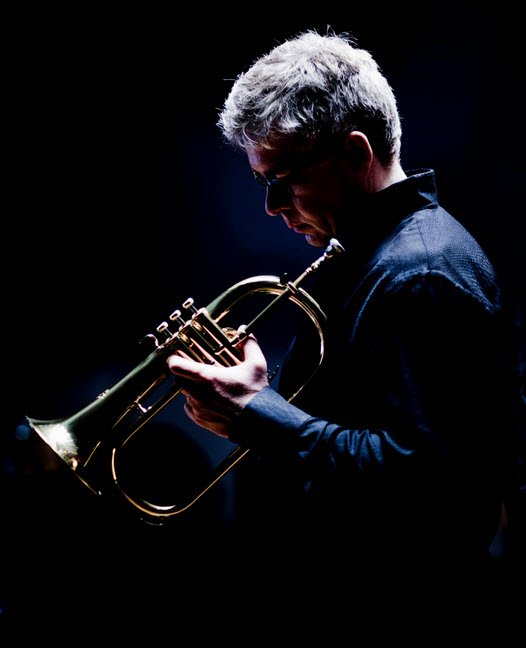 专辑曲目:
CD 1

01. Johann Nepomuk Hummel - Trumpet Concerto in E or E flat major, WoO 1, S. 49, I. Allegro con spirito 9:36
02. Johann Nepomuk Hummel - Trumpet Concerto in E or E flat major, WoO 1, S. 49, II. Andante 4:45
03. Johann Nepomuk Hummel - Trumpet Concerto in E or E flat major, WoO 1, S. 49, III. Rondo 3:48
04. Johann Wilhelm Hertel - Trumpet Concerto in D, I. Allegro ma non troppo 2:40
05. Johann Wilhelm Hertel - Trumpet Concerto in D, II. Largo 4:55
06. Johann Wilhelm Hertel - Trumpet Concerto in D, III. Vivace 2:31
07. Johann Stamitz - Trumpet Concerto in D major (realized by Boustead), I. Allegro non troppo presto 6:45
08. Johann Stamitz - Trumpet Concerto in D major (realized by Boustead), II. Adagio 4:26
09. Johann Stamitz - Trumpet Concerto in D major (realized by Boustead), III. Allegro molto 4:37
10. Joseph Haydn - Trumpet Concerto in E flat major, H. 7e/1, I. Allegro 6:12
11. Joseph Haydn - Trumpet Concerto in E flat major, H. 7e/1, II. Andante 3:49
12. Joseph Haydn - Trumpet Concerto in E flat major, H. 7e/1, III. Allegro 4:34
13. Franz Xaver Richter - Concerto for trumpet & orchestra in D major, I. Allegro moderato 5:04
14. Franz Xaver Richter - Concerto for trumpet & orchestra in D major, II. Andante 4:53
15. Franz Xaver Richter - Concerto for trumpet & orchestra in D major, III. Allegro 4:15

CD 2
01. Johann Georg Leopold Mozart - Concerto for trumpet & string orchestra in D major, I. Andante 4:33
02. Johann Georg Leopold Mozart - Concerto for trumpet & string orchestra in D major, II. Allegro moderato 4:26
03. Johann Wilhelm Hertel - Trumpet Concerto No. 1 in E flat major, I. Allegro 5:03
04. Johann Wilhelm Hertel - Trumpet Concerto No. 1 in E flat major, II. Adagio 4:13
05. Johann Wilhelm Hertel - Trumpet Concerto No. 1 in E flat major, III. Vivace 4:11
06. Johann Melchior Molter - Trumpet Concerto No. 1 in D major, MWV4/12, I. Allegro 3:25
07. Johann Melchior Molter - Trumpet Concerto No. 1 in D major, MWV4/12, II. Adagio 4:53
08. Johann Melchior Molter - Trumpet Concerto No. 1 in D major, MWV4/12, III. Allegro 2:40
09. Michael Haydn - Trumpet Concerto in C major, MH 60 (P 34), I. Adagio 6:05
10. Michael Haydn - Trumpet Concerto in C major, MH 60 (P 34), II. Allegro molto 4:15
11. Arcangelo Corelli - Sonata a 4, for trumpet, 2 violins & bass in D major, WoO 4, I. Grave 0:52
12. Arcangelo Corelli - Sonata a 4, for trumpet, 2 violins & bass in D major, WoO 4, II. Allegro 1:11
13. Arcangelo Corelli - Sonata a 4, for trumpet, 2 violins & bass in D major, WoO 4, III. Grave 1:58
14. Arcangelo Corelli - Sonata a 4, for trumpet, 2 violins & bass in D major, WoO 4, IV. Allegro 1:02
15. Arcangelo Corelli - Sonata a 4, for trumpet, 2 violins & bass in D major, WoO 4, V. Allegro 1:03
16. Tomaso Giovanni Albinoni - Concerto à cinque, for Trumpet (orig. oboe), 2 violins, viola, cello & continuo No.… 2:58
17. Tomaso Giovanni Albinoni - Concerto à cinque, for Trumpet (orig. oboe), 2 violins, viola, cello & continuo No.… 2:28
18. Tomaso Giovanni Albinoni - Concerto à cinque, for Trumpet (orig. oboe), 2 violins, viola, cello & continuo No.… 2:06
19. Tomaso Albinoni & Remo Giazotto - Adagio, for trumpet (orig. violin), strings & organ in G minor, T. Mi 26 (composed… 8:36
20. Jeremiah Clarke - The Prince of Denmark's March (Trumpet Voluntary) for brass, winds & percussion (or… 1:16
21. Johann Sebastian Bach - Erbarm dich mein, o Herre Gott, chorale prelude for organ, BWV 721 (BC K107) 3:30
22. Johann Sebastian Bach - Ich ruf zu dir, Herr Jesu Christ (I), chorale prelude for organ (Orgel-Büchlein No.… 1:57
23. Johann Sebastian Bach - Herzlich tut mich verlangen, chorale prelude for organ, BWV 727 (BC K109) 2:44
24. Charles-François Gounod - Meditation on Prelude No. 1 of Bach, for violin or cello & piano with organ or cello… 3:02
这里是其它用户补充的资源(我也要补充):
暂无补充资源