专辑英文名: Both Sides, Now
专辑中文名: 一体两面
别名: 福无双至
古典类型: 全集作品
资源格式: FLAC
发行时间: 2012年02月28日
简介: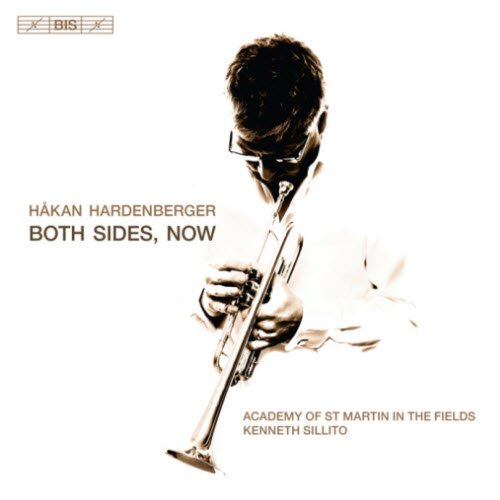 专辑介绍:

拜託~~爵士小号已经不是什么新鲜事了,拿点有意思的来吧?

等等,BIS,这不是以推广现代作曲家为目标的瑞典古典厂牌吗?什么,哈康.哈登伯格?那个几乎都演奏复杂难懂的现代作品,不然就是高贵典雅的古典乐的那个小号手吗?是的,你没看错!古典厂牌BIS在2012年推出的哈登伯格新专辑,当中的歌曲和电影主题为都是他的私人爱好,因此你也可以说这是一张极度私人的歌曲精选。笔者最喜欢的莫过於第二轨改编自琼妮.蜜雪儿的Both Sides, Now(一体两面)。

虽然小号与人声的表现毕竟有落差,但是原曲的精神却在孤寂的金属振动声中缓缓的流泄而出,令人联想到电影「爱是您,爱是我」的片段,眼眶便不禁跟著泛红。以此作为专辑名称,也巧妙暗示哈登伯格游走於古典与通俗之间,颇有创意。其餘如教父、教会、美国天使等精彩曲目族繁不及备载,一肩挑起改编重责大任的是同样於BIS发行过不少专辑的钢琴家罗兰.潘提纳,适时搭上的弦乐烘托出恰如其份的淡淡色彩,令人联想起查特.贝克过往曾与弦乐团合作的经典专辑。仔细一看不禁咋舌,原来是鼎鼎大名的英国圣马丁学院管弦乐团。

慵懒的午后,不知道怎么放鬆心情吗?昏暗的室内配上微温的灯光,身旁或许来份小点心,躺在床上读一本喜爱的书,此外,将这张CD放入播放器,就此遁入迷濛的另个国度吧...



小号演奏家Hakan Hardenberger哈坎‧哈登伯格,1961年10月27日出生於瑞典马尔摩,八岁在马尔摩跟随尼尔颂(BoNilsson)学习小号,接著进入马尔摩皇家音乐院与巴黎音乐院学习,受教於「欧洲小号教父」皮耶.提伯(PierreThibaud)的门下,之后又前往洛杉磯、巴思勒(Basle)与伦敦等地深造。并在巴黎、慕尼黑与日瓦内的小号比赛中获奖。哈登伯格对现代音乐家的作品相当感兴趣,也致力於扩展新的小号曲目。直到目前为止,作曲家李格第、华金斯、桑德斯特隆等人都写过小号作品题献给哈登伯格。亨策的小号协奏曲在1992年也由哈登伯格首演。在技巧及音乐性上驾驭自如,尤其小号的音色,真是圆润又优美,马利纳的指挥配合得暖又有深度, 录音非常优秀,哈坎.哈登伯格乃当今瑞典第一把交椅小号高手,也是瑞典马莫音乐院和英国曼彻斯特皇家北方音乐院教授。

专辑编号: SACD1814
专辑类型: SACD
发行年份: 2012
国际条码: 7318599918143
音乐家:
Pontinen, Roland (piano) 罗兰.潘提纳 (钢琴) Hakan Hardenberger, trumpet 哈康.哈登伯格, 小号 Academy of St Martin in the Fields 圣马丁学院管弦乐团 Kenneth Sillito, conductor 肯尼斯.席利托, 指挥


引用
Conductor: Kenneth Sillito
Composer: Various Composers
Audio CD (26 Mar. 2012)
Please Note: Requires SACD-compatible hardware
Number of Discs: 1
Format: SACD
Label: Bis
ASIN: B006UM05QG

Hardenberger / Sillito / Pontinen
Release Date: 02/28/2012
Label: Bis Catalog #: 1814
Composer: Astor Piazzolla, Joni Mitchell, Richard Rodgers, Saint-Preux, ...
Performer: Håkan Hardenberger, Roland Pöntinen
Conductor: Kenneth Sillito
Orchestra/Ensemble: Academy of St. Martin in the Fields
Number of Discs: 1
Recorded in: Multi
Low Stock: Currently 3 or fewer in stock. Usually ships in 24 hours, unless stock becomes depleted.
ADD TO CART
SuperAudio CD: $21.49
Low Stock WISH LIST


Rewarding in subtle and genteel ways.

This is one of those recordings which you will either deeply love, or which will leave you with perhaps some warm and patchy feelings of nostalgia but not otherwise particularly enamoured. If the latter, you are unlikely to go for it in the first place, but with legion fans of Håkan Hardenberger's superb playing and almost invariably exciting programming there will be many tempted to try this titbit. You may detect here and there that this is not really my 'bag', and I have to admit to not being hugely excited by the kinds of sentiment so warmly purveyed by much of this album. If however, you are not a churlish old purist who prefers original cuts, or you are someone who delights in quietly expressed heart-on-sleeve romanticism, then this may be right up your street.

The booklet notes declare that, having earned his reputation as a trailblazer, "finally the time has come for Håkan Hardenberger to indulge his audience, and himself, with some of the greatest melodies ever written." If you like your music sweet and slow, then this is like a hot steamy bath with added oils at the end of a tiring day. With this recording you can indeed immerse and indulge in fifty minutes of unchallenging, beautifully performed music, and I would be the last person in the world to deny you your pleasure. Hardenberger's ability to sing with his instrument is given free rein in every song here. He is a model of good taste and restraint, like every good vocalist, even when he does let rip you always have the feeling he retains a little in reserve.

There are some nice changes of timbre here and there. The Kurt Weill tune Speak Low is played with a mute, making the trumpet sound a little as if it was coming through the horn of an old 78 rpm acoustic record player. The subtly placed piano notes are a nice little touch in this arrangement as well. The programme selection is driven by music which appears in, or was written for films. Pianist and collaborator Roland Pöntinen, whose exploits in this field has already been proven with his marvellous Pianorama album for BIS, made many of the orchestrations for this album, and Hardenberger credits him with 'freeing his own musical imagination.' For me the Pianorama album works better, as there is a greater sense of improvisatory invention and contrast. With Both Sides, Now the emphasis is very much on the elegiac, which is all well and good, but becomes a bit samey after rather a short time.

The magic in this album is, if you are prepared to listen, in the detail. Pöntinen's harmonic solutions in the orchestrations are often very sophisticated, and create something new from each song rather than trying to re-create 'something like' the original. Atmosphere is crucial, and the Academy of St Martin in the Fields strings are warmly responsive to the arranger's intentions in each case. Depending on your Hi-Fi set-up, you may find yourself wishing the trumpet sound was a little more recessed in relation to the strings, which are present but make too little impact - especially in stereo and through smaller speakers. The little countermelodies in something like the title track Both Sides, Now aren't equal enough to the solo, and the musical conversation never really gets going. Hardenberger's trumpet is always worth listening to, and there would perhaps have been more moments you could have forgotten it was a trumpet if there had been just a little more air between him and us. His range of expression is tremendous however, and there is no mistaking the mood of each number. I love the thinning out of texture you get in moments such as the passages with trumpet and pizzicato bass, in My Funny Valentine for instance, and the opening of The Seagull. The Andante pour trompette is a fascinating little piece as well, written by Hardenberger's teacher Pierre Thibaud. Lyrical tone and phrasing are superlative throughout. With the SACD surround layer the sound does open out significantly, the acoustic taking on a more prominent role and making the string contribution more all-embracing.

I hope this release does really well and rides high in the charts. It is true to its intentions and rewarding in subtle and genteel ways which will grow on you when the lights have dimmed and the children have been packed off to boot-camp. I could have wished for a bit more grit, smoke and swearing, but that's just me.

-- Dominy Clements, MusicWeb International

Håkan Hardenberger: Both Sides, Now
Legrand:Sans Toi
Lundgren:The Seagull
Mitchell, J:Both Sides, Now
Morricone, E:Gabriel's Oboe
Newman, T:Angels in America
Piazzólla:Oblivion
Rodgers, R:My Funny Valentine
Rota, N:The Godfather: The Godfather Waltz
The Godfather theme
Saint-Preux:Andante pour trompette
Wallin:Elegi
Weill, K:Speak low
Håkan Hardenberger (trumpet) & Roland Pöntinen (piano)
Academy of St Martin in the Fields, Kenneth Sillito
Håkan Hardenberger has earned a reputation of breaking new ground for the trumpet, commissioning works from the world's foremost composers.
On this disc, he shows a different side to himself in arrangements of his favourite songs and film themes.
Hardenberger is joined by his long-standing collaborators: the Academy of St Martin in the Fields and the pianist Roland Pöntinen, who also has orchestrated several of the arrangements.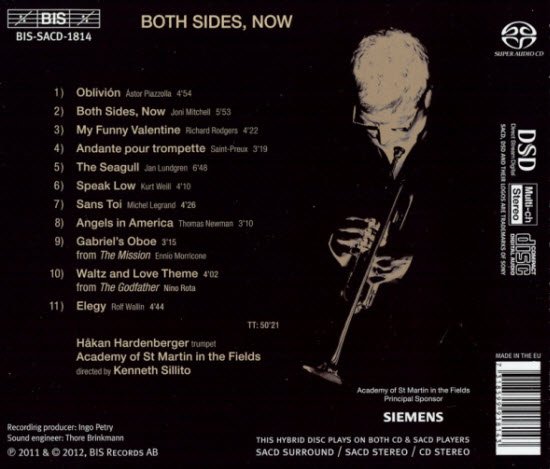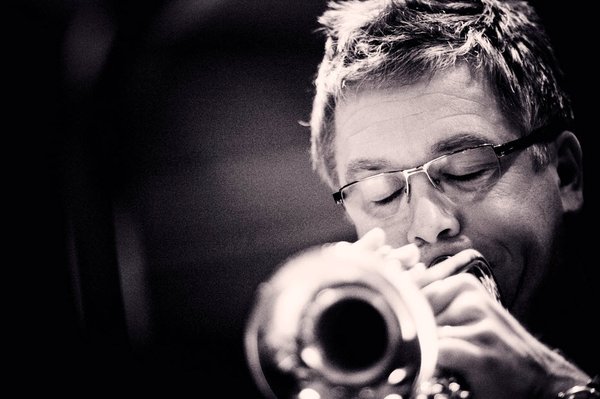 专辑曲目:
01. Oblivión (Ástor Piazzolla)
02. Both Sides (Joni Mitchell)
03. Now (Joni Mitchell)
04. My Funny Valentine (Richard Rodgers)
05. Andante pour trompette (Saint-Preux)
06. The Seagull (Jan Lundgren)
07. Speak Low (Kurt Weill)
08. Sans Toi (Michel Legrand)
09. Angels in America (Thomas Newman)
10. Gabriels Oboe from The Mission (Ennio Morricone)
11. Waltz and Love Theme from The Godfather(Nino Rota)
12. Elegy (Rolf Wallin)
这里是其它用户补充的资源(我也要补充):
暂无补充资源