专辑英文名: Nielsen, Tchaikovsky Violin Concertos
专辑中文名: 柴可夫斯基、尼尔森:小提琴协奏曲
古典类型: 奏鸣曲
资源格式: FLAC
发行时间: 2012年06月05日
简介: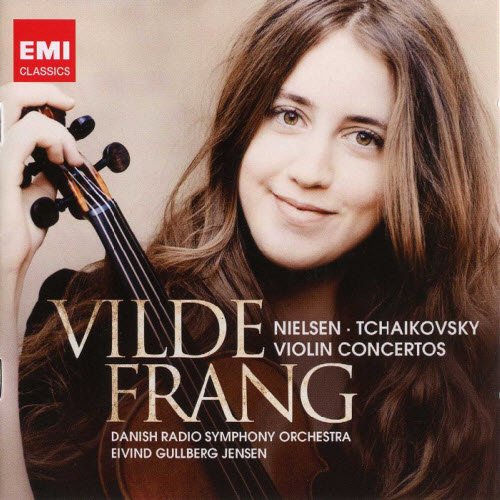 专辑介绍:

EMI 50999-602570-2(1CD)5099960257024
柴可夫斯基、尼尔森:小提琴协奏曲【1CD】
Tchaikovsky、Nielsen: Violin Concertos
薇尔德弗朗, 小提琴 / 爱文德‧加尔伯格‧詹森指挥丹麦国立交响乐团
Vilde Frang, Violin / Danish Radio Symphony Orchestra, Eivind Gullberg Jensen

2012年与英国圣马丁学院管絃乐团一同来台献艺的小提琴新星薇尔德弗朗,於EMI CLASSICS发行的第三张个人专辑!延续前两张专辑侧重北欧曲目探索的脚步,这张专辑她将目光移往更重量级的另一位北欧作曲家柴可夫斯基,并以更具现代感的丹麦作曲家尼尔森的小提琴协奏曲搭配。

这是二十五岁的挪威小提琴家弗朗的第三张个人专辑,延续她前两张专辑侧重北欧曲目探索的脚步,这张专辑她将目光移往更重量级的另一位北欧作曲家柴可夫斯基,并以更具现代感的丹麦作曲家尼尔森的小提琴协奏曲搭配。虽然两人的曲风常让人觉得一个是在十九世纪、另一个是二十世纪,但其实,柴可夫斯基也只比尼尔森早二十五年诞生,较年轻的尼尔森出生於一八六五年,前半生其实都是属於十九世纪作曲家。

身为德国小提琴天后慕特钦点的继承人,动用她的慕特基金会让弗朗留在德国求学,并经常私下指点她,弗朗可以说尽得当代名家的真传。她在汉堡高等音乐院的老师是Kolja Blacher,布拉赫本人虽是德国人,但在十五岁后就赴茱莉亚音乐院拜在狄蕾门下,返欧后又到萨尔兹堡拜在Sandor Vegh门下,这让他的小提琴结合了美国-奥地利两派之长,而再加上慕特的指导,弗朗的提琴中可以听到兼容并蓄的特色。而这点尤其在她的柴可夫斯基中能听出来,她弓法的灵动性和落弓的那种豪放力道,以及带著一丝任性的鼻音,特别适合这首协奏曲的惯用语法。而且她在这份柴可夫斯基演奏中,末乐章最后的尾奏前,更是拉起如火般的快速热情,尽扫任何先前对她以二十六岁挑战这首名作是否能够胜任的疑虑。

一直自认音乐基因里对北欧音乐有强烈认同的弗朗,想必在与慕特等德国提琴家接触时,也一再被肯定她这个直觉的正确性,更因此加强了她对自己詮释北欧曲目的自信,弗朗拉奏的尼尔森同样得利於她琴弓运用的那种灵动性和多层次掌握,再加上她非常柔美抒情的琴音,以及对於此曲中很难掌握的旋律歌唱性和断句处理,她的这份尼尔森,来得比前人的录音更为雋永而且深刻。

商品条码 : 5099960257024
商品编号 : 60257024
演奏者 : 薇尔德弗朗 Vilde Frang - 查看所有专辑
指挥家 : 爱文德加尔伯格詹森
乐团 :
作曲家 : 柴可夫斯基&尼尔森 Nielsen&Tchaikovsky - 查看所有专辑
专辑名称 : 柴可夫斯基&尼尔森:小提琴协奏曲
Nielsen&Tchaikovsky violin concertos
音乐类型 : 古典音乐 [CD 小提琴(家)]
发行公司/日期 : 金牌大风 2012/6/22
制作公司 :
内含片数 : 1



Vilde Frang on Tchaikovsky and Nielsen Violin Concertos

Vilde Frang's recording of Tchaikovsky and Nielsen Violin Concertos on EMI is ouVilde Frang's recording of Tchaikovsky and Nielsen Violin Concertos on EMI is out now (photo: Marco Borggreve)
The Norwegian violinist talks to Sarah Kirkup about her third recording for EMI Classics

Norwegian violinist Vilde Frang's third EMI Classics recording (out now) features the Tchaikovsky and Nielsen Violin Concertos. She talks to Gramophone deputy editor Sarah Kirkup.

Q: Why pair the Tchaikovsky with the Nielsen?
A: To me, they complement each other, rather like the Elgar and Dvořák Cello Concertos. Sixty years ago, the Elgar seemed quite exotic, and now everybody loves it. The Nielsen is the Danish version of the Elgar. People are still not used to his way of writing – he's not easy to get along with straight away, and he has a very special, relaxed sense of structure (there is one but it's not very concrete). Also, his music is not just strange but tricky to play. This sort of music requires 120 per cent effort, but it's so rewarding when you dig into it. Everyone should play this work!

Q: Technically, how does the Nielsen compare to the Tchaikovsky?
A: For sure it's very challenging – in fact, it's rather more awkward than the Tchaikovsky. But what they both have in common is that the technical aspect is only a consideration because the composers' musical ambitions are so high. The composers never just show technique for its own sake – there's always a reason behind it.

Q: Which concerto do you prefer?
A: My relationship to both these composers is very different. The Tchaikovsky Concerto is just a part of my relationship with Tchaikovsky the composer. By the time I was three or four, I knew his music and was both frightened and fascinated by it. I grew up with his symphonies and piano concertos – Tchaikovsky created my childhood. So I believe in this composer. I love his operas, his instrumental works, his songs – everything. But the Nielsen – well, it's the only piece by Nielsen that I know by heart. And it's only during performances of it on stage that the answers come.

Q: Do you feel that the Nielsen is more a natural fit for you, being a Norwegian musician?
A: I think that's a really dangerous thing to say. You don't have to be Spanish to love flamenco (which I do!). And yet, there is something that's in your blood when you're brought up in a country. The sense of humour to be found in Nielsen's musical language, for example – he had a very special sense of humour and he brings that into the Concerto. There's an old Danish children's song at the end of the first movement, which touches the hearts of every Scandinavian – it's like a national secret.

Q: Why isn't the Nielsen better known?
A: I believe people don't play it because of the technical aspect and the structure. Nielsen must have been a decent violinist – he certainly knew how to use the instrument, and he had an idea on how to break the limits. The work needs to be played with lots of surplus to get the message through.

Q: You won the 2012 Credit Suisse Young Artist Award…
A: The great thing with this prize is the engagement with the Vienna Philharmonic and Bernard Haitink at the Lucerne Festival. Haitink is such a great maestro, and I know him from so many recordings. I've also witnessed him and the Vienna Phil many times. So I'm just so happy to be able to play the Sibelius Concerto with him.

Q: Will you be playing the Nielsen in concert any time soon?
A: I'm doing it in Cologne and I just did it in Japan, but many orchestras prefer the Tchaikovsky or the Bruch. It's a pity because this Violin Concerto deserves to be played a lot more. It needs to be heard, and to be part of the concert repertoire.


引用
Product Details
Orchestra: Danish Radio Symphony Orchestra
Conductor: Elvind Gullberg Jensen
Audio CD (June 5, 2012)
SPARS Code: DDD
Number of Discs: 1
Label: Warner Classics
ASIN: B007OYFDCA

8 of 8 people found the following review helpful
A violinist determined to be original, and succeeding
By Santa Fe Listener HALL OF FAMETOP 1000 REVIEWER on July 4, 2012
Format: Audio CD
EMI seems to be standing by the highly original Norwegian violinist Vilde Frang, now 25; this is her third solo album for them. A pairing of the Tchaikovsky and Nielsen concertos is unusual, but it follows a familiar commercial ploy: sweeten an out-of-the-way work with one that has proven sales appeal with general listeners. I've heard three new versions of the Tchaikovsky in the past few months, and this is a work where one recording (Heifetz or Oistrakh) has for me been enough. But new voices are always tempting, and Frang draws you in immediately. She is confident and personal, phrasing with alert attention and no cliches, making us hear what she has to say because it's not factory stamped. It also helps that she manages to be inward in passages usually played for effect to the gallery.

the most personal violinists who have captured my interest in the same way are Sergey Khachatryan and Lisa Batiashvili. What they share is charisma and attention-grabbing musical instincts. None strikes me as a powerhouse player in the Oistrakh mold. they all set aside technical flash in favor of musical insight. Another asset on this disc is the well-considered accompaniment from rising Norwegian conductor Eivind Gullberg Jensen, who gets the Danish Radio SO to deliver committed playing that feels interested and sympathetic to his soloist. In the interest of balance, I will add that Frang's rubato and phrasing may strike some as too self-involved or indulgent. Perhaps she bends over backwards to keep the Tchaikovsky from sounding like a warhorse.

The Nielsen is an unusual concerto, launching almost immediately into a free-form soliloquy from the violin in a rhapsodic Praeludium, which then transitions to a dreamy Largo rather than the expected Allegro. Apparently the work had a difficult birth before it premiered in 1912 on the same program as the rousing, optimistic Sym. #3 "Espansiva." the general feeling seems more than a little to gypsy fiddling - the concerto was written for a Hungarian violinist who was also Nielsen's son-in-law. It might also be significant to Frang that the score was begun in Bergen, Norway (it was finished later back in Denmark).

For a long time I've thought that no one could better the phenomenal reading given by Maxim Vengerov (on Teldec, 1996, with Barenboim), with a powerful challenge from Cho-Liang Lin (on Sony, 1989, with Salonen). The excellent Nikolaj Znaider offered a beautiful reading (on EMI, 2001, with Lawrence Foster). For such a discursive, unusual work that speaks its own language, that is an embarrassment of riches. Frang's contribution has a special flavor, as if two free spirits, she and Nielsen, are vying to sound the most spontaneous. I won't say that oddity meets oddity, but she doesn't attempt to make the work sound more palatable or conventional to please the audience, nor does she overwhelm us with powerful technique as Vengerov does. Hers is the most intimate Nielsen Concerto I've heard, which is reason enough to hear it.

Clearly this is an artist who will never be conventional, a very appealing trait as the wold's music conservatories keep turning out dazzling technicians who usually wind up not staying in the mind for musical reasons - Frang does.

Release Date June 5, 2012
Duration 01:11:45
Genre Classical
Styles Concerto
Recording DateAugust 29, 2011 - August 31, 2011

Review by James Manheim [-]
Norwegian violinist Vilde Frang made her debut in 2010 with a pairing of concertos by Sibelius and Prokofiev. She repeats the formula here with works by Nielsen and Tchaikovsky, a somewhat risky move. But the fact is that she's exceptionally good in these repertories. Tchaikovsky's Violin Concerto in D major, Op. 35, is in a way a work constrained by its tremendous virtuosity and the long performing tradition of which it is a part. It's hard to come up with something really new to say to it, but Frang makes a strong contribution with a graceful reading that avoids the tendency to push the big passages of the outer movement to a point just short of (or, in concert, just past) where a string breaks from the effort to get maximum volume out of it. Instead she favors detailed shaping of complicated stretches of passagework. It's quite distinctive, but the real news here is the Nielsen Violin Concerto, Op. 33, which had its premiere in 1912 and is not terribly often performed. It's a complex work in a mixture of idioms, from what annotator David Fanning calls neo-Baroque (actually much of it anticipates the sparkling neo-Mozartian language of the opera Maskarade), to developing figuration that anticipates the structures of Nielsen's symphonic works, to Tchaikovskian passages. These last help tie the program together in a novel way: how did Nielsen, a generation after Sibelius, react to the sounds of Tchaikovsky in his head? The Danish Radio Symphony Orchestra under Eivind Gullberg Jensen is not much more than workmanlike, but this is overall a fresh treatment of some highly familiar music and some that is less so.


BBC Review
Frang's vigour, irreverence and imagination make her a vital and refreshing force.
Andrew Mellor 2012
Norwegian violinist Vilde Frang showcases more of her striking imagination and fastidious care on this new release.
It was in Norway that Carl Nielsen started to write his Violin Concerto, commenting at the time that he was keen to avoid "hackneyed passagework" and create a piece that was "eventful, popular and splendid without being superficial". What a friend he'd have found in the young Frang.
Her performance of the Nielsen concerto is certainly eventful – it is, by turns frail, sniping, petulant, servile, gregarious and proud. Her quiet playing has exquisite control and her measured use of vibrato reveals so many inner truths. For a yardstick on Frang's musical intellect, try her cadenzas. They seem to contain a world of philosophy and fortitude and are delivered with unfailing spaciousness and poise.
You can hear more extroverted and confident performances of the Nielsen concerto elsewhere, but Frang's elfin delicacy and honest individuality are compelling. And the concerto actually sounds like Nielsen's here, which it too often doesn't. The major-minor games, the churning counterpoints, the stepwise harmonisations and the earthy orchestral timbres are nicely exposed by the Danish National Symphony Orchestra and conductor Eivind Gullberg Jensen.
Frang's revisionist bent and distinctive light-but-physical tone have worked better in Nielsen, Sibelius and Prokofiev (she's now recorded concertos by all three) than they have here in Tchaikovsky. His Violin Concerto feels more like work in progress and doesn't have the air of chamber music interplay and spacious thought that the same artists achieve in the Nielsen.
There's no shortage of interesting stuff going on: some smile-inducing twists in tempo, typically probing cadenzas and an idiosyncratic yet un-contrived handling of the many successive passages of patterning sequences. Ultimately, though, you miss a sense of sweep – those lived-in emotional residues that some of the great violinists have brought to this piece before.
But Frang's lack of nostalgia – her vigour, irreverence and imagination – makes her a vital and refreshing force. It's a little like hearing the bright, homespun opinions of a rebellious but visionary teenager who doesn't see the world like the rest of us. And that's precisely what this anti-aristocratic music needs.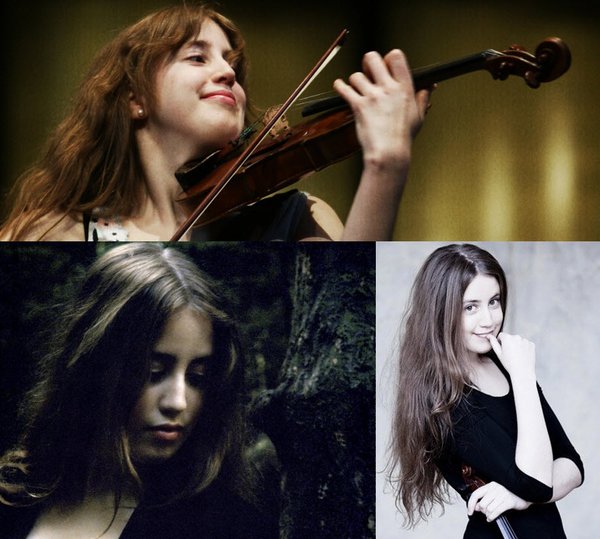 专辑曲目:
Peter Ilyich Tchaikovsky (1840 - 1893)

Violin Concerto in D major, Op.35
[1] 1. Allegro moderato [18:33]
[2] 2. Canzonetta (Andante) [6:27]
[3] 3. Finale (Allegro vivacissimo) [10:00]

Carl Nielsen (1865 - 1931)

Violin Concerto Op.33
[4] 1. Part I: Praeludium - Largo [6:47]
[5] 2. Part I: Allegro cavalleresco [13:10]
[6] 3. Part II: Allegro cavalleresco [6:14]
[7] 4. Part 2: Rondo: Allegretto scherzando [10:26]
这里是其它用户补充的资源(我也要补充):
暂无补充资源