Vilde Frang -《莫札特:第一、五号小提琴协奏曲;交响协奏曲 》(Mozart - Violin Concertos Nos 1, 5 & Sinfonia Concertante )[24bits 44.1KHz][FLAC]

专辑英文名: Mozart - Violin Concertos Nos 1, 5 & Sinfonia Concertante
专辑中文名: 莫札特:第一、五号小提琴协奏曲;交响协奏曲
古典类型: 协奏曲
资源格式: FLAC
版本: [24bits 44.1KHz]
发行时间: 2015年02月24日
简介: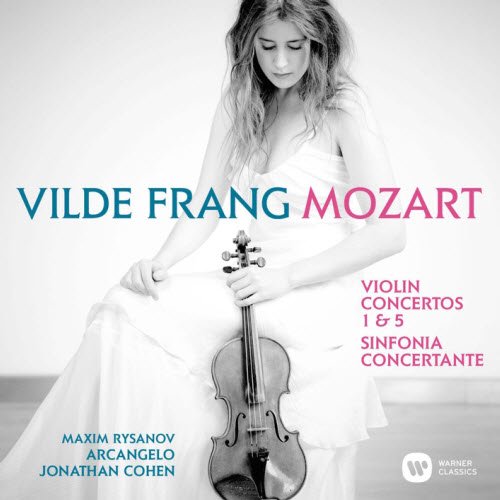 专辑介绍:

莫札特:第一、五号小提琴协奏曲;交响协奏曲 / 薇尔德.弗朗〈小提琴〉雷萨诺夫〈中提琴〉/ 强纳生.柯汉〈指挥〉阿康杰罗合奏团
Mozart: Violin Concertos / Viola – Maxim Rysanov / Vilde Frang With Jonathan Cohen & Arcangelo

●小提琴家薇尔德.弗朗十二岁就获得与杨颂斯、奥斯陆爱乐合作的机会,也是德国小提琴天后慕特大力提携的后进。此张新录音专辑是他的个人第四张专辑,选择古典时期的莫札特作品为主题,并邀请中提琴家雷萨诺夫共同合作演奏《交响协奏曲》。


挪威小提琴家薇尔德‧弗朗是当前青年小提琴家里的佼佼者。由於出色的个人语言以及杰出的演奏技巧,十二岁就获得与杨颂斯、奥斯陆爱乐合作的机会,后来更多次与恩师慕特同台演出巴哈双小提琴协奏曲,也打开了个人知名度。

继演奏晚期浪漫派作品的「从后浪漫到现代」专辑以及「柴可夫斯基、尼尔森:小提琴协奏曲」专辑之后,这一次薇尔德‧弗朗把焦点移转到古典时期的莫札特。许多人都会记得莫札特是一个杰出的钢琴家,事实上,他十三岁就成为萨尔兹堡宫廷乐团的名誉首席。第一号小提琴协奏曲创作於1773年,作品可以清晰听到义大利巴洛克作曲家,如:普格纳尼、纳尔迪尼、罗卡泰里对十七岁的莫札特的影响。而在莫札特五首小提琴协奏曲中,第五号是最迷人的一首,除了梦幻般的旋律与优美的轮旋曲风,十九岁的莫札特还在第三乐章增添一段当时非常流的土耳其风味插曲,因此这首小提琴协奏曲又有「土耳其」的别称。

为两种以上的独奏乐器创作,融合交响曲与协奏曲元素於一体的「交响协奏曲」在十八世纪的巴黎相当受欢迎,因此莫札特从1778年也开始尝试以这样的曲式创作。这是一部非常容易让听者产生共鸣的作品,尤其是小提琴与中提琴在第二乐章的迷人对话,醇厚圆润的弦乐声音让人陶醉。薇尔德‧弗朗的活力与想像力,让这些音乐呈现出让人耳目一新的气象。
§ 曲 目 §

1-3 莫札特:降B大调第一号小提琴协奏曲,K. 207
4-6 莫札特:A大调第五号小提琴协奏曲《土耳其》,K. 219
7-9 莫札特:降E大调为小提琴与中提琴所写的交响协奏曲,K. 364

唱片公司:Warner Classics
系列:名家新录音
音乐类型:古典音乐
唱片编号:2564627677
发行日期:2015年02月16日
进口专辑 / CD / 1 片装

产品条码: 0825646276776
产品编号: 82564627677
发行公司: WARNER [发行商品]
发行日期: 2015年02月13日
产品制造地: 欧美 .
发行类型: 小提琴 . 中提琴 . 协奏曲 . 管弦乐 . 古典 . CD . 乐团 .
内装片数: 1片


引用
Release Date February 24, 2015
Duration 01:17:20
Genre Classical
Styles Concerto
Recording Date April 3, 2014 - April 5, 2014Submit


Label:Warner Classics
Catalogue No:2564627677
Discs:1
Release date:23rd Feb 2015
Barcode:0825646276776
Medium:CD

Review by James Manheim [-]
There is certainly no shortage of recordings of the Mozart works on this release by Norwegian violinist Vilde Frang, but the performers manage to stand out with intelligent programming and distinctive playing. The Violin Concerto No. 1 in B flat major, K. 207, and Violin Concerto No. 5 in A major, K. 219, work precisely because Frang does not try to make too much of them: her playing in these early Mozart works is brilliant and bright, and they function as something of an overture to the main attraction, the Sinfonia concertante in E flat major, K. 364. Frang who gets all the space in the graphics (and who can blame Warner Classics for this?), but in the Sinfonia concertante veteran violist Maxim Rysanov is an equal partner, and it's here that this recording really stands out. The usual way with this duo concerto is for the two soloists to match each other's styles and let Mozart's melodies come to the fore, but here is a real dialogue in the Romantic way. It's unusual, but it works, especially in the slow movement. The recording is in no way overdone; the chamber orchestra Arcangelo under Jonathan Cohen provides spare, crisp accompaniment, and the combination of the sparse texture with the distinct soloist personalities is compelling. The cadenzas in the violin concertos, one of them by Joseph Joachim, add another Romantic note. This album both hangs together well and is a great deal of fun. Highly recommended.



Following the success of her discs of Romantic and Late Romantic repertoire, Vilde Frang has recorded Mozart's Concertos Nos. 1 and 5 'Turkish' and the Sinfonia Concertante K364, enabling music lovers to hear the Norwegian violinist perform Classical repertoire on disc for the first time. The impetus for this album was a 2012 orchestral tour of Asia conducted by Jonathan Cohen in which Vilde performed Mozart's Violin Concerto No. 5. The vibrancy of their musical collaboration was something both artists were keen to repeat and commit to disc. Jonathan's Cohen's chamber orchestra, Arcangelo, proved the ideal partner, joined by violist Maxim Rysanov in the Sinfonia Concertante.

Today we tend to think of Mozart as a keyboard virtuoso but he was also an accomplished violinist. Indeed, in 1769, aged 13, he was appointed honorary concertmaster of the Salzburg Court Orchestra. For many years, it was believed that Mozart composed all five of his violin concertos in 1775, but analysis of handwriting and of the manuscript paper suggests the actual date of the first concerto, K207, was 1773. Filled with brilliant passage work, it is generally characterised by high spirits and is filled with dazzling semiquaver and demisemiquaver passages reflecting the influence of such Baroque Italian virtuosi and composers as Pietro Nardini, Pietro Locatelli and Gaetano Pugnani.

Each of Mozart's subsequent violin concertos, all composed in 1775, is longer and on a larger scale than the preceding one. By the fifth and last, he had created a work still clearly within the Classical concerto tradition yet, in terms of both length and technical demands, approaching the instrumental concertos of the century to come. The Concerto No. 5 K219 is often referred to as the "Turkish" because of its frenzied Allegro section in the middle of the final movement.

Mozart was experimenting with the cross-over form between symphony and concerto during a tour of Europe in 1779. The result was his Sinfonia Concertante for violin and viola, composed in Salzburg that same year and probably the greatest of his concertante works. The eminent musicologist Alfred Einstein called it Mozart's "crowning achievement in the field of the violin concerto" and added that, "Every trace of galanterie has disappeared" to be replaced by the "revelation of the deepest feeling."

Vilde Frang, born in Norway in 1986, has established herself as one of the leading violinists of her generation, in demand for her musicianship and virtuosity and notable for her thoughtful interpretations and natural sense of style. Since her appearance with Mariss Jansons and the Oslo Philharmonic when she was twelve years old, her career has developed organically and on her own terms. She has appeared on the world's leading concert stages with the most prestigious orchestras under the batons of the most admired conductors, as well as in recital and chamber music with such colleagues as Gidon Kremer, Yuri Bashmet, Martha Argerich, Janine Jansen, Leif Ove Andsnes and Maxim Vengerov. With her mentor Anne-Sophie Mutter, she has toured Europe and the U.S. in Bach's Double Concerto. In 2012 Vilde was chosen to receive the Credit Suisse Young Artist Award, which sponsored her debut with the Vienna Philharmonic under Bernard Haitink at the 2012 Lucerne Summer Music Festival. Her recordings of concertos by Sibelius, Prokofiev, Nielsen and Tchaikovsky and sonatas by Grieg, R. Strauss and Bartók for EMI Classics, now Warner Classics, won Edison Klassiek and Classic BRIT awards, the Deutsche Schallplattenpreis, the Diapason d'Or and a Gramophone Award nomination. Vilde's 2014/2015 season includes many performances of Mozart concertos.

Under its founder, artistic director and conductor Jonathan Cohen, Arcangelo brings together exceptional musicians who excel on both historical and modern instruments and have a passion for faithful interpretation. Its members, many with flourishing solo and chamber music careers, value the collaboration required of chamber music as the highest expression of music making. Since its formation in 2010, Arcangelo has made a dramatic impact on the musical scene and has already recorded half a dozen albums to high acclaim, including a Gramophone award.

Violist Maxim Rysanov was born in the Ukraine and studied there and at London's Guildhall School of Music and Drama. Winner of the 2008 Classic FM Gramophone Young Artist of the Year award and a former BBC New Generation Artist, he performs widely in Europe, Asia and America. His chamber music partners include Leif Ove Andsnes, Nicola Benedetti, Martin Fröst, Sol Gabetta, Janine Jansen, Gidon Kremer, Mischa Maisky, Victoria Mullova, Vadim Repin and Maxim Vengerov. Through collaborations with such composers as Dobrinka Tabakova, Richard Dubugnon and Valentin Bibik – and many others – he has helped to extend the repertoire for the viola.



Vilde Frang is a brilliant arrival on the violin scene; it seems slightly odd to combine her piercing but heavily vibrato-laden sound with the period-instrument practices of Arcangelo. Her extrovert personality shines through in the rarely heard Mozart first violin concerto, a fizzy essay probably written by the 17-year-old composer in Salzburg for the violinist Antonio Brunetti. In the much darker and more mature Sinfonia Concertante, from only six years later, Frang is rather outshone by her partner on viola, Maxim Rysanov: they match well when playing together, but elsewhere he shows how to play each phrase with more depth and meaning as he echoes her. Jonathan Cohen's direction makes the most of the breathtakingly original textures of this duo concerto.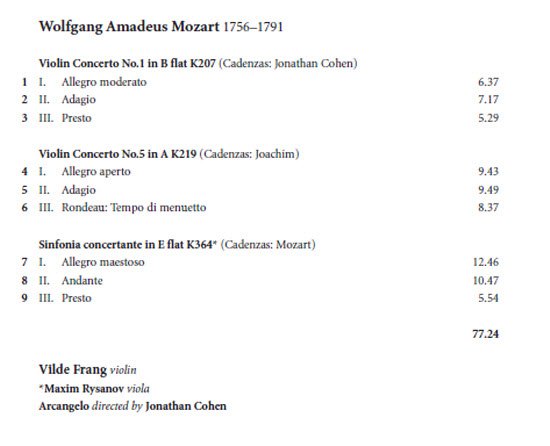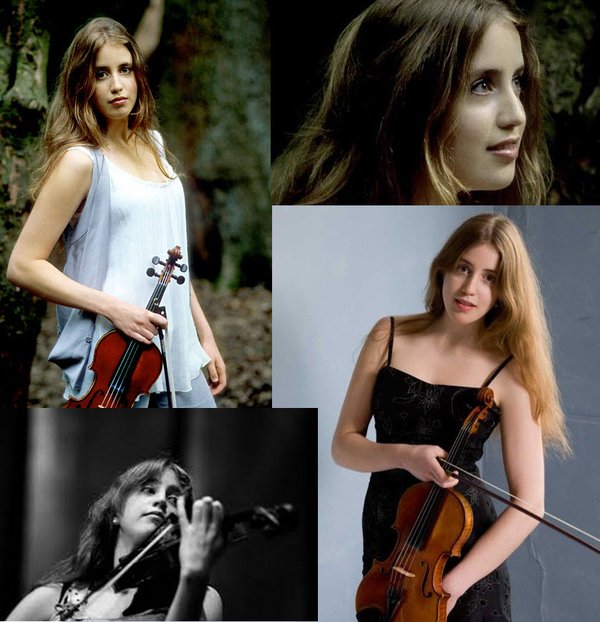 专辑曲目:
1. Violin Concerto No. 1 in B-Flat Major, K. 207: I. Allegro moderato (Cadenza by Cohen) [06:37]
2. Violin Concerto No. 1 in B-Flat Major, K. 207: II. Adagio (Cadenza by Cohen) [07:18]
3. Violin Concerto No. 1 in B-Flat Major, K. 207: III. Presto (Cadenza by Cohen) [05:40]
4. Violin Concerto No. 5 in A Major, K. 219: I. Allegro aperto (Cadenza by Joachim) [09:44]
5. Violin Concerto No. 5 in A Major, K. 219: II. Adagio (Cadenza by Joachim) [09:50]
6. Violin Concerto No. 5 in A Major, K. 219: III. Rondeau. Tempo di menuetto (Cadenza by Joachim) [08:47]
7. Sinfonia concertante in E-Flat Major, K. 364: I. Allegro maestoso [12:47]
8. Sinfonia concertante in E-Flat Major, K. 364: II. Andante [10:48]
9. Sinfonia concertante in E-Flat Major, K. 364: III. Presto [05:55]
这里是其它用户补充的资源(我也要补充):
暂无补充资源