专辑英文名: Live from Lugano 2013
专辑中文名: 2013卢加诺音乐节
古典类型: 全集作品
资源格式: FLAC
版本: [24bits 44.1KHz][3 CD]
发行时间: 2014年06月10日
简介: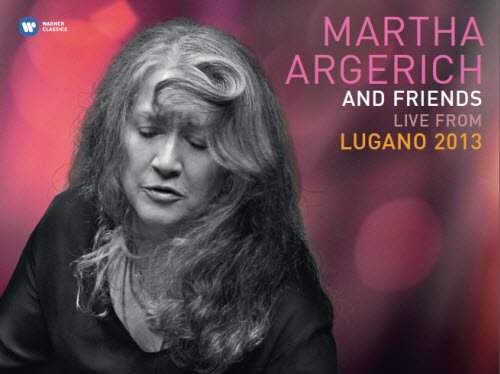 专辑说明:

●此份专辑是出自於2013年第12届卢加诺音乐节的现场录音,这次发行的曲目以钢琴曲为重点,特别是双钢琴、钢琴四手联弹以及很少演出的有趣作品。首次参与的年轻音乐家包括了2012比利时伊莉莎白女王小提琴大赛首奖得主巴拉诺夫,以及阿雷格瑞、马札穆托与梅耶罗维奇三位年轻钢琴家。

Martha Argerich 阿格丽希

2002年以来,钢琴名家阿格丽希每年在瑞士卢加诺举办的音乐节「Progetto Martha Argerich」,已经是每年夏季最受瞩目的音乐活动。阿格丽希在每一年邀请乐界的好友、她所赏识的乐坛新秀聚在卢加诺,在为期一週的时间里,密集举办多场独奏会、室内乐,或是与瑞士义语区管弦乐团合作交响音乐会,透过各种组合的室内乐合作,年轻一代的音乐家不只有机会有与前辈切磋,每一年的音乐节也发掘出不少罕为人知的有趣室内乐曲目。英国《每日电讯报》乐评人杰佛瑞‧诺里斯说过,「每年看看谁被邀请到卢加诺的Progetto Martha Argerich演出可以增长见识,因为它的演出阵容对於谁是当前音乐最有天赋的音乐家是相当可靠的指标」。

2013年的音乐节除了大提琴家麦斯基、高提耶.卡普松;小提琴家杭诺.卡普松与钢琴家齐柏丝坦…等这些常客之外,第一次出现的音乐家有:2012比利时伊莉莎白女王小提琴大赛首奖得主巴拉诺夫,以及阿雷格瑞、马札穆托与梅耶罗维奇三位年轻钢琴家。而这套专辑所收录的曲目,是以2013年音乐节的钢琴曲目为重点,特别是双钢琴、钢琴四手联弹以及很少演出的有趣作品。除了贝多芬、雷史毕基、李斯特、萧士塔高维奇、拉威尔、德布西、奥芬巴哈的作品外,圣桑《动物狂欢节》是改编成由双钢琴、双小提琴、中提琴、大提琴、低音提琴、长笛、单簧管和打击乐演奏的版本。

曲目:
CD 1
1-3 贝多芬:C大调第一号钢琴协奏曲,作品15
【阿格丽希〈钢琴〉苏当〈指挥〉瑞士义语区管弦乐团】
4-6 贝多芬:G小调第二号大提琴奏鸣曲,作品5-2
【麦斯基〈大提琴〉阿格丽希〈钢琴〉】

CD 2
1-3 雷史毕基:B小调小提琴奏鸣曲,P110
【杭诺‧卡普松〈小提琴〉法兰切斯可‧皮耶蒙特希〈钢琴〉】
4. 李斯特:悲伤的船歌,为小提琴与钢琴而作
【艾莉莎‧马格利〈小提琴〉朱拉‧马格利斯〈钢琴〉】
5-8 萧士塔高维奇:D小调大提琴奏鸣曲,作品40
【高提耶‧卡普松〈大提琴〉盖布莉叶拉.蒙泰罗〈钢琴〉】

CD 3
1. 拉威尔:小提琴奏鸣曲
【巴拉诺夫〈小提琴〉朱拉‧马格利斯〈钢琴〉】
2-5 德布西:小组曲(钢琴四手联弹)
【阿格丽希 & 克莉丝蒂娜‧玛藤〈钢琴 / 四手联弹〉】
6-9 奥芬巴哈:欢乐巴黎人 (葛里古欧利改编为三钢琴版)
【托玛斯、葛里古欧利、史戴拉 〈三钢琴〉】
10-23 圣桑:动物狂欢节
【阿格丽希〈钢琴〉齐柏丝坦〈钢琴〉巴拉诺夫〈小提琴〉古特曼〈小提琴〉陈莉妲〈中提琴〉亚历山大.德布吕〈大提琴〉艾瑞可.法冈〈低音大提琴〉艾弗瑞.鲁兹〈长笛〉柯拉多‧吉弗迪〈单簧管〉特拉帕尼〈打击乐〉】

阿格丽希 2013卢加诺音乐节 / 阿格丽希与朋友们 (3CD)
Martha Argerich and Friends: Live from Lugano 2013 (3CD)
唱片公司:Warner Classics
演出者:阿格丽希
音乐类型:古典音乐
唱片编号:2564631220
发行日期:2014年06月13日
进口专辑 / CD / 3 片装




Product Details
Conductor: __
Composer: Sergei Rachmaninov, Claude Debussy, Franz Liszt, Maurice Ravel, Jacques Offenbach, et al.
Audio CD (June 10, 2014)
Number of Discs: 3
Format: Live
Label: Warner Classics
ASIN: B00J2C8I8S

6 of 7 people found the following review helpful
Tireless Martha Argerich and her new installment at Lugano Festival
By P. Adrian on July 10, 2014
Format: Audio CD
Martha Argerich knows how to create a magic atmosphere when she performs, no matter what, when, where or with whom. Her total commitment to music enthralls r previous year festival. instantly the audience and pushes the partners to an incredibly high artistic level. In the last decade, The famous Argentine super-star pianist settled in Lugano a unique festival called Project Argerich where she invites her friends and protégés to make chamber music together. There are famous names in the programs and rising stars as well. Yearly, Argerich issues a 3-CD box set with the most significant artistic achievements in the previous year festival.

Although there are several recorded versions with Argerich playing Beethoven's First Piano Concerto, this one realized in the company of the Orchestra della Svizzera Italiana (under the baton of Hubert Soudant) it's worth listening. It breathes the spontaneity and freshness of a live performance by a top-notch pianist with decades of stage experience. However, the joy of music-making in Martha's interpretations here, cross the chamber gems included on these recordings too. Take for instance, the mighty Cello sonata by Beethoven where she is paired by Mischa Maisky or the lovely Carnival of the Animals by Saint-Saens. There are alos included some rarities to please all the tastes: a Violin sonata by Respighi or some transcriptions from Offenbach.

Both the stage partners and world-wide fans will savor this recent installment at Argerich's annual Lugano Festival and will be immersed in a fabulous atmosphere.


引用
Martha Argerich (piano)
The latest instalment of highlights from the Martha Argerich Project at the Lugano Festival. This is the 11th annual 3CD set celebrating the musical fruits of a project in which young artists join seasoned performers, including Martha Argerich herself, to explore wide-ranging chamber music and orchestral repertoire, both well-known and rarely heard.

"The festival has class written all over it and exudes more joy - and humour - than any comparable event known to me. Argerich herself leads off here, in Beethoven's First Piano Concerto, displaying suppleness, rhythmic power, structural majesty and intimacy of inflection...Zilberstein's inspired caricature of incompetent pianists (in the Saint-Saens) is hilarious." BBC Music Magazine, September 2014 *****

"Beethoven's First Piano Concerto finds Argerich as explosively improvisatory as ever, but overall there's a hint of brusqueness that threatens to muddy the picture. For the first time in this annual series, I preferred the non-Argerich performances." Financial Times, 31st May 2014 ***

"To listen to these two close friends [Maisky and Argerich] firing off each other in the helter-skelter high spirits of the Rondo [of the Beethoven Cello Sonata] is pure delight." Gramophone Magazine, August 2014

"Argerich herself heads the venture in a characteristically vital, lucid, poised account of Beethoven's First Piano Concerto...This set is a showcase for superlative musicianship, crowned at the end by Argerich and a host of friends coming together for a Saint-Saëns Carnival of the Animals of irresistible zoomorphic wit and charm." The Telegraph, 12th June 2014 *****

"With Martha at the keys, Beethoven's First Piano Concerto sparkles and winks, with friendly assistance from the Dutch conductor Hubert Soudant and the Orchestra della Svizzera Italiana...But as usual the special treats come in the lighter items, when hair is let down and feet stomp." The Times, 16th May 2014 ****



Martha Argerich and Friends: Live from Lugano 2013, review: 'superlative musicianship'
The latest compilation from of Martha Argerich's annual festival matches variety of artists with variety of music, says Geoffrey Norris

5 out of 5 stars
Martha Argerich's annual festival showcases up and coming classical stars
Martha Argerich's annual festival showcases up and coming classical stars Photo: Sonja Werner
By Geoffrey Norris11:00AM BST 11 Jun 2014CommentsComment
 Martha Argerich's ever-widening circle of friends means that these annual compilations of music recorded live at her festival in Lugano invariably introduce us to young artists whom she regards highly and who, for that very reason, excite interest. Some (such as the violinist and cellist brothers Renaud and Gautier Capuçon) are known to a wider audience, others not.
Here, for example, Argerich is joined by the Romanian pianist Cristina Marton for a delightful, affectionate, limpid performance of Debussy's four-hand Petite Suite, followed by a riotous sequence of pieces from Offenbach's Gaîté Parisienne played on three pianos by the brilliant young Italians Giorgia Tomassi, Carlo Maria Griguoli and Alessandro Stella. This alone is something to lift the spirits sky high.
But a key ingredient of this set's appeal is that the variety of artists is matched by a variety in the music they play. On the same disc, Ravel's early Violin Sonata of 1897, published only posthumously in 1975, is given a rapt performance by the Russian violinist Andrey Baranov and the Russian-born pianist Jura Margulis, identifying as they do the boldness of the one-movement sonata's approach to harmony and the way in which Ravel's distinctive creative personality is beginning to emerge from its chrysalis. This is an interpretation truly to treasure, as indeed are the two sonatas on the second disc. Here Renaud Capuçon teams up with Francesco Piemontesi for Respighi's gorgeous Violin Sonata of 1916-17, and Gautier Capuçon is joined by the Venezuelan-born Gabriela Montero for a deeply felt performance of Shostakovich's D minor Cello Sonata.
Argerich herself heads the venture in a characteristically vital, lucid, poised account of Beethoven's First Piano Concerto with the Orchestra della Svizzera Italiana and, with Mischa Maisky, a deeply thought performance of Beethoven's G minor Cello Sonata Op 5 No 2. This set is a showcase for superlative musicianship, crowned at the end by Argerich and a host of friends coming together for a Saint-Saëns Carnival of the Animals of irresistible zoomorphic wit and charm.
Warner Classics, 3 CDs, £14.99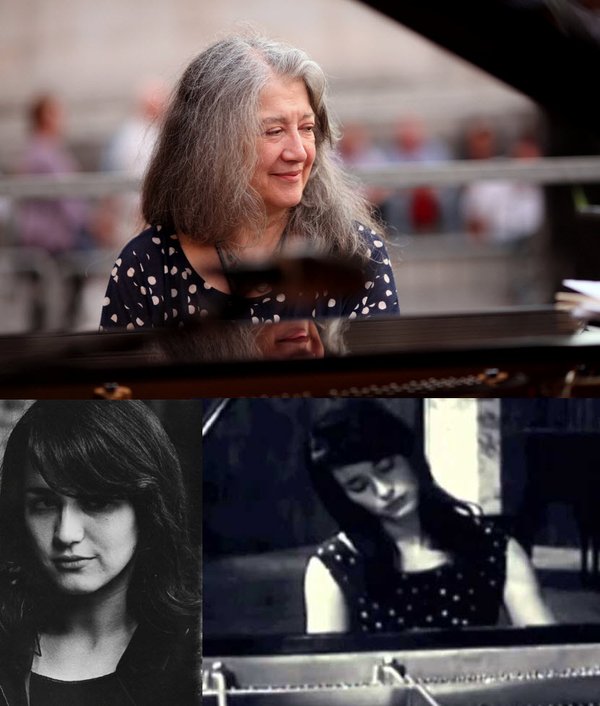 专辑曲目:
CD1

Beethoven Concerto n. 1 in do magg. op. 15 per pianoforte e orchestra

[1] 1. Allegro con brio
[2] 2. Largo
[3] 3. Rondo: Allegro scherzando
Martha Argerich, piano - Orchestra della Svizzera italiana, orchestra - Hubert Soudant, director

Beethoven Sonata in sol min. op. 5 n. 2 per violoncello e pianoforte

[4] 1. Adagio sostenuto ed espressivo
[5] 2.Allegro molto, più tosto presto
[6] 3. Rondo (Allegro)
Mischa Maisky, cello - Martha Argerich, piano

CD 2

Respighi Sonata in si min., P 110, per violino e pianoforte

[1] 1. Moderato
[2] 2. Andante espressivo
[3] 3. Passacaglia: Allegro moderato ma energico
Renaud Capuçon, violin - Francesco Piemontesi, piano

[4] Liszt La lugubre Gondola S. 200, per violino e pianoforte
Alissa Margulis, violin - Jura Margulis, piano

Shostakovich Sonata in re min. op. 40 per violoncello e pianoforte

[5] 1. Allegro non troppo
[6] 2. Allegro
[7] 3. Largo
[8] 4. Allegro
Gautier Capuçon, cello - Gabriela Montero, piano

CD 3

[1] Ravel Sonata op. Posth

Andrey Baranov, violin - Jura Margulis, piano

Debussy Petite suite, per pianoforte a 4 mani

[2] 1. En bateau
[3] 2. Cortège
[4] 3. Menuet
[5] 4. Ballet
Martha Argerich, piano - Cristina Marton, piano

Offenbach Gaîté parisienne (dalla suite di Manuel Rosenthal)
(trascr. di C. M. Griguoli - prima esecuzione)

[6] 1. Ouverture
[7] 2. Galop
[8] 3. Barcarolle
[9] 4. Cancan
Giorgia Tomassi, piano - Carlo Maria Griguoli, piano - Alessandro Stella, piano

Saint-Saëns: Carnival of the Animals

[10] Introduction and Royal March of the Lion - Andante Maestoso
[11] Hens and Cocks- Allegro Moderato
[12] Wild Asses : Swift Animals – Presto furioso
[13] Tortoises – Andante Maestoso
[14] The Elephant – Allegretto pomposo
[15] Kangaroos – Moderato
[16] Aquarium – Andantino
[17] Personages with Long Ears – Tempo as Librium
[18] The Cuckoo in the Depths of the Woods – Andante
[19] Aviary – Moderato grazioso
[20] Pianists – Allegro moderato
[21] Fossils – Allegro ridicolo
[22] The Swan – Andantino grazioso
[23] Finale – Molto vivace
这里是其它用户补充的资源(我也要补充):
暂无补充资源