专辑英文名: Bach - Violin Concertos
专辑中文名: 巴哈:小提琴协奏曲、双小提琴协奏曲
古典类型: 协奏曲
资源格式: FLAC
发行时间: 2014年11月03日
简介: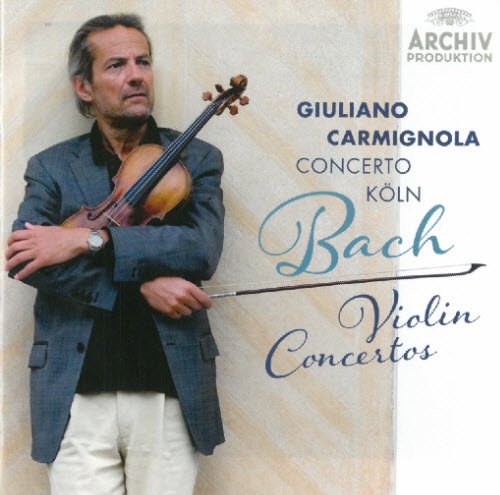 专辑介绍:


巴哈:小提琴协奏曲、双小提琴协奏曲
☉卡米诺拉,小提琴/平崎真弓,小提琴/柯隆协奏团

巴哈的小提琴协奏曲与早期义大利如柯瑞里、韦瓦第的协奏曲风格非常相似,独奏乐器与乐团具有鲜明的对比色彩,但是乐曲进行的方向是由独奏者控制,表现独奏技巧之餘,使得音乐更加生动丰富。巴哈的小提琴协奏曲多半是柯登时期的作品,第一号协奏曲洋溢著义大利式的情趣并具有巴哈独特的庄严气息与精致性;第二号协奏曲是巴哈最著名的小提琴协奏曲,独奏个性分明,乐曲整体效果华丽绚烂而且表情丰富。双小提琴协奏曲可说是音乐史上同类型作品的不朽佳作,巴哈在这部作品中发挥了惊人的音乐天份,至今还没有一部双小提琴协奏曲能够凌越其上。

担任独奏的小提琴家卡米诺拉是当今专攻演出巴洛克、古典时期小提琴作品的第一把交椅,曾经被《留声机》杂誌誉为「巴洛克小提琴王子」。虽然巴哈这五首小提琴协奏曲的版本眾多,但是卡米诺拉与柯隆协奏团为这些曲目带来了全新的色彩与新颖的气质。卡米诺拉的声音清晰而且音色纯净,以灵巧的手指,精细地雕刻分句、轮廓与细节,为这些巴洛克时期的著名协奏曲增添优雅而且稳重的气质。在双小提琴协奏曲担任第一独奏小提琴的,是柯隆协奏团的首席平崎真弓。

商品条码 : 0028947926955
商品编号 : 4792695
演奏者 : 卡米诺拉 Giuliano Carmignola - 查看所有专辑
指挥家 :
乐团 :
作曲家 : 巴哈 Bach - 查看所有专辑
专辑名称 : 巴哈:小提琴协奏曲、双小提琴协奏曲
Bach : Violin Concertos
音乐类型 : 古典音乐 [CD 协奏曲]
发行公司/日期 : 环球 2014/11/7
制作公司 :
内含片数 : 1

DISK 1 CD
1. 巴哈:A小调第一号为小提琴、弦乐与数字低音所写的协奏曲,BWV 1041
第一乐章:有节制的快板
2. 第二乐章:行板
3. 第三乐章:很快的快板
4. 巴哈:E大调第二号为小提琴、弦乐与数字低音所写的协奏曲,BWV 1042
第一乐章:快板
5. 第二乐章:慢板
6. 第三乐章:很快的快板
7. 巴哈:D小调双小提琴、弦乐与数字低音协奏曲,BWV 1043
第一乐章:活跃的
8. 第二乐章:缓板,但不过分
9. 第三乐章:快板
10. 巴哈:F小调第五号为小提琴、弦乐与数字低音所写的协奏曲,BWV 1056R
第一乐章:有快板
11. 第二乐章:缓板
12. 第三乐章:急板
13. 巴哈:D小调第一号为小提琴、弦乐与数字低音所写的协奏曲,BWV 1052R
第一乐章:快板
14. 第二乐章:慢板
15. 第三乐章:快板

JOHANN SEBASTIAN BACH

Violin Concertos
No. 1 BWV 1041 · No. 2 BWV 1042

BWV 1052 · BWV 1056
(Reconstructed after the Harpsichord Concertos)

Double Concerto BWV 1043
Giuliano Carmignola
Mayumi Hirasaki
Concerto Köln
Int. Release 03 Nov. 2014
1 CD / Download
0289 479 2695 5 CD DDD AH
ARCHIV Produktion


引用
Release Date November 3, 2014
Duration01: 13:37
Genre Classical
Styles Concerto
Recording Date July, 2013


Review by James Manheim [-]
This release of Bach's well-explored violin concertos (plus a couple of arranged keyboard concertos) by Italian violinist Giuliano Carmignola delivers truth in advertising on its back cover: the violinist, playing a 1739 Guidantus and leading the historical-instrument ensemble Concerto Köln, "seems to cast fresh light on these much-loved masterpieces by imbuing them with all the joyfulness of his Venetian sound." What this means is that Bach is taken beyond even the vigorous Italian Vivaldi sound in vogue and into hoedown territory. It is absolutely something new and different, and it's hard to imagine Bach not being a bit startled by it. The fast movements are tumultuous and pushed to the edge in terms of tempo. Reactions to them will likely be entirely individual, and listeners might end up thinking that some of the concertos are enhanced or at least refracted in new directions by this approach, but that in others a certain Apollonian quality intrinsic to Bach is lost. Give Carmignola credit on a couple of counts: as fast and furious as things get, contrapuntal clarity is never lost, and in the slow movements he pours on an intensely lyrical quality that may also be unidiomatic, but will get to listeners if they let it. Carmignola is well supported by fine studio sound from the revived Archiv label, and in general this is the kind of album that gets points for sheer audacity.


Label: DG Archiv
Catalogue No: 4792695
Discs: 1
Release date: 3rd Nov 2014
Barcode: 0028947926955
Length: 73 minutes
Medium:CD (download also available)

This captivating new Bach release will become a timeless piece of music which can only come from the outstanding combination of Giuliano Carmignola and Concerto Köln.

Though presenting a traditional piece, Carmignola and Concerto Köln bring new and outstanding colours into this often recorded repertoire, and their temperamental performance introduces a sparkling and thrilling interpretation of Bach's concertos. Carmignola's fiery and successful "Vivaldi con moto" will be continued with a more subtle and traditional Bach Concerto recording, a Co-Production between Deutsche Grammophon and Deutschlandfunk.

Carmignola is a unique artist and one of today's most charismatic and captivating violinists, prompting The Strad to say "Timing is everything, and Carmignola has the timing of Sinatra. Rubato, portamento, pauses, tight-rope showmanship."




Kimon Daltas Sinfini Music | 28 October 2014
CD Review Giuliano Carmignola
Bach: Violin Concertos by Giuliano Carmignola, Concerto Köln, Mayumi Hirasaki
Folksy and exuberant, Giuliano Carmignola's Bach may not appeal to everyone, says Kimon Daltas, but for a fresh and vivid take on classics it's hard to beat.

Label: Deutsche Grammophon Classics

Rating 4

Product details

0 comments
Giuliano Carmignola, we're informed on the back of this CD's case, 'seeks to cast fresh light upon these much-loved masterpieces by imbuing them with all the joyfulness of his Venetian sound'. You could say this is as much a warning as it is a USP: if you like your Bach monumental and solemn, Carmingnola's folky exuberance and springy bow may feel like too much of his personality foisted on the music. But with an open mind, it's impossible not to enjoy this disc. It achieves exactly what it proudly sets out to, eagerly assisted by the twinkle-toed Concerto Köln.

It includes the two ubiquitous violin concertos (A minor and E major), the double concerto in D minor (with Carmignola well matched by Mayumi Hirasaki, stepping up from within the ensemble), plus two convincing new reconstructions of concertos which, though probably originally written for violin, survive only in harpsichord concerto versions (the G minor BWV 1056 and D minor BWV 1052). At over 70 minutes of music, it goes a fair way towards justifying its premium price.

If it is the fast movements which show off Carmignola's pizzazz, he also has plenty of sweetly lyrical qualities to bring in the Largos and Adagios – the merest smidge of vibrato at the ends of long notes, everything else achieved by subtle phrase shaping and that nimble bowing arm.

Artists: Giuliano Carmignola (violin), Mayumi Hirasaki (violin), Concerto Köln

Kimon Daltas is the editor of Classical Music magazine.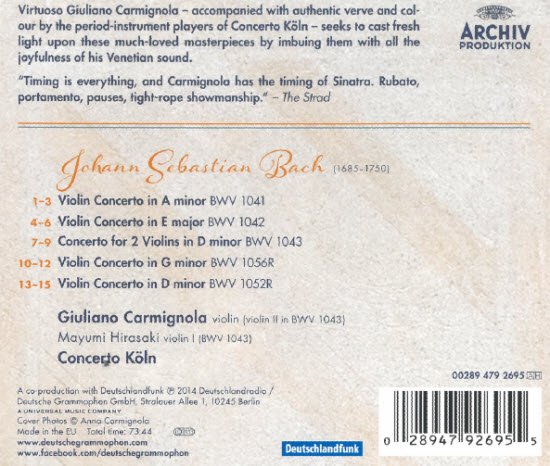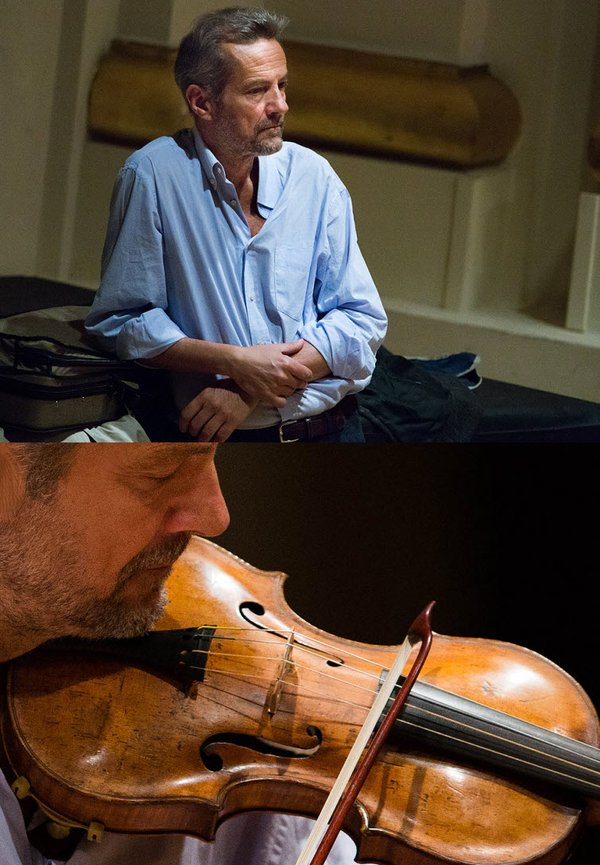 专辑曲目:
01. Violin Concerto No.1 In A Minor, BWV 1041 1. (Allegro moderato) - Johann Sebastian Bach
02. Violin Concerto No.1 In A Minor, BWV 1041 2. Andante - Johann Sebastian Bach
03. Violin Concerto No.1 In A Minor, BWV 1041 3. Allegro assai - Johann Sebastian Bach
04. Violin Concerto No.2 In E, BWV 1042 1. Allegro - Johann Sebastian Bach
05. Violin Concerto No.2 In E, BWV 1042 2. Adagio - Johann Sebastian Bach
06. Violin Concerto No.2 In E, BWV 1042 3. Allegro assai - Johann Sebastian Bach
07. Double Concerto For 2 Violins, Strings, And Continuo In D Minor, BWV 1043 1. Vivace - Johann Sebastian Bach
08. Double Concerto For 2 Violins, Strings, And Continuo In D Minor, BWV 1043 2. Largo ma non tanto - Johann Sebastian Bach
09. Double Concerto For 2 Violins, Strings, And Continuo In D Minor, BWV 1043 3. Allegro - Johann Sebastian Bach
10. Concerto For Violin, Strings And Continuo In G Minor, BWV 1056 - Reconstruction 1. Allegro - Johann Sebastian Bach
11. Concerto For Violin, Strings And Continuo In G Minor, BWV 1056 - Reconstruction 2. Largo - Johann Sebastian Bach
12. Concerto For Violin, Strings And Continuo In G Minor, BWV 1056 - Reconstruction 3. Presto - Johann Sebastian Bach
13. Concerto For Violin, Strings And Continuo In D Minor, BWV 1052 - Reconstruction 1. Allegro - Johann Sebastian Bach
14. Concerto For Violin, Strings And Continuo In D Minor, BWV 1052 - Reconstruction 2. Adagio - Johann Sebastian Bach
15. Concerto For Violin, Strings And Continuo In D Minor, BWV 1052 - Reconstruction 3. Allegro - Johann Sebastian Bach
这里是其它用户补充的资源(我也要补充):
暂无补充资源