专辑英文名: The Chopin Album
专辑中文名: 萧邦名曲集
古典类型: 全集作品
资源格式: FLAC
发行时间: 2015年02月16日
简介: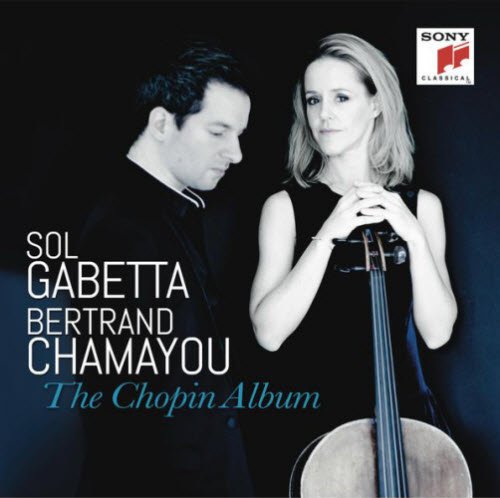 专辑介绍:

修儿.嘉碧妲Sol Gabetta (大提琴)
柏特兰.沙马尤Bertrand Chamayou (钢琴)

大提琴巨星嘉碧妲与法国新生代人气钢琴家沙马尤2015年首张合作录音。
穿越时空,重现钢琴诗人萧邦与大提琴名家法兰肖姆的完美默契与精采演绎。
收录萧邦晚年献给法兰肖姆的经典鉅作:大提琴奏鸣曲,及两人共同谱曲的大二重奏曲。

身为当今乐坛最活跃的大提琴巨星,修儿.嘉碧妲的唱片录音总是令所有乐迷翘首以待,在2014年充满女人心底话的【祈祷】专辑之后,2015年新春,她与新生代人气钢琴家柏特兰.沙马尤(Bertrand Chamayou)首次合作,发行这张以萧邦作品为主的最新专辑,并同步展开全球巡迴演出,为嘉碧妲的大提琴诗意留下了浪漫注记。

嘉碧妲与沙马尤的长久默契,正好反映出钢琴诗人萧邦与大提琴名家法兰肖姆(Auguste Franchomme)的十八年友谊。萧邦与法兰肖姆1832年结识后成为莫逆之交,立即根据麦耶白尔歌剧《劳伯鬼》共同谱写《E大调大二重奏曲》(CD6)。而萧邦生前最后出版的作品,也是1848年最后公开演出的曲目,正是献给法兰肖姆的G小调大提琴奏鸣曲(CD1-4),此曲规模宏大、风格成熟,为了此曲,萧邦曾说「我写了一些却又划去许多」,可说是他晚年用生命淬鍊的天鹅之歌。专辑也收录法兰肖姆改编自萧邦著名的《夜曲》(作品15-1,CD8)和亲自谱写的《夜曲》(CD9),相照对应之下,可以发现两位名家之间风格连结的强烈影响。

同样都是1981年出生,出生於阿根廷的嘉碧妲与法国的沙马尤,早在十九岁便已结识,如今交情超过十五年之久。虽然嘉碧妲的音乐训练来自德国体系,沙马尤则是正统的法国钢琴学派传人,彼此看似南辕北辙,但因缘际会之下,始终维持深厚友谊。这张最新专辑是两人首次合作录音,决定从萧邦的经典曲目作为出发。沙马尤过去所录制的李斯特《巡礼之年》专辑获得无数大奖推崇,他以熟稔的法式音乐语汇,搭配嘉碧妲如歌般的大提琴詮释,让乐迷穿越时空,见证了两个时代的音乐家情谊与默契,这不仅是萧邦的大提琴经典,亦是嘉碧妲的萧邦名演。

商品条码 : 0888430930124
商品编号 : 88843093012
演奏者 : 修儿嘉碧妲 Sol Gabetta - 查看所有专辑
指挥家 :
乐团 :
作曲家 : 萧邦 Sol Gabetta/ The Chopin Album - 查看所有专辑
专辑名称 : 萧邦名曲集
The Chopin Album
音乐类型 : 古典音乐 [CD 独奏曲]
发行公司/日期 : SONY MUSIC 2015/2/13
制作公司 :
内含片数 : 1

Audio CD (16 Feb. 2015)
Number of Discs: 1
Label: Sony Music Classical
ASIN: B00QB8OL0K

2 of 2 people found the following review helpful
one sublime partnership responds to another
By schumann_bg TOP 50 REVIEWER on 16 Feb. 2015
Format: Audio CD
Chopin's Cello Sonata is one of the greatest sonatas for any instrument, possibly standing above his solo sonatas, even, although you see them more on concert programmes. It is very much about the dialogue between the two instruments, and, by extension, about friendship, as it arose through Chopin's with the French cellist, Auguste-Joseph Franchomme, and the disc is filled out with other works that reflect their connection, except for the early Polonaise brillante which pre-dates their knowing each other. The Sonata seems particularly to depend on the rapport between the players, and sounds completely beautiful here, but not in any superficial way. Rather, the sound seems deeply embedded in the instruments, as if they are closer than usual; or, rather it is we who are taken up close. Sol Gabetta's tone is lovely, with no hint of scratchiness. It is not particularly large and her playing is affecting for its straightforwardness. In Bertrand Chamayou she has a partner who brings a more robust style of playing, yet you feel he is very attuned to her scale, so that although it sounds large it is a bit like a powerful lion padding gently with a slender unicorn. They seem to underplay the sense of drama, to some extent, letting the music flow, yet it feels big because of their evident involvement in the music, and the outstanding recorded sound. The opening of the development section of the first movement shows their considerable virtues - where it could be played up for its rhetoric, Gabetta sings out the line with evident feeling but no affectation, answered by Chamayou who creates a magnificent blur in response, and the emotion just soars. They keep their eye on the shape, and the subtlety blends with total immersion in the vistas of feeling that open up.

The other pieces are all very appealing, including an opera paraphrase co-written by composer and cellist, two Chopin transcriptions, and a Nocturne by Franchomme that is not bad at all, recalling the tender central theme of Lucia di Lammermoor. The booklet contains a joint interview with the players, appropriately talking about their own friendship, and the photos - including one at the elegant Siemensvilla in Berlin where it was recorded, seem to amplify this and thus do more than serve the "star performers on a big label" kind of thing. It's players like these who are carrying forward the banner of music that really matters the most, something we need more than ever.


引用
Label: Sony
Catalogue No: 88843093012
Discs: 1
Release date: 16th Feb 2015
Barcode: 0888430930124
Medium: CD
On her new album, cello superstar Sol Gabetta teams up with one of the best young artists, French pianist Bertrand Chamayou. Gabetta and Chamayou have played together on many occasions and quickly became both friends and artistic partners. They collaborated on the album concept and will tour this repertoire in Europe throughout 2015. The Chopin Album contains a selection of pieces by well-loved composer Frédéric Chopin (1810-1849) as well as music by his close friend, the composer and cellist Auguste-Joseph Franchomme (1808-1884).
The centrepiece of this album is Chopin's striking sonata for cello and piano in G minor, op. 65, written in 1846; one of the rare pieces Chopin wrote for a solo instrument other than the piano. The duration is over 30 minutes and was written for and dedicated to Chopin's close friend Franchomme. The cello sonata was the last work published during Chopin's lifetime before he died in October 1849.
The Grand Duo concertant in E major, B. 70 was written jointly by Chopin and Franchomme in 1832. Chopin had initially been contracted by his publishers to write a work for piano based on Meyerbeers opera 'Robert le diable'. He had attended a performance and liked the work, but was disinclined to write a 'fantasia' on another composer's music. Franchomme persuaded him to jointly write a piece for cello and piano, using themes from the opera. Chopin delivered the general structure of the piece and wrote the piano part and Franchomme wrote the cello part. The piece was published under both their names, and was favourably reviewed by Robert Schumann.
Chopin's Polonaise brillante in C major, op. 3 for cello and piano is one of Chopin's first published compositions and was written in October 1829, dedicated to the Austrian cellist Joseph Merk. Chopin composed the famous Nocturne in F major, op. 15, no.1 for piano in 1832. The transcription for cello and piano on this album was done by Franchomme.
Auguste Franchomme was one of the best and most celebrated cellists and persons of the musical life in Paris of his time. He also worked as a composer and published around 50 works for cello, among them his Nocturne for Cello and Piano, op. 15, no.1 which Gabetta and Chamayou selected for this album. Chopin's Étude, op. 25, no.7 (1836) for piano solo is part of the famous 12 etudes op. 25 and was arranged by composer Alexander Glazunov for cello and piano.
Sol Gabetta: The Chopin Album
image:
http://assets6.classicfm.com/2015/05/sol-g...le-0.jpg
Little-known works by Chopin, beautifully performed. Classic FM Drive Featured Album, 9 February 2015.
Here is an unusual selection of pieces by Chopin, more often known solely for his piano works, as well as compositions by his close friend, the composer and cellist Auguste-Joseph Franchomme.
Argentinian cellist Sol Gabetta and the superb young pianist, Bertrand Chamayou, came up with the concept of this album together and are now touring the repertoire in Europe.
The centrepiece of the album is Chopin's 30-minute long Sonata for cello and piano in G minor – one of the rare pieces Chopin wrote for a solo instrument other than his beloved piano. It makes for striking listening. Also here is the Grand Duo concertant in E major, written jointly by Chopin and Franchomme in 1832. Gabetta and Chamayou have additionally selected one of Franchomme's Nocturnes for Cello and Piano especially for this album.
The repertoire here is little-known and somewhat unfamiliar but Gabetta performs with her trademark grace and intimacy to bring a special, heartfelt romanticism to these works, which are well worth discovering.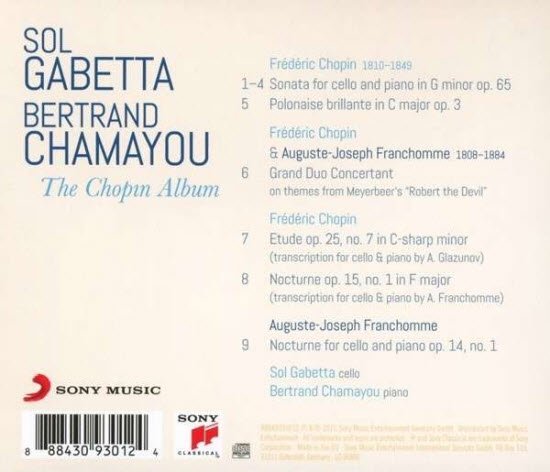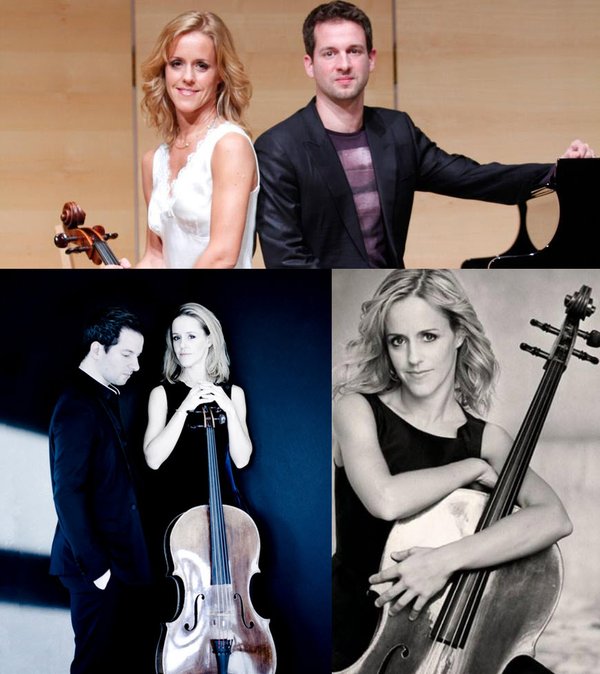 专辑曲目:
Sonata for Cello and Piano in G Minor, Op. 65
1. I. Allegro moderato Start
2. II. Scherzo. Allegro con brio Start
3. III. Largo Start
4. IV. Finale. Allegro Start

5. Polonaise brillante, Op. 3 Start
6. Grand Duo concertant in E Major Start
7. Etude, Op. 25, No. 7 in C-Sharp Minor (transcribed in E Minor) Start
8. Nocturne, Op. 15, No. 1 (Arr. for Cello and Piano) Start
9. Nocturne for Cello and Piano, Op. 14, No. 1
这里是其它用户补充的资源(我也要补充):
暂无补充资源