Ray Brown, Monty Alexander, Russell Malone -《Ray Brown, Monty Alexander, Russell Malone》(最后录音)[SACD-r][FLAC]

专辑英文名: Ray Brown, Monty Alexander, Russell Malone
专辑中文名: 最后录音
音乐风格: 爵士
资源格式: FLAC
版本: [SACD-r]
发行时间: 2002年10月22日
简介: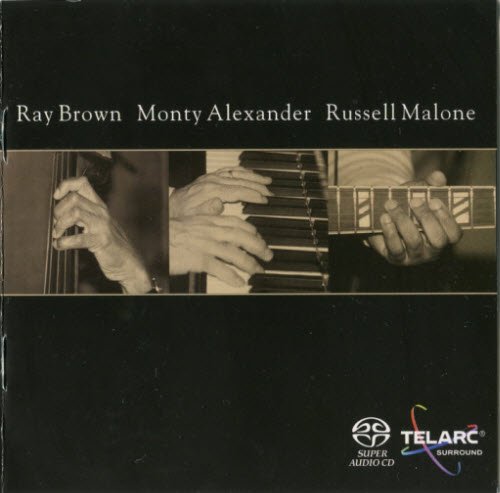 专辑介绍:

向爵士大师作最后的致敬



今年的七月二日Ray Brown (1926- 2002) 不幸地在巡迥表演途中与世长辞。


Telarc 在十月份推出双CD以纪念这位爵士伟人;一隻是今年三月五至七日在纽约的Avatar Studios的最后录音,附送另外一隻限量版是监制Elaine Martone 精选Ray Brown 自九三年至2001年间的十首作品。 Ray Brown与 Oscar Peterson 是同辈老拍挡,也是二+世纪爵士乐坛的巨匠,他们的超卓成就早已得到肯定。

低音提琴手(Bassist) 的主要责任大部份时间是旋律的烘托,它并不是十份抢镜头的角色,雄浑低沈的声音在组合中却是乐曲架构的支点。在这次「最后」的录音中,Ray Brown 採取了低调的作风,尽量给予钢琴手Monty Alexander 及结他手 Russell Malone很大的表演空间,这种胸襟也应受到讚许。从另一个角度而言,Ray Brown 在此录音中的表现并不算出色,平板重覆的和弦,缺少了点生气。第一首John Lewis 的<Django>,清脆的钢琴声与结他精采对话。Bart Howard 的<Fly Me to the Moon>是全张专辑中最长的一首,有八分鐘之长,由Monty Alexander 弹奏主旋律,然后轮流变奏即兴对碰,虽然Ray Brown也有独奏片段,但却相见逊色。这张专辑的另一个特色是三位演奏者都参与作曲,Ray Brown 有两首亲自作的乐曲分别是<Blues for Junior> 及<One For Hamp>;Monty Alexander 有 <Don't Go>及<You Can See>,而Russell Malone 则作了<Look Who's Here>。原创与standards都可在此专辑中找到。

出生於Jamaica 的 Monty Alexander 在五、六十年代的时候以"Monty and the Cyclones"的乐队开始出现在当地的Hit Parade,后来得到Jilly Rizzo 赏讖聘用,认讖了Frank Sinatra 、Milt Jackson (专辑中<Compassion>的作曲人)等爵士名人,自此与Ray Brown 合作多年,Natalie Cole 的 <Unforgettable>也曾邀请他帮手。他的钢琴技艺洗鍊成熟,在此专辑中可见一斑。Russell Malone (b.1963) 是一位年轻的黑人结他手,自学成才,早年习Blues,后来专注爵士乐,受到B.B. King、Wes Montgomery、George Benson 等结他手的影响,喜欢多类音乐如R&B、 Gospel 、Rock 、 Blues 以至Cabaret及Country,九三年的<Black Butterfly> (Columbia) 以至近年的<Heartstrings>(Verve) 标誌了他愈趋成熟的技巧。对於音乐的热爱和投入也充份反映於他在此专辑中的表现。

最值得缅怀的Ray Brown精采表演收录在另一隻CD <Ray Brown---Producer's Choice>,包括 <Tin Tin Deo>from Bass Face (93), <Tanga> from Don't Get Sassy (94), <En Estate> from Live at At Scullers Jazz Club (97),<Blue Monk>form Super Bass (97),<Get Happy> and <Mysterioso> from Super Bass 2 (2001)等。许多现? (Live) 即兴表演真正发挥了Ray Brown 令人激赏的本事,他非再注重速度或花招去争艳,而是提昇了Bass 在整体表演中的一槌定金的?键作用,这是数十年功力浓缩所达到的自然境界。在此Ray Brown昔日的光辉,将在爵士史册中永垂不朽。


商品条码 : 0089408356223
商品编号 : CD83562
艺人/团体 : 雷布朗 Ray Brown - 查看所有专辑
专辑名称 : 最后录音
Ray Brown,Monty Alexander, Russell Malone
音乐类型 : 爵士 [CD 专辑]
发行公司/日期 : 上扬 
制作公司 :
内含片数 : 1


专辑编号: CD83562
国际条码: 0089408356223
音乐家:
Ray Brown, double bass 雷.布朗,低音提琴
音乐厂牌: TELARC
库存状态: 有库存
定价: $450.00
特价: $430.00


Label: Telarc - http://www.telarc.com/
Serial: SACD-63562
Title: Ray Brown, Monty Alexander, Russell Malone
Description: "Ray Brown, Monty Alexander, Russell Malone"

Ray Brown (bass)
Monty Alexander (piano)
Russell Malone (guitar)

DECEMBER 2002
Ray Brown/Monty Alexander/Russell Malone
Telarc
By Doug Ramsey

The late bassist Ray Brown's last recording is in the spirit of the Oscar Peterson Trio and of the group that inspired it, the Nat "King" Cole Trio. The music is centered in the Cole-Peterson tradition of good feeling, harmonic subtlety and rhythmic togetherness. Brown and guitarist Russell Malone achieve a seductive swing reminiscent not only of Brown's with Herb Ellis in the Peterson trio, but, at times, also of Freddie Green's with Walter Page in Count Basie's band. Malone's rhythm-guitar work is impressive. His solos indicate that he has reached a new level of consistency and clarity.

Following pianist Monty Alexander's recent concentration on Caribbean idioms, interesting though they may be, it is good to hear him again in a straightahead setting. His piano work has always been based in great part on Nat Cole's lyricism, touch and chord voicings, elements he long ago absorbed as he developed his own style. There is also a rich Peterson component in Alexander's approach, as well as streak of whimsy that leads him to the strategic placement of quotes (a bit of "Filthy McNasty" in "Django," for example). Along with Peterson and Gene Harris, he was one of Brown's preferred pianists.

The CD includes the classics "Honeysuckle Rose," Brown's "Blues for Junior," "I Can't See for Looking" (indelibly associated with Cole) and originals by all three musicians. Brown's playing a few months before his death was undiminished in tone, perfection of note choice and, above all, swing. He elevates every performance with the strength and joy of his time, whether soloing or walking behind Malone and Alexander.

Included with the first pressing of the CD is a limited-edition bonus disc with selections from many of Brown's previous albums for Telarc. Ray Brown, Monty Alexander, Russell Malone is a splendid ending to a recording career of more than half a century. It is also final evidence, if more was needed, of Brown's primacy among bassists.


引用
Audio CD (October 22, 2002)
Number of Discs: 1
Format: Special Edition
Label: Telarc
ASIN: B00006LI4D
18 of 19 people found the following review helpful
This is how jazz bass playing should be like...
By B. J. Lane on February 28, 2003
Format: Audio CD
Recorded just a few short months before he left us last summer, Ray showed us (as he did many times over the years) one prime example of the great musician he was. No one can ever match or exceed the talent this legend possessed.
Every track on this CD is a gem, and the musicianship of Russell Malone (guitar) and Monty Alexander (piano) is impeccable. As a bonus, Telarc added another disc showcasing Ray's finest work from his other CDs.
This CD should be in every jazz lover's library!...
Comment Was this review helpful to you?
Yes
No
5 of 5 people found the following review helpful
How Could This Get Any Better?
By Jonathan L on March 5, 2005
Format: Audio CD
You tell me. I don't know. I tell you, Russell Malone and Monty Alexander's performance on this song has dazzled me for over a year. This was one of the first albums I ever got. It convinced me that jazz was worth listening to. I got this, and the solos have never failed to impress me. If you are a rocker, jazzer, rapper,or even a ukelele player you'll like this cd. My personal favorite is Fly Me To The Moon and Honeysuckle Rose. Ray Brown in himself is a virtuoso. He's played with lots of great players. Below are some other cds I recommend:
1. Straight Ahead (Ray Brown(
, Monty Alexander(p), Herb Ellis (g)) If you liked this album, this is similar with great playing and two cds!
2. Some Of My Best Friends Are Guitarists (Ray Brown (
, Geoff Keezer (p), Kareem Riggins (d), and Ulf Wakenius, Russell Malone, Bruce Forman, Herb Ellis, John Pizzarelli on different songs (guitarists))
3. Summertime (Ray Brown (
, Geoff Keezer (p), Gregory Hutchinson (d), Ulf Wakenius (g) This is also extremely similar to this cd.
P.S Please Check Out My Reviews On The Recommended CDs!
Release Date October 25, 2002
Duration 59:20
Genr Jazz
Styles Mainstream Jazz
Review by Rick Anderson [-]
It would be nice to say that Ray Brown's final recording session before his sudden and untimely death in the summer of 2002 resulted in a masterpiece, but although this trio session with guitarist Russell Malone and pianist Monty Alexander is perfectly serviceable, a masterpiece it is not. It's a very attractive album -- Brown was probably not capable of producing anything less as a leader -- but it suffers just a bit from Alexander's slightly sugary style and from the lack of a drummer. Recording without a drummer had been the latest thing in the jazz world for several years when this album was released, but it's not entirely clear what the benefit of such an arrangement was supposed to be. On this album, the swing standard "Fly Me to the Moon" and Dexter Gordon's boppish "Dexter's Dex" would have had much more oomph with a sympathetic drummer on board (though on the latter, Malone's Django Reinhardt-styled backup and Brown's inimitable freight train rhythmic drive do go some distance toward making up for that lack). And the mid-tempo numbers seem to plod just a bit as well. But as always, there's no questioning either the inventiveness of Brown's solos or the rich sumptuousness of his enormous tone.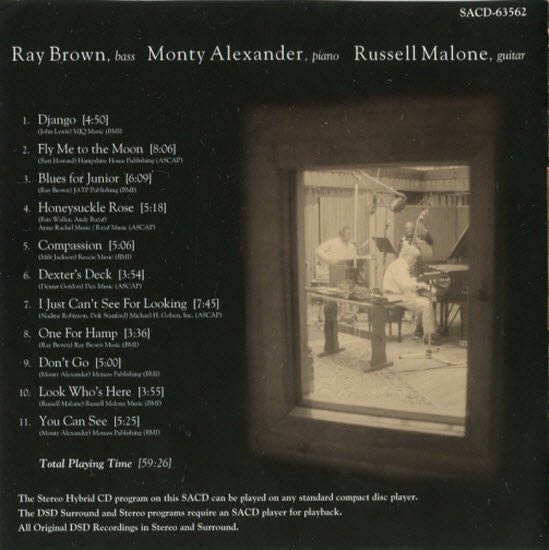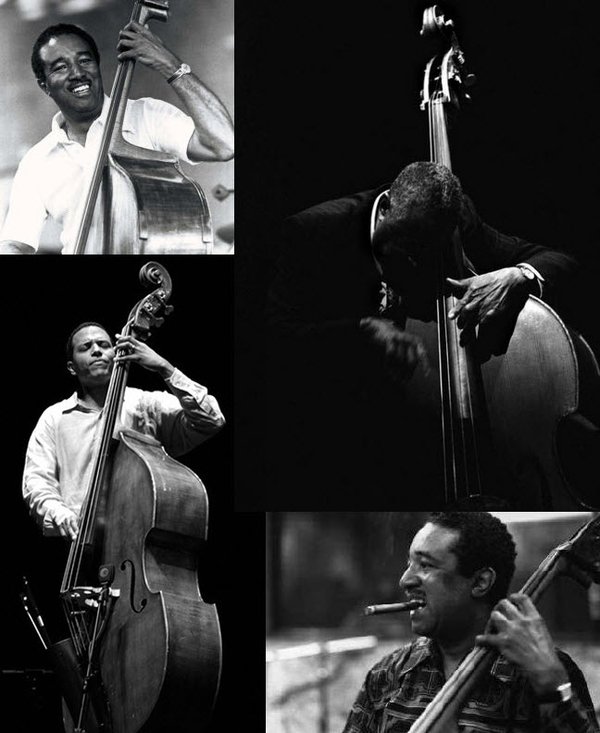 专辑曲目:
01. Django
02. Fly Me To The Moon
03. Blues For Junior
04. Honeysuckle Rose
05. Compassion
06. Dexter's Deck
07. I Just Can't See For Looking
08. One For Hamp
09. Don't Go
10. Look Who's Here
11. You Can See
这里是其它用户补充的资源(我也要补充):
暂无补充资源