专辑英文名: Pure... Love
专辑中文名: 纯 爱
音乐风格: 流行
资源格式: FLAC
版本: [4 CD]
发行时间: 2011年
简介: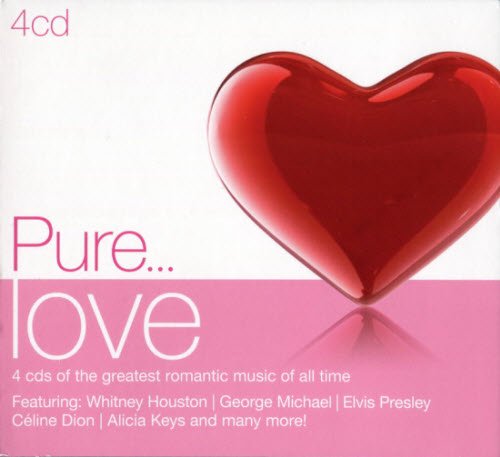 专辑介绍:

爱是恒久忍耐、又有恩慈.爱是不嫉妒.爱是不自夸.不张狂.不作害羞的事.不求自己的益处.不轻易发怒.不计算人的恶.不喜欢不义.只喜欢真理.凡事包容.凡事相信.凡事盼望.凡事忍耐。爱是永不止息.

歌林多前书13:5-8

1 Corinthians 13:4-7New International Version (NIV)

4 Love is patient, love is kind. It does not envy, it does not boast, it is not proud. 5 It does not dishonor others, it is not self-seeking, it is not easily angered, it keeps no record of wrongs. 6 Love does not delight in evil but rejoices with the truth. 7 It always protects, always trusts, always hopes, always perseveres.

很久以前,大学时的同学,书桌前就帖了张有关爱的解说。。。。
最近看了Interstellar 里面有段关于情为何物的对话,很有趣, 在这和大家分享下

Interstellar (2014)

Cooper: You're a scientist, Brand.
Brand: So listen to me when I say love isn't something that we invented. It's observable. Powerful. It has to mean something.
Cooper: Love has meaning, yes. Social utility, social bonding, child rearing...
Brand: We love people who have died. Where's the social utility in that?
Cooper: None.
Brand: Maybe it means something more - something we can't yet understand. Maybe it's some evidence, some artifact of a higher dimension that we can't consciously perceive. I'm drawn across the universe to someone I haven't seen in a decade who I know is probably dead. Love is the one thing that we're capable of perceiving that transcends dimensions of time and space. Maybe we should trust that, even if we can't understand it. All right Cooper. Yes, the tiniest possibility of seeing Wolf again excites me. That doesn't mean I'm wrong.
Cooper: Honestly, Amelia, it might.



Artist: VA
Title Of Album: Pure... Love
Year Of Release: 2011
Label: Sony Music | 0886979628922
Genre: Pop, R&B, Soul, Vocal Jazz

Each collection features 4 CDs of the greatest artists, the biggest songs and the harder-to-find hits all uniquely themed to a genre.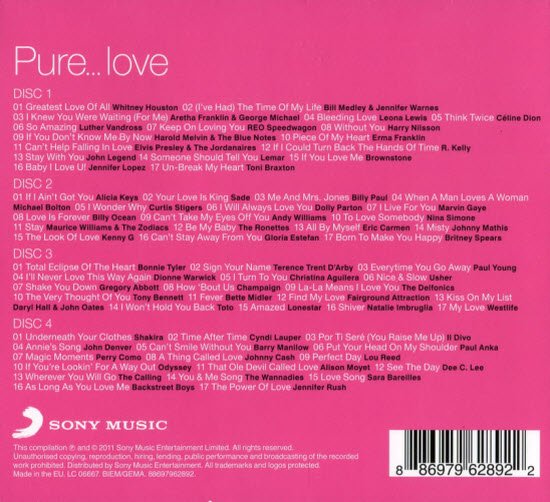 专辑曲目:
CD1

01. Whitney Houston - Greatest Love Of All (Remastered 2000) (4:50)
02. Bill Medley & Jennifer Warnes - (I've Had) The Time Of My Life (4:50)
03. Aretha Franklin & George Michael - I Knew You Were Waiting (For Me) (4:03)
04. Leona Lewis - Bleeding Love (Album Version) (4:23)
05. Celine Dion - Think Twice (Album Version) (4:49)
06. Luther Vandross - So Amazing (Single Version) (3:39)
07. Reo Speedwagon - Keep On Loving You (3:22)
08. Nilsson - Without You (3:20)
09. Harold Melvin & The Blue Notes - If You Don't Know Me By Now (Album Version) (3:27)
10. Erma Franklin - Piece Of My Heart (2:35)
11. Elvis Presley & The Jordanaires - Can't Help Falling In Love (2003 Sony Remaster) (3:02)
12. R. Kelly - If I Could Turn Back The Hands Of Time [Radio Edit Revised] (4:31)
13. John Legend - Stay With You (Album Version) (3:51)
14. Lemar - Someone Should Tell You (Album Version) (3:43)
15. Brownstone - If You Love Me (Radio Edit) (3:13)
16. Jennifer Lopez - Baby I Love U! (Album Version) (4:29)
17. Toni Braxton - Un-Break My Heart (4:30)

Total Time: [01:06:38]

CD2

01. Alicia Keys - If I Ain't Got You (3:52)
02. Sade - Your Love Is King (3:39)
03. Billy Paul - Me And Mrs. Jones (4:46)
04. Michael Bolton - When A Man Loves A Woman (3:52)
05. Curtis Stigers - I Wonder Why (4:27)
06. Dolly Parton - I Will Always Love You (2:56)
07. Marvin Gaye - I Live For You (2:42)
08. Billy Ocean - Love Is Forever (4:10)
09. Andy Williams - Can't Take My Eyes Off You (3:10)
10. Nina Simome - To Love Somebody (2:39)
11. Maurice Willams & The Zodiacs - Stay (1:40)
12. The Ronettes - Be My Baby (2:42)
13. Eric Carmen - All By Myself (4:53)
14. Johnny Mathis - Misty (3:35)
15. Kenny G. - The Look Of Love (5:29)
16. Gloria Estefan - Can't Stay Away From You (3:57)
17. Britney Spears - Born To Make You Happy (4:05)

Total Time: [01:02:36]

CD3

01. Bonnie Tyler - Total Eclipse Of The Heart [Single Version] (4:27)
02. Terence Trent D'Arby - Sign Your Name [Album Version] (4:37)
03. Paul Young - Everytime You Go Away (5:24)
04. Dionne Warwick - I'll Never Love This Way Again (3:26)
05. Christina Aguilera - I Turn To You (4:36)
06. Usher - Nice & Slow [Album Version] (3:49)
07. Gregory Abbott - Shake You Down [Single Version] (4:07)
08. Champaign - How 'Bout Us [Single Version] (3:19)
09. The Delfonics - La-La Means I Love You (3:20)
10. Tony Bennett - The Very Thought Of You (4:32)
11. Bette Midler - Fever [Album Version] (3:36)
12. Fairground Attraction - Find My Love (3:41)
13. Daryl Hall & John Oates - Kiss On My List (4:25)
14. Toto - I Won't Hold You Back [Album Version] (4:57)
15. Lonestar - Amazed (4:02)
16. Natalie Imbruglia - Shiver (3:44)
17. Westlife - My Love [Radio Edit] (3:53)

Total Time: [01:09:56]

CD4

01. Shakira - Underneath Your Clothes [Album Version] (3:46)
02. Cyndi Lauper - Time After Time [Album Version] (4:00)
03. Il Divo - Por Ti Sere (You Raise Me Up) (4:02)
04. John Denver - Annie's Song (3:01)
05. Barry Manilow - Can't Smile Without You (3:11)
06. Paul Anka - Put Your Head On My Shoulder (2:35)
07. Perry Como - Magic Moments (2:40)
08. Johnny Cash - A Thing Called Love (2:33)
09. Lou Reed - Perfect Day (3:45)
10. Odyssey - You're Lookin' For A Way Out (4:29)
11. Alison Moyet - That Ole Devil Called Love (3:05)
12. Dee C. Lee - See The Day (4:21)
13. The Calling - Wherever You Will Go (3:29)
14. The Wannadies - You & Me Song (2:51)
15. Sara Bareilles [Album Version] - Love Song (4:19)
16. Backstreet Boys - As Long As You Love Me (3:32)
17. Jennifer Rush - The Power Of Love [Edit] (4:28)

Total Time: [01:00:06]
这里是其它用户补充的资源(我也要补充):
暂无补充资源